Methane is 80 times more effective than carbon dioxide at trapping heat in the atmosphere.
(Photo by David McNew/Getty Images)
Methane is the second most abundant greenhouse gas on the planet.
A recent study analyzed ice core samples from the pre-industrial era to measure the extent to which industry has played a role in increasing atmospheric methane levels.
The researchers note that their results suggest action can be taken to stem methane pollution.
Methane is the second most abundant greenhouse gas. Colorless, odorless, and lighter than air, methane (CH4) is some 80 times more effective at trapping the atmosphere's heat than carbon dioxide. Scientists estimate it to be responsible for about 25 percent of current global warming. Since the Industrial Revolution, the amount of methane in the atmosphere has increased by at least 150 percent.
Still, it's been hard to determine the primary emitters, and the extent to which natural processes are to blame.

Now, new research suggests that methane emissions from fossil fuels have been "vastly underestimated" by as much as 40 percent. The study focused on fossil methane, which is emitted through natural and anthropogenic sources like geologic seeps and the production of fossil fuels including natural gas. Biological methane is the gas's other form, and it comes from natural sources like wetlands, and human activity like rice farming.
The findings, published in Nature, are based on analyses of pre-industrial ice samples obtained from glaciers in Greenland. Because these ice core samples show how much methane was in the atmosphere before the Industrial Revolution, the analyses can offer a more accurate estimate of the extent to which human activity has been responsible for the recent increases of atmospheric methane.
Hmiel et al.
The results show that, prior to the Industrial Revolution, fossil methane emissions were about 1.6 to 5.4 teragrams. For context, the current estimate of total annual methane emissions is 172 to 195 teragrams. So, if the results are accurate, the implication is that human activity is almost entirely responsible for methane emissions, while natural contributors like gas seeps play a smaller role than previously thought. The results also suggest that the industry is likely underreporting the amount of methane leaks coming from various points in the supply chain, including processing, production, and transportation.
But that's not all bad news to lead study author Benjamin Hmiel, a researcher at the University of Rochester.
Fracking rig site in Oklahoma
J Pat Carter / Contributor
"I don't want to get too hopeless on this because my data does have a positive implication: Most of the methane emissions are anthropogenic (human-caused), so we have more control," Hmiel told USA Today. "If we can reduce our (methane) emissions, it's going to have more of an impact. [...] Placing stricter methane emission regulations on the fossil-fuel industry will have the potential to reduce future global warming to a larger extent than previously thought."
Methane emissions come from all sectors of the fossil fuel industry. But natural gas seems to be an especially dirty contributor, mainly because of the large amounts of gas that's lost during the production process. This leakage challenges the idea that natural gas is a relatively clean "bridge fuel" that society can burn as it develops more renewable energy sources. For example, a recent study found that the methane leakage rate in the U.S. natural gas supply chain was much higher than previous estimates from the Environmental Protection Agency. The implication: Natural gas comes with steep hidden costs.
Reducing methane emissions
The good news is that methane has a relatively short atmospheric lifespan. Unlike carbon dioxide, which can linger in the atmosphere for about 200 years, methane vanishes after about a decade. Its heat-trapping power, however, makes it a serious climate threat over the short term.
"It's impossible to hit [the Paris agreement climate] targets with methane in the mix," Lena Höglund Isaksson, a greenhouse gas expert at Austria's International Institute for Applied Systems Analysis, told National Geographic.
Although reducing methane leaks in the natural gas supply chain might be difficult, many experts argue that it's one of the more inexpensive and straightforward ways to curb greenhouse gas emissions. Beyond tightening regulations regarding leak monitoring and equipment surveys, a 2018 study published in Science recommended several ways gas companies can reduce methane leaks:
Install less failure-prone systems
Conduct on-site leak surveys
Re-engineer individual components and processes
Deploy sensors at individual facilities and on towers, aircraft or satellites
Steven Hamburg, co-author of the study, said in a
statement
:
"Scientists have uncovered a huge problem, but also an enormous opportunity. Reducing methane emissions from the oil and gas sector is the fastest, most ­cost-effective way we have to slow the rate of warming today, even as the larger transition to ­lower-carbon energy continues."
Environmental concerns have caused some to opt-out of reproduction, both to help the planet and to protect their would-be children.
Image from HBO's "The Leftovers"
Climate change has some parents thinking twice about having kids, both to lessen their long-term impact on the environment, and to protect their would-be children from a collapsing world.
In a series of interviews, The New York Times surveyed more than a dozen adults ages 18 to 43 about the role climate change plays in their childbearing decisions. Their answers suggest the environment could be the deciding factor for many would-be parents.
"I don't want to give birth to a kid wondering if it's going to live in some kind of 'Mad Max' dystopia," said 32-year-old Allison Guy, who works at a marine conservation nonprofit in Washington.
Other parents echoed similar sentiments.
"Animals are disappearing," said Amanda PerryMiller, a 29-year-old Christian youth leader from Ohio and mother of two. "The oceans are full of plastic. The human population is so numerous, the planet may not be able to support it indefinitely. This doesn't paint a very pretty picture for people bringing home a brand-new baby from the hospital."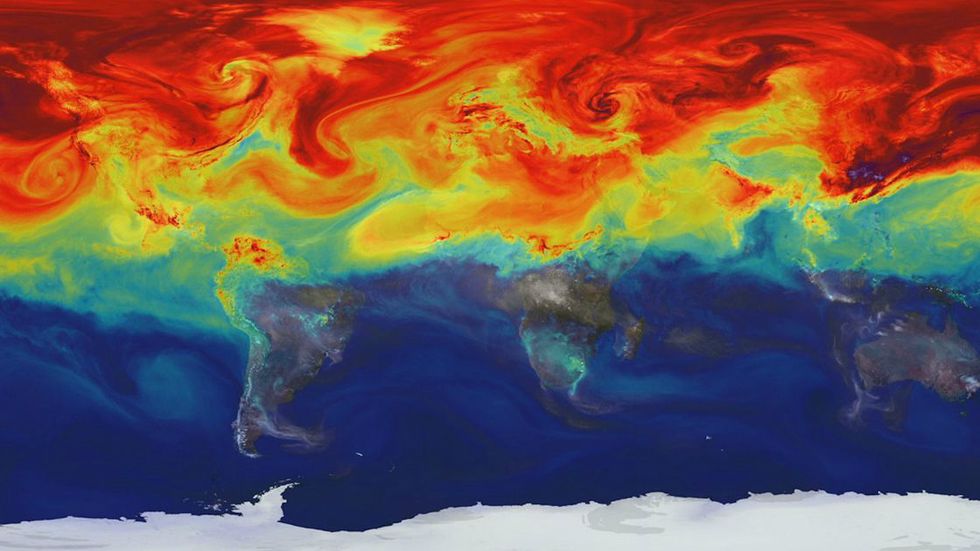 Visualization of carbon dioxide in the atmosphere. Image: NASA
PerryMiller told the Times that after having her first child, climate change made it clear she had to have another.
"Someday, my husband and I will be gone," she said. "If my daughter has to face the end of the world as we know it, I want her to have her brother there."
The birthrate in the U.S. has been falling for a decade, largely due to a crippled economy. But the birthrate hit a record low in 2016, and it's possible fears about the future of the environment contributed to the drop.
Outside of the U.S., environmental threats might be more salient. Studies that show how the Middle East might be too hot for human habitation by 2100 have caused Maram Kaff, who lives in Cairo, to consider what that could mean for her future children:
"I've seen how Syrian refugees, who are running from a devastating war, are being treated. Imagine how my children will be treated if they have to flee their country due to extreme weather, drought, lack of resources, flooding."
"I know that humans are hard-wired to procreate," she said, "but my instinct now is to shield my children from the horrors of the future by not bringing them to the world."
The people surveyed might not be overreacting. A recent analysis that outlines how 151 nations balance sustainability with a comfortable lifestyle shows that, basically, living "well" means wreaking havoc on the planet.
"We didn't really find a good role model of any country doing things sustainably," said Daniel O'Neill of the University of Leeds, UK, to New Scientist. "Our analysis is a wake-up call that we need to do things in a radically different way if we are to have any hope of achieving a good life for all people on the planet."
O'Neill and his team measured how countries used, produced, or affected seven things: water, phosphorus, nitrogen, carbon dioxide emissions, material consumption, ecological footprint, and land-use change.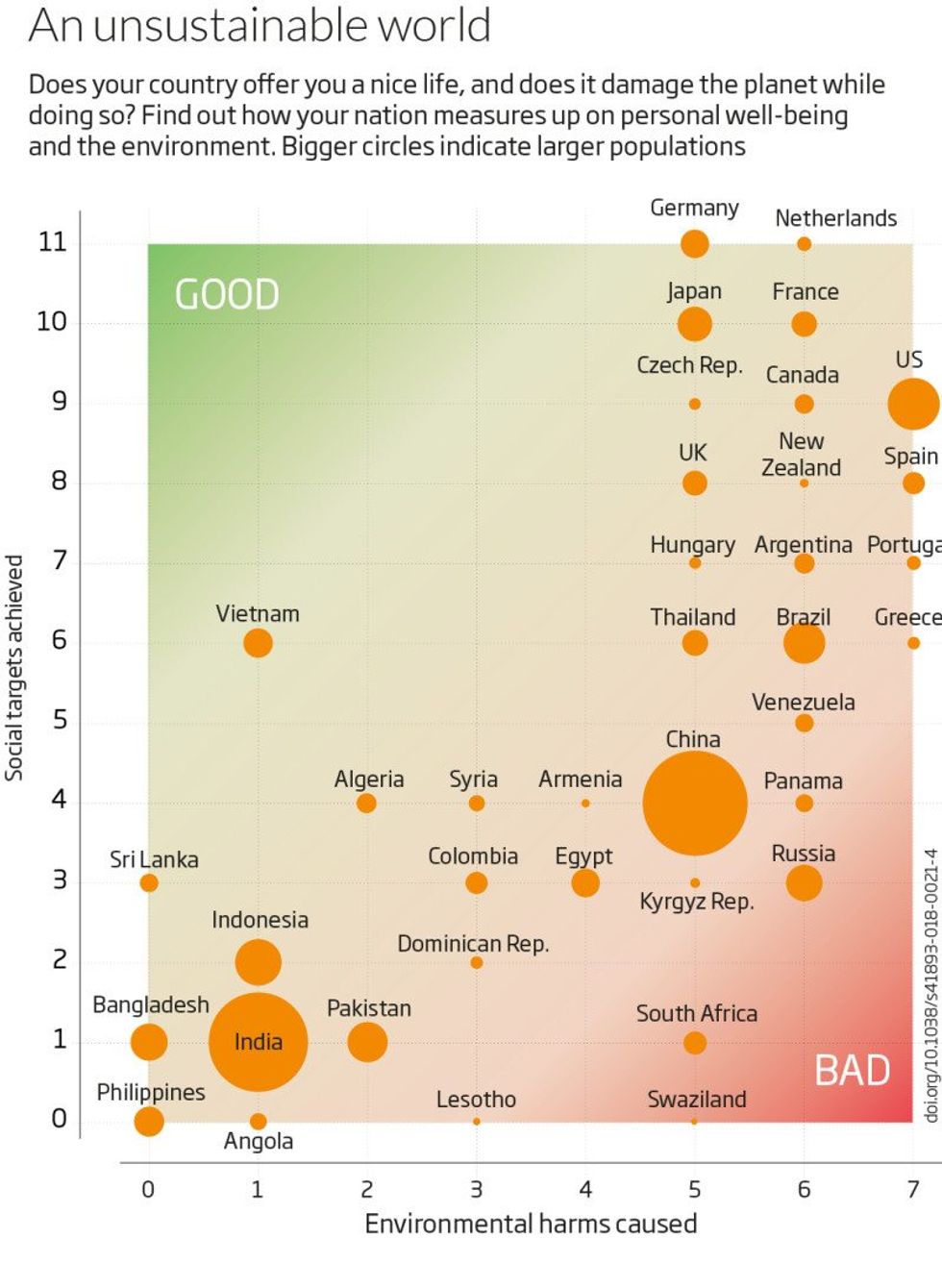 The gist of the results: Rich nations give citizens comfy lives but far overshoot the limits of sustainability, poor nations do the opposite.
"The analysis provides a critical reminder of the tremendous challenge facing humanity," said Johan Rockström of Stockholm University in Sweden, to New Scientist. "Suddenly, we must accept that we need to share, in a just and safe way, the remaining biophysical space on Earth, and we've never before had to consider this."
Achieving global stability seems to require far less production and consumption, from developed countries at least.
"We would argue that material de-growth of the richest nations is imperative for medium- and long-term planetary stability," says Steinberger. "However, in poorer countries, with a lack of basic goods like food and sanitation, some level of growth is essential for social progress."
Scientists propose an unexpected location for extraterrestrial life.
As we look for extraterrestrial life, questions about where it could live and what it could look like are paramount to the search. Now scientists propose a new possible place to scout. Brown dwarfs are space objects in between planets and stars in size that could get twice as big as Jupiter. A new study proposes that alien life could live in the upper layers of a brown dwarf's atmosphere, which have temperatures and pressures similar to Earth's. 
What the researchers from the University of Edinburgh think may be possible is related to the nature of cold brown dwarfs, which were discovered in 2011. These dark "failed stars" are basically like regular stars but without the mass to ignite. This creates the temperature conditions in their atmosphere that could be considered habitable for life, boosted also by the presence of key life ingredients carbon, hydrogen and oxygen.
"You don't necessarily need to have a terrestrial planet with a surface," said the study's leader Jack Yates, a planetary scientist at the University of Edinburgh, to Science magazine.
Before you get too excited, this life is probably microbial, since that type of organism is more likely to survive in the atmosphere that is mostly hydrogen gas. The scientists do admit some potential that bigger and heavier creatures could exist there as well, given favorable winds. 
To arrive at their hypothesis, scientists built on the work of Carl Sagan, who proposed in 1976 that there could be a sunlight-powered ecosystem that would evolve in the upper atmosphere of Jupiter and feature floating plants. The researchers also considered the 2013 discovery of the brown dwarf WISE 0855-0714, which appears to have water clouds.
Check out Carl Sagan's ideas on the floating life of Jupiter in this segment from "Cosmos":
About a few dozen cold dwarfs have been found so far, while there should be about 10 within 30 light years of Earth, according to calculations. They will be studied by the James Webb Space Telescope that will be operational in 2018, and will be especially sensitive to brown dwarfs. 
You can read the paper titled "Atmospheric Habitable Zones in Y Dwarf Atmospheres" here, in The Astrophysical Journal.