Your brain stops at the most comforting thought. The truth is somewhere beyond that. Using scientific skepticism as a guide, astrophysicist Lawrence Krauss outlines the questions that critical thinkers ask themselves.
Strange answers aren't inherently wrong, and satisfying answers aren't inherently right, says Lawrence Krauss in this critical thinking crash course. The astrophysicist explains how principles of scientific skepticism can be applied beyond the laboratory; it can be a filter for the nonsense and misinformation we encounter each and every day. Here, he establishes a handful of core questions that critical thinkers ask themselves, which can be used to challenge your misconceptions and sense of comfort, question inconsistency, and think past your brain's evolved biases. Piece by piece, you can systematically remove nonsense from your life. Lawrence Krauss' most recent book is The Greatest Story Ever Told -- So Far: Why Are We Here?
A new study explains why and how people choose to avoid information and when that strategy could be beneficial.
Visualization of World Wide Web at London art conference. Credit: Getty Images.
Researchers from Carnegie Mellon University pinpointed the strategies that modern people rely on more and more to support their own versions of reality. On the surface, it may seem that rational people would always want to have more information, but that is often not the case. In fact, people actively avoid information that they feel might threaten their sense of wellbeing or happiness. 
In a new paper that was published the Journal of Economic Literature, the team drew on cross-disciplinary research from economics, psychology and sociology to show how people use a variety of information avoidance strategies. 
One way - by simply not obtaining available information. Just don't ask for it. Another - people tend to only pay attention to the information that confirms what they already believe or is somehow making them feel good about themselves. The information that they'd rather see as untrue, people simply forget. 
"The standard account of information in economics is that people should seek out information that will aid in decision-making, should never actively avoid information, and should dispassionately update their views when they encounter new valid information," said the economics and psychology Professor George Loewenstein, the paper's co-author who also co-founded the field of behavioral economics.
"But people often avoid information that could help them to make better decisions if they think the information might be painful to receive. Bad teachers, for example, could benefit from feedback from students, but are much less likely to pore over teaching ratings than skilled teachers," Loewenstein explained.
When confronted with information they cannot just ignore, people still choose how to interpret it. They allow their biases to elevate questionable evidence if it agrees with their views and discount vigorously proven scientific evidence if it goes against their beliefs. 
There are also other real-world consequences to living in your own bubble and avoiding information. These are people who miss chances to catch and treat serious illnesses early or do not prepare financially for retirement. In what has been called "the ostrich effect" in behavioral finance, investors were found to check their online portfolios less frequently when the stock market was down.
The researchers see clear connections between their work and the political division currently plaguing American society, which is also undergoing a crisis of information. People are struggling to discern the truth between alternative facts, fake news, hacked emails and conspiracy theories.
"An implication of information avoidance is that we do not engage effectively with those who disagree with us," said David Hagmann, a Ph.D. student involved in the research. "Bombarding people with information that challenges their cherished beliefs — the usual strategy that people employ in attempts at persuasion - is more likely to engender defensive avoidance than receptive processing. If we want to reduce political polarization, we have to find ways not only to expose people to conflicting information, but to increase people's receptivity to information that challenges what they believe and want to believe."
There are also some positive aspects to avoiding information. It's a mental strategy that can help in certain situations. For instance, an athlete might not want to have too much information about competitors to not get psyched out. 
"People do it for a reason," said Professor Golman, the paper's other co-author. "Those who do not take a genetic test can enjoy their life until their illness can't be ignored, an inflated sense of our own abilities can help us to pursue big and worthwhile goals, and not looking at our financial investments when markets are down may keep us from selling in a panic."
The scientists see their research leading to better understanding by the government and any large organization looking to reach people most effectively.
A college course on how to recognize "bullshit" addresses fake news, memes, clickbaiting and misleading advertising.
Taking a course with the word "bullshit" in its title is a cynical student's dream that University of Washington professors Carl Bergstrom and Jevin West are making a reality. Their 10-week seminar, enticingly titled "Calling Bullshit in the Age of Big Data" begins in March.
The course is a perfect match for our fact-challenged times, where charges of "fake news" and "alternative facts" have become part of common public discourse. If you can't take the course in person, you can follow it online, as its syllabus, readings and recordings of lectures will be available to the general public.
The synopsis of the course is listed succinctly as "Our world is saturated with bullshit. Learn to detect and defuse it."
The course looks to teach students key skills for judging information. The specific ways in which those taking the course will benefit are outlined in the syllabus:
Remain vigilant for bullshit contaminating your information diet.
Recognize said bullshit whenever and wherever you encounter it.
Figure out for yourself precisely why a particular bit of bullshit is bullshit.
Provide a statistician or fellow scientist with a technical explanation of why a claim is bullshit.
Provide your crystals-and-homeopathy aunt or casually racist uncle with an accessible and persuasive explanation of why a claim is bullshit.

It's hard not to agree with such objectives. 
The course will consider a number of case studies that range from a story on food stamp fraud by Fox News to viral social media memes, clickbaiting and misleading advertising.
The inspiration for the course came to the Professors from reviewing scientific articles over a number of years. They noticed a trend of statistics better suited for smaller data sets being used for big data sets of millions or billions of examples. This could result in forcing correlations that aren't necessarily there.
Another disturbing trend noticed by Professor West was in seeing the "overfitting" of data by machine learning algorithms which were too perfectly matched to particular data sets instead of being more general.
The course is not geared towards a particular political ideology.
"We simply want to help people of all political perspectives resist bullshit, because we are confident that together all of us can make better collective decisions if we know how to evaluate the information that comes our way," explain the authors on the course's website.
You can access the course's materials here.
Regardless of truth, the best storyteller wins: how else could a quarter of Americans, many struggling financially, 'relate' to a billionaire real estate mogul?
When Badlands National Park staff tweeted data regarding climate change in response to the Trump administration's social media ban on the National Park Service, they were quickly forced to delete the tweets. Still, point made: you're not entitled to your own alternative facts.
An 'unofficial resistance team' inside the White House recently created its own 'rogue' Twitter account to respond to the barrage of executive orders streaming from Trump's pen. We cannot verify the actual tweeter: "We will not reveal our identity to anyone!" Given its 587,000 followers in one week, this is a further sign that the battle for truth is being waged.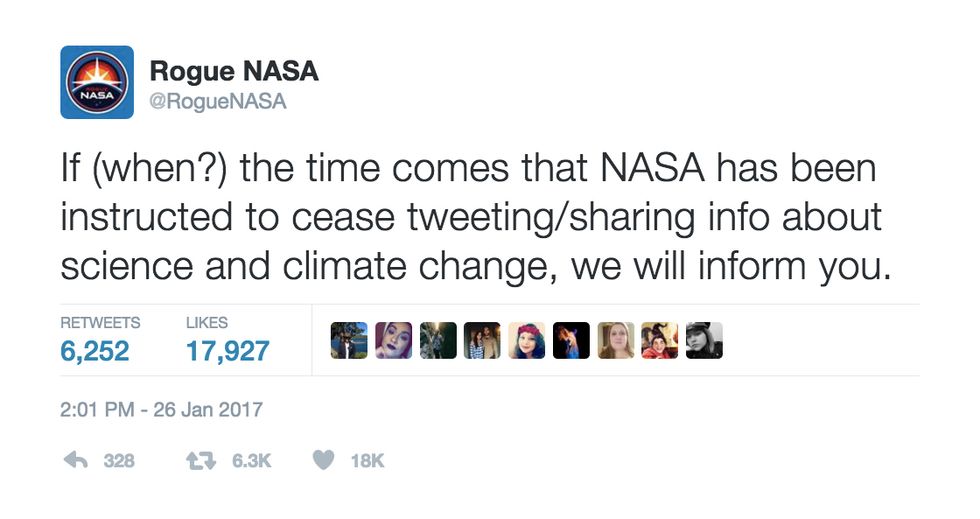 Really, this is a war on narrative. Humans are, in the words of literary scholar Jonathan Gottschall, a 'storytelling animal.' Interestingly, our brains are not constructed for story. Gottschall argues that "glitches in its design" make us vulnerable to the seductive power of narrative.
Consider how stories originate. The earliest human communications were pantomimes, facial cues, monosyllabic utterances, perhaps music — percussion would have been simplest given you keep rhythm with your hands, though flutes date back pretty early as well.
While we'll never know the exact origins of language, linguist David Crystal cites five leading theories as described by 19th-century Danish linguist Otto Jespersen:
Imitating the environment, especially animal calls
Instinctual responses to emotions and feelings
Spontaneous reactions to environmental stimulation
Physical survival skills, such as clearing lands and building shelter, that produced communal, rhythmical grunts
Sounds associated with the romantic side of life—play, love, song—inspired our forebears to formulate verbal expressions to represent them
Whatever its roots, language soon became a vehicle for communication. To best transmit these tales we had to memorize them, which is why mythological epics are mnemonic devices. Our brain remembers information easier by chunking, putting verse into categories to create a meaningful story. If something sounds like something else—in this case, rhyming—we're more apt to recall it.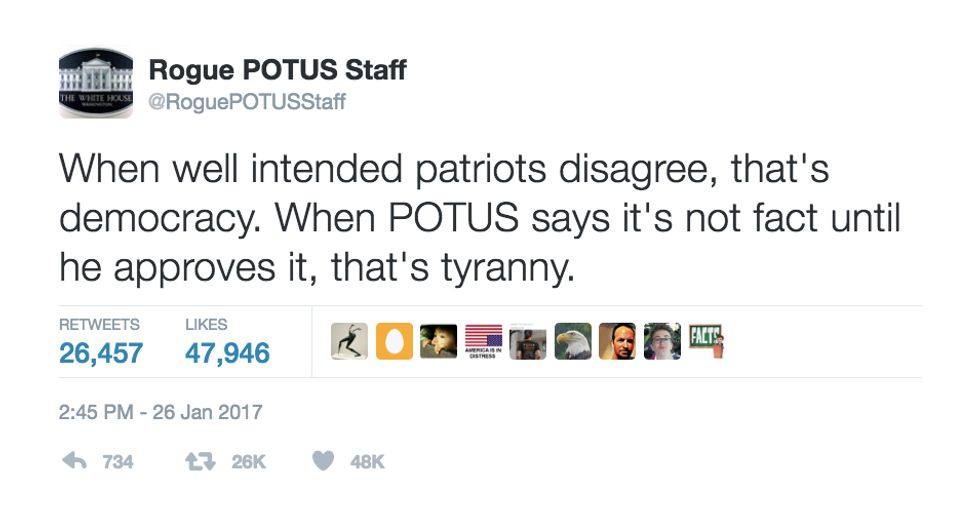 This is a hallmark of Trump's campaign: unforgettable sound bytes that stick to its intended target. While many accuse him of lacking intellectual prowess—misspelled words with poor grammar are rampant on his Twitter feed—he tapped into a deeply embedded psychological trait to exploit his audience.
Anthropologist Steven Mithen understands this technique. If language was indeed social, the application of language skills to the non-social world (toolmaking, shelter construction, politics) gave early adopters an upper hand—most likely why members of clergy were exclusively male. Control the books, control the language, you control the knowledge. Steve Bannon's demand that the media shut up makes more sense in this light. Mithen continues:
The chapel of social intelligence began to be invaded by non-social information. Those individuals who could exploit these invasions to increase their own knowledge about the non-social world would have been at a selective advantage.
Mithen observes that we still predominantly talk about social issues, or, in modern parlance, gossip. By definition gossip need not be true; alternative facts have always been part of that compulsion. Before language, humans relied on direct habitual observation in order to communicate. Television closed the visual distance between individuals. Suddenly the person on the screen is right beside you. How else could a quarter of Americans, many struggling financially, 'relate' to a billionaire real estate mogul?
Gottschall points out that stories have historically been about problems. Joseph Campbell also noticed this trend in global mythological traditions. The 'hero' had to surmount an obstacle, be it an existential dilemma or transformative combat with evil. Since we all confront personal struggles, we relate to others who share similar narratives, regardless of the truth of the story.
Though we desire a happy ending—an innate optimism bias—our brains are tuned to notice environmental dangers, just as our body does not alert us while in homeostasis, though an abnormal heart murmur quickly rises to the level of consciousness. The seduction of danger, be it a shady immigrant or the shadow of a terrorist, stimulates us to action. In this case perception is reality.
Gottschall calls this the 'problem structure,' the main drivers of narratives, great predicaments of human nature. This structure, he continues, "suggests that the human mind was shaped for story, so that it could be shaped by story."
What are we other than the collection of our stories? Where do we learn these stories other than those around us, the leaders and parents and peers we choose to pay attention to? The core of who we are is nothing but a collection of personal memories. Since our memories are constantly rewritten during recall, we're writing (and editing) reality every day.
Alternative facts are nothing new. What's changed is the avalanche of opinions regularly passing in front of our eyes. Like the rest of Trump's campaign, his administration is exploiting cognitive quirks, the longstanding tradition of ignoring facts for an appealing narrative. Rogue accounts are one antidote, but as with any story, willing eyes are needed for that tale to succeed. In the end it's a battle for narrative. In a world of competing platforms whose story wins is anyone's guess. 
--
Derek's next book, Whole Motion: Training Your Brain and Body For Optimal Health, will be published on 7/4/17 by Carrel/Skyhorse Publishing. He is based in Los Angeles. Stay in touch on Facebook and Twitter.