FDA guidelines say men can't donate blood if they've had sex with another man in the past 12 months.
At least seven 2020 Democratic presidential campaigns have called for an end to the FDA's guidelines, as reported by The Independent.
It would be the first year that the issue has been a focus of presidential candidates.
The American Public Health Association said the FDA's ban isn't based on science.
In 1983, as the HIV and AIDS was ramping up in the U.S., the Food and Drug Administration banned blood donations from men who'd ever had sex with other men. The policy remains active, though in 2015 the FDA narrowed its ban to apply only to men who've had sex with another man in the past year.
Soon, the ban could be lifted altogether.
A growing number of 2020 Democratic presidential candidates are calling to end the long-standing policy, which gay-rights advocacy groups say promotes homophobia and is no longer necessary, thanks to modern disease-screening techniques. Most harmfully, the ban could be preventing healthy blood from reaching patients who need it, when blood shortages are already alarmingly common.
"The one-year deferral period for male blood donors who identify as gay and bisexual has nothing to do with science or medicine and everything to do with outdated stigmas against the LGBTQ community," a spokesperson for Beto O'Rourke's campaign told The Independent, which received similar responses from the campaigns of Elizabeth Warren, Bernie Sanders, Kamala Harris, Kirsten Gillibrand, John Delaney, and Marianne Williamson.
"Our blood screening policies must be based on 21st century medical evidence, not outdated biases about which populations carry more risk of HIV transmission. These policies serve no one and will only limit access to life-saving blood donations."
The ban hasn't been a key issue in past elections, said William McColl, director of health policy with the advocacy group AIDs United.
"I'm pleased to hear that they're talking about it. I think it shows that we've come a really long way in a short period of time," McColl told The Independent. "This discussion wasn't happening even 10 years ago, for sure."
House Democrats tried to lift the FDA's current policy in 2016, but the legislation never passed.
​Is the FDA's current policy based on science?
Not really, according to Georges C. Benjamin, the executive director of the American Public Health Association.

"[The FDA's 12-month policy on gay donors] continues to prevent low-risk individuals from contributing to our blood supply and maintains discriminatory practices based on outdated stereotypes," he wrote in comments submitted to the FDA in 2015. "Instead, we strongly urge FDA to issue guidance that is grounded in science to ensure a safe and robust blood supply."
Benjamin noted that current screening technology can identify HIV in blood donations within 11 days, and that the odds of an infected sample making it past screening is about 1 in 3.1 million. The Williams Institute, a think-tank at UCLA School of Law, estimates that eliminating the ban would add 615,300 pints to the national blood supply each year, an increase of about 4 percent.
The promising news comes 12 years after the "Berlin patient" became the world's first person to be cured of the deadly virus.
HIV infected cell (Getty Images/luismmolina)
The New York Times reports that a team of scientists plan to announce tomorrow that a patient in London has been effectively cured of HIV.
The cure reportedly was the result of a bone-marrow transplant that came with a genetic mutation that naturally blocks HIV from spreading throughout the body.
This approach isn't quite practical to implement on a large scale, but the knowledge gained from it will likely help scientists develop more scalable approaches.
In 2007, Timothy Ray Brown became the first person to be cured of HIV after receiving a bone marrow stem cell transplant, to treat leukemia, from someone who was naturally immune to the virus. Known as "the Berlin patient," researchers have since tried — and failed — to replicate that incredible success in hopes of finding a permanent cure for the virus, which currently affects some 37 million people globally.
However, a team of scientists plan to announce tomorrow that a second person — known now only as the "London patient" — appears to also have been cured of the virus that causes AIDS, according to a New York Times report. The London patient is reported to have had Hodgkin's lymphoma, which doctors treated in 2016 with a bone-marrow transplant, which, like the Berlin patient, came from a donor who had a mutation in the gene for CCR5, which rendered them naturally immune to HIV (About 1 percent of people who descend from Northern Europeans carry this mutation and are immune to HIV).
"[It] shows the cure of Timothy Brown was not a fluke and can be recreated," Keith Jerome of Fred Hutchinson Cancer Research Center in Seattle, a doctor who wasn't involved in the transplant, told The Associated Press.
But the new case is different in an important way. The Berlin patient had been subjected to harsh immunosuppressive drugs and, at one point, was put into a medically induced coma. He nearly died, the Times report states. That's why some scientists have long suggested that replicating the success of the Berlin patient would be anything but simple: A patient must reach the verge of death to be cured of HIV.
However, because the London patient had a milder, more routine medical experience, it's a promising sign that suggests future patients might not need to be put in excess danger to be cured.
"I think this does change the game a little bit," Dr. Ravindra Gupta, a virologist at University College London who spoke at the Seattle meeting where the results were discussed, told the Times. "Everybody believed after the Berlin patient that you needed to nearly die basically to cure HIV, but now maybe you don't."
Still, the Times report states that most doctors interviewed seem hesitant to refer to the new case as "cured." What's more, the types of transplants in both the London and Berlin cases are risky and come with potentially long-term side effects, so it's not clear that such transplants could ever become realistic treatment options.
"I'm not sure what this tells us," Dr. Anthony Fauci, director of the National Institute of Allergy and Infectious Diseases, told the Times. "It was done with Timothy Ray Brown, and now here's another case — ok, so now what? Now where do we go with it?"
The answer seems unclear, though some suggest other methods that target the CCR5 gene — and aren't as costly or risky as transplants — are likely routes forward. One of the most notable examples of possibles uses is CRISPR, which is the tool Chinese scientist He Jiankui used to genetically edit the embryos — which included alterations to the CCR5 genes — of two girls born last year in China. They were born naturally immune to the disease as a result.
Whatever the way forward, the London patient represents hope that scientists might one day find a safe, scalable cure for HIV. "This will inspire people that cure is not a dream," Dr. Annemarie Wensing, a virologist at the University Medical Center Utrecht in the Netherlands, told the Times. "It's reachable."
This new pill could make it easier for people to stick to the treatment.
Indian social activists and children release ribbons and balloons during an event to mark World AIDS Day in Kolkata on December 1, 2014. (Photo credit: DIBYANGSHU SARKAR/AFP/Getty Images)
Replacing daily pills with a weekly regimen could help patients stick to their dosing schedule.
Anne Trafton | MIT News Office
Researchers at MIT and Brigham and Women's Hospital have developed a capsule that can deliver a week's worth of HIV drugs in a single dose. This advance could make it much easier for patients to adhere to the strict schedule of dosing required for the drug cocktails used to fight the virus, the researchers say.
The new capsule is designed so that patients can take it just once a week, and the drug will release gradually throughout the week. This type of delivery system could not only improve patients' adherence to their treatment schedule but also be used by people at risk of HIV exposure to help prevent them from becoming infected, the researchers say.
"One of the main barriers to treating and preventing HIV is adherence," says Giovanni Traverso, a research affiliate at MIT's Koch Institute for Integrative Cancer Research and a gastroenterologist and biomedical engineer at Brigham and Women's Hospital. "The ability to make doses less frequent stands to improve adherence and make a significant impact at the patient level."
Traverso and Robert Langer, the David H. Koch Institute Professor at MIT, are the senior authors of the study, which appears in the Jan. 9 issue of Nature Communications. MIT postdoc Ameya Kirtane and visiting scholar Omar Abouzid are the lead authors of the paper.
Scientists from Lyndra, a company that was launched to develop this technology, also contributed to the study. Lyndra is now working toward performing a clinical trial using this delivery system.
"We are all very excited about how this new drug-delivery system can potentially help patients with HIV/AIDS, as well as many other diseases," Langer says.
"A pillbox in a capsule"
Although the overall mortality rate of HIV has dropped significantly since the introduction of antiretroviral therapies in the 1990s, there were 2.1 million new HIV infections and 1.2 million HIV-related deaths in 2015.
Several large clinical trials have evaluated whether antiretroviral drugs can prevent HIV infection in healthy populations. These trials have had mixed success, and one major obstacle to preventative treatment is the difficulty in getting people to take the necessary pills every day.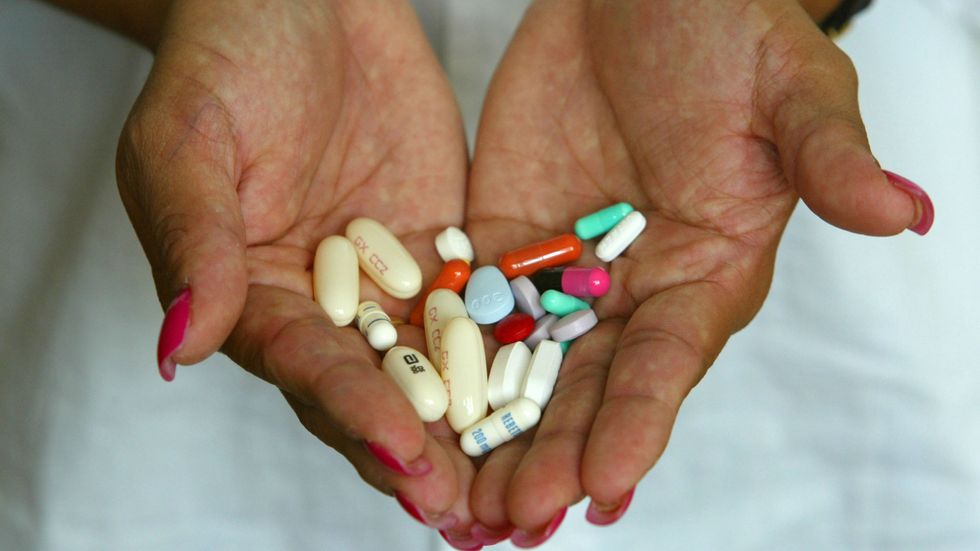 Alba Cerrato displays her cocktail of 14 different AIDS medications that she takes three times a day July 11, 2002 in Miami, Florida. Cerrato contracted the disease in 1994 from her boyfriend who passed away in 1999.
The MIT/BWH team believed that a drug delivery capsule they developed in 2016 might help to address this problem. Their capsule consists of a star-shaped structure with six arms that can be loaded with drugs, folded inward, and encased in a smooth coating. After the capsule is swallowed, the arms unfold and gradually release their cargo.
In a previous study, the researchers found that these capsules could remain in the stomach for up to two weeks, gradually releasing the malaria drug ivermectin. The researchers then set out to adapt the capsule to deliver HIV drugs.
In their original version, the entire star shape was made from one polymer that both provides structural support and carries the drug payload. This made it more difficult to design new capsules that would release drugs at varying rates, because any changes to the polymer composition might disrupt the capsule's structural integrity.
To overcome that, the researchers designed a new version in which the backbone of the star structure is still a strong polymer, but each of the six arms can be filled with a different drug-loaded polymer. This makes it easier to design a capsule that releases drugs at different rates.
"In a way, it's like putting a pillbox in a capsule. Now you have chambers for every day of the week on a single capsule," Traverso says.
Tests in pigs showed that the capsules were able to successfully lodge in the stomach and release three different HIV drugs over one week. The capsules are designed so that after all of the drug is released, the capsules disintegrate into smaller components that can pass through the digestive tract.
Daniel Kuritzkes, a professor of medicine at Harvard Medical School and the chief of infectious diseases at Brigham and Women's Hospital, says that with further safety studies and tests of different drug combinations, this approach could provide another tool to help doctors treat HIV infections and prevent new ones.
"It's a very interesting approach and certainly something that's worth further development, and potentially human trials to see how workable this is," says Kuritzkes, who was not involved in the research.
Preventing infection
Working with the Institute for Disease Modeling in Bellevue, Washington, the researchers tried to predict how much impact a weekly drug could have on preventing HIV infections. They calculated that going from a daily dose to a weekly dose could improve the efficacy of HIV preventative treatment by approximately 20 percent. When this figure was incorporated into a computer model of HIV transmission in South Africa, the model showed that 200,000 to 800,000 new infections could be prevented over the next 20 years.
"A longer-acting, less invasive oral formulation could be one important part of our future arsenal to stop the HIV/AIDS pandemic," says Anthony Fauci, director of the National Institute of Allergy and Infectious Disease, which partly funded the research.
"Substantial progress has been made to advance antiretroviral therapies, enabling a person living with HIV to achieve a nearly normal lifespan and reducing the risk of acquiring HIV. However, lack of adherence to once-daily therapeutics for infected individuals and pre-exposure prophylaxis (PrEP) for uninfected at-risk people remain a key challenge. New and improved tools for HIV treatment and prevention, along with wider implementation of novel and existing approaches, are needed to end the HIV pandemic as we know it. Studies such as this help us move closer to achieving this goal," Fauci says.
The MIT/BWH team is now working on adapting this technology to other diseases that could benefit from weekly drug dosing. Because of the way that the researchers designed the polymer arms of the capsule, it is fairly easy to swap different drugs in and out, they say.
"To put other drugs onto the system is significantly easier because the core system remains the same," Kirtane says. "All we need to do is change how slowly or how quickly it will be released."
The researchers are also working on capsules that could stay in the body for much longer periods of time.
The research was also funded by the Bill and Melinda Gates Foundation, Bill and Melinda Gates through the Global Good Fund, the National Institutes of Health, and the Division of Gastroenterology at Brigham and Women's Hospital.
--
Reprinted with permission of MIT News
Norway's decision to push drug felons through treatment is a huge step forward.
The question of whether to punish criminals or attempt to reform them is not new. While some are for maximum enforcement, including solitary confinement and the death penalty, others take the more humane route of trying to rehabilitate criminals to integrate back into society. 
This question is especially heated when discussing drugs. America's war has been a continual failure, from crack in the eighties through to opioids today. Defining what a drug is, how it can and can't be used, and who can use it has proven to be more about politics and corporate interests than biology. Sugar is the most potent and deadly drug on the planet today, yet it is widely available, cheap, and celebrated. 
So integrated into the fabric of society has sugar become that even the mention of it as a "drug" is certain to incite scoffs and sneers. We know alcohol is a drug, yet since it's also wildly sanctioned (and wildly taxed) we consider it not to be that bad. Ditto cigarettes, even if those two kill hundreds of thousands more people a year than marijuana. Pull back far enough and everything we ingest is a drug, since everything results in a chemical reaction in our bodies. 
Some countries are realizing this. Norway recently voted to completely decriminalize illegal drugs, as well as send offenders through treatment instead of prison. While parliamentary support for this bill has passed, it still must find its way through the government. 
Sveinung Stensland, a deputy chairman of the Storting Health Committee, commented on the decision:
The change will take some time, but that means a changed vision: Those who have a substance abuse problem should be treated as ill, and not as criminals with classical sanctions such as fines and imprisonment. 
This is no sudden decision; Norwegian politicians have been debating this for years. In 2001, Portugal decriminalized drugs, which has resulted in a drastic reduction in HIV infections, overdoses, and drug-related crime. In 2001, for example, HIV infection affected 104.2 new cases per million; by 2015 that number had dropped to 4.2 cases. 
Another big reaction was in social stigmatism. As The Guardian reports: 
The language began to shift, too. Those who had been referred to sneeringly as drogados (junkies)—became known more broadly, more sympathetically, and more accurately, as "people who use drugs" or "people with addiction disorders." This, too, was crucial.
João Goulão was one of two men behind Portugal's first CAT (Centros de Atendimento a Toxicodependentes, a rehab facility) in 1988. He helped draft legislation for decriminalization in 1997. He notes that Portugal is a conservative country. The decision was more financial and social than about liberty and freedom. But drug use in the eighties and nineties had spread to affect every family in the nation: 
There was a point when you could not find a single Portuguese family that wasn't affected. Every family had their addict, or addicts. This was universal in a way that the society felt: 'We have to do something.'
Twenty years later American families are struggling with an opioid epidemic that is still gaining force—fentanyl deaths increased 540 percent between 2014-2016. The 2017 data so far are not promising. 
It is well known that Richard Nixon tied addiction to crime in order to suppress minorities and political radicals in the seventies. That mindset forced American legislators—and the American public—to relate certain substances as bad and others as good, or least benign. Since opioids are tied to the white working class, there has been much criticism of opioids being treated as an opportunity for compassion and understanding while crack, an inner city problem, was seen as a blight to be eradicated. 
Full decriminalization might be the only way to sift through the scattered and conflicting reports on how substances act in our bodies. By understanding what drugs do and how they are either helpful or harmful, we can make appropriate decisions on how to treat their users.
Psychedelics such as psilocybin, MDMA, and LSD—all considered Schedule One substances, meaning they supposedly have no medical value—are proving to be clinically relevant for treating anxiety, depression, and end-of-life care. Marijuana is quickly becoming decriminalized on a state-by-state level as the positive effects of cannabinoids continue to roll in. 
Norway's decision to push felons through treatment is a step forward, though hopefully more detailed consideration of what drug each person is caught with will be taken into consideration. Heroin makes for a good candidate; marijuana, not so much, unless abuse level is truly crippling. That's the problem with blanket regulations on disparate substances: you're unfairly equating dissimilar drugs. 
That said, progress is progress. Let's hope America follows suit. First decriminalization, then a government-funded increase in technology and sugar addiction centers to combat our two main culprits. 
One can dream.
--
Derek Beres is the author of Whole Motion: Training Your Brain and Body For Optimal Health. Based in Los Angeles, he is working on a new book about spiritual consumerism. Stay in touch on Facebook and Twitter.
From the depth of the AIDS crisis, a new community discovered itself and defeated victimhood.
When the AIDS pandemic hit in 1981, the LGBTQ community was turned upside down. American actress Judith Light recalls the horrifying wave of death that swept through the community—but from that devastation, she witnessed a new force emerge. Pushed to be self-reliant in the absence of outside help, the LGBTQ community banded together and "became this magnificent example to the world of how to be of service," Light says. Elizabeth Taylor appealed to Congress for funding to fight the AIDS crisis, Larry Kramer founded the direct action advocacy group ACT UP to bring about legislation and medical research, and artists told the powerful stories of themselves and the ones they loved to help people understand why compassion was warranted. "I began to see that we were, by the example of the LGBQ community, we were one human family," says Light. Since then the LGBTQ community has not stopped being a force for progress and compassion, but there is much further to go, she says. Trans people are currently on the frontline of a struggle for public compassion and acceptance, and Light—who stars in Amazon's comedy-drama series Transparent—naturally has much to say about defeating bigotry, serving the community, and the immense courage of the trans people who come out to live authentically.