Update Needed: the Liam Neeson Kill Map
Europe is the continent where you are most likely to be killed by Liam Neeson.
24 September, 2016
He will find you. 
---
Then he will kill you.
And then someone will map it.
That's the theory behind this Liam Neeson Kill Map, which charts the 115 lives snuffed out, across 16 movies, by the Irish actor. 
Quite a performance for an actor who debuted on the silver screen in a Christian-themed movie. In the 1978 version of Pilgrim's Progress, Neeson played the Evangelist. Body count: zero. But throughout the years, he has honed the persona of the stone-cold killer. Neeson has killed across centuries, continents and even planets. These days, Neeson's characters are more likely to shoot first, and ask questions later. 
This map lists the movies, locations and dates of Neeson's kills, which are represented by symbols referring to the various methods of dispatching the victims. These include: shot with gun/machine gun/revolver, stabbed with knife/dagger/sword/axe/doorknob, thrown from balcony/helicopter/building, and of course the classics, killed with lightsaber and stuffed in a manhole.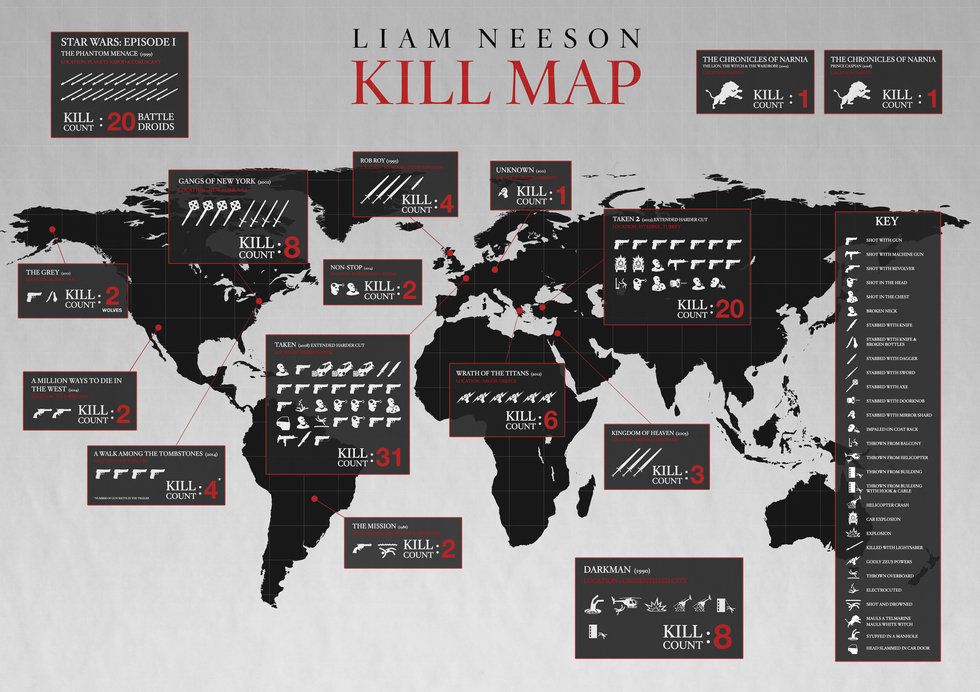 Neeson's most lethal role so far was in Taken 1, in which he kills 31 bad guys. In Taken 2, that body count drops to 20 – a figure equalled in The Phantom Menace, although the victims there are battle droids, not Albanian mobsters. Those three are the actor's only double-digit kill films. In both Darkman and Gangs of New York, he kills a mere eight opponents – the former movie gets the prize for most helicopter-related deaths. The tally drops off, eventually down to single kills in two Narnia movies. That's weak, Liam.
Location-wise, Europe is the continent where you are most likely to be killed by Neeson. He kills double as many people in Paris alone as he does in the whole of North America. The Far East and Africa have been spared Liam's lethal treatment – for now. 
There is a problem with this map: it is a few years old. Its most recent additions are Liam Neeson's four kills in the trailer for A Walk Among Tombstones (2014). Since then, he has played in more than a dozen new movies, including Taken 3, the bodycount-rich reprise of his role as retired CIA operative Bryan Mills. 
I could not find an updated version of this map. Who will make one?
Strange Map #803
Got a strange map? Let me know at strangemaps@gmail.com.
Research in plant neurobiology shows that plants have senses, intelligence and emotions.
Getty Images
Surprising Science
The field of plant neurobiology studies the complex behavior of plants.
Plants were found to have 15-20 senses, including many like humans.
Some argue that plants may have awareness and intelligence, while detractors persist.
E-cigarettes may be safer than traditional cigarettes, but they come with their own risks.
Surprising Science
A new study used an MRI machine to examine how vaping e-cigarettes affects users' cardiovascular systems immediately after inhalation.
The results showed that vaping causes impaired circulation, stiffer arteries and less oxygen in their blood.
The new study adds to a growing body of research showing that e-cigarettes – while likely safer than traditional cigarettes – are far from harmless.
Since the idea of locality is dead, space itself may not be an aloof vacuum: Something welds things together, even at great distances.

Videos
Realists believe that there is an exactly understandable way the world is — one that describes processes independent of our intervention. Anti-realists, however, believe realism is too ambitious — too hard. They believe we pragmatically describe our interactions with nature — not truths that are independent of us.
In nature, properties of Particle B may be depend on what we choose to measure or manipulate with Particle A, even at great distances.
In quantum mechanics, there is no explanation for this. "It just comes out that way," says Smolin. Realists struggle with this because it would imply certain things can travel faster than light, which still seems improbable.