Turkish province wants its borders to look like Batman logo
More than 20,000 people have signed a petition for Batman, one of Turkey's 81 provinces, to be re-shaped so its borders resemble the Bat-Signal.
04 August, 2018
The shape of things to come? Batman province, looking like the Batman logo
For those who both love superheroes and cartography, the southeast corner of the map of Turkey holds a pleasant triple surprise: a river, city and province, all named Batman.
---
Of course, none of them was named after the superhero. The city, called Iluh until 1957 (and still called Êlih in Kurdish), was named after the river and passed that name on to the province.
The river itself was known in Antiquity as Kalat or Nymphios ('bride' in Syriac and Greek) and by the Arabs as Sâtîdamâ ('bloody', after the battles fought near its banks). Batman came into use only in the 19th century, possibly short for Bati Raman, a nearby mountain; or for batman, an Ottoman unit of weight (just under 7.7 kg or 17 lb; the equivalent of 6 okka).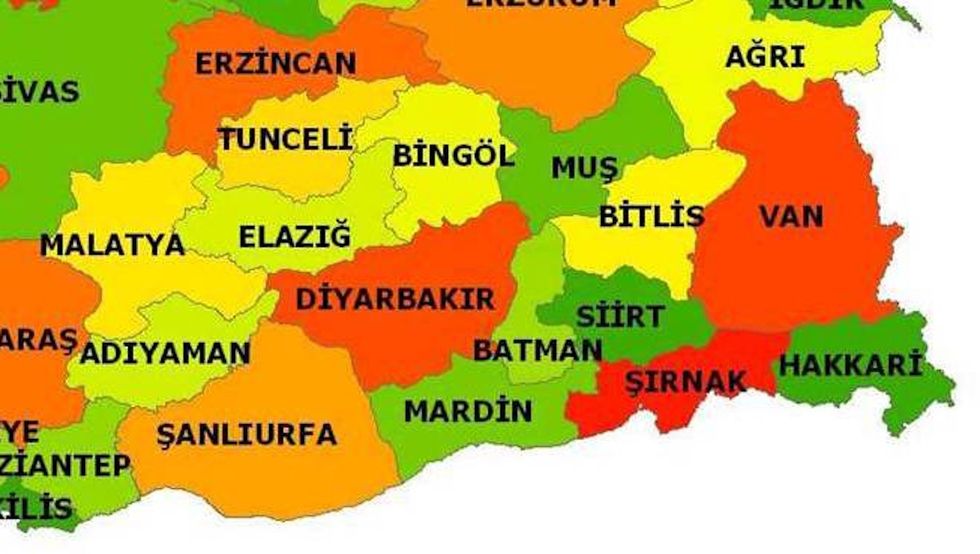 The current provincial borders in southeastern Turkey.
The three Turkish Batmans are not the only places that bear the same name as Bruce Wayne's crime-fighting alter ego. Batman is also a city in Iran's Kermanshah province – actually not that far from its Turkish counterpart, as the bat flies. And also an electoral district and railway station in Melbourne, Australia, both named after John Batman (1), one of the city fathers. Accidental though its link to the caped crusader may be, Batman in Turkey has not been shy about exploiting its link to Batman of Gotham City.
In 2008, Batman mayor Huseyin Kalkan tried to sue Warner Bros. and Christopher Nolan (director of Batman Begins and The Dark Night) for royalty infringement, on the grounds that they used the city's name in those movies without permission or payment. The claim never made it to court – and perhaps just as well: Batman the comic is two decades older than Batman the city, so a reverse suit would actually have been the slightly more credible of two very spurious claims.
The current attempt to link city and hero stems from a petition initiated by Batman resident Kemal Atakan Kırca. "Batman needs some change! We can start with the border. By changing the border, we can make it more realistic", reads his petition on Change.org. Calling on the governor of Batman to help reshape the borders of his province to resemble the famous Bat-Signal, the petition has already gathered more than 20,000 signatures in less than a week.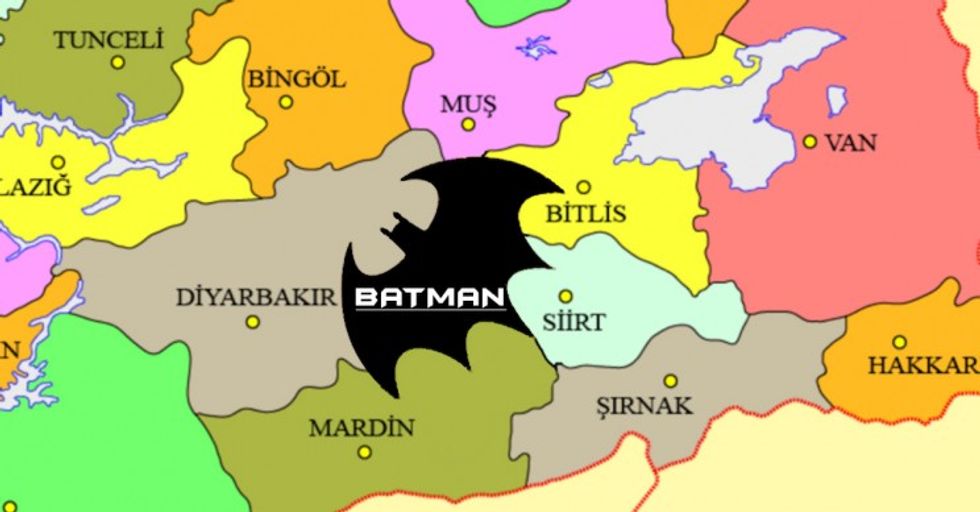 Some signatories have gone even further, suggesting that Batman city be renamed Gotham (2). Neither change is likely, but the attention can only benefit the interest in Batman (city and province). Turkey is a major tourist destination for Europeans and Middle Easterners alike, but most stay close to the major cities and coasts in the country's west.
Many thanks to Kees Huyser for sending in the proposed map, found here on Interesting Engineering. Map of current borders found here on Turkish Lessons.
Strange Maps #927
Got a strange map? Let me know at strangemaps@gmail.com.
(1) Batman is a rare, but genuinely English surname. A more common variant is 'Bateman'.
(2) From the old English for 'goat home', the original Gotham is an actual village in Nottinghamshire, England.
Who is to blame for the U.S.'s dismal college graduation rate? "Radical" educator Dennis Littky has a hunch.
Sponsored by Charles Koch Foundation
COVID-19 has magnified the challenges that underserved communities face with regard to higher education, such as widening social inequality and sky-high tuition.
At College Unbound, where I am president, we get to know students individually to understand what motivates them, so they can build a curriculum based on goals they want to achieve.
My teaching mantra: Everything is permitted during COVID-19. Everything is permitted during COVID-19. Everything is permitted during COVID-19.
Meteorologists propose a stunning new explanation for the mysterious events in the Bermuda Triangle.
Surprising Science
One of life's great mysteries, the Bermuda Triangle might have finally found an explanation. This strange region, that lies in the North Atlantic Ocean between Bermuda, Miami and San Juan, Puerto Rico, has been the presumed cause of dozens and dozens of mind-boggling disappearances of ships and planes.
Did you know that shifting to a positive perspective on aging can add 7.5 years to your life? Or that there is a provable U-curve of happiness that shows people get happier after age 50?
Sweden tops the ranking for the third year in a row.
AXEL SCHMIDT/DDP/AFP via Getty Images
Technology & Innovation
What does COVID-19 mean for the energy transition? While lockdowns have caused a temporary fall in CO2 emissions, the pandemic risks derailing recent progress in addressing the world's energy challenges.
Culture & Religion
Neo's superhuman powers were only inside of The Matrix. The outside world offered a different reality.
Scroll down to load more…