Turkish province wants its borders to look like Batman logo
More than 20,000 people have signed a petition for Batman, one of Turkey's 81 provinces, to be re-shaped so its borders resemble the Bat-Signal.
Frank Jacobs
From a young age, Frank was fascinated by maps and atlases, and the stories they contained. Finding his birthplace on the map in the endpapers of Tolkien's Lord of the Rings only increased his interest in the mystery and message of maps.
While pursuing a career in journalism, Frank started a blog called Strange Maps, as a repository for the weird and wonderful cartography he found hidden in books, posing as everyday objects and (of course) floating around the Internet.
"Each map tells a story, but the stories told by your standard atlas for school or reference are limited and literal: they show only the most practical side of the world, its geography and its political divisions. Strange Maps aims to collect and comment on maps that do everything but that - maps that show the world from a different angle".
A remit that wide allows for a steady, varied diet of maps: Frank has been writing about strange maps since 2006, published a book on the subject in 2009 and joined Big Think in 2010. Readers send in new material daily, and he keeps bumping in to cartography that is delightfully obscure, amazingly beautiful, shockingly partisan, and more.
04 August, 2018
For those who both love superheroes and cartography, the southeast corner of the map of Turkey holds a pleasant triple surprise: a river, city and province, all named Batman.
---
Of course, none of them was named after the superhero. The city, called Iluh until 1957 (and still called Êlih in Kurdish), was named after the river and passed that name on to the province.
The river itself was known in Antiquity as Kalat or Nymphios ('bride' in Syriac and Greek) and by the Arabs as Sâtîdamâ ('bloody', after the battles fought near its banks). Batman came into use only in the 19th century, possibly short for Bati Raman, a nearby mountain; or for batman, an Ottoman unit of weight (just under 7.7 kg or 17 lb; the equivalent of 6 okka).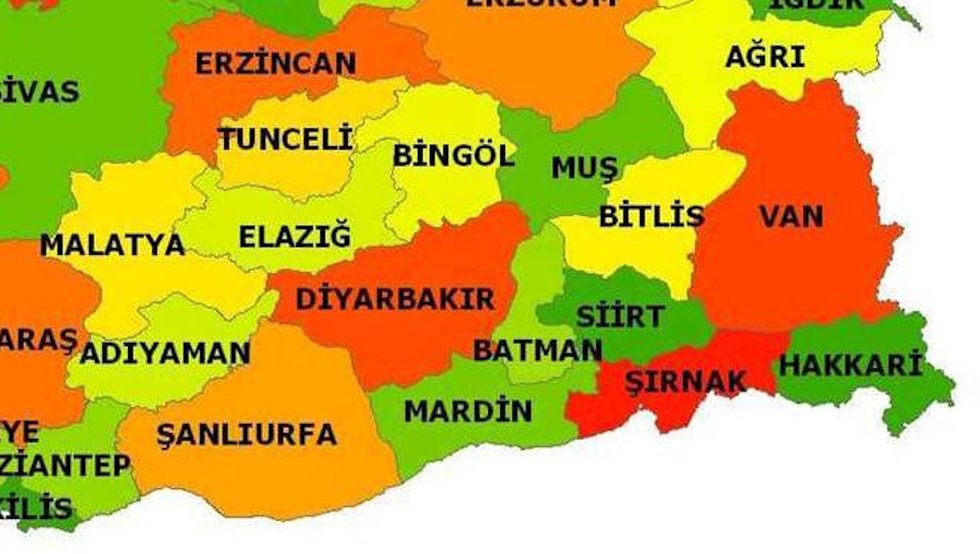 The current provincial borders in southeastern Turkey.
The three Turkish Batmans are not the only places that bear the same name as Bruce Wayne's crime-fighting alter ego. Batman is also a city in Iran's Kermanshah province – actually not that far from its Turkish counterpart, as the bat flies. And also an electoral district and railway station in Melbourne, Australia, both named after John Batman (1), one of the city fathers. Accidental though its link to the caped crusader may be, Batman in Turkey has not been shy about exploiting its link to Batman of Gotham City.
In 2008, Batman mayor Huseyin Kalkan tried to sue Warner Bros. and Christopher Nolan (director of Batman Begins and The Dark Night) for royalty infringement, on the grounds that they used the city's name in those movies without permission or payment. The claim never made it to court – and perhaps just as well: Batman the comic is two decades older than Batman the city, so a reverse suit would actually have been the slightly more credible of two very spurious claims.
The current attempt to link city and hero stems from a petition initiated by Batman resident Kemal Atakan Kırca. "Batman needs some change! We can start with the border. By changing the border, we can make it more realistic", reads his petition on Change.org. Calling on the governor of Batman to help reshape the borders of his province to resemble the famous Bat-Signal, the petition has already gathered more than 20,000 signatures in less than a week.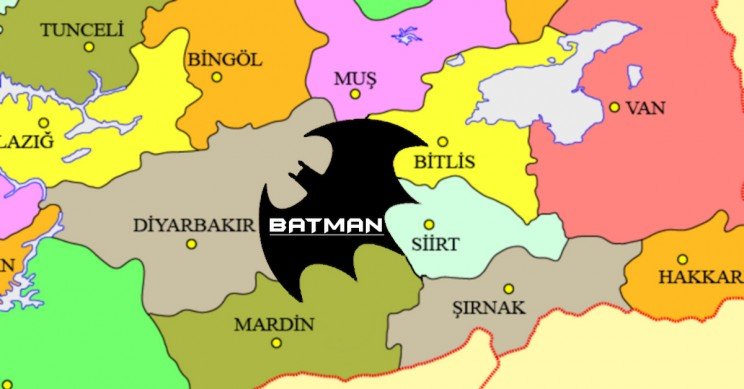 Some signatories have gone even further, suggesting that Batman city be renamed Gotham (2). Neither change is likely, but the attention can only benefit the interest in Batman (city and province). Turkey is a major tourist destination for Europeans and Middle Easterners alike, but most stay close to the major cities and coasts in the country's west.
Many thanks to Kees Huyser for sending in the proposed map, found here on Interesting Engineering. Map of current borders found here on Turkish Lessons.
Strange Maps #927
Got a strange map? Let me know at strangemaps@gmail.com.
(1) Batman is a rare, but genuinely English surname. A more common variant is 'Bateman'.
(2) From the old English for 'goat home', the original Gotham is an actual village in Nottinghamshire, England.
NASA astronomer Michelle Thaller is coming back to Big Think to answer YOUR questions! Here's all you need to know to submit your science-related inquiries.
Surprising Science
Big Think's amazing audience has responded so well to our videos from NASA astronomer and Assistant Director for Science Communication Michelle Thaller that we couldn't wait to bring her back for more!

And this time, she's ready to tackle any questions you're willing to throw at her, like, "How big is the Universe?", "Am I really made of stars?" or, "How long until Elon Musk starts a colony on Mars?"
All you have to do is submit your questions to the form below, and we'll use them for an upcoming Q+A session with Michelle. You know what to do, Big Thinkers!
The Boring Company plans to offer free rides in its prototype tunnel in Hawthorne, California in December.
Image: Claudia Soraya
Technology & Innovation
The prototype tunnel is about 2 miles long and contains electric skates that travel at top speeds of around 150 mph.
This is the first tunnel from the company that will be open to the public.
If successful, the prototype could help the company receive regulatory approval for much bigger projects in L.A. and beyond.
Calling all big thinkers!
Big think's weekly newsletter.
Get smarter faster from the comfort of your inbox.
See our newsletter privacy policy
here
Most Popular
Most Recent
Big think's weekly newsletter.
Get smarter faster from the comfort of your inbox.
See our newsletter privacy policy
here
© Copyright 2007-2018 & BIG THINK, BIG THINK EDGE,
SMARTER FASTER trademarks owned by The Big Think, Inc. All rights reserved.