Turkish province wants its borders to look like Batman logo
More than 20,000 people have signed a petition for Batman, one of Turkey's 81 provinces, to be re-shaped so its borders resemble the Bat-Signal.
04 August, 2018
For those who both love superheroes and cartography, the southeast corner of the map of Turkey holds a pleasant triple surprise: a river, city and province, all named Batman.
---
Of course, none of them was named after the superhero. The city, called Iluh until 1957 (and still called Êlih in Kurdish), was named after the river and passed that name on to the province.
The river itself was known in Antiquity as Kalat or Nymphios ('bride' in Syriac and Greek) and by the Arabs as Sâtîdamâ ('bloody', after the battles fought near its banks). Batman came into use only in the 19th century, possibly short for Bati Raman, a nearby mountain; or for batman, an Ottoman unit of weight (just under 7.7 kg or 17 lb; the equivalent of 6 okka).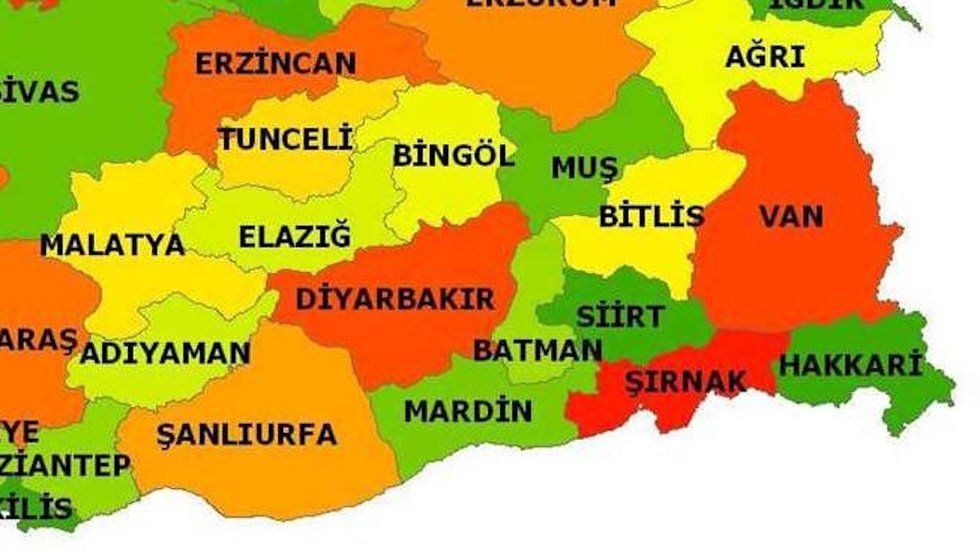 The current provincial borders in southeastern Turkey.
The three Turkish Batmans are not the only places that bear the same name as Bruce Wayne's crime-fighting alter ego. Batman is also a city in Iran's Kermanshah province – actually not that far from its Turkish counterpart, as the bat flies. And also an electoral district and railway station in Melbourne, Australia, both named after John Batman (1), one of the city fathers. Accidental though its link to the caped crusader may be, Batman in Turkey has not been shy about exploiting its link to Batman of Gotham City.
In 2008, Batman mayor Huseyin Kalkan tried to sue Warner Bros. and Christopher Nolan (director of Batman Begins and The Dark Night) for royalty infringement, on the grounds that they used the city's name in those movies without permission or payment. The claim never made it to court – and perhaps just as well: Batman the comic is two decades older than Batman the city, so a reverse suit would actually have been the slightly more credible of two very spurious claims.
The current attempt to link city and hero stems from a petition initiated by Batman resident Kemal Atakan Kırca. "Batman needs some change! We can start with the border. By changing the border, we can make it more realistic", reads his petition on Change.org. Calling on the governor of Batman to help reshape the borders of his province to resemble the famous Bat-Signal, the petition has already gathered more than 20,000 signatures in less than a week.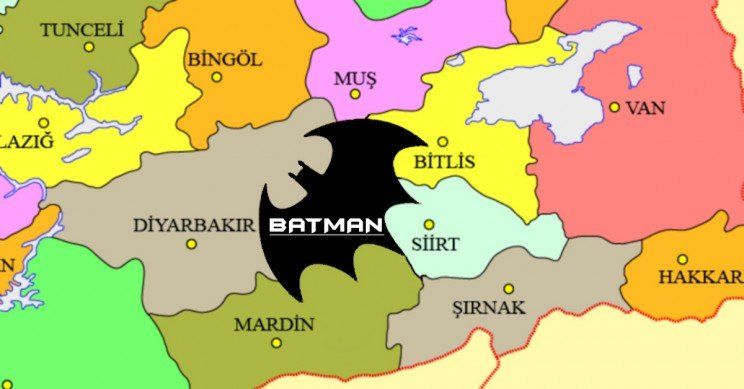 Some signatories have gone even further, suggesting that Batman city be renamed Gotham (2). Neither change is likely, but the attention can only benefit the interest in Batman (city and province). Turkey is a major tourist destination for Europeans and Middle Easterners alike, but most stay close to the major cities and coasts in the country's west.
Many thanks to Kees Huyser for sending in the proposed map, found here on Interesting Engineering. Map of current borders found here on Turkish Lessons.
Strange Maps #927
Got a strange map? Let me know at strangemaps@gmail.com.
(1) Batman is a rare, but genuinely English surname. A more common variant is 'Bateman'.
(2) From the old English for 'goat home', the original Gotham is an actual village in Nottinghamshire, England.
What can 3D printing do for medicine? The "sky is the limit," says Northwell Health researcher Dr. Todd Goldstein.
Northwell Health
Sponsored by Northwell Health
Medical professionals are currently using 3D printers to create prosthetics and patient-specific organ models that doctors can use to prepare for surgery.
Eventually, scientists hope to print patient-specific organs that can be transplanted safely into the human body.
Northwell Health, New York State's largest health care provider, is pioneering 3D printing in medicine in three key ways.
Torn between absolutism on the left and the right, classical liberalism—with its core values of compassion and incremental progress whereby the once-radical becomes the mainstream—is in need of a good defense. And Adam Gopnik is its lawyer.
Think Again Podcasts
Liberalism as "radical pragmatism"
Intersectionality and civic discourse
How "a thousand small sanities" tackled drunk driving, normalized gay marriage, and could control gun violence
Irish president believes students need philosophy.
Personal Growth
President of Ireland Michael D. Higgins calls for students to be thought of as more than tools made to be useful.
Higgins believes that philosophy and history should be a basic requirement forming a core education.
The Irish Young Philosopher Awards is one such event that is celebrating this discipline among the youth.
The lost practice of face-to-face communication has made the world a more extreme place.
Videos
The world was saner when we spoke face-to-face, argues John Cameron Mitchell. Not looking someone in the eye when you talk to them raises the potential for miscommunication and conflict.
Social media has been an incredible force for activism and human rights, but it's also negatively affected our relationship with the media. We are now bombarded 24/7 with news that either drives us to anger or apathy.
Sitting behind a screen makes polarization worse, and polarization is fertile ground for conspiracy theories and fascism, which Cameron describes as irrationally blaming someone else for your problems.
Big think's weekly newsletter.
Get smarter faster from the comfort of your inbox.
See our newsletter privacy policy
here
Most Popular
Most Recent
Big think's weekly newsletter.
Get smarter faster from the comfort of your inbox.
See our newsletter privacy policy
here
© Copyright 2007-2019 & BIG THINK, BIG THINK EDGE,
SMARTER FASTER trademarks owned by The Big Think, Inc. All rights reserved.