The national debt pizza: How much is your slice?
You might find this hard to swallow
Frank Jacobs
From a young age, Frank was fascinated by maps and atlases, and the stories they contained. Finding his birthplace on the map in the endpapers of Tolkien's Lord of the Rings only increased his interest in the mystery and message of maps.
While pursuing a career in journalism, Frank started a blog called Strange Maps, as a repository for the weird and wonderful cartography he found hidden in books, posing as everyday objects and (of course) floating around the Internet.
"Each map tells a story, but the stories told by your standard atlas for school or reference are limited and literal: they show only the most practical side of the world, its geography and its political divisions. Strange Maps aims to collect and comment on maps that do everything but that - maps that show the world from a different angle".
A remit that wide allows for a steady, varied diet of maps: Frank has been writing about strange maps since 2006, published a book on the subject in 2009 and joined Big Think in 2010. Readers send in new material daily, and he keeps bumping in to cartography that is delightfully obscure, amazingly beautiful, shockingly partisan, and more.
25 November, 2016
---
The people at HowMuch.net call it the Snowball of Debt, but honestly, it looks more like a pizza. Or a vast, boiling vat of paella.
The ingredients are country-shaped. The biggest countries are near the centre, the smallest ones at the edge. Their size does not reflect the relative differences in actual, geographical area – check your atlas: Ireland is not bigger than Germany, and the U.S. is not smaller than Singapore.
The clue is in the dollar amount under each country name: that is how much each citizen owes as a share of their nation's debt. The bigger that figure, the bigger the country on this pizza. This is what the top ten looks like:
Japan: $85,695
Ireland: $67,148
Singapore: $56,113
Belgium: $44,203
United States: $42,504
Canada: $42,143
Italy: $40,461
Iceland: $39,732
Austria: $38,700
United Kingdom: $36,206
These are all well-developed, high-income nations. Apparently, you need to be rich to be deep in debt. The reverse applies to the other side of the spectrum. The citizens of some of the world's poorest countries are also the least burdened by national debt. Here is that other top ten:
Liberia: $27
Tajikistan: $51
Democratic Republic of Congo: $91
Burundi: $98
Kiribati: $127
Malawi: $172
Uzbekistan: $177
Uganda: $194
Haiti: $204
Mali: $208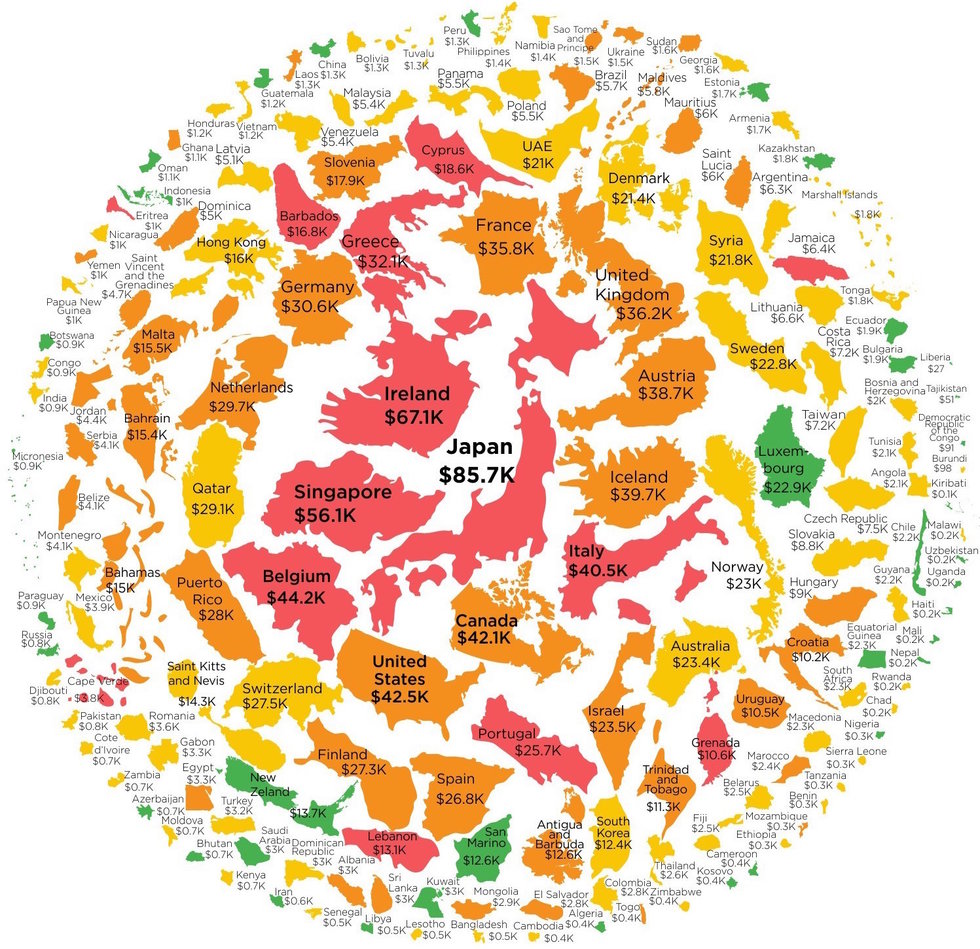 But the reverse relationship between a nations level of development and its debt is not linear. Some relatively well-developed economies have very low per-person debt levels. Chile, the Czech Republic and Slovakia, for example, bunched together near the right-hand edge of the pizza. The tasty colour-coding provides more evidence of that non-linearity. The colours express the public debt as a share of GDP:
green means less than 30% (well done New Zealand, China and Botswana – among many others);
yellow is for anywhere between 30% and 60% (not too shabby, India, Montenegro and Australia, etc.);
orange indicates debt levels between 60% and 100% (come on Germany, Uruguay and Mongolia – you can do better);
if your country is in the red, it is one of the Deep Debt Dozen, the countries who owe more than the value they produce in an entire year.
Actually, its a few more than twelve, but why waste a nice alliteration? They include most but not all of the countries with the highest debt per person, and some others much further down that list: Japan, Ireland, Singapore, Belgium, Italy, Greece, Barbados, Cyprus, Jamaica, Portugal, Lebanon, Grenada, Cape Verde and Eritrea.
For more on this map, see here on HowMuch.net.
Strange Maps #811
Got a strange map? Let me know at strangemaps@gmail.com.
Giving our solar system a "slap in the face."
Surprising Science
A stream of galactic debris is hurtling at us, pulling dark matter along with it
It's traveling so quickly it's been described as a hurricane of dark matter
Scientists are excited to set their particle detectors at the onslffaught
Two massive clouds of dust in orbit around the Earth have been discussed for years and finally proven to exist.
J. Sliz-Balogh, A. Barta and G. Horvath
Surprising Science
Hungarian astronomers have proven the existence of two "pseudo-satellites" in orbit around the earth.
These dust clouds were first discovered in the sixties, but are so difficult to spot that scientists have debated their existence since then.
The findings may be used to decide where to put satellites in the future and will have to be considered when interplanetary space missions are undertaken.
Once again, our circadian rhythm points the way.
Photo: Victor Freitas / Unsplash
Surprising Science
Seven individuals were locked inside a windowless, internetless room for 37 days.
While at rest, they burned 130 more calories at 5 p.m. than at 5 a.m.
Morning time again shown not to be the best time to eat.
Big think's weekly newsletter.
Get smarter faster from the comfort of your inbox.
See our newsletter privacy policy
here
Most Popular
Most Recent
Big think's weekly newsletter.
Get smarter faster from the comfort of your inbox.
See our newsletter privacy policy
here
© Copyright 2007-2018 & BIG THINK, BIG THINK EDGE,
SMARTER FASTER trademarks owned by The Big Think, Inc. All rights reserved.