The City States of Europe
Is this a map of Europe's future?
24 February, 2016
"The 21st century will not be dominated by America or China, Brazil or India, but by the city," writes Parag Khanna (1). The author of several books on global strategy, Khanna argues that (some) cities, as islands of good governance in an increasingly unstable world, will become the cornerstone of a new world order. 
---
That new world order won't be a "global village" of nation states, for globalisation is corroding national sovereignty. Rather, it will be a loose network of semi-independent city states, perhaps resembling the Hanseatic League and other medieval trading alliances.
One difference between the city states of the Middle Ages and those of the 21st century: the decreasing significance of Europe. Even though half the world already lives in cities, urbanisation is still speeding up — but mainly in Africa and Asia. Over the next 20 years, 275 million Indians are projected to move from country to city. By 2025, China will have 15 megacities with 25 million inhabitants each. Europe will have none.
Yet perhaps Europe too can already be understood as a network of city states, rather than a patchwork of nation states. It may lack urban megacities the size of Mexico or Mumbai, but its biggest cities transcend their anchor countries, and share more characteristics with other metropolises elsewhere than with their own hinterlands.
In all, Europe (2) counts 305 cities with more than 200,000 inhabitants, and 99 metropolitan areas with over 1 million people. The biggest of these metro areas have far outgrown their historical urban cores. Metro London has a population of around 13.6 million, of which only 24 percent live in Inner London. Of Metro Paris' 11.9 million citoyens, no more than 19 percent live inside the historical boundaries of the ville de Paris. Numbers three and four are both in Spain: Madrid (6.4 million) and Barcelona (5.4 million). Five and six are German: the Ruhrgebiet and Berlin (both around 5 million). 
This map (3) shows the largest of Europe's conurbations. While maintaining the geographical shape of the continent, the map both erases national boundaries and shows with an immediate clarity which are Europe's major urban centres: London, Paris, and Istanbul — all counting more than 10 million inhabitants. Then come the Spanish and German megacities. Athens and Italy's three biggest cities are the only other larger conurbations. The rest of Europe is dominated by mid-sized metropolises such as Frankfurt, Birmingham, Budapest, or Lisbon, or smaller ones like Antwerp, Gdansk, or Bilbao.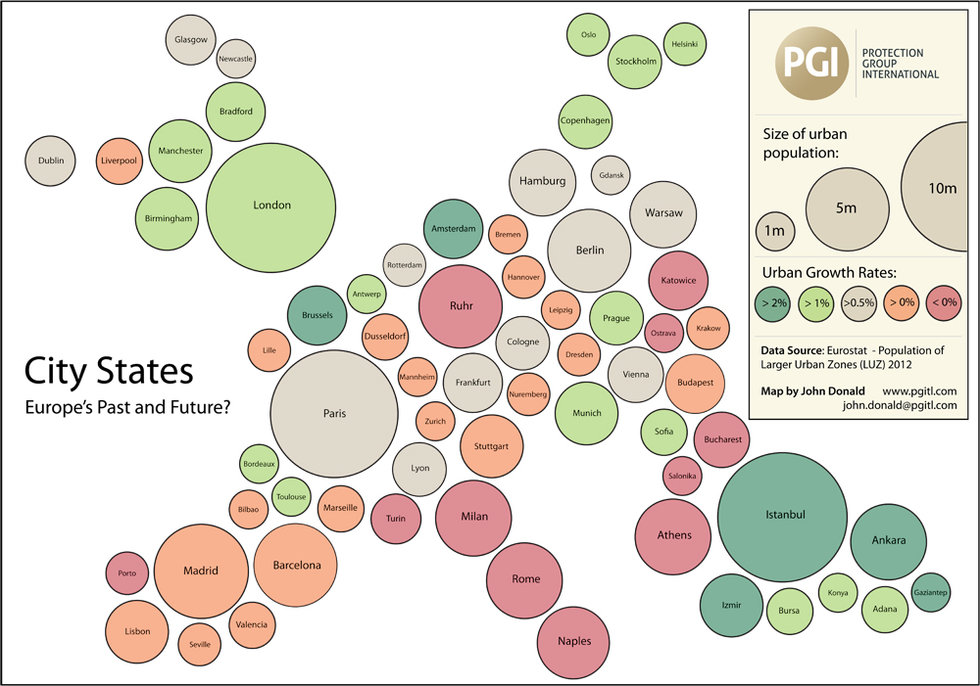 For much of the 20th century, urban growth seemed a thing of the past, at least in Western Europe, where historical urban cores had been emptying out. Inner London lost 55 percent of its inhabitants between 1911 and 1991. Paris has shrunk by more than 25 percent compared to 1921. Copenhagen's population diminished by 35 percent over a comparable stretch of time. Most of the population drained away into suburbs and exurbs, effectively extending urbanity to well beyond the core city (see also #534).
Since 2000, this "urban draining" has been reversed, largely as a result of migration from beyond national borders. However, not all urban areas are growing at the same speed — or are growing at all. All of Italy's and Greece's urban centres are losing inhabitants, as are the Ruhr and Katowice, Ostrava and Bucharest. Biggest winners? Istanbul and Ankara, plus two other Turkish cities, and Brussels and Amsterdam — all gaining more than 2 percent p.a. Growing more modestly, at 1 percent, are the English and Scandinavian cities, and a scattering of towns across Europe and Turkey.
Map found here on Catataxis, a blog about "the misuse of rules that apply at one level to another."
Strange Maps #768 
Got a strange map? Let me know at strangemaps@gmail.com.
(2) As defined by Eurostat, the statistical agency of the European Commission, Europe includes the 28 member states of the European Union and the 4 member states of the European Free Trade Association (Iceland, Norway, Switzerland and Liechtenstein).
(3) With a different definition of Europe – including Turkey.
Lumina Foundation is partnering with Big Think to unearth the next large-scale, rapid innovation in post-high school education. Enter the competition here!
Good science is sometimes trumped by the craving for a "big splash."
Videos
Scientists strive to earn credit from their peers, for grants from federal agencies, and so a lot of the decisions that they make are strategic in nature. They're encouraged to publish exciting new findings that demonstrate some new phenomenon that we have never seen before.
This professional pressure can affect their decision-making — to get acclaim they may actually make science worse. That is, a scientist might commit fraud if he thinks he can get away with it or a scientist might rush a result out of the door even though it hasn't been completely verified in order to beat the competition.
On top of the acclaim of their peers, scientists — with the increasing popularity of science journalism — are starting to be rewarded for doing things that the public is interested in. The good side of this is that the research is more likely to have a public impact, rather than be esoteric. The bad side? To make a "big splash" a scientist may push a study or article that doesn't exemplify good science.
Moans, groans, and gripes release stress hormones in the brain.
popular
Could you give up complaining for a whole month? That's the crux of this interesting piece by Jessica Hullinger over at Fast Company. Hullinger explores the reasons why humans are so predisposed to griping and why, despite these predispositions, we should all try to complain less. As for no complaining for a month, that was the goal for people enrolled in the Complaint Restraint project.
Participants sought to go the entirety of February without so much as a moan, groan, or bellyache.
Two space agencies plan missions to deflect an asteroid.
ESA's Hera mission above asteroid 65803 Didymos. Credit: ESA/ScienceOffice.org
Surprising Science
NASA and the European Space Agency (ESA) are working together on missions to a binary asteroid system.
The DART and Hera missions will attempt to deflect and study the asteroid Didymoon.
A planetary defense system is important in preventing large-scale catastrophes.
Big think's weekly newsletter.
Get smarter faster from the comfort of your inbox.
See our newsletter privacy policy
here
Most Popular
Most Recent
Big think's weekly newsletter.
Get smarter faster from the comfort of your inbox.
See our newsletter privacy policy
here
© Copyright 2007-2018 & BIG THINK, BIG THINK EDGE,
SMARTER FASTER trademarks owned by The Big Think, Inc. All rights reserved.