The City States of Europe
Is this a map of Europe's future?
Frank Jacobs
From a young age, Frank was fascinated by maps and atlases, and the stories they contained. Finding his birthplace on the map in the endpapers of Tolkien's Lord of the Rings only increased his interest in the mystery and message of maps.
While pursuing a career in journalism, Frank started a blog called Strange Maps, as a repository for the weird and wonderful cartography he found hidden in books, posing as everyday objects and (of course) floating around the Internet.
"Each map tells a story, but the stories told by your standard atlas for school or reference are limited and literal: they show only the most practical side of the world, its geography and its political divisions. Strange Maps aims to collect and comment on maps that do everything but that - maps that show the world from a different angle".
A remit that wide allows for a steady, varied diet of maps: Frank has been writing about strange maps since 2006, published a book on the subject in 2009 and joined Big Think in 2010. Readers send in new material daily, and he keeps bumping in to cartography that is delightfully obscure, amazingly beautiful, shockingly partisan, and more.
24 February, 2016
"The 21st century will not be dominated by America or China, Brazil or India, but by the city," writes Parag Khanna (1). The author of several books on global strategy, Khanna argues that (some) cities, as islands of good governance in an increasingly unstable world, will become the cornerstone of a new world order. 
---
That new world order won't be a "global village" of nation states, for globalisation is corroding national sovereignty. Rather, it will be a loose network of semi-independent city states, perhaps resembling the Hanseatic League and other medieval trading alliances.
One difference between the city states of the Middle Ages and those of the 21st century: the decreasing significance of Europe. Even though half the world already lives in cities, urbanisation is still speeding up — but mainly in Africa and Asia. Over the next 20 years, 275 million Indians are projected to move from country to city. By 2025, China will have 15 megacities with 25 million inhabitants each. Europe will have none.
Yet perhaps Europe too can already be understood as a network of city states, rather than a patchwork of nation states. It may lack urban megacities the size of Mexico or Mumbai, but its biggest cities transcend their anchor countries, and share more characteristics with other metropolises elsewhere than with their own hinterlands.
In all, Europe (2) counts 305 cities with more than 200,000 inhabitants, and 99 metropolitan areas with over 1 million people. The biggest of these metro areas have far outgrown their historical urban cores. Metro London has a population of around 13.6 million, of which only 24 percent live in Inner London. Of Metro Paris' 11.9 million citoyens, no more than 19 percent live inside the historical boundaries of the ville de Paris. Numbers three and four are both in Spain: Madrid (6.4 million) and Barcelona (5.4 million). Five and six are German: the Ruhrgebiet and Berlin (both around 5 million). 
This map (3) shows the largest of Europe's conurbations. While maintaining the geographical shape of the continent, the map both erases national boundaries and shows with an immediate clarity which are Europe's major urban centres: London, Paris, and Istanbul — all counting more than 10 million inhabitants. Then come the Spanish and German megacities. Athens and Italy's three biggest cities are the only other larger conurbations. The rest of Europe is dominated by mid-sized metropolises such as Frankfurt, Birmingham, Budapest, or Lisbon, or smaller ones like Antwerp, Gdansk, or Bilbao.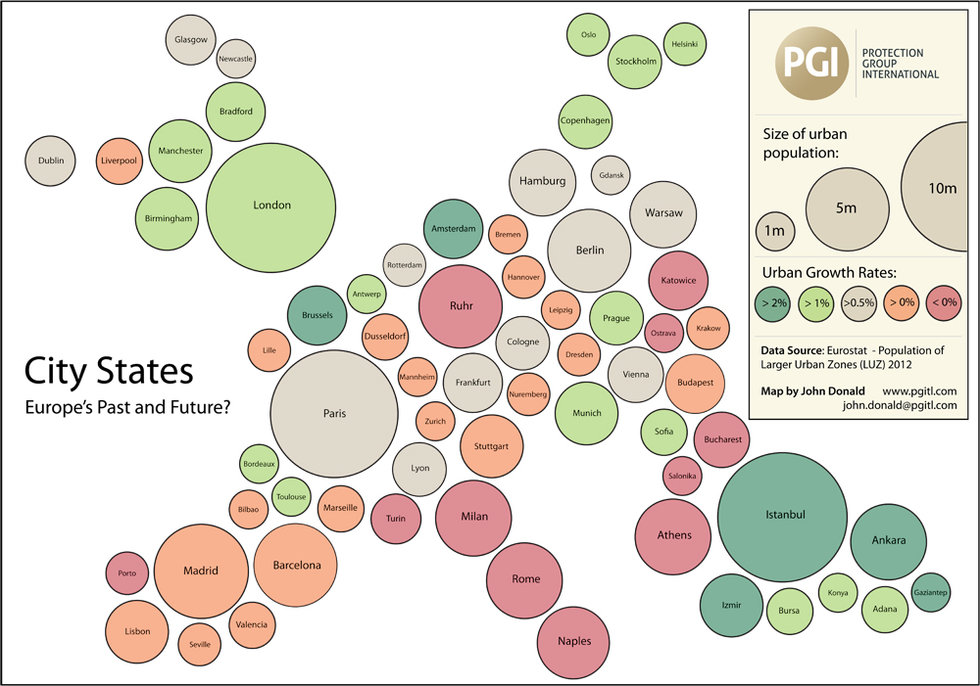 For much of the 20th century, urban growth seemed a thing of the past, at least in Western Europe, where historical urban cores had been emptying out. Inner London lost 55 percent of its inhabitants between 1911 and 1991. Paris has shrunk by more than 25 percent compared to 1921. Copenhagen's population diminished by 35 percent over a comparable stretch of time. Most of the population drained away into suburbs and exurbs, effectively extending urbanity to well beyond the core city (see also #534).
Since 2000, this "urban draining" has been reversed, largely as a result of migration from beyond national borders. However, not all urban areas are growing at the same speed — or are growing at all. All of Italy's and Greece's urban centres are losing inhabitants, as are the Ruhr and Katowice, Ostrava and Bucharest. Biggest winners? Istanbul and Ankara, plus two other Turkish cities, and Brussels and Amsterdam — all gaining more than 2 percent p.a. Growing more modestly, at 1 percent, are the English and Scandinavian cities, and a scattering of towns across Europe and Turkey.
Map found here on Catataxis, a blog about "the misuse of rules that apply at one level to another."
Strange Maps #768 
Got a strange map? Let me know at strangemaps@gmail.com.
(2) As defined by Eurostat, the statistical agency of the European Commission, Europe includes the 28 member states of the European Union and the 4 member states of the European Free Trade Association (Iceland, Norway, Switzerland and Liechtenstein).
(3) With a different definition of Europe – including Turkey.
Related Articles
Both schizophrenics and people with a common personality type share similar brain patterns.
(shutterstock)
Mind & Brain
A new study shows that people with a common personality type share brain activity with patients diagnosed with schizophrenia.
The study gives insight into how the brain activity associated with mental illnesses relates to brain activity in healthy individuals.
This finding not only improves our understanding of how the brain works but may one day be applied to treatments.
It's a development that could one day lead to much better treatments for osteoporosis, joint damage, and bone fractures.
Image: Nissim Benvenisty
Surprising Science
Scientists have isolated skeletal stem cells in adult and fetal bones for the first time.
These cells could one day help treat damaged bone and cartilage.
The team was able to grow skeletal stem cells from cells found within liposuctioned fat.
Gut bacteria play an important role in how you feel and think and how well your body fights off disease. New research shows that exercise can give your gut bacteria a boost.
National Institutes of Health
Surprising Science
Two studies from the University of Illinois show that gut bacteria can be changed by exercise alone.
Our understanding of how gut bacteria impacts our overall health is an emerging field, and this research sheds light on the many different ways exercise affects your body.
Exercising to improve your gut bacteria will prevent diseases and encourage brain health.
Big think's weekly newsletter.
Get smarter faster from the comfort of your inbox.
See our newsletter privacy policy
here
Most Popular
Most Recent
Big think's weekly newsletter.
Get smarter faster from the comfort of your inbox.
See our newsletter privacy policy
here
© Copyright 2007-2018 & BIG THINK, BIG THINK EDGE,
SMARTER FASTER trademarks owned by The Big Think, Inc. All rights reserved.