These Cities Out-Earn Entire Countries
New York has the same GDP as Canada, Los Angeles makes as much money in a year as Australia
17 March, 2017
Large cities, not countries are the future centres of world power. They will become islands of good governance in a world in which globalisation has eroded the nation state. That point was argued in #768, which emphasises population size and growth as yardsticks for metropolitan importance across Europe. 
---
An even more crucial measure is economic power, expressed in GDP. By that measure, the ten richest large urban conglomerations in the world are each worth more than entire countries – including some of the world's biggest economies. 
This map compares the 2015 Gross Domestic Product in Purchasing Power Parity, expressed in billions of dollars, of the world's ten richest metro areas to that of countries with a similar GDP-PPP$.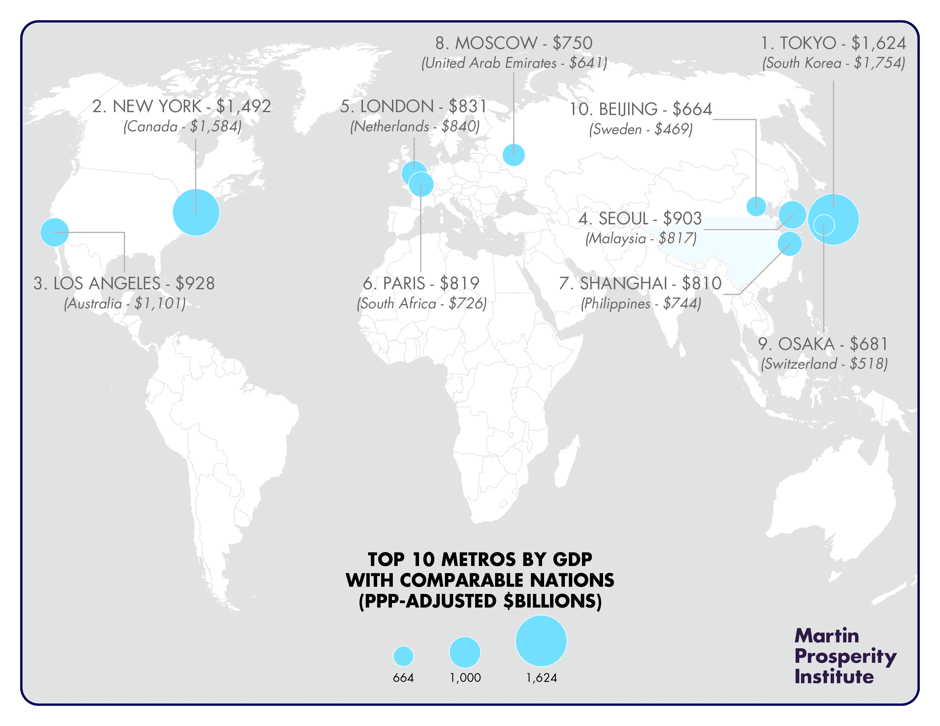 Tokyo, the world's richest (as well as largest) conglomeration, has a GDP of $1.62 trillion. That is in the same league as South Korea, the world's 14th-largest economy, with a GDP of $1.75 trillion. 
In 2015 New York, in second place on the metro rich list, produced almost as much wealth as the entirety of Canada, the second-biggest country in the world – and without the benefit of that country's considerable natural resources. 
On the other U.S. coast, Los Angeles came pretty close to duplicating the Gross Domestic Product of another giant country, Australia. 
Seoul, capital of South Korea and responsible for more than half of its GDP, on its own out-GDPs Malaysia.
Greater London generates almost the same economic output as the entire country of the Netherlands.
Paris – almost the same GDP as London – easily outperforms South Africa, one of the top three economies of its continent. 
Shanghai, virtually on a par with Paris, is a mightier economic power than the Philippines.
Moscow is a bigger economic hub that the United Arab Emirates.
Osaka produces more than a fifth more wealth that Switzerland.
And Beijing's GDP is more than 40% higher than Sweden's. 
This map was published on CityLab, a web community dedicated to urban development co-founded and edited by Richard Florida (1). The map itself was designed by the Martin Prosperity Institute, based on data from the Brookings Institution (for the cities) and the World Bank's World Development Indicators (for the countries).
In his article, Mr. Florida points out that these ten metros together have a GDP-PPP of $9.5 trillion, more than Japan and Germany combined. If you took the 20 largest metro areas, you would almost equal the U.S.'s $18-trillion-dollar GDP:
"In other words: Cities are the new power centers of the global economy - the platforms for innovation, entrepreneurship, and economic growth. But (...) they remain beholden to increasingly anachronistic and backward-looking nation-states (...)"
We wanted to see how countries and cities outside the Top 10 stacked up. Unable to retrace a World Bank dataset with the exact figures quoted on the map, we found this dataset, also from the World Bank. Below is an overview of the 200 biggest economies in the world, countries in blue, cities in yellow. GDP is expressed in billions of dollars.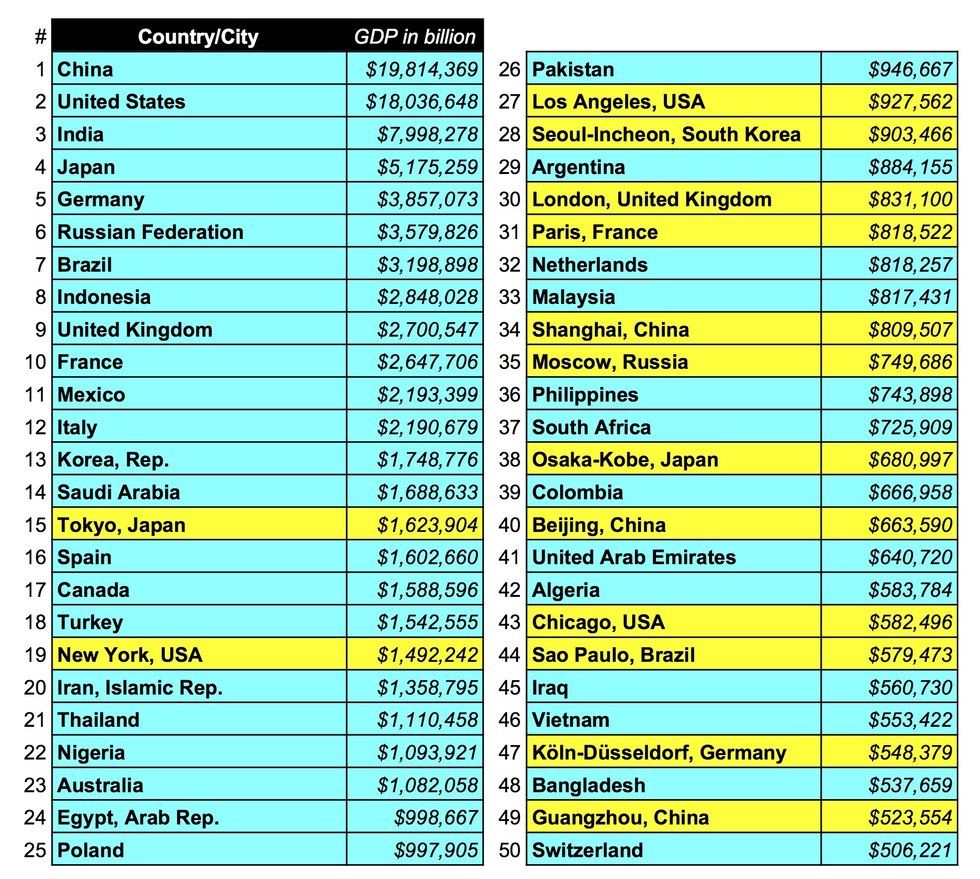 Among the 50 strongest economies, and apart from the ten cities shown on the above map, four more cities crop up: Chicago and Sao Paulo, both with almost the same GDP as Algeria. The Cologne-Düsseldorf conurbation in western Germany turns over more money than Bangladesh, the eighth-most populous nation on earth. Guangzhou in China almost produces the same GDP as Bangladesh.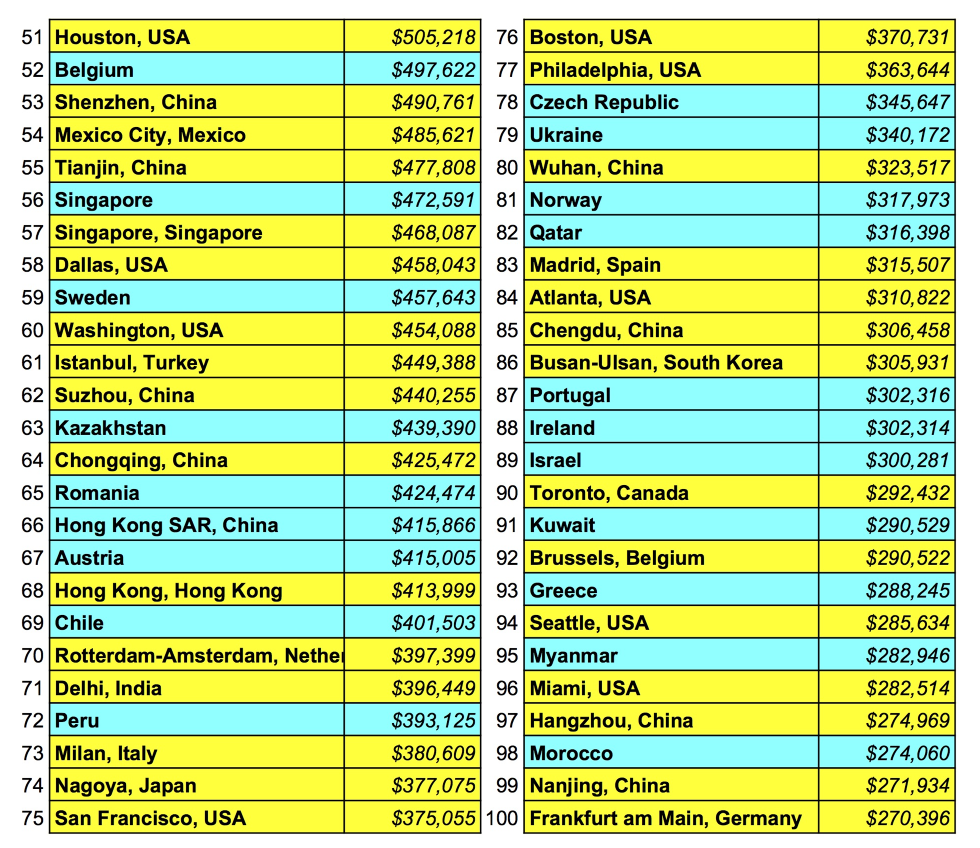 A lot more cities in the next 50: Dallas out-earns Sweden, Hong Kong leaves Chile behind and Philadelphia has a bigger GDP than the Czech Republic. More people will have heard of Portugal than of Busan-Ulsan, but that South Korean city has a bigger GDP than the aforementioned country. And while Houston has a bigger GDP than Belgium, that country's capital Brussels in turn has a bigger GDP than all of Greece. And yes, we noticed it too: the city-state Singapore is listed twice, once as a city, and once as a slightly better-earning state.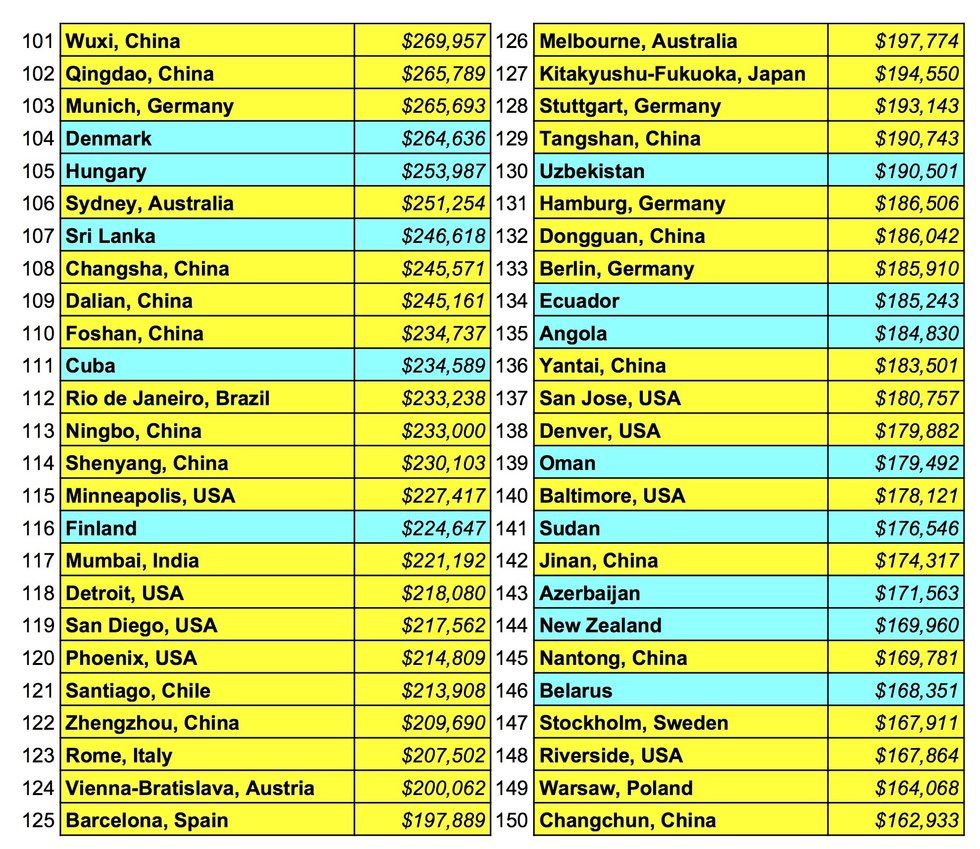 Quite a number of Chinese cities in the next 50, all quite unfamiliar to the uninitiated. Yet Wuxi and Qingdao each have a GDP greater than Denmark's; Changsha, Dalian and Foshan each outperform Cuba; and Ningbo and Shenyang separately have an economy bigger than that of Finland.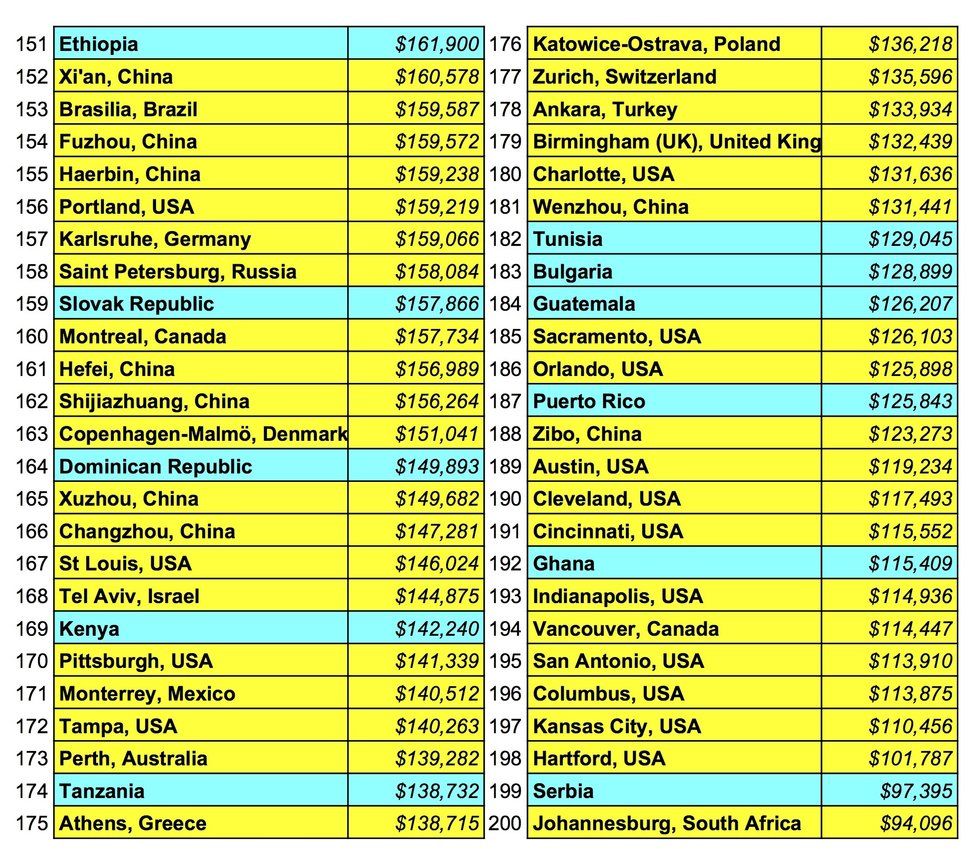 The last 50 of this overview are almost all cities, with a sprinkling of smaller national economies. But still remarkable to see how a medium-sized city like Karlsruhe can out-earn the entire Slovak Republic, or Tampa trump Tanzania. 
Strange Maps #828
Got a strange map? Let me know at strangemap@gmail.com.
(1) in the light of these results soon to be renamed Richard Miami – sorry, I have yet to encounter a bad pun I can resist.
What can 3D printing do for medicine? The "sky is the limit," says Northwell Health researcher Dr. Todd Goldstein.
Northwell Health
Sponsored by Northwell Health
Medical professionals are currently using 3D printers to create prosthetics and patient-specific organ models that doctors can use to prepare for surgery.
Eventually, scientists hope to print patient-specific organs that can be transplanted safely into the human body.
Northwell Health, New York State's largest health care provider, is pioneering 3D printing in medicine in three key ways.
A recent study gives new meaning to the saying "fake it 'til you make it."
Pixabay
Surprising Science
The study involves four experiments that measured individuals' socioeconomic status, overconfidence and actual performance.
Results consistently showed that high-class people tend to overestimate their abilities.
However, this overconfidence was misinterpreted as genuine competence in one study, suggesting overestimating your abilities can have social advantages.
Is this proof of a dramatic shift?
Strange Maps
Map details dramatic shift from CNN to Fox News over 10-year period
Does it show the triumph of "fake news" — or, rather, its defeat?
A closer look at the map's legend allows for more complex analyses
Dramatic and misleading
Image: Reddit / SICResearch
The situation today: CNN pushed back to the edges of the country.
Over the course of no more than a decade, America has radically switched favorites when it comes to cable news networks. As this sequence of maps showing TMAs (Television Market Areas) suggests, CNN is out, Fox News is in.
The maps are certainly dramatic, but also a bit misleading. They nevertheless provide some insight into the state of journalism and the public's attitudes toward the press in the US.
Let's zoom in:
It's 2008, on the eve of the Obama Era. CNN (blue) dominates the cable news landscape across America. Fox News (red) is an upstart (°1996) with a few regional bastions in the South.
By 2010, Fox News has broken out of its southern heartland, colonizing markets in the Midwest and the Northwest — and even northern Maine and southern Alaska.
Two years later, Fox News has lost those two outliers, but has filled up in the middle: it now boasts two large, contiguous blocks in the southeast and northwest, almost touching.
In 2014, Fox News seems past its prime. The northwestern block has shrunk, the southeastern one has fragmented.
Energised by Trump's 2016 presidential campaign, Fox News is back with a vengeance. Not only have Maine and Alaska gone from entirely blue to entirely red, so has most of the rest of the U.S. Fox News has plugged the Nebraska Gap: it's no longer possible to walk from coast to coast across CNN territory.
By 2018, the fortunes from a decade earlier have almost reversed. Fox News rules the roost. CNN clings on to the Pacific Coast, New Mexico, Minnesota and parts of the Northeast — plus a smattering of metropolitan areas in the South and Midwest.
"Frightening map"
Image source: Reddit / SICResearch
This sequence of maps, showing America turning from blue to red, elicited strong reactions on the Reddit forum where it was published last week. For some, the takeover by Fox News illustrates the demise of all that's good and fair about news journalism. Among the comments?
"The end is near."
"The idiocracy grows."
"(It's) like a spreading disease."
"One of the more frightening maps I've seen."
For others, the maps are less about the rise of Fox News, and more about CNN's self-inflicted downward spiral:
"LOL that's what happens when you're fake news!"
"CNN went down the toilet on quality."
"A Minecraft YouTuber could beat CNN's numbers."
"CNN has become more like a high-school production of a news show."
Not a few find fault with both channels, even if not always to the same degree:
"That anybody considers either of those networks good news sources is troubling."
"Both leave you understanding less rather than more."
"This is what happens when you spout bullsh-- for two years straight. People find an alternative — even if it's just different bullsh--."
"CNN is sh-- but it's nowhere close to the outright bullsh-- and baseless propaganda Fox News spews."
"Old people learning to Google"
Image: Google Trends
CNN vs. Fox News search terms (200!-2018)
But what do the maps actually show? Created by SICResearch, they do show a huge evolution, but not of both cable news networks' audience size (i.e. Nielsen ratings). The dramatic shift is one in Google search trends. In other words, it shows how often people type in "CNN" or "Fox News" when surfing the web. And that does not necessarily reflect the relative popularity of both networks. As some commenters suggest:
"I can't remember the last time that I've searched for a news channel on Google. Is it really that difficult for people to type 'cnn.com'?"
"More than anything else, these maps show smart phone proliferation (among older people) more than anything else."
"This is a map of how old people and rural areas have learned to use Google in the last decade."
"This is basically a map of people who don't understand how the internet works, and it's no surprise that it leans conservative."
A visual image as strong as this map sequence looks designed to elicit a vehement response — and its lack of context offers viewers little new information to challenge their preconceptions. Like the news itself, cartography pretends to be objective, but always has an agenda of its own, even if just by the selection of its topics.
The trick is not to despair of maps (or news) but to get a good sense of the parameters that are in play. And, as is often the case (with both maps and news), what's left out is at least as significant as what's actually shown.
One important point: while Fox News is the sole major purveyor of news and opinion with a conservative/right-wing slant, CNN has more competition in the center/left part of the spectrum, notably from MSNBC.
Another: the average age of cable news viewers — whether they watch CNN or Fox News — is in the mid-60s. As a result of a shift in generational habits, TV viewing is down across the board. Younger people are more comfortable with a "cafeteria" approach to their news menu, selecting alternative and online sources for their information.
It should also be noted, however, that Fox News, according to Harvard's Nieman Lab, dominates Facebook when it comes to engagement among news outlets.
CNN, Fox and MSNBC
Image: Google Trends
CNN vs. Fox (without the 'News'; may include searches for actual foxes). See MSNBC (in yellow) for comparison
For the record, here are the Nielsen ratings for average daily viewer total for the three main cable news networks, for 2018 (compared to 2017):

Fox News: 1,425,000 (-5%)
MSNBC: 994,000 (+12%)
CNN: 706,000 (-9%)
And according to this recent overview, the top 50 of the most popular websites in the U.S. includes cnn.com in 28th place, and foxnews.com in... 27th place.
The top 5
, in descending order, consists of google.com, youtube.com, facebook.com, amazon.com and yahoo.com — the latter being the highest-placed website in the News and Media category.
If you thought your mother was pushy in her pursuit of grandchildren, wait until you learn about bonobo mothers.
Pixabay
Surprising Science
Mother bonobos have been observed to help their sons find and copulate with mates.
The mothers accomplish this by leading sons to mates, interfering with other males trying to copulate with females, and helping sons rise in the social hierarchy of the group.
Why do mother bonobos do this? The "grandmother hypothesis" might hold part of the answer.
Big think's weekly newsletter.
Get smarter faster from the comfort of your inbox.
See our newsletter privacy policy
here
Most Popular
Most Recent
Big think's weekly newsletter.
Get smarter faster from the comfort of your inbox.
See our newsletter privacy policy
here
© Copyright 2007-2019 & BIG THINK, BIG THINK EDGE,
SMARTER FASTER trademarks owned by The Big Think, Inc. All rights reserved.
//This will actually fire event. Should be called after consent was verifed