Big ideas.
Once a week.
Subscribe to our weekly newsletter.
10 Jewish Homelands Outside Palestine
A Jewish state in Alaska?
01 October, 2016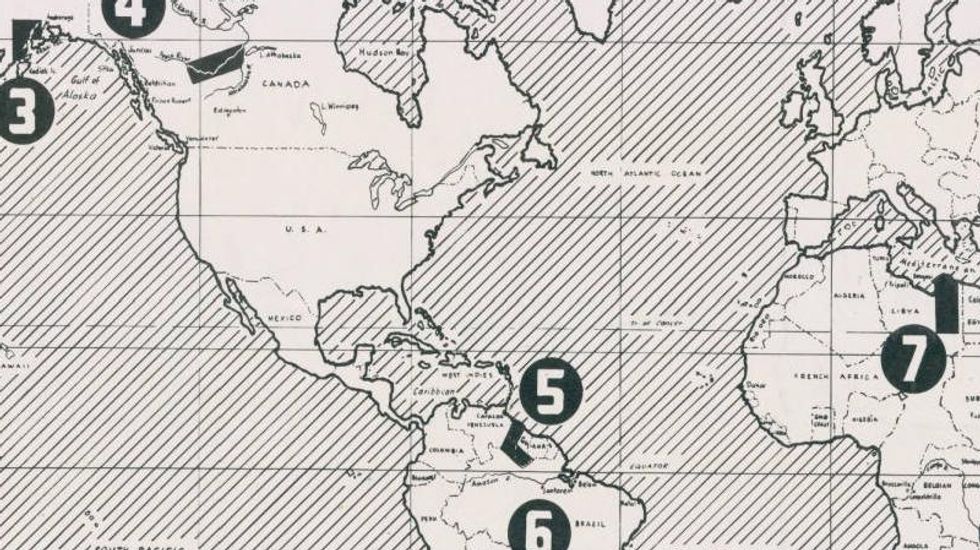 A Jewish state? Sure: in Australia, Libya or Guyana. Or half a dozen other remote places, on just about any continent. But… not in Palestine. This map is the brainchild of Joseph Otmar Hefter, a figure as forgotten today as the politics he espoused in the 1930s – non-Zionist Jewish territorialism. 
---
Little evidence remains of Hefter's dream of Nai Juda ("New Judea") except 'Room for the Jew!', a pamphlet he produced in New York in 1938. It contains his answer to the Jewish question: a sovereign homeland with all the trappings of statehood - a flag, laws, and a national language (Yiddish) and even a national hymn.
Marsh, Nai Juda

fun di fremde lender

shaff a naie haim far zich

faktories und felder

 

Marsh, marsh shnell

kling di fraihaitsgloken

waiz der welt az di bist shtark

shtolz und unershroken

("March, Nai Juda / from the lands of strangers / build anew a home for yourself / and industries and farms // March, march stoutly / ring the bells of freedom / show the world that you are strong / proud and undefeated")
In the nineteenth century, a significant portion of the Jewish people opted for Zionism as a way out of what they saw as the Jewish problem. That problem was that they were a nation without a country. Zionism's answer was a Jewish state in Palestine, the historic homeland of the Jews. In 1948, propelled by the Nazis' own, more sinister attempt to solve the Jewish problem, Israel was founded and Zionism achieved its goal. 
Yet this Palestine-focused version of Zionism was but one of many Jewish territorialist projects – there were about 30 such proposals throughout the 19th and early 20th century, historians reckon, although most were never more than utopian slogans.
One of the best-known Jewish territorialist projects not focused on Palestine was the Uganda Plan. Presented by Theodor Herzl at the Sixth Zionist Congress of 1903, it fell only six votes short of a majority. Another was/is Birobidzhan, established by Stalin in Siberia as a socialist haven for the Jewish people in the Soviet Union (see #333). The faint echoes of a third proposal, for a Jewish homeland in Alaska, provided the setting for Michael Chabon's 2007 alternate-history noir detective novel, 'The Yiddish Policemen's Union'.
Hefter's Nai Juda movement was to be the nucleus of a Jewish state, to be established somewhere in the Americas. At least according to a pamphlet distributed by Nai Juda, from its 'National Headquarters':
RECRUITING

The NAI JUDA movement is now signing up able-bodied young men and women willing to join a JEWISH ARMY of SOLDIER-SETTLERS for service in a new Independent Jewish State within the American Hemisphere. Service will include opening up a large unoccupied territory to settlement and civilization, police and border patrol duty, farming, construction, roadbuilding. Volunteers who pass physical fitness requirements will receive free training in agriculture, engineering, transportation, aviation, seamanship and military defense. In the new Jewish State each soldier-settler will be given a house and four acres of land for live in accordance with the NAI JUDA program. 

Further information and application forms may be obtained in person or by mail from Joseph Otmar Hefter, National Leader, New York. 
Hefter's call to arms had virtually no effect; even so, he was singled out for criticism in the November 1938 issue of The Jewish Veteran. In it, J. David Delman, National Adjutant of the Jewish War Veterans of the United States wrote:
From time to time, we have informed our readers about proposed new state for Jews. Last month one Oscar Hefter (sic) opened up headquarters, appointed himself "National Leader" and has proceeded to give interviews to the press. He stated that the locale of the new state is in Central America, that the financing thus far has been private and that he is recruiting young Jews as soldier pioneers to the new state which will be named Nai Juda. He claims to have 100 recruits but expects to have a nucleus of at least 1,000 trained and equipped recruits to start life in his Utopia. He hopes to absorb at least a third of the Jews in the world. Such is the chaos in Jewish life, that an unknown personage, not backed by any responsible organization, can negotiate and make deals – all in behalf of the Jewish people. 
A year later, Hefter seems to have shifted his sights from Central America to the northern reaches of the continent. On September 11, 1939 – ten days after the Nazi invasion of Poland, but well before U.S. entry into the war – the 'National Leader' addressed a letter to president Roosevelt:
On behalf of the NAI JUDA MOVEMENT (to train American Jews for pioneering and frontier service in undeveloped regions of the Western Hemisphere) of which he is founder, requests permission to recruit, organize, train and equip for immediate active service an American-Jewish Border Regiment under the U.S. Army command, to be stationed preferably in a strategic location along the frontier of Alaska. 
He strategically omits the ultimate goal of his movement – a Jewish state – but to no avail: the letter was "respectfully referred to the Secretary of War" and Hefter's spontaneous offer was not acted upon.
After the war – and after the foundation of Israel, which rendered moot Hefter's struggle for a Jewish home outside Palestine – he abandoned politics and focused on graphic design. He married a Mexican woman and moved south of the border, where he went on to produce a series of authoritative renderings of historical uniforms, collected in The Mexican Rurales 1830-1930 (1960),  El soldado de Juárez, de Napoleón y de Maximiliano (1962), Cronica del traje militar en Mexico del siglo XVI al XX (1968), The army of the Republic of Texas (1971-'74), and other works of reference. 
He died in 1974 in Cuernavaca, two hours south of Mexico City – by some accounts, after having been abandoned by his wife in hospital – his dreams of alternate Jewish nationhood obsolete and forgotten. 
In 2011, Where To?, an exhibition at the Israeli Center for Digital Art on forgotten ideological currents in modern Jewish thought included Hefter and his work – but it merely managed to demonstrate how little evidence remains of Hefter's 'lost option' of Jewish territorialism, and of its inspirer himself. 
Only the broadest outlines of Joseph Otmar Hefter's life can be described with any certainty. He was born at the end of the nineteenth century in Austro-Hungary, emigrated to the U.S. and spent the last decades of his life in Mexico, working as a graphic designer. A documentary about Hefter, titled Faktories und Felder and produced for the aforementioned 2011 Israeli exhibition, eventually had to change course and turn into a speculative biography, for lack of hard evidence.
Claims that he studied art in Vienna and served in the Austro-Hungarian army during World War I could not be verified. The same goes for even wilder claims – that he at some point was a settler in the North American wilderness, a CIA spy, an engineer in French Indochina, a target for right-wing groups in the U.S.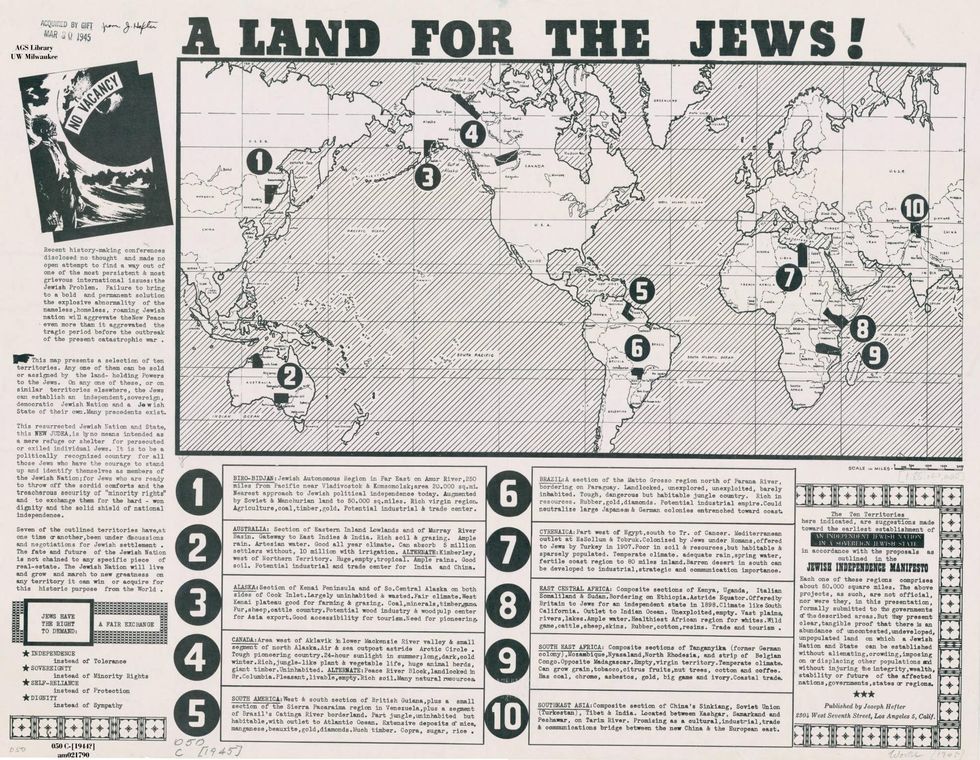 What little remains of his grand scheme is contained within his 1938 pamphlet, the full title of which is: 'Room for the Jew! A demand for a free and sovereign Jewish state - A permanent way out of Jewish dispersion & distress'. In it, Hefter explains his opposition to mainstream Zionism, which sought to establish a Jewish state in the ancestral homeland of the Jews, Palestine. He found that goal
"(…) anachronistic, insincere, unjustified, politically and economically untenable and unfair. Physically, the Jews have outgrown Palestine. What may have once been a land of milk and honey to a hundred thousand liberated Egyptian slaves is but a slippery toehold to the teeming millions of 20th-century Jews. Politically and economically, a Jewish Palestine would mean subjugating a native Arab majority to the rule of a minority imported from abroad".
This map seems to be from a later date, some time between 1939 and 1945, as Hefter – now based in Los Angeles - refers to the 'present catastrophic war'. He writes:
Recent history-making conferences disclosed no thought and made no open attempt to find a way out of one of the most persistent and most grievous international issues: the Jewish Problem. Failure to bring to a bold and permanent solution the explosive abnormality of the nameless, homeless, roaming Jewish nation will aggrevate (sic) the New Peace even more than it aggrevated the tragic period before the outbreak of the present catastrophic war. 

This map presents a selection of ten territories. Any one of them can be sold or assigned by the land-holding Powers to the Jews. On any one of these, or on similar territories elsewhere, the Jews can establish an independent, sovereign, democratic Jewish Nation and a Jewish State of their own. Many precedents exist. 

The resurrected Jewish Nation and State, this NEW JUDEA, is by no means intended as a mere refuge or shelter for persecuted or exiled individual Jews. It is to be a politically recognized country for all those Jews who have the courage to stand up and identify themselves as members of the Jewish Nation; for Jews who are ready to throw off the sordid comforts and the treacherous security of "minority rights" and to exchange them for the hard-won dignity and the solid shield of national independence. 

Seven of the outlined territories have, at one time or another, been under discussions and negotiations for Jewish settlement. The fate and future of the Jewish Nation is not chained to any specific piece of real-estate. The Jewish Nation will live and grow and march to new greatness on any territory it can win or acquire for this historic purpose from the World. 

JEWS HAVE A RIGHT TO DEMAND: A FAIR EXCHANGE

* INDEPENDENCE instead of Tolerance

* SOVEREIGNTY instead of Minority Rights

* SELF-RELIANCE instead of Protection

* DIGNITY instead of Sympathy

The Ten Territories here indicated, are suggestions made toward the earliest establishment of AN INDEPENDENT JEWISH NATION IN A SOVEREIGN JEWISH STATE in accordance with the proposals as outlined in the JEWISH INDEPENDENCE MANIFESTO. 

Each one of these regions comprises about 50,000 square miles. The above projects, as such, are not official, nor were they, in this presentation, formally submitted to the governments of the described areas. But they present clear, tangible proof that there is an abundance of uncontested, undeveloped, unpopulated land on which a Jewish Nation and State can be established without alienating, crowding, imposing or displacing other populations and without injuring the integrity, wealth, stability or future of the affected nations, governments, states or regions.
The regions listed on the map are described as follows in the legend: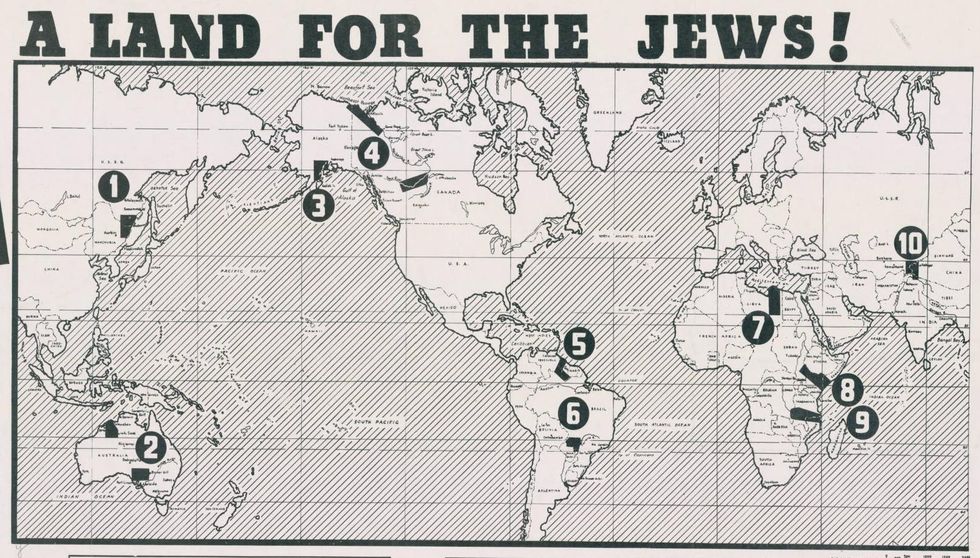 1. BIRO-BIDJAN: Jewish Autonomous Region in Far East on Amur River, 250 miles from Pacific near Vladivostok & Komsomolsk; area 20.000 sq. mi. Nearest approach to Jewish political independence today. Augmented by Soviet & Manchurian land to 50.000 sq. miles. Rich virgin region. Agriculture, coal, timber, gold. Potential industrial & trade center. 

2. AUSTRALIA: Section of Eastern Inland Lowlands and of Murray River Basin. Gateway to East Indies & India. Rich soil & grazing. Ample rain. Artesian water. Good all year climate. Can absorb 5 million settlers without, 10 million with irrigation. ALTERNATE: Kimberley, west of Northern Territory. Huge, empty, tropical. Ample rains. Good soil. Potential industrial and trade center for India and China. 

3. ALASKA: Section of Kenai Peninsula and of So. Central Alaska on both sides of Cook Inlet. Largely uninhabited & wasted. Fair climate. West Kenai plateau good for farming & grazing. Coal, minerals, timber, game. Fur, sheep, cattle country. Potential wood industry & woodpulp center for Asia export. Good accessibility for tourism. Need for pioneering. 

4. CANADA: Area west of Aklavik in lower Mackenzie River valley & small segment of north Alaska. Air & sea outpost astride Arctic Circle. Tough pioneering country. 24-hour sunlight in summer; long, dark, cold winter. Rich, jungle-like plant & vegetable life, huge animal herds, giant timber. Uninhabited. ALTERNATE: Peace River Block, landlocked in Br. Columbia. Pleasant, livable, empty. Rich soil. Many natural resources. 

5. SOUTH AMERICA: West & south section of British Guiana, plus a small section of the Sierra Pacaraima region in Venezuela, plus a segment of Brazil's Catinga River borderland. Part jungle, uninhabited but habitable, with outlet to Atlantic Ocean. Extensive deposits of mica, manganese, beauxite (sic), gold, diamonds. Much timber. Copra, sugar, rice. 

6. BRAZIL: A section of the Matto (sic) Grosso region north of the Parana River, bordering on Paraguay. Landlocked, unexplored, unexploited, barely inhabited. Tough, dangerous but habitable jungle country. Rich in resources. Rubber, gold, diamonds. Potential industrial empire. Could neutralize large Japanese & German colonies entrenched toward coast.

7. CYRENAICA: Part west of Egypt, south to Tr. of Cancer. Mediterranean outlet at EsSollum & Tobruk. Colonized by Jews under Romans, offered to Jews by Turkey in 1907. Poor in soil & resources, but habitable & sparsely populated. Temperate climate. Adequate rain, spring water, fertile coast region to 80 miles inland. Barren desert in south can be developed to industrial, strategic and communication importance.

8. EAST CENTRAL AFRICA: Composite sections of Kenya, Uganda, Italian Somaliland & Sudan. Bordering on Ethiopia. Astride Equator. Offered by Britain to Jews for an independent state in 1898. Climate like South California. Outlet to Indian Ocean. Unexploited, empty. Vast plains, rivers, lakes. Ample water. Healthiest African region for whites. Wild game, cattle, sheep, skins. Rubber, cotton, resins. Trade and tourism. 

9. SOUTH EAST AFRICA: Composite sections of Tanganyika (former German colony), Mozambique, Nyasaland, North Rhodesia, and strip of Belgian Congo. Opposite Madagascar. Empty, virgin territory. Temperate climate. Can grow grain, tobacco, citrus fruits, nut trees, cotton and coffee. Has coal, chrome, asbestos, gold, big game and ivory. Coastal trade.

10. SOUTHEAST ASIA: Composite section of China's Sinkiang, Soviet Union (Turkestan), Tibet & India.  Located between Kashgar, Samarkand and Peshawar, on Tarim River. Promising as a cultural, industrial, trade & communications bridge between the new China & the European east.
Map found here on Reddit. More here on the exhibition in the Israeli Center of Digital Art. Watch the Faktories und Felder here. 
Strange Maps #804 
Got a strange map? Let me know at strangemaps@gmail.com.
So much for rest in peace.
Credit: fergregory via Adobe Stock
Surprising Science
Australian scientists found that bodies kept moving for 17 months after being pronounced dead.
Researchers used photography capture technology in 30-minute intervals every day to capture the movement.
This study could help better identify time of death.
We're learning more new things about death everyday. Much has been said and theorized about the great divide between life and the Great Beyond. While everyone and every culture has their own philosophies and unique ideas on the subject, we're beginning to learn a lot of new scientific facts about the deceased corporeal form.
An Australian scientist has found that human bodies move for more than a year after being pronounced dead. These findings could have implications for fields as diverse as pathology to criminology.
Dead bodies keep moving
Credit: Flickr
Researcher Alyson Wilson studied and photographed the movements of corpses over a 17 month timeframe. She recently told Agence France Presse about the shocking details of her discovery.
Reportedly, she and her team focused a camera for 17 months at the Australian Facility for Taphonomic Experimental Research (AFTER), taking images of a corpse every 30 minutes during the day. For the entire 17 month duration, the corpse continually moved.
"What we found was that the arms were significantly moving, so that arms that started off down beside the body ended up out to the side of the body," Wilson said.
The researchers mostly expected some kind of movement during the very early stages of decomposition, but Wilson further explained that their continual movement completely surprised the team:
"We think the movements relate to the process of decomposition, as the body mummifies and the ligaments dry out."
During one of the studies, arms that had been next to the body eventually ended up akimbo on their side.
The team's subject was one of the bodies stored at the "body farm," which sits on the outskirts of Sydney. (Wilson took a flight every month to check in on the cadaver.)
Her findings were recently published in the journal,
Forensic Science International: Synergy.
Implications of the study
The researchers believe that understanding these after death movements and decomposition rate could help better estimate the time of death. Police for example could benefit from this as they'd be able to give a timeframe to missing persons and link that up with an unidentified corpse. According to the team:
"Understanding decomposition rates for a human donor in the Australian environment is important for police, forensic anthropologists, and pathologists for the estimation of PMI to assist with the identification of unknown victims, as well as the investigation of criminal activity."
While scientists haven't found any evidence of necromancy. . . the discovery remains a curious new understanding about what happens with the body after we die.
Metal-like materials have been discovered in a very strange place.
Personal Growth
Bristle worms are odd-looking, spiky, segmented worms with super-strong jaws.
Researchers have discovered that the jaws contain metal.
It appears that biological processes could one day be used to manufacture metals.
The bristle worm, also known as polychaetes, has been around for an estimated 500 million years. Scientists believe that the super-resilient species has survived five mass extinctions, and there are some 10,000 species of them.
Be glad if you haven't encountered a bristle worm. Getting stung by one is an extremely itchy affair, as people who own saltwater aquariums can tell you after they've accidentally touched a bristle worm that hitchhiked into a tank aboard a live rock.
Bristle worms are typically one to six inches long when found in a tank, but capable of growing up to 24 inches long. All polychaetes have a segmented body, with each segment possessing a pair of legs, or parapodia, with tiny bristles. ("Polychaeate" is Greek for "much hair.") The parapodia and its bristles can shoot outward to snag prey, which is then transferred to a bristle worm's eversible mouth.
The jaws of one bristle worm — Platynereis dumerilii — are super-tough, virtually unbreakable. It turns out, according to a new study from researchers at the Technical University of Vienna, this strength is due to metal atoms.
Metals, not minerals
Fireworm, a type of bristle wormCredit: prilfish / Flickr
This is pretty unusual. The study's senior author Christian Hellmich explains: "The materials that vertebrates are made of are well researched. Bones, for example, are very hierarchically structured: There are organic and mineral parts, tiny structures are combined to form larger structures, which in turn form even larger structures."

The bristle worm jaw, by contrast, replaces the minerals from which other creatures' bones are built with atoms of magnesium and zinc arranged in a super-strong structure. It's this structure that is key. "On its own," he says, "the fact that there are metal atoms in the bristle worm jaw does not explain its excellent material properties."
Just deformable enough
Credit: by-studio / Adobe Stock
What makes conventional metal so strong is not just its atoms but the interactions between the atoms and the ways in which they slide against each other. The sliding allows for a small amount of elastoplastic deformation when pressure is applied, endowing metals with just enough malleability not to break, crack, or shatter.

Co-author Florian Raible of Max Perutz Labs surmises, "The construction principle that has made bristle worm jaws so successful apparently originated about 500 million years ago."
Raible explains, "The metal ions are incorporated directly into the protein chains and then ensure that different protein chains are held together." This leads to the creation of three-dimensional shapes the bristle worm can pack together into a structure that's just malleable enough to withstand a significant amount of force.
"It is precisely this combination," says the study's lead author Luis Zelaya-Lainez, "of high strength and deformability that is normally characteristic of metals.
So the bristle worm jaw is both metal-like and yet not. As Zelaya-Lainez puts it, "Here we are dealing with a completely different material, but interestingly, the metal atoms still provide strength and deformability there, just like in a piece of metal."
Observing the creation of a metal-like material from biological processes is a bit of a surprise and may suggest new approaches to materials development. "Biology could serve as inspiration here," says Hellmich, "for completely new kinds of materials. Perhaps it is even possible to produce high-performance materials in a biological way — much more efficiently and environmentally friendly than we manage today."
Dealing with rudeness can nudge you toward cognitive errors.
Surprising Science
Anchoring is a common bias that makes people fixate on one piece of data.
A study showed that those who experienced rudeness were more likely to anchor themselves to bad data.
In some simulations with medical students, this effect led to higher mortality rates.
Cognitive biases are funny little things. Everyone has them, nobody likes to admit it, and they can range from minor to severe depending on the situation. Biases can be influenced by factors as subtle as our mood or various personality traits.
A new study soon to be published in the Journal of Applied Psychology suggests that experiencing rudeness can be added to the list. More disturbingly, the study's findings suggest that it is a strong enough effect to impact how medical professionals diagnose patients.
Life hack: don't be rude to your doctor
The team of researchers behind the project tested to see if participants could be influenced by the common anchoring bias, defined by the researchers as "the tendency to rely too heavily or fixate on one piece of information when making judgments and decisions." Most people have experienced it. One of its more common forms involves being given a particular value, say in negotiations on price, which then becomes the center of reasoning even when reason would suggest that number should be ignored.
It can also pop up in medicine. As co-author Dr. Trevor Foulk explains, "If you go into the doctor and say 'I think I'm having a heart attack,' that can become an anchor and the doctor may get fixated on that diagnosis, even if you're just having indigestion. If doctors don't move off anchors enough, they'll start treating the wrong thing."
Lots of things can make somebody more or less likely to anchor themselves to an idea. The authors of the study, who have several papers on the effects of rudeness, decided to see if that could also cause people to stumble into cognitive errors. Past research suggested that exposure to rudeness can limit people's perspective — perhaps anchoring them.
In the first version of the study, medical students were given a hypothetical patient to treat and access to information on their condition alongside an (incorrect) suggestion on what the condition was. This served as the anchor. In some versions of the tests, the students overheard two doctors arguing rudely before diagnosing the patient. Later variations switched the diagnosis test for business negotiations or workplace tasks while maintaining the exposure to rudeness.
Across all iterations of the test, those exposed to rudeness were more likely to anchor themselves to the initial, incorrect suggestion despite the availability of evidence against it. This was less significant for study participants who scored higher on a test of how wide of a perspective they tended to have. The disposition of these participants, who answered in the affirmative to questions like, "Before criticizing somebody, I try to imagine how I would feel if I were in his/her place," was able to effectively negate the narrowing effects of rudeness.
What this means for you and your healthcare
The effects of anchoring when a medical diagnosis is on the line can be substantial. Dr. Foulk explains that, in some simulations, exposure to rudeness can raise the mortality rate as doctors fixate on the wrong problems.
The authors of the study suggest that managers take a keener interest in ensuring civility in workplaces and giving employees the tools they need to avoid judgment errors after dealing with rudeness. These steps could help prevent anchoring.
Also, you might consider being nicer to people.
Strange Maps
At least 222 typefaces are named after places in the U.S. — and there's still room for more.
Scroll down to load more…