Big ideas.
Once a week.
Subscribe to our weekly newsletter.
Catacombs of Paris: The city of darkness finds its new raison d'être
Ancient corridors below the French capital have served as its ossuary, playground, brewery, and perhaps soon, air conditioning.
07 May, 2021
Credit
: Inspection Générale des Carrières, 1857 / Public domain
People have been digging up limestone and gypsum from below Paris since Roman times.
They left behind a vast network of corridors and galleries, since reused for many purposes — most famously, the Catacombs.
Soon, the ancient labyrinth may find a new lease of life, providing a sustainable form of air conditioning.
---
Ancient mining areas below Paris for limestone (red) and gypsum (green).Credit: Émile Gérards (1859–1920) / Public domain
"If you're brave enough to try, you might be able to catch a train from UnLondon to Parisn't, or No York, or Helsunki, or Lost Angeles, or Sans Francisco, or Hong Gone, or Romeless."

China Miéville's fantasy novel Un Lun Dun is set in an eerie mirror version of London. In it, he hints that other cities have similar doubles. On the list that he offhandedly rattles off, Paris stands out. Because the City of Light really does have a twisted sister. Below Paris Overground is Paris Underground, the City of Darkness.
Most people will have heard of the Catacombs of Paris: subterranean charnel houses for the bones of around six million dead Parisians. They are one of the French capital's most famous tourist attractions – and undoubtedly its grisliest.
But they constitute only a small fragment of what the locals themselves call les carrières de Paris ("the mines of Paris"), a collection of tunnels and galleries up to 300 km (185 miles) long, most of which are off-limits to the public, yet eagerly explored by so-called cataphiles.
The Grand Réseau Sud ("Great Southern Network") takes up around 200 km beneath the 5th, 6th, 14th, and 15th arrondissements (administrative districts), all south of the river Seine. Smaller networks run beneath the 12th, 13th, and 16th arrondissements. How did they get there?
Paris stone and plaster of Paris
It all starts with geology. Sediments left behind by ancient seas created large deposits of limestone in the south of the city, mostly south of the Seine; and gypsum in the north, particularly in the hills of Montmartre and Ménilmontant. Highly sought after as building materials, both have been mined since Roman times.
The limestone is also known as Lutetian limestone (Lutetia is the Latin name for ancient Paris) or simply "Paris stone." It has been used for many famous Paris landmarks, including the Louvre and the grand buildings erected during Georges-Eugène Haussmann's large-scale remodelling of the city in the mid-19th century. The stone's warm, yellowish color provides visual unity and a bright elegance to the city.

The fine-powdered gypsum of northern Paris, used for making quick-setting plaster, was so famed for its quality that "plaster of Paris" is still used as a term of distinction. However, as gypsum is very soluble in water, the underground cavities left by its extraction were extremely vulnerable to collapse.
Like living on top of a rotting tooth: subsidence starts far below the surface, but it can destroy your house.Credit : Delavanne Avocats
In previous centuries, a road would occasionally open up to swallow a chariot, or even a whole house would disappear down a sinkhole. In 1778, a catastrophic subsidence in Ménilmontant killed seven. That's why the Montmartre gypsum quarries were dynamited rather than just left as they were. The remaining gypsum caves were to be filled up with concrete.

The official body governing Paris down below is the Inspection Générale des Carrières (IGC), founded in the late 1770s by King Louis XVI. The IGC was tasked with mapping and, where needed, propping up the current and ancient (and sometimes forgotten) mining corridors and galleries hiding beneath Paris.
A delightful hiding place
Also around that time, the dead of Paris were getting in the way of the living. At the end of the 18th century, their final destination consisted of about 200 small cemeteries, scattered throughout the city — all bursting at the seams, so to speak. There was no room to bury the newly dead, and the previously departed were fouling up both the water and air around their respective churchyards.

Something radical had to happen. And it did. From 1785 until 1814, the smaller cemeteries were emptied of their bones, which were transported with full funerary pomp to their final resting place in the ancient limestone quarries at Tombe-Issoire. Three large and modern cemeteries were opened to receive the remains of subsequent generations of Parisians: Montparnasse, Père-Lachaise, and Passy.
Who says stacking skulls and bones can't be fun?Credit: Rijin via Wikimedia and licensed under CC BY-SA 4.0
The six million dead Parisians in the Catacombs, from all corners of the capital and across many centuries, together form the world's largest necropolis — their now anonymized skulls and bones methodically stacked, occasionally into whimsical patterns. The Catacombs are fashioned into a memorial to the brevity of life. The message above the entrance reads: Arrête! C'est ici l'empire de la Mort. ("Halt! This is the empire of Death.")

That has not stopped the Catacombs, accessible via a side door to a classicist building on the Avenue du Colonel Henri Rol-Tanguy, making just about every Top 20 list of things to see in Paris.
An underground economy
However, while the Catacombs certainly are the most famous part of the centuries-old network beneath Paris, and in non-pandemic times draw thousands of tourists each day, they constitute just 1.7 km (1 mile) of the 300-km (185-mile) tunneling total.
Subterranean Paris wasn't just used for mining and storing dead people. In the 17th century, Carthusian monks converted the ancient quarries under their monastery into distilleries for the green or yellow liqueur that still carries their name, chartreuse.

Because the mines generally keep a constant cool temperature of around 15° C (60° F), they were also ideal for brewing beer, as happened on a large scale from the end of the 17th century until well into the 20th century. Several caves were dug especially for establishing breweries, and not just because of the ambient temperature: going underground allowed brewers to remain close to their customers without having to pay a premium for real estate up top.
Overview of the Paris Catacombs.Credit: Inspection Générale des Carrières, 1857 / Public domain.
At the end of the 19th century, the underground breweries of the 14th arrondissement alone produced more than a million hectoliters (22 million gallons) per year. One of the most famous of Paris' underground breweries, Dumesnil, stayed in operation until the late 1960s.

In that decade, the network of corridors and galleries south of the Seine, long since abandoned by miners, became the unofficial playground for the young people of Paris. They explored the fantastical world beneath their feet, in some cases via entry points located in their very schools. Fascinated, these cataphiles ("catacomb lovers") read up on old books, explored the subterranean labyrinth, and drew up schematics that were passed around among fellow initiates as reverently as treasure maps.
As Robert Macfarlane writes in Underland, Paris-beneath-their-feet became "a place where people might slip into different identities, assume new ways of being and relating, become fluid and wild in ways that are constrained on the surface."

Some larger caves turned into notorious party zones: a 7-meter-tall gallery below the Val-de-Grâce hospital is widely known as "Salle Z." Over the last few decades, various other locations in subterranean Paris have hosted jazz and rock concerts and rave parties — like no other city, Paris really has an "underground music scene."
Hokusai's Great Wave as the backdrop to the "beach" under Paris.Credit: Reddit
Cataphiles vs. cataphobes

With popularity came increased reports of nuisance and crime — the tunnels provided easy access to telephone cables, which were stolen for the resale value of their copper.
The general public's "discovery" of the underground network led the city of Paris to officially interdict all access by non-authorized persons. That decree dates back to 1955, but the "underground police" have an understanding with seasoned cataphiles. Their main targets are so-called tourists, who by their lack of knowledge expose themselves to risk of injuries or worse, and degrade their surroundings, often leaving loads of litter in their wake.

The understanding does not extend to the IGC. Unlike in the 19th century, when weak cavities were shored up by purpose-built pillars, the policy now is to inject concrete to fill up endangered spaces — thus progressively blocking off parts of the network. That procedure has also been used to separate the Catacombs to prevent "infiltration" of the site by cataphiles.
Many subterranean streets have their own names, signs and all. This is the Rue des Bourguignons (Street of the Burgundians) below the Champs des Capucins (Capuchin Field), neither of which exists on the surface.Credit: Jean-François Gornet via Wikimedia and licensed under
The cataphiles, however, are fighting back. In a game of cat and mouse with the authorities, they are reopening blocked passages and creating chatières ("cat flaps") through which they can squeeze into chambers no longer accessible via other underground corridors.

Catacomb climate control
Alone against the unstoppable tide of concrete, the amateurs of Underground Paris would be helpless. But the fight against climate change may turn the subterranean labyrinths from a liability into an asset — and the City of Paris into an ally.
The UN's 2015 Climate Plan — concluded in Paris, by the way — requires the world to reduce greenhouse gas emissions by 75 percent by 2050. And Paris itself wants to be Europe's greenest city by 2030. More sustainable climate control of our living spaces would be a great help toward both targets. A lot of energy is spent heating houses in winter and cooling them in summer.
This is where the constant temperature of the Parisian tunnels comes in. It's not just good for brewing beer; it's a source of geothermal energy, says Fieldwork, an architectural firm based in Paris. It can be used to temper temperatures, helping to cool houses in summer and warming them in winter.

One catch for the cataphiles: it also works when the underground cavities are filled up with concrete. So perhaps one day, Paris Underground, fully filled up with concrete, will completely fall off the map, reducing the city's formerly real doppelgänger into an air conditioning unit.
Cool in summer, warm in winter: Paris Underground could become Paris A/C.Credit: Fieldwork
Strange Maps #1083
Got a strange map? Let me know at strangemaps@gmail.com.
Ever since we've had the technology, we've looked to the stars in search of alien life. It's assumed that we're looking because we want to find other life in the universe, but what if we're looking to make sure there isn't any?
According to the Great Filter theory, Earth might be one of the only planets with intelligent life. And that's a good thing (NASA, ESA, and the Hubble Heritage Team [STScI/AURA]).
Surprising Science
Here's an equation, and a rather distressing one at that: N = R* × fP × ne × f1 × fi × fc × L. It's the Drake equation, and it describes the number of alien civilizations in our galaxy with whom we might be able to communicate. Its terms correspond to values such as the fraction of stars with planets, the fraction of planets on which life could emerge, the fraction of planets that can support intelligent life, and so on. Using conservative estimates, the minimum result of this equation is 20. There ought to be 20 intelligent alien civilizations in the Milky Way that we can contact and who can contact us. But there aren't any.
The Drake equation is an example of a broader issue in the scientific community—considering the sheer size of the universe and our knowledge that intelligence life has evolved at least once, there should be evidence for alien life. This is generally referred to as the Fermi paradox, after the physicist Enrico Fermi who first examined the contradiction between high probability of alien civilizations and their apparent absence. Fermi summed this up rather succinctly when he asked, "Where is everybody"?
But maybe this was the wrong question. A better question, albeit a more troubling one, might be "What happened to everybody?" Unlike asking where life exists in the universe, there's a clearer potential answer to this question: the Great Filter.
Why the universe is empty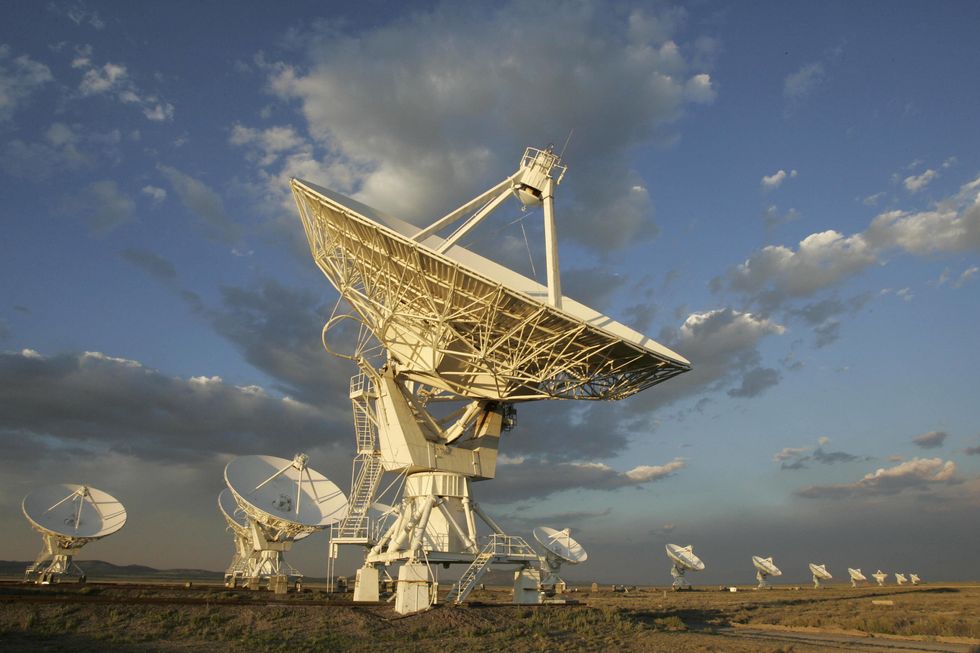 Alien life is likely, but there is none that we can see. Therefore, it could be the case that somewhere along the trajectory of life's development, there is a massive and common challenge that ends alien life before it becomes intelligent enough and widespread enough for us to see—a great filter.
This filter could take many forms. It could be that having a planet in the Goldilocks' zone—the narrow band around a star where it is neither too hot nor too cold for life to exist—and having that planet contain organic molecules capable of accumulating into life is extremely unlikely. We've observed plenty of planets in the Goldilock's zone of different stars (there's estimated to be 40 billion in the Milky Way), but maybe the conditions still aren't right there for life to exist.
The Great Filter could occur at the very earliest stages of life. When you were in high school bio, you might have the refrain drilled into your head "mitochondria are the powerhouse of the cell." I certainly did. However, mitochondria were at one point a separate bacteria living its own existence. At some point on Earth, a single-celled organism tried to eat one of these bacteria, except instead of being digested, the bacterium teamed up with the cell, producing extra energy that enabled the cell to develop in ways leading to higher forms of life. An event like this might be so unlikely that it's only happened once in the Milky Way.
Or, the filter could be the development of large brains, as we have. After all, we live on a planet full of many creatures, and the kind of intelligence humans have has only occurred once. It may be overwhelmingly likely that living creatures on other planets simply don't need to evolve the energy-demanding neural structures necessary for intelligence.
What if the filter is ahead of us?
These possibilities assume that the Great Filter is behind us—that humanity is a lucky species that overcame a hurdle almost all other life fails to pass. This might not be the case, however; life might evolve to our level all the time but get wiped out by some unknowable catastrophe. Discovering nuclear power is a likely event for any advanced society, but it also has the potential to destroy such a society. Utilizing a planet's resources to build an advanced civilization also destroys the planet: the current process of climate change serves as an example. Or, it could be something entirely unknown, a major threat that we can't see and won't see until it's too late.
The bleak, counterintuitive suggestion of the Great Filter is that it would be a bad sign for humanity to find alien life, especially alien life with a degree of technological advancement similar to our own. If our galaxy is truly empty and dead, it becomes more likely that we've already passed through the Great Filter. The galaxy could be empty because all other life failed some challenge that humanity passed.
If we find another alien civilization, but not a cosmos teeming with a variety of alien civilizations, the implication is that the Great Filter lies ahead of us. The galaxy should be full of life, but it is not; one other instance of life would suggest that the many other civilizations that should be there were wiped out by some catastrophe that we and our alien counterparts have yet to face.
Fortunately, we haven't found any life. Although it might be lonely, it means humanity's chances at long-term survival are a bit higher than otherwise.
Cross-disciplinary cooperation is needed to save civilization.
Credit: Public domain
13-8
There is a great disconnect between the sciences and the humanities.
Solutions to most of our real-world problems need both ways of knowing.
Moving beyond the two-culture divide is an essential step to ensure our project of civilization.
For the past five years, I ran the Institute for Cross-Disciplinary Engagement at Dartmouth, an initiative sponsored by the John Templeton Foundation. Our mission has been to find ways to bring scientists and humanists together, often in public venues or — after Covid-19 — online, to discuss questions that transcend the narrow confines of a single discipline.
It turns out that these questions are at the very center of the much needed and urgent conversation about our collective future. While the complexity of the problems we face asks for a multi-cultural integration of different ways of knowing, the tools at hand are scarce and mostly ineffective. We need to rethink and learn how to collaborate productively across disciplinary cultures.
The danger of hyper-specialization
The explosive expansion of knowledge that started in the mid 1800s led to hyper-specialization inside and outside academia. Even within a single discipline, say philosophy or physics, professionals often don't understand one another. As I wrote here before, "This fragmentation of knowledge inside and outside of academia is the hallmark of our times, an amplification of the clash of the Two Cultures that physicist and novelist C.P. Snow admonished his Cambridge colleagues in 1959." The loss is palpable, intellectually and socially. Knowledge is not adept to reductionism. Sure, a specialist will make progress in her chosen field, but the tunnel vision of hyper-specialization creates a loss of context: you do the work not knowing how it fits into the bigger picture or, more alarmingly, how it may impact society.
Many of the existential risks we face today — AI and its impact on the workforce, the dangerous loss of privacy due to data mining and sharing, the threat of cyberwarfare, the threat of biowarfare, the threat of global warming, the threat of nuclear terrorism, the threat to our humanity by the development of genetic engineering — are consequences of the growing ease of access to cutting-edge technologies and the irreversible dependence we all have on our gadgets. Technological innovation is seductive: we want to have the latest "smart" phone, 5k TV, and VR goggles because they are objects of desire and social placement.
Are we ready for the genetic revolution?
When the time comes, and experts believe it is coming sooner than we expect or are prepared for, genetic meddling with the human genome may drive social inequality to an unprecedented level with not just differences in wealth distribution but in what kind of being you become and who retains power. This is the kind of nightmare that Nobel Prize-winning geneticist Jennifer Doudna talked about in a recent Big Think video.
CRISPR 101: Curing Sickle Cell, Growing Organs, Mosquito Makeovers | Jennifer Doudna | Big Think www.youtube.com
At the heart of these advances is the dual-use nature of science, its light and shadow selves. Most technological developments are perceived and sold as spectacular advances that will either alleviate human suffering or bring increasing levels of comfort and accessibility to a growing number of people. Curing diseases is what motivated Doudna and other scientists involved with CRISPR research. But with that also came the potential for altering the genetic makeup of humanity in ways that, again, can be used for good or evil purposes.

This is not a sci-fi movie plot. The main difference between biohacking and nuclear hacking is one of scale. Nuclear technologies require industrial-level infrastructure, which is very costly and demanding. This is why nuclear research and its technological implementation have been mostly relegated to governments. Biohacking can be done in someone's backyard garage with equipment that is not very costly. The Netflix documentary series Unnatural Selection brings this point home in terrifying ways. The essential problem is this: once the genie is out of the bottle, it is virtually impossible to enforce any kind of control. The genie will not be pushed back in.
Cross-disciplinary cooperation is needed to save civilization
What, then, can be done? Such technological challenges go beyond the reach of a single discipline. CRISPR, for example, may be an invention within genetics, but its impact is vast, asking for oversight and ethical safeguards that are far from our current reality. The same with global warming, rampant environmental destruction, and growing levels of air pollution/greenhouse gas emissions that are fast emerging as we crawl into a post-pandemic era. Instead of learning the lessons from our 18 months of seclusion — that we are fragile to nature's powers, that we are co-dependent and globally linked in irreversible ways, that our individual choices affect many more than ourselves — we seem to be bent on decompressing our accumulated urges with impunity.
The experience from our experiment with the Institute for Cross-Disciplinary Engagement has taught us a few lessons that we hope can be extrapolated to the rest of society: (1) that there is huge public interest in this kind of cross-disciplinary conversation between the sciences and the humanities; (2) that there is growing consensus in academia that this conversation is needed and urgent, as similar institutes emerge in other schools; (3) that in order for an open cross-disciplinary exchange to be successful, a common language needs to be established with people talking to each other and not past each other; (4) that university and high school curricula should strive to create more courses where this sort of cross-disciplinary exchange is the norm and not the exception; (5) that this conversation needs to be taken to all sectors of society and not kept within isolated silos of intellectualism.
Moving beyond the two-culture divide is not simply an interesting intellectual exercise; it is, as humanity wrestles with its own indecisions and uncertainties, an essential step to ensure our project of civilization.
New study analyzes gravitational waves to confirm the late Stephen Hawking's black hole area theorem.
Credit: NASA's Goddard Space Flight Center
Surprising Science
A new paper confirms Stephen Hawking's black hole area theorem.
The researchers used gravitational wave data to prove the theorem.
The data came from Caltech and MIT's Advanced Laser Interferometer Gravitational-Wave Observatory.
The late Stephen Hawking's black hole area theorem is correct, a new study shows. Scientists used gravitational waves to prove the famous British physicist's idea, which may lead to uncovering more underlying laws of the universe.
The theorem, elaborated by Hawking in 1971, uses Einstein's theory of general relativity as a springboard to conclude that it is not possible for the surface area of a black hole to become smaller over time. The theorem parallels the second law of thermodynamics that says the entropy (disorder) of a closed system can't decrease over time. Since the entropy of a black hole is proportional to its surface area, both must continue to increase.
As a black hole gobbles up more matter, its mass and surface area grow. But as it grows, it also spins faster, which decreases its surface area. Hawking's theorem maintains that the increase in surface area that comes from the added mass would always be larger than the decrease in surface area because of the added spin.
Will Farr, one of the co-authors of the study that was published in Physical Review Letters, said their finding demonstrates that "black hole areas are something fundamental and important." His colleague Maximiliano Isi agreed in an interview with Live Science: "Black holes have an entropy, and it's proportional to their area. It's not just a funny coincidence, it's a deep fact about the world that they reveal."
The research team based their conclusions on the data from the gravitational waves spotted by Caltech and MIT's Advanced Laser Interferometer Gravitational-Wave Observatory (LIGO) in 2015.
What are gravitational waves?
Gravitational waves are "ripples" in spacetime, predicted by Albert Einstein in 1916, that are created by very violent processes happening in space. Einstein showed that very massive, accelerating space objects like neutron stars or black holes that orbit each other could cause disturbances in spacetime. Like the ripples produced by tossing a rock into a lake, they would bring about "waves" of spacetime that would spread in all directions.
As LIGO shared, "These cosmic ripples would travel at the speed of light, carrying with them information about their origins, as well as clues to the nature of gravity itself."
The gravitational waves discovered by LIGO's 3,000-kilometer-long laser beam, which can detect the smallest distortions in spacetime, were generated 1.3 billion years ago by two giant black holes that were quickly spiraling toward each other.
What Stephen Hawking would have discovered if he lived longer | NASA's Michelle Thaller | Big Think www.youtube.com
Confirming Hawking's black hole area theorem

The researchers separated the signal into two parts, depending on whether it was from before or after the black holes merged. This allowed them to figure out the mass and spin of the original black holes as well as the mass and spin of the merged black hole. With this information, they calculated the surface areas of the black holes before and after the merger.
"As they spin around each other faster and faster, the gravitational waves increase in amplitude more and more until they eventually plunge into each other — making this big burst of waves," Isi elaborated. "What you're left with is a new black hole that's in this excited state, which you can then study by analyzing how it's vibrating. It's like if you ping a bell, the specific pitches and durations it rings with will tell you the structure of that bell, and also what it's made out of."
The surface area of the resulting black holes was larger than the combined area of the original black holes. This conformed to Hawking's area law.
Scroll down to load more…