Meet Tabarnia, Catalonia's counter-separatist nightmare
Once you start seceding, who's to say where it will stop?
17 January, 2018
Even a month ago, Tabarnia did not exist. Now the region has a flag, a map – and the intent to secede from Catalonia, if Catalonia secedes from Spain. 
---
New elections have failed to defuse the Catalan crisis. At the vote on 21 December, the three pro-independence parties retained their majority in the Catalan regional parliament. The government they will be forming from today could take the rich, northeastern region of Spain once more to the brink of independence. 
But something has changed since Catalonia's latest attempt at slipping Spain's surly bonds. Until last month, opponents of Catalan independence – both inside and outside Catalonia – seemed powerless to stop the region's geopolitical drift away from Madrid. Now they have found a rallying cause: autonomy for Tabarnia!
The name may sound as if it has an ancient pedigree, but it is no more than a portmanteau for Tarragona and Barcelona, and a very recent one at that. While recent polls and elections have shown clear majorities pro independence in most of Catalonia's regions, voters in the coastal strip from Tarragona to Barcelona have rejected it.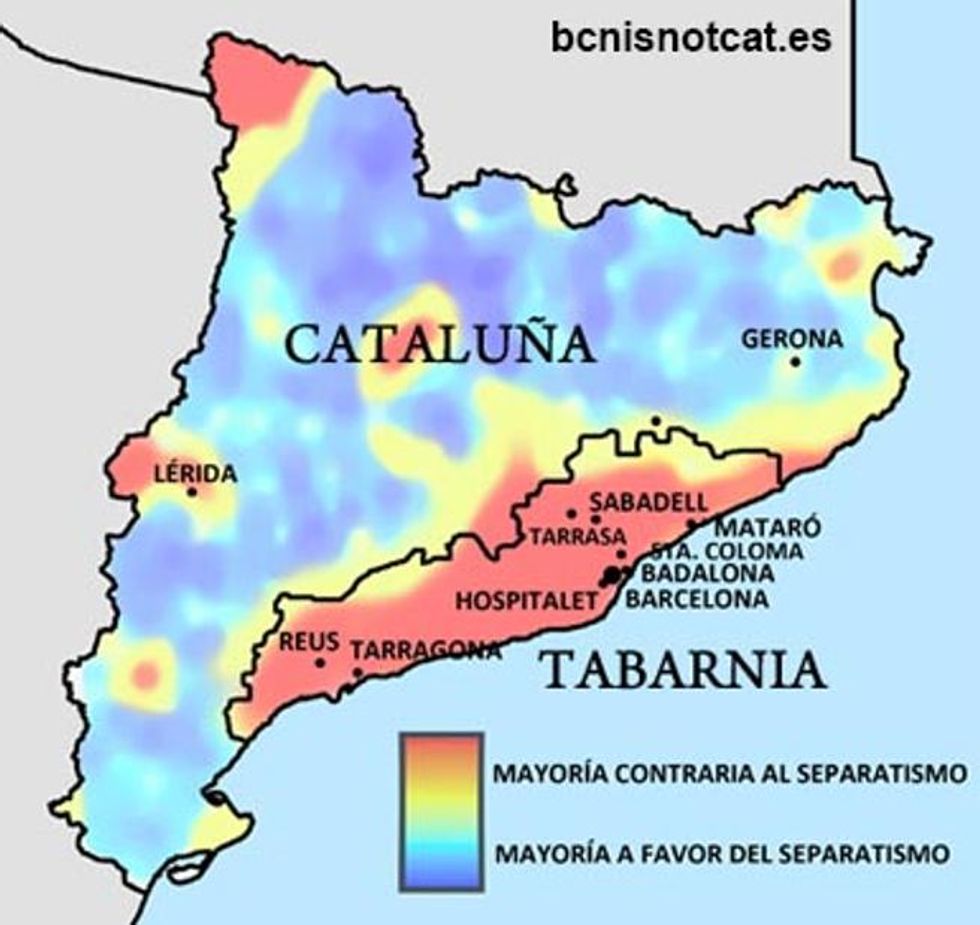 This is Tabarnia, and the mirror it holds up to Catalan separatism not only mocks its demands, it could eventually prove the most effective way to frustrate them. 
Where Catalan nationalists proudly proclaim that 'Catalonia is not Spain', Tabarnia replies that 'Barcelona is not Catalonia'. Tabarnians also echo the Catalan complaint that they contribute much more to the state coffers than they get back.
The fictional region went viral on 26 December, a few days after those latest elections confirmed its anti-secessionist exceptionalism, and a petition in favour of independence from Catalonia garnered tens of thousands of signatures in no time (1).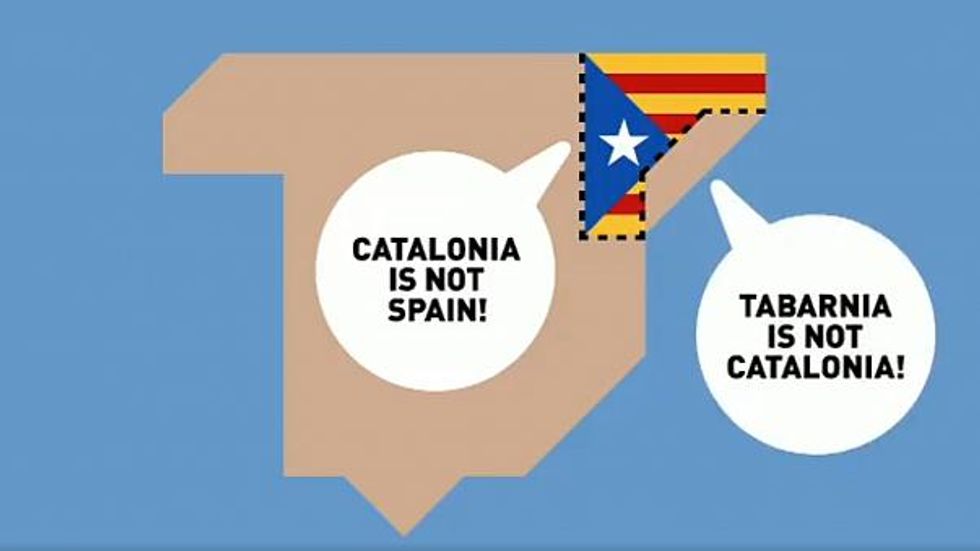 Last Tuesday, Tabarnia even got a president. Albert Boadella (74) is a theatre director who left Barcelona for Madrid in 2007 claiming he was being boycotted by Catalan nationalists. He swore the oath via video link from his 'exile' in Madrid, a dig at the insistence of Carles Puigdemont to be sworn in as Catalan president from his exile in Brussels.
How far will Tabarnia go? "As far as the secessionists have gone", said Jaume Vives, Tabarnia spokesman Jaume Vives told the Guardian. Indeed, some Tabarnians want to do more than hold up a mirror to Catalan nationalism and are campaigning for a referendum in October 2019. They effectively want to create the Autonomous Region of Tabarnia, which could decide to remain part of Spain in case Catalonia – or what's left of it – goes for independence. 
"Tabarnia will become their nightmare just as they have become ours", said Vives.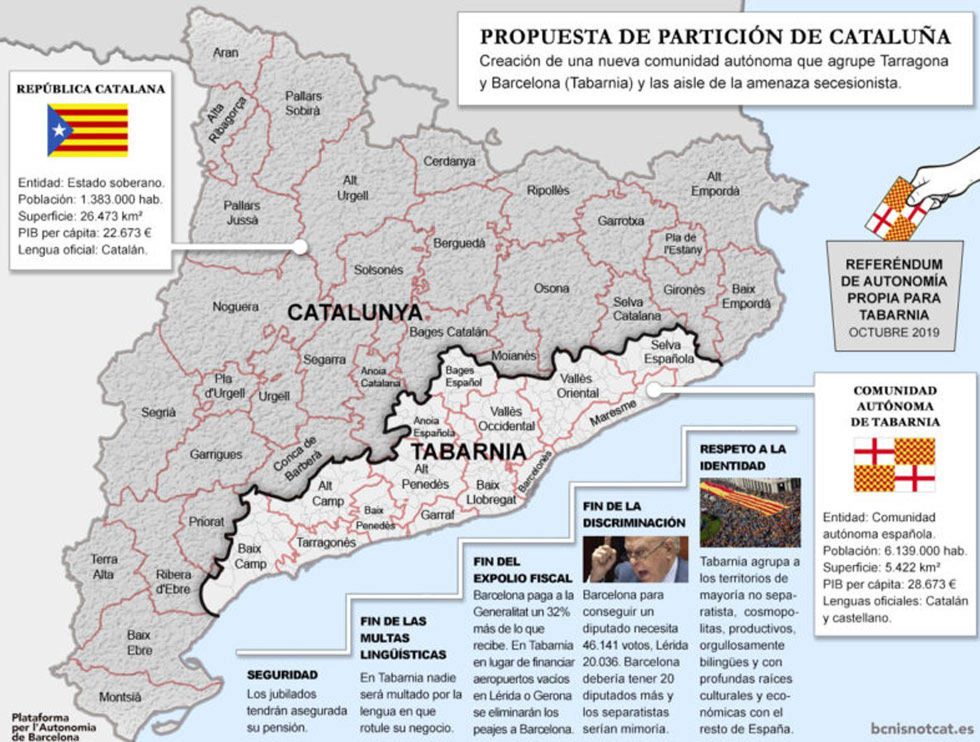 This map shows the proposed flag for the Autonomous Region of Tabarnia, and lists a few arguments in favour if its establishment: pension security, an end to fines for businesses that do not use Catalan, a redress of the fiscal and electoral imbalance to the disadvantage of Barcelona, and respect for the cosmopolitan, multilingual and pro-Spanish nature of the region. Tabernia would have 6.1 million inhabitants, the rest of Catalonia only has 1.4 million. 
Electoral heat map found here on La Vanguardia, speech bubble map found here on Euronews (Spanish), third map found here on El Pais. See previous story on Catalan independence at #861.
Strange Maps #881
Got a strange map? Let me know at strangemaps@gmail.com.
(1) Counter-separatism as a remedy for (or at least vengeance against) separatism is not unprecedented in history. West Virginia seceded to remain in the Union when Viriginia joined the Confederacy. Transnistria and Abkhazia tore free from Moldova and Georgia respectively when those two former Soviet republics declared independence. The (virtually unrecognised) independence of those regions is maintained by Russian troops. 
To create wiser adults, add empathy to the school curriculum.
Sponsored by Charles Koch Foundation
Stories are at the heart of learning, writes Cleary Vaughan-Lee, Executive Director for the Global Oneness Project. They have always challenged us to think beyond ourselves, expanding our experience and revealing deep truths.
Vaughan-Lee explains 6 ways that storytelling can foster empathy and deliver powerful learning experiences.
Global Oneness Project is a free library of stories—containing short documentaries, photo essays, and essays—that each contain a companion lesson plan and learning activities for students so they can expand their experience of the world.
Philosophers like to present their works as if everything before it was wrong. Sometimes, they even say they have ended the need for more philosophy. So, what happens when somebody realizes they were mistaken?
Numerous U.S. Presidents invoked the Insurrection Act to to quell race and labor riots.
Photo by Michael Ochs Archives/Getty Images
Politics & Current Affairs
U.S. Presidents have invoked the Insurrection Act on numerous occasions.
The controversial law gives the President some power to bring in troops to police the American people.
The Act has been used mainly to restore order following race and labor riots.
It looks like a busy hurricane season ahead. Probably.
Surprising Science
Before the hurricane season even started in 2020, Arthur and Bertha had already blown through, and Cristobal may be brewing right now.
Weather forecasters see signs of a rough season ahead, with just a couple of reasons why maybe not.
Where's an El Niño when you need one?
Welcome to Hurricane Season 2020. 2020, of course, scoffs at this calendric event much as it has everything else that's normal — meteorologists have already used up the year's A and B storm names before we even got here. And while early storms don't necessarily mean a bruising season ahead, forecasters expect an active season this year. Maybe storms will blow away the murder hornets and 13-year locusts we had planned.
NOAA expects a busy season
According to NOAA's Climate Prediction Center, an agency of the National Weather Service, there's a 60 percent chance that we're embarking upon a season with more storms than normal. There does, however, remain a 30 percent it'll be normal. Better than usual? Unlikely: Just a 10 percent chance.
Where a normal hurricane season has an average of 12 named storms, 6 of which become hurricanes and 3 of which are major hurricanes, the Climate Prediction Center reckons we're on track for 13 to 29 storms, 6 to 10 of which will become hurricanes, and 3 to 6 of these will be category 3, 4, or 5, packing winds of 111 mph or higher.
What has forecasters concerned are two factors in particular.
This year's El Niño ("Little Boy") looks to be more of a La Niña ("Little Girl"). The two conditions are part of what's called the El Niño-Southern Oscillation (ENSO) cycle, which describes temperature fluctuations between the ocean and atmosphere in the east-central Equatorial Pacific. With an El Niño, waters in the Pacific are unusually warm, whereas a La Niña means unusually cool waters. NOAA says that an El Niño can suppress hurricane formation in the Atlantic, and this year that mitigating effect is unlikely to be present.
Second, current conditions in the Atlantic and Caribbean suggest a fertile hurricane environment:
The ocean there is warmer than usual.
There's reduced vertical wind shear.
Atlantic tropical trade winds are weak.
There have been strong West African monsoons this year.
Here's NOAA's video laying out their forecast:
But wait.
ArsTechnica spoke to hurricane scientist Phil Klotzbach, who agrees generally with NOAA, saying, "All in all, signs are certainly pointing towards an active season." Still, he notes a couple of signals that contradict that worrying outlook.
First off, Klotzbach notes that the surest sign of a rough hurricane season is when its earliest storms form in the deep tropics south of 25°N and east of the Lesser Antilles. "When you get storm formations here prior to June 1, it's typically a harbinger of an extremely active season." Fortunately, this year's hurricanes Arthur and Bertha, as well as the maybe-imminent Cristobal, formed outside this region. So there's that.
Second, Klotzbach notes that the correlation between early storm activity and a season's number of storms and intensities, is actually slightly negative. So while statistical connections aren't strongly predictive, there's at least some reason to think these early storms may augur an easy season ahead.
Image source: NOAA
Batten down the hatches early
If 2020's taught us anything, it's how to juggle multiple crises at once, and layering an active hurricane season on top of SARS-CoV-2 — not to mention everything else — poses a special challenge. Warns Treasury Secretary Wilbur Ross, "As Americans focus their attention on a safe and healthy reopening of our country, it remains critically important that we also remember to make the necessary preparations for the upcoming hurricane season." If, as many medical experts expect, we're forced back into quarantine by additional coronavirus waves, the oceanic waves slamming against our shores will best be met by storm preparations put in place in a less last-minute fashion than usual.
Ross adds, "Just as in years past, NOAA experts will stay ahead of developing hurricanes and tropical storms and provide the forecasts and warnings we depend on to stay safe."
Let's hope this, at least, can be counted on in this crazy year.
Technology & Innovation
Got any embarrassing old posts collecting dust on your profile? Facebook wants to help you delete them.
Scroll down to load more…