Mass Shootings Maps Compare Gun Violence in the US to Australia
How to stop mass shootings? Maps speak louder than words.
07 December, 2015
Last Saturday, and for the first time in nearly a century, The New York Times ran an editorial on its front page, to rage against the gun epidemic in the U.S. Will the pen prove mightier than the sword? 
---
Opponents of stricter gun control are unlikely to be swayed by the paper's outrage, arguments and eloquence (1). More ink and blood will flow; more airtime will be filled with arguments pro and con before anything is done, if anything is done at all.
Perhaps cartography can come to the rescue. A map is worth a thousand words. And here are two pertinent examples.
First, a map of all mass shootings that have occurred in the United States in 2015, up to and including the deadliest incident so far, the San Bernardino shooting on December 2nd.. That attack claimed the lives of 14 victims and both perpetrators, as well as injuring a further 23 people.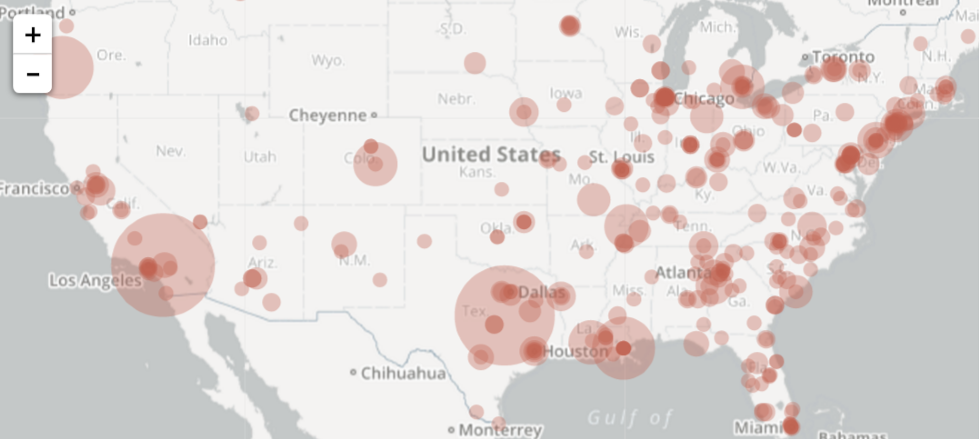 The map was published by The Boston Globe, and is based on data collated by the Mass Shooting Tracker website. MST defines a "mass shooting" as an incident in which at least four people are shot. By that definition, the U.S. has experienced 353 mass shootings this year, resulting in 462 fatalities and 1,312 people injured (2).
The opacity of the red blobs on the map reflects the geographic density of mass shootings, their size the number of casualties claimed by each. Contrast that with the second map, showing all the mass shootings that have occurred in Australia since 1996.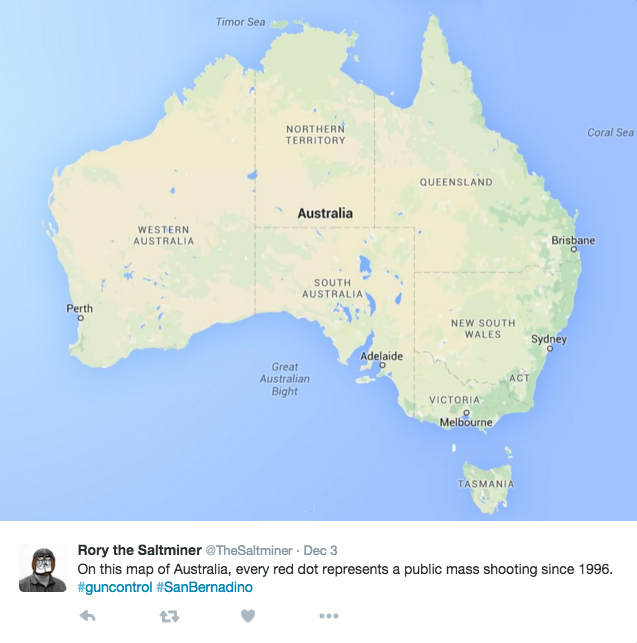 That's right: none. 
There's a reason why 1996 is chosen as the Year Zero for the second map. On 28 April of that year, a lone gunman went on a bloody rampage in Port Arthur, Tasmania, killing 35 people and wounding 23. It was the bloodiest shooting spree in Australia's modern history (3). It was also the last. Shocked by the carnage, the Australian government rapidly enacted strict gun control laws.
This resulted in a nationwide ban on semi-automatic rifles and semi-automatic and pump-action shotguns, as well as stricter rules on gun licensing and ownership. The Australian government bought nearly 1 million firearms from the public and destroyed them. There have been no more mass shootings in Australia since then (3).
That's not to say stricter gun laws have magically turned Australia into a massacre-free country. Since 1996, there have been a number of particularly gruesome and deadly arson attacks, for example. Nor has Australia become completely gun-crime-free. The country has witnessed one or two "minor" shooting sprees and even, last year in Sydney, a case of jihadist terrorism, which claimed the lives of two victims as well as the perpetrator's.
And of course, there is a difference of scale to keep in mind. There is barely one Australian for every 14 Americans. But if we take that into account, and all other things being equal, there should be about 30 mass shooting casualties in Australia every year. Times the 19 years since 1996, makes around 580 Australians dead in mass shooting events. In fact, the number was, as demonstrated by this map, zero.
--
Many thanks to Mark Feldman for pointing out the map in the Boston Globe. The Australian mass shooting map seen on the Twitter account of Rory the Saltminer. Go here for the Mass Shooting Tracker.
Strange Maps #752 
Got a strange map? Let me know at strangemaps@gmail.com.
(1) The paper's previous front-page editorial, in 1920 against the nomination of Warren G. Harding as the Republican candidate for president, wasn't very successful either: Harding went on to win the election. 
(2) MST data for 2013: 364 mass shootings, 500 deaths, 1,266 injured. Data for 2014: 336 incidents, 383 deaths, 1,239 injured.
(3) It depends on what you call "modern." The so-called Coniston Massacre, the last officially sanctioned mass-killing of Aboriginals took place no longer ago than 1928. Up to 110 native Australian men, women, and children were killed in revenge for the murder of a white hunter.
(4) At least not in the public sphere. There was one case of murder-suicide in 2014, in which a husband shot his wife and three children before turning the gun on himself. 
Malcolm Gladwell teaches "Get over yourself and get to work" for Big Think Edge.
Big Think Edge
Learn to recognize failure and know the big difference between panicking and choking.

At Big Think Edge, Malcolm Gladwell teaches how to check your inner critic and get clear on what failure is.

Subscribe to Big Think Edge before we launch on March 30 to get 20% off monthly and annual memberships.
Can sensitive coral reefs survive another human generation?
Videos
Coral reefs may not be able to survive another human decade because of the environmental stress we have placed on them, says author David Wallace-Wells. He posits that without meaningful changes to policies, the trend of them dying out, even in light of recent advances, will continue.
The World Wildlife Fund says that 60 percent of all vertebrate mammals have died since just 1970. On top of this, recent studies suggest that insect populations may have fallen by as much as 75 percent over the last few decades.
If it were not for our oceans, the planet would probably be already several degrees warmer than it is today due to the emissions we've expelled into the atmosphere.
Research has shown that men today have less testosterone than they used to. What's happening?
Sex & Relationships
Several studies have confirmed that testosterone counts in men are lower than what they used to be just a few decades ago.
While most men still have perfectly healthy testosterone levels, its reduction puts men at risk for many negative health outcomes.
The cause of this drop in testosterone isn't entirely clear, but evidence suggests that it is a multifaceted result of modern, industrialized life.
Michael Dowling, Northwell Health's CEO, believes we're entering the age of smart medicine.
Sponsored by Northwell Health
The United States health care system has much room for improvement, and big tech may be laying the foundation for those improvements.
Technological progress in medicine is coming from two fronts: medical technology and information technology.
As information technology develops, patients will become active participants in their health care, and value-based care may become a reality.
Big think's weekly newsletter.
Get smarter faster from the comfort of your inbox.
See our newsletter privacy policy
here
Most Popular
Most Recent
Big think's weekly newsletter.
Get smarter faster from the comfort of your inbox.
See our newsletter privacy policy
here
© Copyright 2007-2018 & BIG THINK, BIG THINK EDGE,
SMARTER FASTER trademarks owned by The Big Think, Inc. All rights reserved.