Mass Shootings Maps Compare Gun Violence in the US to Australia
How to stop mass shootings? Maps speak louder than words.
Frank Jacobs
From a young age, Frank was fascinated by maps and atlases, and the stories they contained. Finding his birthplace on the map in the endpapers of Tolkien's Lord of the Rings only increased his interest in the mystery and message of maps.
While pursuing a career in journalism, Frank started a blog called Strange Maps, as a repository for the weird and wonderful cartography he found hidden in books, posing as everyday objects and (of course) floating around the Internet.
"Each map tells a story, but the stories told by your standard atlas for school or reference are limited and literal: they show only the most practical side of the world, its geography and its political divisions. Strange Maps aims to collect and comment on maps that do everything but that - maps that show the world from a different angle".
A remit that wide allows for a steady, varied diet of maps: Frank has been writing about strange maps since 2006, published a book on the subject in 2009 and joined Big Think in 2010. Readers send in new material daily, and he keeps bumping in to cartography that is delightfully obscure, amazingly beautiful, shockingly partisan, and more.
07 December, 2015
Last Saturday, and for the first time in nearly a century, The New York Times ran an editorial on its front page, to rage against the gun epidemic in the U.S. Will the pen prove mightier than the sword? 
---
Opponents of stricter gun control are unlikely to be swayed by the paper's outrage, arguments and eloquence (1). More ink and blood will flow; more airtime will be filled with arguments pro and con before anything is done, if anything is done at all.
Perhaps cartography can come to the rescue. A map is worth a thousand words. And here are two pertinent examples.
First, a map of all mass shootings that have occurred in the United States in 2015, up to and including the deadliest incident so far, the San Bernardino shooting on December 2nd.. That attack claimed the lives of 14 victims and both perpetrators, as well as injuring a further 23 people.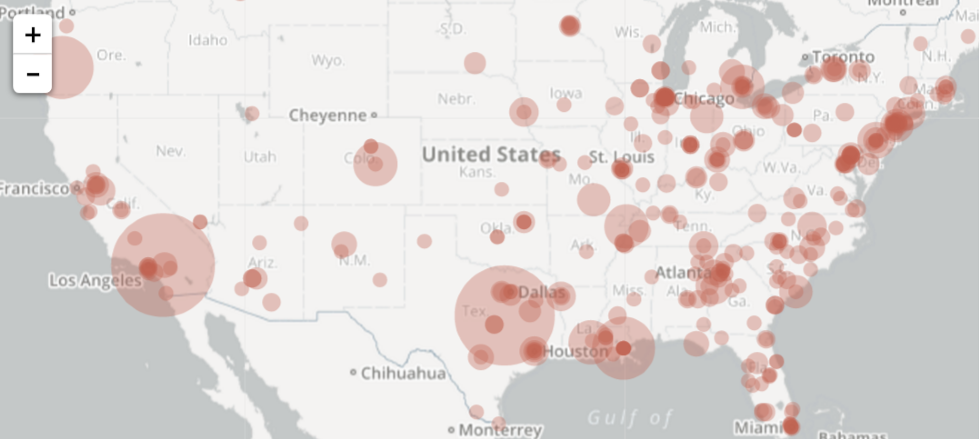 The map was published by The Boston Globe, and is based on data collated by the Mass Shooting Tracker website. MST defines a "mass shooting" as an incident in which at least four people are shot. By that definition, the U.S. has experienced 353 mass shootings this year, resulting in 462 fatalities and 1,312 people injured (2).
The opacity of the red blobs on the map reflects the geographic density of mass shootings, their size the number of casualties claimed by each. Contrast that with the second map, showing all the mass shootings that have occurred in Australia since 1996.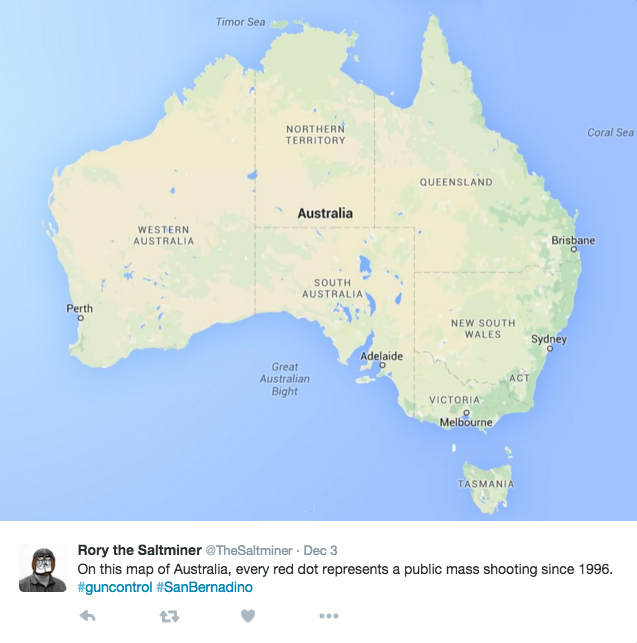 That's right: none. 
There's a reason why 1996 is chosen as the Year Zero for the second map. On 28 April of that year, a lone gunman went on a bloody rampage in Port Arthur, Tasmania, killing 35 people and wounding 23. It was the bloodiest shooting spree in Australia's modern history (3). It was also the last. Shocked by the carnage, the Australian government rapidly enacted strict gun control laws.
This resulted in a nationwide ban on semi-automatic rifles and semi-automatic and pump-action shotguns, as well as stricter rules on gun licensing and ownership. The Australian government bought nearly 1 million firearms from the public and destroyed them. There have been no more mass shootings in Australia since then (3).
That's not to say stricter gun laws have magically turned Australia into a massacre-free country. Since 1996, there have been a number of particularly gruesome and deadly arson attacks, for example. Nor has Australia become completely gun-crime-free. The country has witnessed one or two "minor" shooting sprees and even, last year in Sydney, a case of jihadist terrorism, which claimed the lives of two victims as well as the perpetrator's.
And of course, there is a difference of scale to keep in mind. There is barely one Australian for every 14 Americans. But if we take that into account, and all other things being equal, there should be about 30 mass shooting casualties in Australia every year. Times the 19 years since 1996, makes around 580 Australians dead in mass shooting events. In fact, the number was, as demonstrated by this map, zero.
--
Many thanks to Mark Feldman for pointing out the map in the Boston Globe. The Australian mass shooting map seen on the Twitter account of Rory the Saltminer. Go here for the Mass Shooting Tracker.
Strange Maps #752 
Got a strange map? Let me know at strangemaps@gmail.com.
(1) The paper's previous front-page editorial, in 1920 against the nomination of Warren G. Harding as the Republican candidate for president, wasn't very successful either: Harding went on to win the election. 
(2) MST data for 2013: 364 mass shootings, 500 deaths, 1,266 injured. Data for 2014: 336 incidents, 383 deaths, 1,239 injured.
(3) It depends on what you call "modern." The so-called Coniston Massacre, the last officially sanctioned mass-killing of Aboriginals took place no longer ago than 1928. Up to 110 native Australian men, women, and children were killed in revenge for the murder of a white hunter.
(4) At least not in the public sphere. There was one case of murder-suicide in 2014, in which a husband shot his wife and three children before turning the gun on himself. 
Giving our solar system a "slap in the face"
Surprising Science
A stream of galactic debris is hurtling at us, pulling dark matter along with it
It's traveling so quickly it's been described as a hurricane of dark matter
Scientists are excited to set their particle detectors at the onslffaught
The climate change we're witnessing is more dramatic than we might think.
Surprising Science
A lazy buzz phrase – 'Is this the new normal?' – has been doing the rounds as extreme climate events have been piling up over the past year. To which the riposte should be: it's worse than that – we're on the road to even more frequent, more extreme events than we saw this year.
Once again, our circadian rhythm points the way.
Photo: Victor Freitas / Unsplash
Surprising Science
Seven individuals were locked inside a windowless, internetless room for 37 days.
While at rest, they burned 130 more calories at 5 p.m. than at 5 a.m.
Morning time again shown not to be the best time to eat.
Big think's weekly newsletter.
Get smarter faster from the comfort of your inbox.
See our newsletter privacy policy
here
Most Popular
Most Recent
Big think's weekly newsletter.
Get smarter faster from the comfort of your inbox.
See our newsletter privacy policy
here
© Copyright 2007-2018 & BIG THINK, BIG THINK EDGE,
SMARTER FASTER trademarks owned by The Big Think, Inc. All rights reserved.