Mapping the World's Biggest Weapons Exporters – and their Best Customers
Together, Russia and America sell almost 60% of all weapons traded around the world.
Frank Jacobs
From a young age, Frank was fascinated by maps and atlases, and the stories they contained. Finding his birthplace on the map in the endpapers of Tolkien's Lord of the Rings only increased his interest in the mystery and message of maps.
While pursuing a career in journalism, Frank started a blog called Strange Maps, as a repository for the weird and wonderful cartography he found hidden in books, posing as everyday objects and (of course) floating around the Internet.
"Each map tells a story, but the stories told by your standard atlas for school or reference are limited and literal: they show only the most practical side of the world, its geography and its political divisions. Strange Maps aims to collect and comment on maps that do everything but that - maps that show the world from a different angle".
A remit that wide allows for a steady, varied diet of maps: Frank has been writing about strange maps since 2006, published a book on the subject in 2009 and joined Big Think in 2010. Readers send in new material daily, and he keeps bumping in to cartography that is delightfully obscure, amazingly beautiful, shockingly partisan, and more.
16 April, 2017
War kills. And war sells. These maps show the world's four biggest arms exporters and their major clients.
---
While they reveal a lot about who mongers weapons to whom, the sequencing on this graph is a bit misleading.
Reader's instinct nudges us to interpret the maps clockwise from top left, as a series in descending order. But the correct order is anti-clockwise, from bottom left: the top seller is the U.S., followed by Russia, France and China.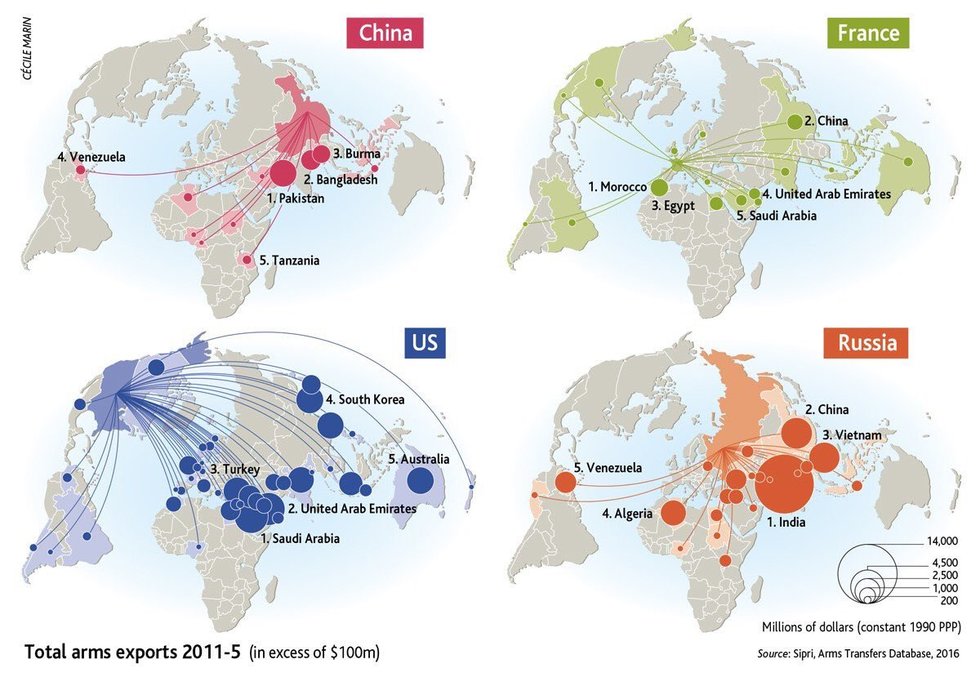 The maps are based on figures for 2011-2015, published by the Stockholm International Peace Research Institute (SIPRI). They exclude weapons trade deals below $100 million. The total volume of arms sales for this period was higher than for any other five-year stretch since the end of the Cold war, in the early 1990s.
The United States not only has the world's largest defence budget by far (1), it also outsells all other countries by a considerable margin. For the aforementioned period, American weapons exports were worth $46.4 billion, almost a third of the global total (32.8%).
Russia's amounted to $35,4 billion, representing just over a quarter of the global arms trade (25.3%). The margin between both is more than what numbers three and four each earn on their arms trading: France made $8,1 billion, while China raked in $7,9 billion.
For completeness sake, a quick run-down of the worlds largest arms buyers for the same period: India on one, followed by Saudi Arabia, China, the United Arab Emirates (UAE) and Australia.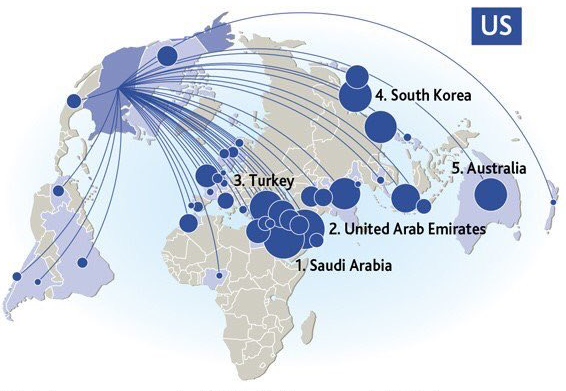 Each of the four maps mentions the five major recipients of that country's arms exports – providing a peek into each exporter's geopolitical priorities. As for America, they seem to be in the Middle East, mainly. The five biggest buyers of U.S. military hardware were, in descending order: Saudi Arabia ($4.6 billion), the United Arab Emirates ($4.2 billion), Turkey ($3.1 billion), South Korea ($3.1 billion) and Australia ($2.9 billion).
In all, America sold more than $100 million worth of arms to 42 countries, many of them also in the Middle East, as shown by the graph. For a complete list, see below.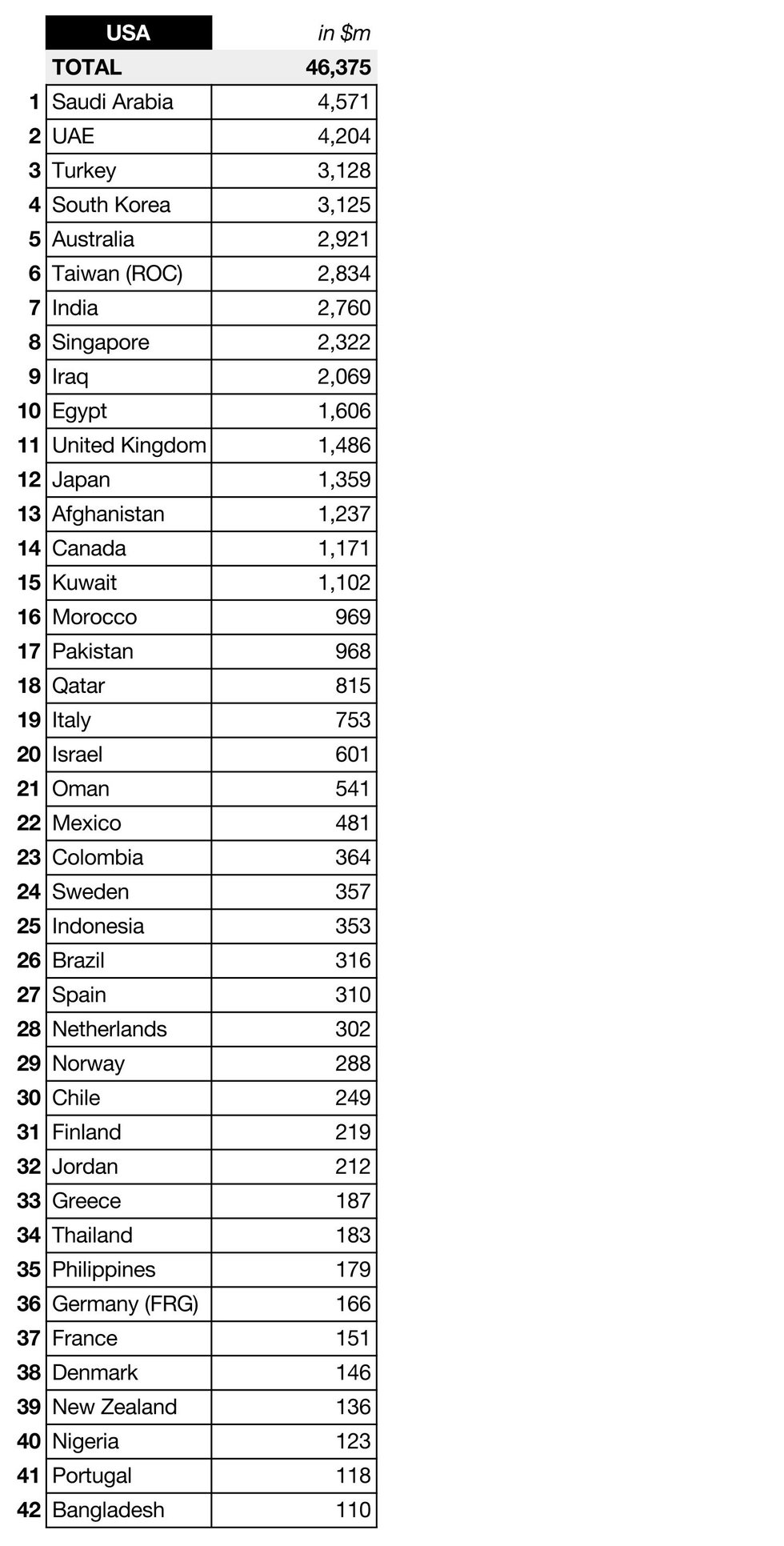 Russia and India have the single-biggest bilateral arms trade relationship in the world, at least for the period described here. From 2011 up to and including 2015, New Delhi bought for $13.4 billion in arms from the Russians. And despite being a major exporter itself, even China acquired a lot of Russian weaponry, to the tune of $3.8 billion. Vietnam stocked up on Russian arms for almost the same amount ($3.7 billion). Other large recipients of Russian weapons were Algeria ($2.6 billion) and Venezuela ($1.9 billion).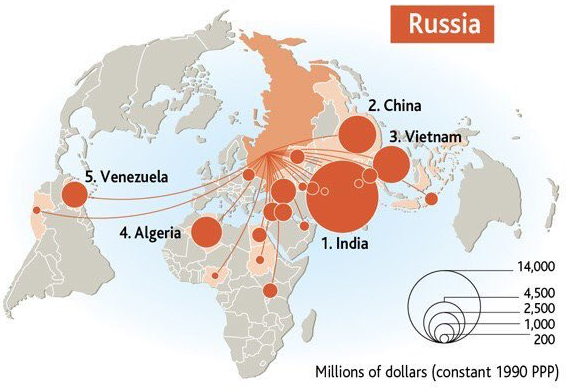 As the complete list of Russian arms sales (>$100 billion) shows, Moscow also supplied arms to India's rival Pakistan, but a lot more to its neighbour Afghanistan. And a lot more still to Syria.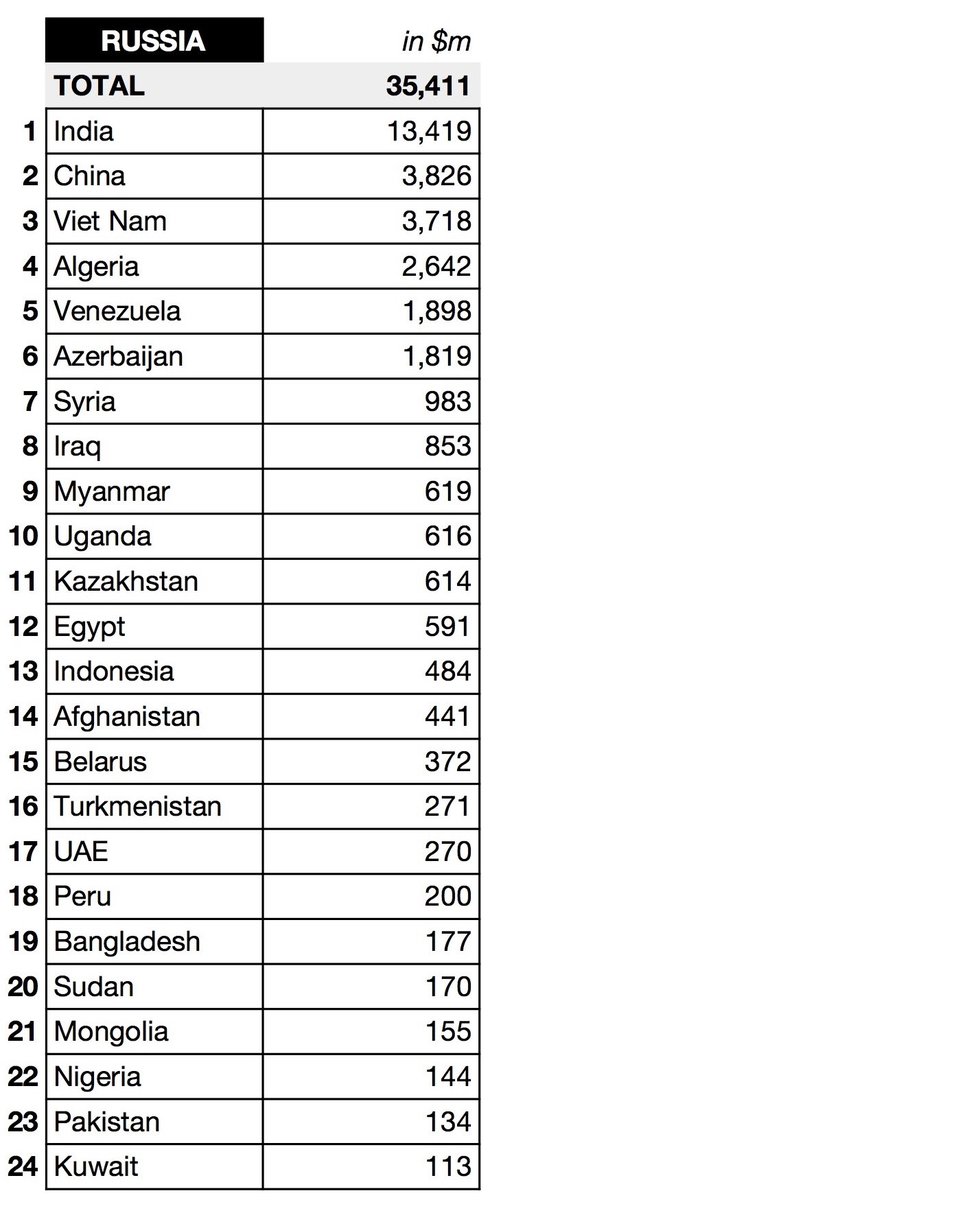 Whereas Russia is a major arms supplier of Algeria, its neighbour and rival Morocco is France's best weapons client ($1.3 billion). The French also sell a lot of military stuff to the Chinese ($1 billion), and to the Middle East: Egypt ($759 million), UAE ($548 million) and Saudi Arabia ($521 million).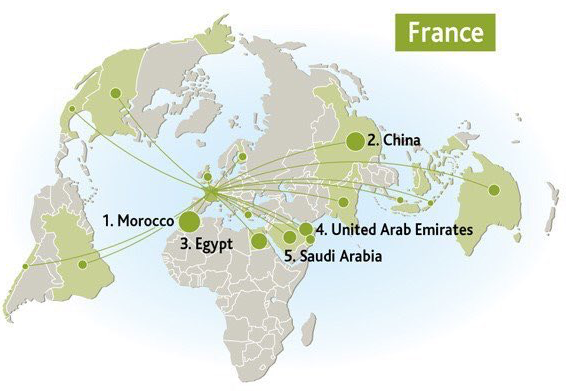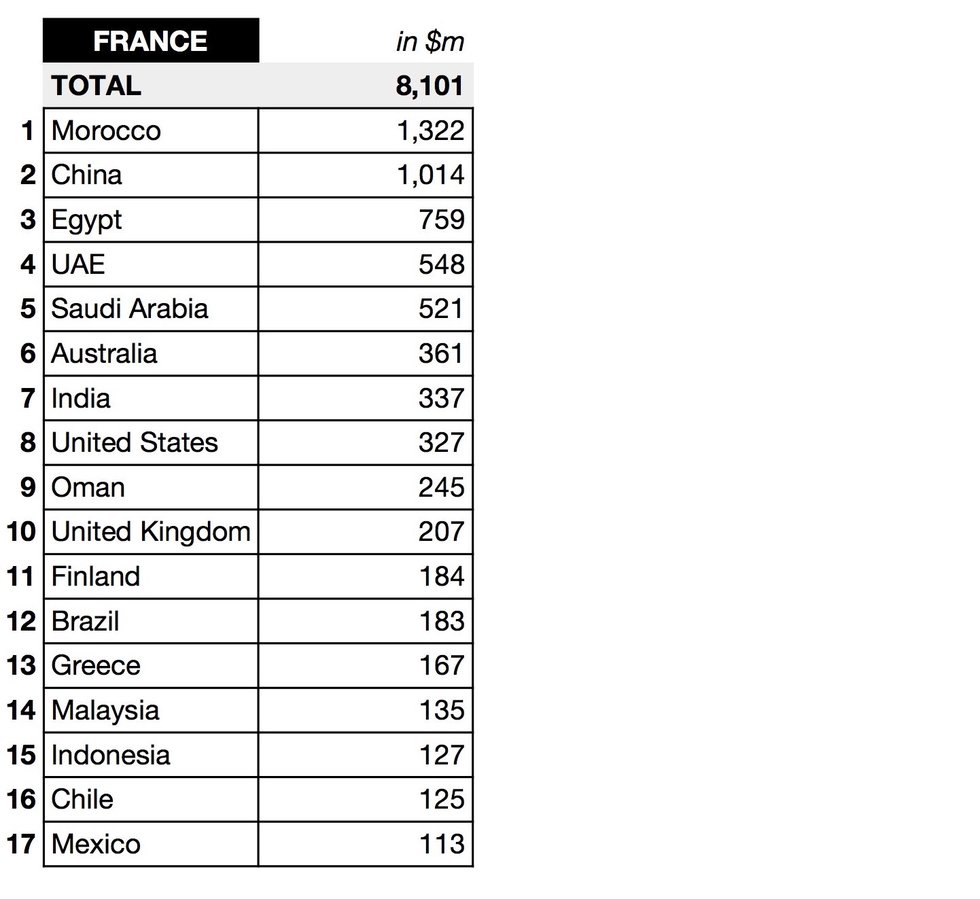 And while Russia arms India, China sells weapons to its neighbours, Pakistan ($3 billion), Bangladesh ($1.4 billion) and Myanmar ($971 million). Venezuela is another major recipient ($373 million), as is Tanzania ($323 million).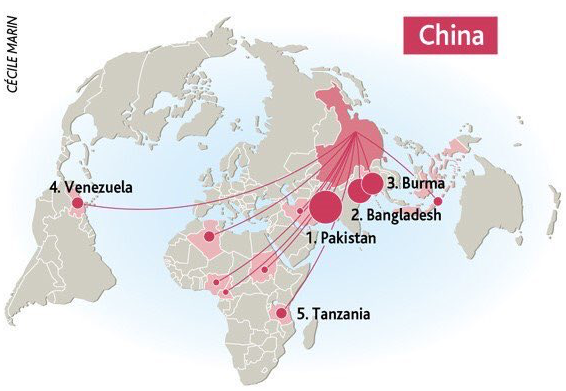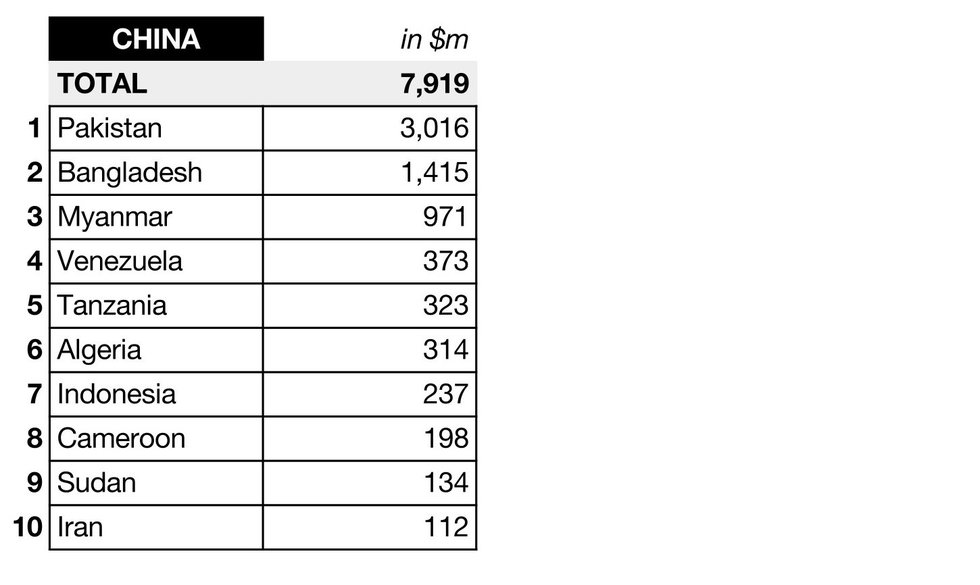 Map taken here from Le Monde Diplomatique. Lists c/o Ruland Kolen.
Strange Maps #834
Got a Strange Map? Let me know at strangemaps@gmail.com.
(1) $595.5 billion in 2015, or 34.5% of the world's total. See here at HowMuch.
Related Articles
It turns out the human scalp has an olfactory receptor that seems to play a crucial role in regulating hair follicle growth and death.
Surprising Science
Scientists treated scalp tissue with a chemical that mimics the odor of sandalwood.
This chemical bound to an olfactory receptor in the scalp and stimulated hair growth.
The treatment could soon be available to the public.
The best self-directed learners use these seven habits to improve their knowledge and skills in any subject.
(Photo by Peter Cade/Getty Images)
Personal Growth
Bill Gates, Mark Zuckerberg, and Ellen DeGeneres all dropped out of college, yet they became leaders in their fields. Their secret? Self-directed learning.
Self-directed learning can help people expand their knowledge, gain new skills, and improve upon their liberal education.
Following habits like Benjamin Franklin's five-hour rule, the 80/20 rule, and SMART goals can help self-directed learners succeed in their pursuits.
It happens every few years. Not just in Greece, but also parts of the United States.
Photo credit: Giannis Giannakopoulos
Surprising Science
Aitoliko, in Western Greece is the town these images are from.
Tetragnatha is the genus — known as "stretch spiders" because of their elongated bodies.
They can run faster on water than on land. Don't panic, though: they will be gone in days.
Big think's weekly newsletter.
Get smarter faster from the comfort of your inbox.
See our newsletter privacy policy
here
Most Popular
Most Recent
Big think's weekly newsletter.
Get smarter faster from the comfort of your inbox.
See our newsletter privacy policy
here
© Copyright 2007-2018 & BIG THINK, BIG THINK EDGE,
SMARTER FASTER trademarks owned by The Big Think, Inc. All rights reserved.