Big ideas.
Once a week.
Subscribe to our weekly newsletter.
The world's watersheds, mapped in gorgeous detail
Hungarian cartographer travels the world while mapping its treasures.
03 February, 2019
Simple idea, stunning result: the world's watersheds in glorious colors.
The maps are the work of Hungarian cartographer Robert Szucs.
His job: to travel and map the world, one good cause at a time.
---
These maps are both data-rich and absolutely gorgeous. You're looking at watershed maps, showing the flow of tributary streams into main rivers, and of those water courses into the sea (or final destinations inland). The streams are shown in the Strahler Stream Order Classification, which uses width to indicate the hierarchy of streams. Watersheds (a.k.a. drainage basins or catchment areas) are grouped together by color.
The maps are the work of Hungarian cartographer Robert Szucs, 33, who combines expertise in GIS with a passion for beautiful maps. "GIS is short for Geographic Information Systems. It's a collective word for anything using spatial or geographic data — from monitoring changes in forest cover with satellite data to creating crime density maps for the police," Szucs explains. "In this case, I've used GIS to create artistic maps, which is a beautiful hybrid of the artsy and geeky sides of my personality."

Szucs has managed to parlay his love for beautiful maps into a job designing them:
"I made a huge elevation map of Eurasia which was used in a documentary about horses and their migrations. There's also a 12-foot wide mural in the making at Louisiana State University, based on one of my maps. And I made some maps for the BBC after they reached out, saying my work inspired a show on rivers. I'm not saying I was jumping on my bed from excitement after any of those requests, but maybe I was."
Szucs is not just a theoretical map enthusiast, but also a practical one. He tries to move to a different country every few months, "donating" his mapmaking skills to worthy causes. He's worked with archeologists on St. Eustatius, an island in the Caribbean, with marine biologists in Alaska, and for an orangutan conservation programme on Borneo, among other destinations.
"My moves are always temporary, linked with volunteering for an NGO. It's a way of developing my skills, but also of seeing the world and experiencing new cultures," Szucs said. Meanwhile, new map ideas bubble up. "My current favourite map as yet only exists in my head as an idea. I might have to learn a few new software applications to make it. Let's hope I can find a way to make it happen. After that, I hope to be back in Alaska for a few months, working with whales again."
Many thanks to Mr. Szucs for sending in these maps. See more at Grasshopper Geography.
Strange Maps #959
Got a strange map? Let me know at strangemaps@gmail.com.
A man's skeleton, found facedown with his hands bound, was unearthed near an ancient ceremonial circle during a high speed rail excavation project.
Culture & Religion
A skeleton representing a man who was tossed face down into a ditch nearly 2,500 years ago with his hands bound in front of his hips was dug up during an excavation outside of London.
The discovery was made during a high speed rail project that has been a bonanza for archaeology, as the area is home to more than 60 ancient sites along the planned route.
An ornate grave of a high status individual from the Roman period and an ancient ceremonial circle were also discovered during the excavations.
Studies show that religion and spirituality are positively linked to good mental health. Our research aims to figure out how and why.
Mind & Brain
Neurotheology is a field that unites brain science and psychology with religious belief and practices.
There are several indirect and direct mechanisms that link spirituality with improved mental health.
Compassion and love are positive emotions that will make your brain healthier.
The field of neurotheology continues to expand from its early origins several decades ago to the present day. In its simplest definition, neurotheology refers to the field of scholarship that seeks to understand the relationship between the brain and our religious and spiritual selves. As I always like to say, it is important to consider both sides of neurotheology very broadly. Thus, the "neuro" side includes brain imaging, psychology, neurology, medicine, and even anthropology. And the "theology" side includes theology itself, but also various aspects related to religious beliefs, attitudes, practices, and experiences.
The mental health benefits of spirituality
Neurotheology also ranges from considering very esoteric concepts including questions around free will, consciousness, and the soul, to very practical concepts such as understanding how the brain functions and the relationship between spirituality and physical and mental health. This latter topic might be called "applied neurotheology." Applied neurotheology, therefore, seeks to understand the health-related aspects pertaining to our brain and our spiritual selves. In particular, we can try to understand how being religious or spiritual, or performing various spiritual practices, might be beneficial to our overall health and well-being. In our latest book, entitled Brain Weaver, we consider this important dimension of human brain health.
Even for those who are not religious, pursuing practices such as meditation and prayer — even when secularized — can be beneficial for reducing stress and anxiety.
A growing number of studies have shown how spirituality and mental health are linked. Importantly, studies have shown that those who are religious and spiritual tend to have lower rates of depression, anxiety, and suicide. This is true across the age spectrum with studies of adolescents showing that religious and spiritual pursuits are protective against mental health problems. And many adults cite religious and spiritual beliefs as important for coping with various life stressors.
Indirect mechanisms
Credit: MOHAMMED SAWAF via Getty Images
If there is a relationship between spirituality and positive mental health, we might question what the mechanism of action might be. I have typically divided the mechanisms into indirect and direct ones. The indirect mechanisms have to do with specific aspects of a given tradition that end up having ancillary mental health benefits. For example, going to church or other social events that are part of a religious tradition can be beneficial because social support, in and of itself, is beneficial to our mental health. The more people that we have in our social support network, the better we are at coping with various life stressors including problems with jobs, relationships, or health.

Most religions also teach people to avoid a lot of high-risk behaviors that can be very detrimental to our mental health and well-being. For example, most religions teach us to avoid alcohol and drugs, to not be promiscuous, and to try to be compassionate and charitable to others. By following these teachings, people will naturally avoid mental health problems such as substance abuse and tend toward being more optimistic and less depressed. These effects have nothing to do with being religious per se and everything to do with following a religion's advice.
Another interesting indirect mechanism of action related to religion has to do with diet and nutrition. Diet and nutrition are frequently overlooked when it comes to good mental health, even though research increasingly indicates they are essential. Many traditions ask individuals to follow certain dietary guidelines. For example, Hindus tend to have vegetarian diets, and most research to date shows that eating a more plant-based diet with a lot of low-inflammatory foods is good not only for your body but for your brain as well. In fact, we are currently performing a study with patients who have chronic concussion symptoms to determine the effect of dietary improvements on overall brain function.
Direct mechanisms
Credit: MIGUEL MEDINA via Getty Images
The direct mechanisms of action have to do with specific spiritual practices and even a person's personal sense of spirituality. Much of my research over the past 30 years has been to study the brain while people engage in different practices such as meditation or prayer. We have even observed brain changes associated with unique spiritual practices such as speaking in tongues or trance states. The brain effects related to these practices are quite remarkable and diverse. It should come as no surprise since these practices affect people on many different levels, such as the way people think, feel, and experience the world around them. Thus, we should expect to observe physiological differences in the parts of the brain involved with these practices.

Meditation and prayer, for example, activate the frontal lobes as well as the language areas of the brain, and research demonstrates that this occurs not only while the practice is performed but over the long-term as well. Our study of Kirtan Kriya meditation showed improvements of about 10 to 15 percent in cognition as well as reductions in stress, anxiety, and depression. These were associated with baseline changes to the brain's frontal lobe functions, which regulate these cognitive processes and modulate emotional responses.
More recent research has been exploring the effects of these practices on larger brain networks, and perhaps more important, specific neurotransmitter systems. One of our recent studies of a spiritual retreat program showed significant changes to the areas of the brain that release dopamine and serotonin. These are areas known to be involved in both cognition and emotional health. And there are a growing number of clinical studies which have documented the value of various spiritual practices or religiously oriented therapies for helping people manage a variety of mental health conditions including depression, anxiety, and ADHD as well as neurological conditions like Alzheimer's and seizure disorders.
Credit: JEAN-FRANCOIS MONIER via Getty Images
Finally, a personal sense of spirituality may be protective in and of itself. When people feel connected to all of humanity, a higher power, or the entire universe, that experience gives people a sense of meaning and purpose in life and an optimistic perspective on what the future holds. A number of research studies have shown that having such faith can be beneficial to your overall physical and mental health.

Improving brain health with applied neurotheology
Applied neurotheology can teach us the value of exploring our religious and spiritual side as a way of improving our mental health and well-being. Even for those who are not religious, pursuing practices such as meditation and prayer — even when secularized — can be beneficial for reducing stress and anxiety. Connecting with the larger world — by going on a nature walk, socializing with friends and family, or trying to make your neighborhood a better place by helping others — leads to a greater sense of compassion and love, positive emotions that will make your brain healthier.
Dr. Andrew Newberg is a neuroscientist who studies the relationship between brain function and various mental states. He is a pioneer in the neurological study of religious and spiritual experiences, a field known as "neurotheology." His latest book is Brain Weaver.
This spring, a U.S. and Chinese team announced that it had successfully grown, for the first time, embryos that included both human and monkey cells.
Getty Images
Surprising Science
In Aldous Huxley's 1932 novel "
Brave New World
," people aren't born from a mother's womb. Instead, embryos are grown in artificial wombs until they are brought into the world, a process called ectogenesis.
In the novel, technicians in charge of the hatcheries manipulate the nutrients they give the fetuses to make the newborns fit the desires of society. Two recent scientific developments suggest that Huxley's imagined world of functionally manufactured people is no longer far-fetched.
On March 17, 2021, an Israeli team announced that it had grown mouse embryos for 11 days – about half of the gestation period – in artificial wombs that were essentially bottles. Until this experiment, no one had grown a mammal embryo outside a womb this far into pregnancy. Then, on April 15, 2021, a U.S. and Chinese team announced that it had successfully grown, for the first time, embryos that included both human and monkey cells in plates to a stage where organs began to form.
As both a philosopher and a biologist I cannot help but ask how far researchers should take this work. While creating chimeras – the name for creatures that are a mix of organisms – might seem like the more ethically fraught of these two advances, ethicists think the medical benefits far outweigh the ethical risks. However, ectogenesis could have far-reaching impacts on individuals and society, and the prospect of babies grown in a lab has not been put under nearly the same scrutiny as chimeras.
Mouse embryos were grown in an artificial womb for 11 days, and organs had begun to develop.
Growing in an artificial womb
When in vitro fertilization first emerged in the late 1970s, the press called IVF embryos "test-tube babies," though they are nothing of the sort. These embryos are implanted into the uterus within a day or two after doctors fertilize an egg in a petri dish.
Before the Israeli experiment, researchers had not been able to grow mouse embryos outside the womb for more than four days – providing the embryos with enough oxygen had been too hard. The team spent seven years creating a system of slowly spinning glass bottles and controlled atmospheric pressure that simulates the placenta and provides oxygen.
This development is a major step toward ectogenesis, and scientists expect that it will be possible to extend mouse development further, possibly to full term outside the womb. This will likely require new techniques, but at this point it is a problem of scale – being able to accommodate a larger fetus. This appears to be a simpler challenge to overcome than figuring out something totally new like supporting organ formation.
The Israeli team plans to deploy its techniques on human embryos. Since mice and humans have similar developmental processes, it is likely that the team will succeed in growing human embryos in artificial wombs.
To do so, though, members of the team need permission from their ethics board.
CRISPR – a technology that can cut and paste genes – already allows scientists to manipulate an embryo's genes after fertilization. Once fetuses can be grown outside the womb, as in Huxley's world, researchers will also be able to modify their growing environments to further influence what physical and behavioral qualities these parentless babies exhibit. Science still has a way to go before fetus development and births outside of a uterus become a reality, but researchers are getting closer. The question now is how far humanity should go down this path.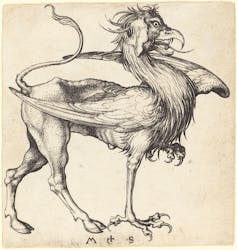 Chimeras evoke images of mythological creatures of multiple species – like this 15th-century drawing of a griffin – but the medical reality is much more sober. (Martin Schongauer/WikimediaCommons)
Human-monkey hybrids
Human–monkey hybrids might seem to be a much scarier prospect than babies born from artificial wombs. But in fact, the recent research is more a step toward an important medical development than an ethical minefield.
If scientists can grow human cells in monkeys or other animals, it should be possible to grow human organs too. This would solve the problem of organ shortages around the world for people needing transplants.
But keeping human cells alive in the embryos of other animals for any length of time has proved to be extremely difficult. In the human-monkey chimera experiment, a team of researchers implanted 25 human stem cells into embryos of crab-eating macaques – a type of monkey. The researchers then grew these embryos for 20 days in petri dishes.
After 15 days, the human stem cells had disappeared from most of the embryos. But at the end of the 20-day experiment, three embryos still contained human cells that had grown as part of the region of the embryo where they were embedded. For scientists, the challenge now is to figure out how to maintain human cells in chimeric embryos for longer.
Regulating these technologies
Some ethicists have begun to worry that researchers are rushing into a future of chimeras without adequate preparation. Their main concern is the ethical status of chimeras that contain human and nonhuman cells – especially if the human cells integrate into sensitive regions such as a monkey's brain. What rights would such creatures have?
However, there seems to be an emerging consensus that the potential medical benefits justify a step-by-step extension of this research. Many ethicists are urging public discussion of appropriate regulation to determine how close to viability these embryos should be grown. One proposed solution is to limit growth of these embryos to the first trimester of pregnancy. Given that researchers don't plan to grow these embryos beyond the stage when they can harvest rudimentary organs, I don't believe chimeras are ethically problematic compared with the true test–tube babies of Huxley's world.
Few ethicists have broached the problems posed by the ability to use ectogenesis to engineer human beings to fit societal desires. Researchers have yet to conduct experiments on human ectogenesis, and for now, scientists lack the techniques to bring the embryos to full term. However, without regulation, I believe researchers are likely to try these techniques on human embryos – just as the now-infamous He Jiankui used CRISPR to edit human babies without properly assessing safety and desirability. Technologically, it is a matter of time before mammal embryos can be brought to term outside the body.
While people may be uncomfortable with ectogenesis today, this discomfort could pass into familiarity as happened with IVF. But scientists and regulators would do well to reflect on the wisdom of permitting a process that could allow someone to engineer human beings without parents. As critics have warned in the context of CRISPR-based genetic enhancement, pressure to change future generations to meet societal desires will be unavoidable and dangerous, regardless of whether that pressure comes from an authoritative state or cultural expectations. In Huxley's imagination, hatcheries run by the state grew a large numbers of identical individuals as needed. That would be a very different world from today.

Sahotra Sarkar, Professor of Philosophy and Integrative Biology, The University of Texas at Austin College of Liberal Arts
This article is republished from The Conversation under a Creative Commons license. Read the original article.
13-8
Scientists should be cautious when expressing an opinion based on little more than speculation.
Scroll down to load more…