Highest resolution of any continent: A stunning new map of Antarctica
Not so long ago, we had better maps of Mars than of Antarctica. Now, Antarctica is the best-mapped continent in the world.
11 September, 2018
A before and after picture of Antarctica: The resolution has improved by a factor of 100 (Source: Ohio State University).
Not so long ago, we had better maps of Mars than of Antarctica. But in one fell swoop, the South Pole has moved from bottom to top of the class. The world's southernmost continent now is the world's best-mapped land mass. And for that, we may thank REMA, the Reference Elevation Model of Antarctica.
---
"Thanks to satellites, a s***ton of computer power, and a lotta work, we now have a more detailed map of Antarctica than we do of any other continent", said glaciologist Mike MacFerrin, tweeting as @IceSheetMike; however, "you'll need 150 TB to download the whole thing."
REMA, developed by the Earth Sciences department at Iowa State University and the Polar Geospatial Center at the University of Minnesota and the University of Illinois, has produced a map of the frozen continent in a resolution 100 times higher than before. Whereas the standard resolution for comparable maps is 1,000 meters (app. 3,280 ft), this one has a resolution of either 2 or 8 meters (6.5 or 26 ft), depending on the where you look at the continent.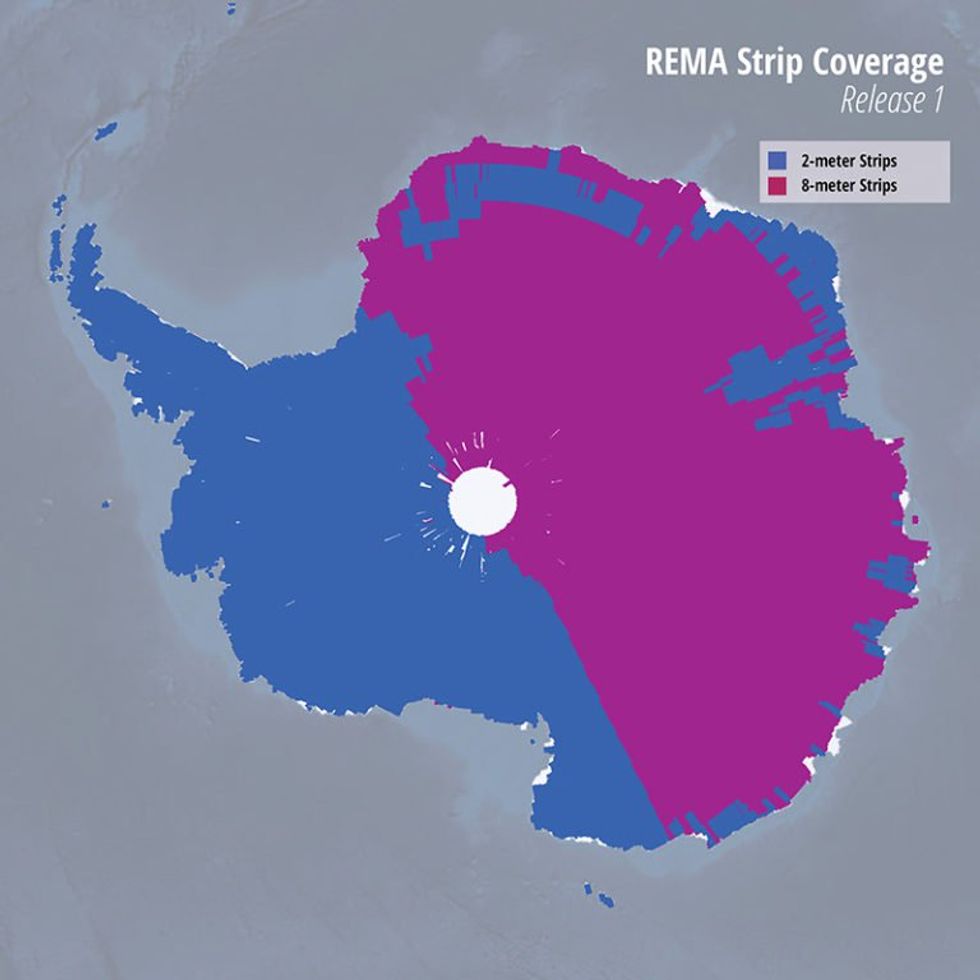 That's way more detail than the collective picture of any other continent. To put that in perspective, the 150 terabytes produced by REMA on Antarctica is
about as much data as the IRS Compliance Database held in 2006 (each year, 15 to 20 terabytes are added).
a bit more than the entire 95-minute, digitally animated 2010 film Despicable Me (actually, the film used just 142 TB of data).
quite a lot more than all the data gathered by the Hubble Telescope between its launch in 1990 and 2008 (120 TB).
REMA "provides the first high-resolution, high-accuracy terrain dataset of approximately 98% of the contiguous continental land mass of Antarctica, extending [from the South Pole] to 88°S," the project website states.
The map, built with data extracted from satellite imagery, is not just static. Ongoing input will provide scientists with the most detailed overview of shifting landscape patterns in Antarctica ever—from changes in snow cover, ice flow, glacier thickness, and all manner of geological activity.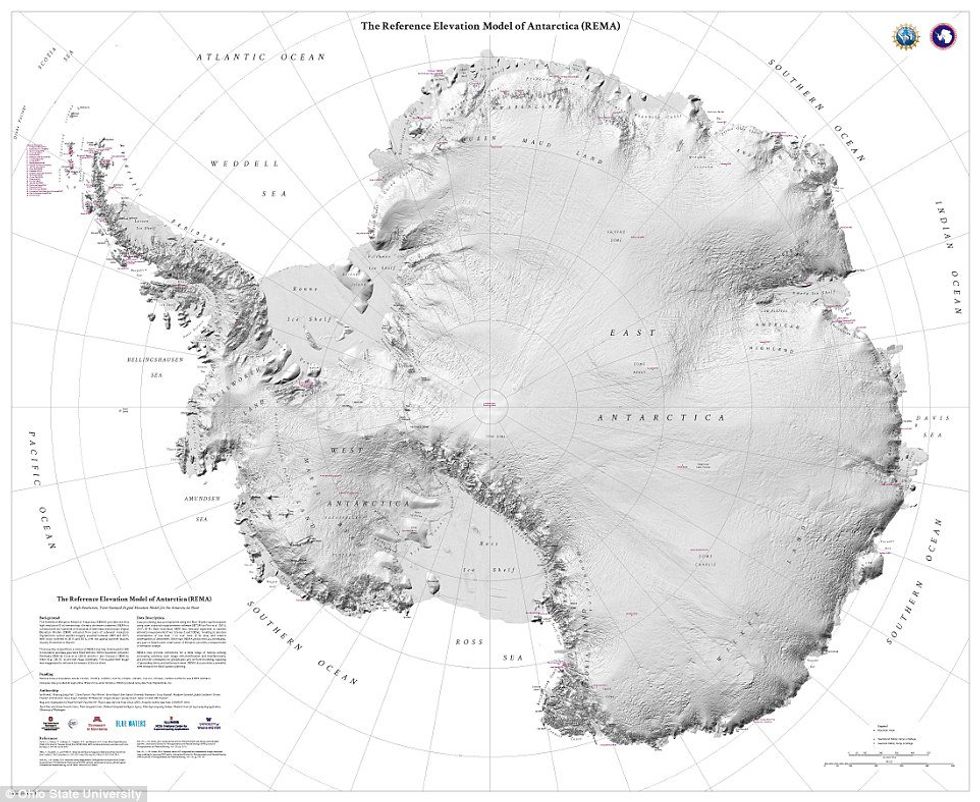 But why do we need all that high-resolution imagery for what is essentially a big hunk of ice? Because Antarctica is a crucial bellwether for the study of global climate change and a potential source of dramatic sea level rises. Nature recently published a series of studies on changes in Antarctica. Here are some key findings:
3 trillion tons of ice has been lost between 1992 and 2017. That corresponds to a mean sea-level rise of 8 mm (1/3 inch). The rate of ice loss has sped up dramatically over the last few years.
The East Antarctic Ice Sheet is proving more resistant to melting than both the Greenland and West Antarctic Ice Sheets. Should it melt entirely, sea levels would rise by 53 meters (175 feet).
By 2070, Antarctica's ice sheets will either remain in roughly their current state or experience large-scale melting. The difference depends on whether or not humanity takes decisive action on greenhouse gas emissions.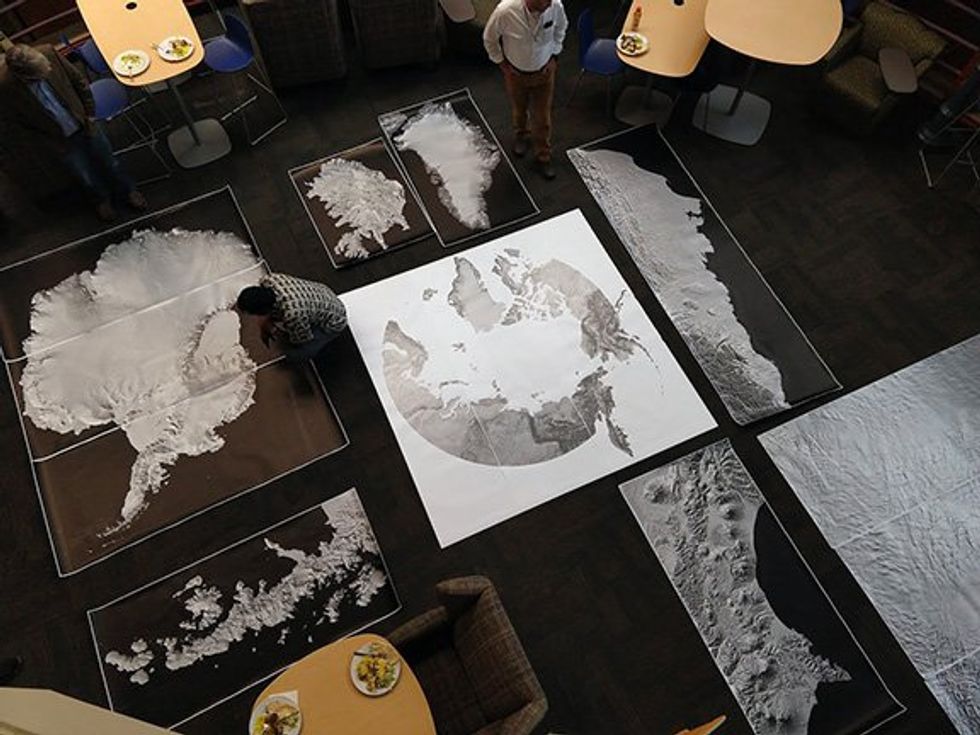 Strange Maps #937
Got a strange map? Let me know at strangemaps@gmail.com. 
To create wiser adults, add empathy to the school curriculum.
Sponsored by Charles Koch Foundation
Stories are at the heart of learning, writes Cleary Vaughan-Lee, Executive Director for the Global Oneness Project. They have always challenged us to think beyond ourselves, expanding our experience and revealing deep truths.
Vaughan-Lee explains 6 ways that storytelling can foster empathy and deliver powerful learning experiences.
Global Oneness Project is a free library of stories—containing short documentaries, photo essays, and essays—that each contain a companion lesson plan and learning activities for students so they can expand their experience of the world.
Philosophers like to present their works as if everything before it was wrong. Sometimes, they even say they have ended the need for more philosophy. So, what happens when somebody realizes they were mistaken?
Just before I turned 60, I discovered that sharing my story by drawing could be an effective way to both alleviate my symptoms and combat that stigma.
Photo by JJ Ying on Unsplash
Mind & Brain
I've lived much of my life with anxiety and depression, including the negative feelings – shame and self-doubt – that seduced me into believing the stigma around mental illness: that people knew I wasn't good enough; that they would avoid me because I was different or unstable; and that I had to find a way to make them like me.
A joint study by two England universities explores the link between sex and cognitive function with some surprising differences in male and female outcomes in old age.
Mind & Brain
A joint study by the universities of Coventry and Oxford in England has linked sexual activity with higher cognitive abilities in older age.
The results of this study suggest there are significant associations between sexual activity and number sequencing/word recall in men. In women, however, there was a significant association between sexual activity in word recall alone - number sequencing was not impacted.
The differences in testosterone (the male sex hormone) and oxytocin (a predominantly female hormone) may factor into why the male cognitive level changes much more during sexual activity in older age.
Technology & Innovation
Mathematicians studied 100 billion tweets to help computer algorithms better understand our colloquial digital communication.
Scroll down to load more…