America Without Christians: Buddhist West, Muslim South, Jewish Northeast
Take all the Christians out of the United States and these are the biggest religions for each state: a Buddhist West, a Muslim crescent across the South and Midwest, and a Jewish Northeast.
Frank Jacobs
From a young age, Frank was fascinated by maps and atlases, and the stories they contained. Finding his birthplace on the map in the endpapers of Tolkien's Lord of the Rings only increased his interest in the mystery and message of maps.
While pursuing a career in journalism, Frank started a blog called Strange Maps, as a repository for the weird and wonderful cartography he found hidden in books, posing as everyday objects and (of course) floating around the Internet.
"Each map tells a story, but the stories told by your standard atlas for school or reference are limited and literal: they show only the most practical side of the world, its geography and its political divisions. Strange Maps aims to collect and comment on maps that do everything but that - maps that show the world from a different angle".
A remit that wide allows for a steady, varied diet of maps: Frank has been writing about strange maps since 2006, published a book on the subject in 2009 and joined Big Think in 2010. Readers send in new material daily, and he keeps bumping in to cartography that is delightfully obscure, amazingly beautiful, shockingly partisan, and more.
17 April, 2016
Take all the Christians out of the United States (yes, you too, Mormons!), and these are the biggest religions for each state. An interesting pattern emerges: a solidly Buddhist West, a Muslim crescent across the South and Midwest, and a Jewish Northeast.
---
To be fair, imagining America without Christians is a big ask. Just over 70% of all Americans are affiliated with a branch of the Jesus-based faith – a vast majority of those (46.5%) with one of the Protestant denominations, most others (20.8%) with the Catholic church. 
But America is home to many faiths. The two other Abrahamic faiths are also the biggest of those smaller religions: Judaism (1.9%) and Islam (0.9%). Hinduism and Buddhism, both originating from the Indian subcontinent, each represent 0.7%.
According to the 2014 Pew Forum survey on religion in the U.S., that leaves 1.8% for other religions, and 22.8% for the unaffiliated (atheists, agnostics, 'spiritual but not religious').
In our world, Christianity is the biggest religion in each state of the Union. But in the alternate-universe, non-Christian America of this map, the nation is divided between three main faiths (and two smaller ones).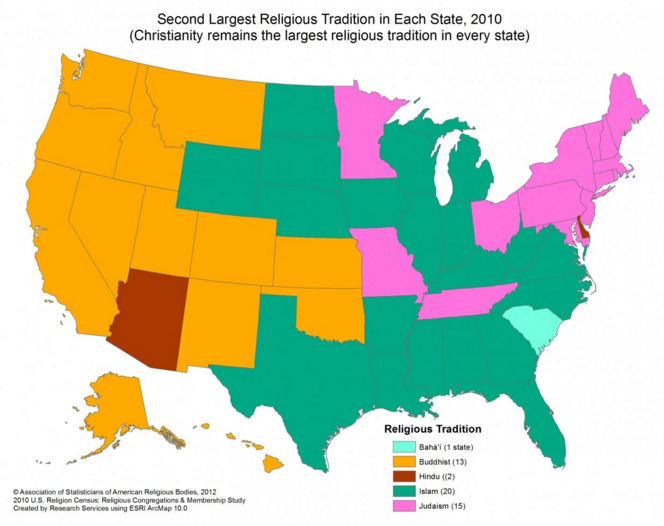 The Muslims dominate the biggest number of states (coloured green), but fall short of an outright majority: they rule the roost in 20 states across the old Confederacy, the Midwest and the Northern Plains. It's a contiguous area, but only just: the North Carolina-Georgia corridor is threatened by a Jewish-Bahai pincer movement. 
Jewish America consists of 15 states (in pink): all of the Northeast, down to Maryland and west to Ohio. Three Jewish outposts – Minnesota, Missouri, Tennessee – almost form a second contiguous kosher zone, if it weren't for the halal stumbling block of Iowa.
The West Coast (plus Alaska and Hawaii) are solidly Buddhist (orange), an area which extends all the way to Oklahoma and Kansas. The 'eastern' leanings of the western U.S. are somewhat reminiscent of the Japanese sphere of influence as described in The Man in the High Castle (see also #700).
Hindus (red) form the majority in two states far away from each other: Arizona and Delaware. The Baha'i faith (light green), numbering no more than a few hundred thousands, manages to capture the state of South Carolina.
Map produced by the Association of Statisticians of American Religious Bodies in 2012, based in the 2010 U.S. Religion Census. Found here at the Washington Post.
Strange Map #779 
Got a strange map? Let me know at strangemaps@gmail.com. 
Here's the science of black holes, from supermassive monsters to ones the size of ping-pong balls.
Videos
There's more than one way to make a black hole, says NASA's Michelle Thaller. They're not always formed from dead stars. For example, there are teeny tiny black holes all around us, the result of high-energy cosmic rays slamming into our atmosphere with enough force to cram matter together so densely that no light can escape.
CERN is trying to create artificial black holes right now, but don't worry, it's not dangerous. Scientists there are attempting to smash two particles together with such intensity that it creates a black hole that would live for just a millionth of a second.
Thaller uses a brilliant analogy involving a rubber sheet, a marble, and an elephant to explain why different black holes have varying densities. Watch and learn!
Bonus fact: If the Earth became a black hole, it would be crushed to the size of a ping-pong ball.
Protected animals are feared to be headed for the black market.
(VL.ru)
Politics & Current Affairs
Russian news network discovers 101 black-market whales.
Orcas and belugas are seen crammed into tiny pens.
Marine parks continue to create a high-price demand for illegal captures.
In a breakthrough for nuclear fusion research, scientists at China's Experimental Advanced Superconducting Tokamak (EAST) reactor have produced temperatures necessary for nuclear fusion on Earth.
Credit: EAST Team
Surprising Science
The EAST reactor was able to heat hydrogen to temperatures exceeding 100 million degrees Celsius.
Nuclear fusion could someday provide the planet with a virtually limitless supply of clean energy.
Still, scientists have many other obstacles to pass before fusion technology becomes a viable energy source.
Big think's weekly newsletter.
Get smarter faster from the comfort of your inbox.
See our newsletter privacy policy
here
Most Popular
Most Recent
Big think's weekly newsletter.
Get smarter faster from the comfort of your inbox.
See our newsletter privacy policy
here
© Copyright 2007-2018 & BIG THINK, BIG THINK EDGE,
SMARTER FASTER trademarks owned by The Big Think, Inc. All rights reserved.