All Pop Music Since 1880 in One Clickable Map
Welcome to Music City - just click and play!
09 October, 2016
Four circular objects illuminate the sky over a row of colour-coded skyscrapers. Zoom in on any of the buildings, and they dissolve into an intricate family tree of their occupants. Each node of the tree is clickable. Each click produces a short family history, and a playlist of representative songs. Welcome to Musicmap, an obsessive attempt to shoehorn a century and a half of popular music into a single map.
---
Musicmap is the brainchild of Kwinten Crauwels, a Belgian architect – and music lover rather than musician himself. Crauwels looked for, but couldn't find a website that gave music the cartographic treatment, i.e. using spatial representation to reflect on the history of and relations between musical genres. So he decided to do it himself.
That was in 2008. After almost a decade of R&D, Musicmap went live on June 1st. "In the beginning, I didn't know where I was going to end", Crauwels told the Observer. "It wasn't even a website at first. The main goal was to create the view itself, the visual image, the map."
The four suns/moons hovering above the stylised cityscape are for Utilty, Folk, Classical and World music. These four 'Super-genres' are zoomable, but the genres they contain are not clickable. The focus of Musicmap is on the buildings below, each one another Supergenre housing a multitude of Genres and Subgenres.
As you zoom in, dates for each decade from 1880 to now affix themselves to the horizontal lines, top to bottom. Which means the height of the skyscrapers reflects each Supergenre's age.
The tallest building is the blue one in the centre of town, a cohabitation of Gospel and its two slightly younger sisters, Blues and Jazz. To the left are the green-ish buildings for Rhythm 'n' Blues and Country; two brownstones, one housing Pop and the other the many siblings of the Rock family; and two orange dwellings for Metal and Industrial.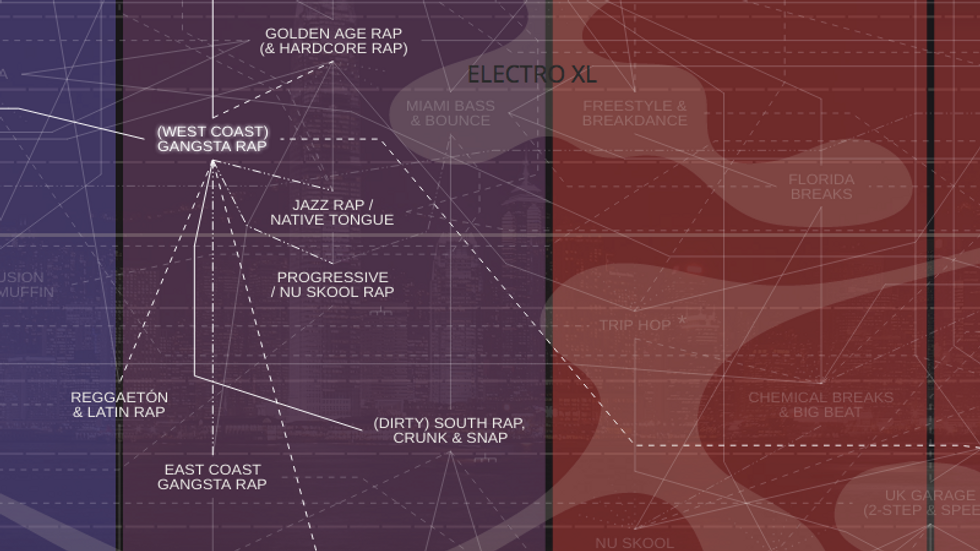 On the right side of the blue building are the purple mansions of Jamaican/Reggae and Rap/Hip Hop music. Further to the right, a lower, more recent development of red houses, for Breakbeat, Drum 'n' Bass, Hardcore, Techno, House and Trance. They are flanked by the older residences of Downtempo and Industrial music. 
Zooming in will reveal a spider's web of links within and between the different houses. Those links can indicate parentage or influence, but also a backlash (i.e. as 'anti-links'). The name of each genre – over 230 in all – is clickable, and will reveal a short synopsis and a playlist of representative songs. 
Click, for example, on the Jazz part of the blue building for a potted history of the supergenre; click on genres at the bottom of the page for more than a dozen varieties, from New Orleans and Dixieland jazz over hard bop and free jazz and electro swing. Click on Nordic jazz, and you get another short overview, and a playlist. There's the Esbjörn Svensson Trio playing 'Round Midnight, Jan Garbarek tooting away at the Brother Wind March and Black Motor diving into Pispala Jazz. 
Zoom out, move to another part of the map, zoom in and repeat. Revisit classics and discover new stuff. And by knowing where they live and how they are linked, find out how they relate to each other. 
There's enough here to get lost in for a few days, but keep in mind this is still version 1.0 of Musicmap. In later versions, the playlists will be expanded, perhaps even community-generated. Crauwels also wants to sync the site with Spotify, and add many more features. 
Musicmap's goal will remain the same: to provide the ultimate genealogy of popular music genres, including their relations and history; and to focus on the delicate balance between comprehensibility, accuracy and accessibility – with zoomable cartography as the ideal metaphor/tool for striking that balance. 
Crauwels realises his this is a never-ending project, but on the way to perfection, he will be happy if his project manages to inspire people to explore and discover music a little bit outside their comfort zone: "Musicmap believes that knowledge about music genres is a universal right and should be part of basic education".
Find the Musicmap here. Many thanks to Jeremy Hoogmartens for sending it in.
Strange Maps #805
Got a strange map? Let me know at strangemaps@gmail.com. 
Universities claim to prepare students for the world. How many actually do it?
Sponsored by Charles Koch Foundation
Many university mission statements do not live up to their promise, writes Ben Nelson, founder of Minerva, a university designed to develop intellect over content memorization.
The core competencies that students need for success—critical thinking, communication, problem solving, and cross-cultural understanding, for example—should be intentionally taught, not left to chance.
These competencies can be summed up with one word: wisdom. True wisdom is the ability to apply one's knowledge appropriately when faced with novel situations.
This is what the world will look like, 250 million years from now
On Pangaea Proxima, Lagos will be north of New York, and Cape Town close to Mexico City
Surprising Science
To us humans, the shape and location of oceans and continents seems fixed. But that's only because our lives are so short.
SpaceX's momentous Crew Dragon launch is a sign of things to come for the space industry, and humanity's future.
Photo:Joe Raedle/Getty Images
Politics & Current Affairs
SpaceX was founded in 2002 and was an industry joke for many years. Eighteen years later, it is the first private company to launch astronauts to the International Space Station.
Today, SpaceX's Crew Dragon launched NASA astronauts Bob Behnken and Doug Hurley to the ISS. The journey will take about 19 hours.
Dylan Taylor, chairman and CEO of Voyager Space Holdings, looks at SpaceX's journey from startup to a commercial space company with the operating power of a nation-state.
A new study may help us better understand how children build social cognition through caregiver interaction.
Personal Growth
Scientists speculate imitation helps develop social cognition in babies.
A new study out of Lund University shows that six-month-olds look and smile more at imitating adults.
Researchers hope the data will spur future studies to discover what role caregiver imitation plays in social cognition development.
Surprising Science
Researchers at UT Southwestern noted a 47 percent increase in blood flow to regions associated with memory.
Scroll down to load more…