A Map of the Universe, According to René Descartes
Cartesian vortices are *so* 17-th century.
31 August, 2017
Often regarded as the father of Western philosophy, René Descartes (1596-1650) is mostly remembered by the pithy summary of his method: Cogito, ergo sum - 'I think, therefore I am'.  
---
Descartes shifted the philosophical debate from the question What is true, which implies a God as the ultimate guarantor of truth, to What is certain, requiring that human intellect alone sort the knowable from the unknowable.
But the cogitating Frenchman did even more than this. He also was a mathematician (developing analytic geometry) and a scientist (contributing to the field of optics), and had a thing or two to say about the cosmos as well.
This map of the universe was taken from his Principia philosophiae ('The Principles of Philosophy', 1644). The map illustrates Descartes' vortex theory of planetary motion, by which he attempts to explain the orbits of planets and comets and other celestial phenomena.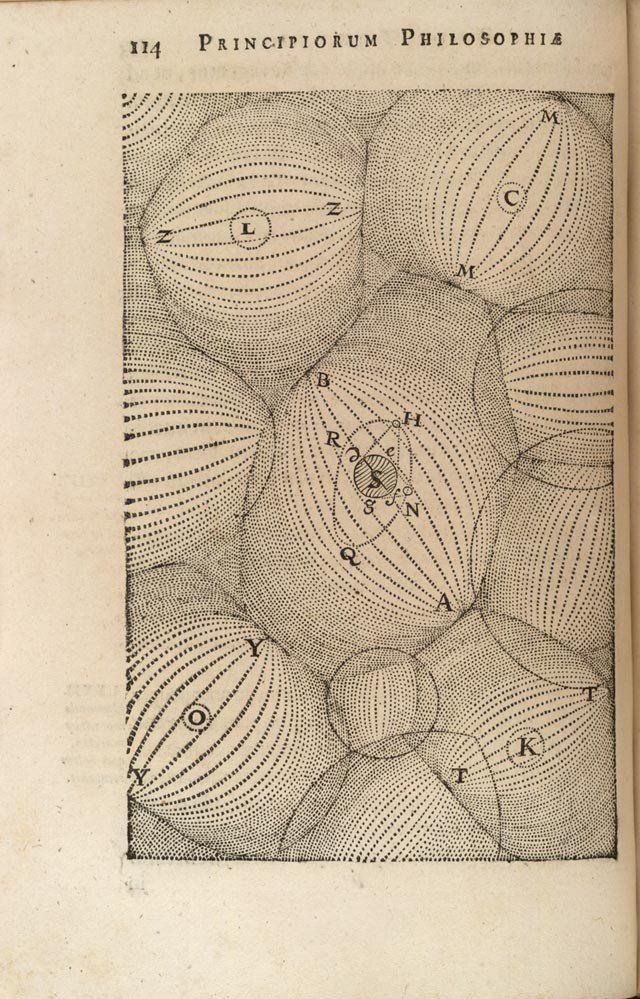 In cartesian cosmology, a vortex is a large circling band containing these planets or comets and other material particles. Our solar system and the entire universe consist of a network of interlocking vortices, which are subject to gravitational and centrifugal powers.  
All matter in the universe exists in one of three elements, and the universe itself operates, mechanically and circularly, as it did when it was created by God. By placing the earth at rest within a vortex band as it circled the sun, Descartes aimed to endorse a form of heliocentrism without confronting Church doctrine, which stated that the earth rests motionless within a celestial system that revolves around it. 
While this vortex theory originally was one of the most influential aspects of cartesian physics, that influence was on the wane by the mid-18th century. 
Map found here at Pinterest and here at Brain Pickings. More on the vortex theory here at the Stanford Encyclopedia of Philosophy.
Strange Maps #854
Got a strange map? Let me know at strangemaps@gmail.com.
What can 3D printing do for medicine? The "sky is the limit," says Northwell Health researcher Dr. Todd Goldstein.
Northwell Health
Sponsored by Northwell Health
Medical professionals are currently using 3D printers to create prosthetics and patient-specific organ models that doctors can use to prepare for surgery.
Eventually, scientists hope to print patient-specific organs that can be transplanted safely into the human body.
Northwell Health, New York State's largest health care provider, is pioneering 3D printing in medicine in three key ways.
Neuroscience is working to conquer some of the human body's cruelest conditions: Paralysis, brain disease, and schizophrenia.
Videos
Neuroscience and engineering are uniting in mind-blowing ways that will drastically improve the quality of life for people with conditions like epilepsy, paralysis or schizophrenia.
Researchers have developed a brain-computer interface the size of a baby aspirin that can restore mobility to people with paralysis or amputated limbs. It rewires neural messages from the brain's motor cortex to a robotic arm, or reroutes it to the person's own muscles.
Deep brain stimulation is another wonder of neuroscience that can effectively manage brain conditions like epilepsy, Parkinson's, and may one day mitigate schizophrenia so people can live normal, independent lives.
As Game of Thrones ends, a revealing resolution to its perplexing geography.
Strange Maps
The fantasy world of Game of Thrones was inspired by real places and events.
But the map of Westeros is a good example of the perplexing relation between fantasy and reality.
Like Britain, it has a Wall in the North, but the map only really clicks into place if you add Ireland.
A recent study gives new meaning to the saying "fake it 'til you make it."
Pixabay
Surprising Science
The study involves four experiments that measured individuals' socioeconomic status, overconfidence and actual performance.
Results consistently showed that high-class people tend to overestimate their abilities.
However, this overconfidence was misinterpreted as genuine competence in one study, suggesting overestimating your abilities can have social advantages.
Big think's weekly newsletter.
Get smarter faster from the comfort of your inbox.
See our newsletter privacy policy
here
Most Popular
Most Recent
Big think's weekly newsletter.
Get smarter faster from the comfort of your inbox.
See our newsletter privacy policy
here
© Copyright 2007-2019 & BIG THINK, BIG THINK EDGE,
SMARTER FASTER trademarks owned by The Big Think, Inc. All rights reserved.
//This will actually fire event. Should be called after consent was verifed