A Map of the Universe, According to René Descartes
Cartesian vortices are *so* 17-th century.
31 August, 2017
Often regarded as the father of Western philosophy, René Descartes (1596-1650) is mostly remembered by the pithy summary of his method: Cogito, ergo sum - 'I think, therefore I am'.  
---
Descartes shifted the philosophical debate from the question What is true, which implies a God as the ultimate guarantor of truth, to What is certain, requiring that human intellect alone sort the knowable from the unknowable.
But the cogitating Frenchman did even more than this. He also was a mathematician (developing analytic geometry) and a scientist (contributing to the field of optics), and had a thing or two to say about the cosmos as well.
This map of the universe was taken from his Principia philosophiae ('The Principles of Philosophy', 1644). The map illustrates Descartes' vortex theory of planetary motion, by which he attempts to explain the orbits of planets and comets and other celestial phenomena.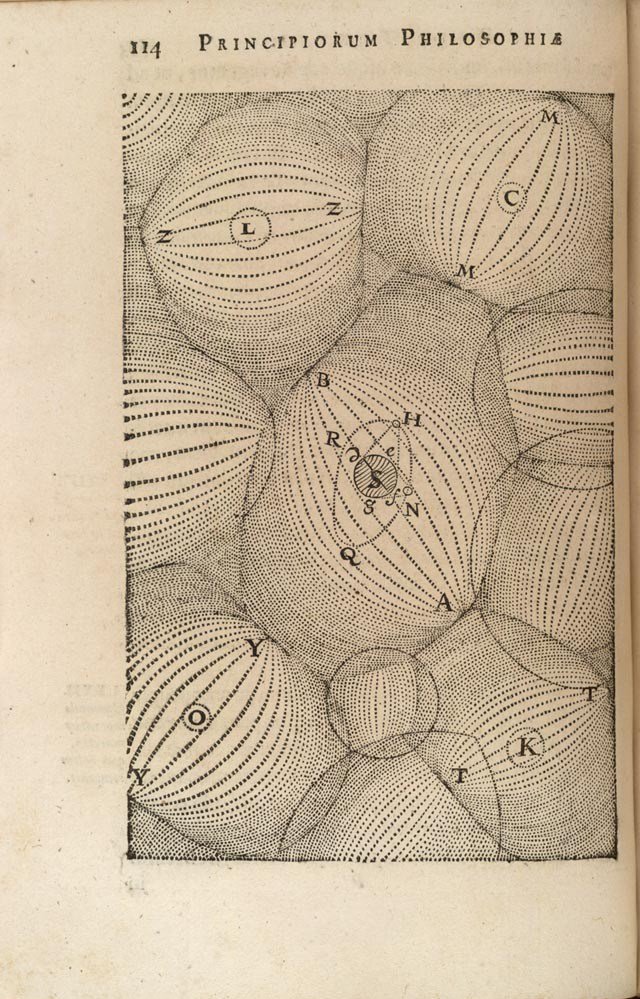 In cartesian cosmology, a vortex is a large circling band containing these planets or comets and other material particles. Our solar system and the entire universe consist of a network of interlocking vortices, which are subject to gravitational and centrifugal powers.  
All matter in the universe exists in one of three elements, and the universe itself operates, mechanically and circularly, as it did when it was created by God. By placing the earth at rest within a vortex band as it circled the sun, Descartes aimed to endorse a form of heliocentrism without confronting Church doctrine, which stated that the earth rests motionless within a celestial system that revolves around it. 
While this vortex theory originally was one of the most influential aspects of cartesian physics, that influence was on the wane by the mid-18th century. 
Map found here at Pinterest and here at Brain Pickings. More on the vortex theory here at the Stanford Encyclopedia of Philosophy.
Strange Maps #854
Got a strange map? Let me know at strangemaps@gmail.com.
Lumina Foundation is partnering with Big Think to unearth the next large-scale, rapid innovation in post-high school education. Enter the competition here!
Good science is sometimes trumped by the craving for a "big splash."
Videos
Scientists strive to earn credit from their peers, for grants from federal agencies, and so a lot of the decisions that they make are strategic in nature. They're encouraged to publish exciting new findings that demonstrate some new phenomenon that we have never seen before.
This professional pressure can affect their decision-making — to get acclaim they may actually make science worse. That is, a scientist might commit fraud if he thinks he can get away with it or a scientist might rush a result out of the door even though it hasn't been completely verified in order to beat the competition.
On top of the acclaim of their peers, scientists — with the increasing popularity of science journalism — are starting to be rewarded for doing things that the public is interested in. The good side of this is that the research is more likely to have a public impact, rather than be esoteric. The bad side? To make a "big splash" a scientist may push a study or article that doesn't exemplify good science.
Moans, groans, and gripes release stress hormones in the brain.
popular
Could you give up complaining for a whole month? That's the crux of this interesting piece by Jessica Hullinger over at Fast Company. Hullinger explores the reasons why humans are so predisposed to griping and why, despite these predispositions, we should all try to complain less. As for no complaining for a month, that was the goal for people enrolled in the Complaint Restraint project.
Participants sought to go the entirety of February without so much as a moan, groan, or bellyache.
Two space agencies plan missions to deflect an asteroid.
ESA's Hera mission above asteroid 65803 Didymos. Credit: ESA/ScienceOffice.org
Surprising Science
NASA and the European Space Agency (ESA) are working together on missions to a binary asteroid system.
The DART and Hera missions will attempt to deflect and study the asteroid Didymoon.
A planetary defense system is important in preventing large-scale catastrophes.
Big think's weekly newsletter.
Get smarter faster from the comfort of your inbox.
See our newsletter privacy policy
here
Most Popular
Most Recent
Big think's weekly newsletter.
Get smarter faster from the comfort of your inbox.
See our newsletter privacy policy
here
© Copyright 2007-2018 & BIG THINK, BIG THINK EDGE,
SMARTER FASTER trademarks owned by The Big Think, Inc. All rights reserved.