A Map of the Universe, According to René Descartes
Cartesian vortices are *so* 17-th century.
Frank Jacobs
From a young age, Frank was fascinated by maps and atlases, and the stories they contained. Finding his birthplace on the map in the endpapers of Tolkien's Lord of the Rings only increased his interest in the mystery and message of maps.
While pursuing a career in journalism, Frank started a blog called Strange Maps, as a repository for the weird and wonderful cartography he found hidden in books, posing as everyday objects and (of course) floating around the Internet.
"Each map tells a story, but the stories told by your standard atlas for school or reference are limited and literal: they show only the most practical side of the world, its geography and its political divisions. Strange Maps aims to collect and comment on maps that do everything but that - maps that show the world from a different angle".
A remit that wide allows for a steady, varied diet of maps: Frank has been writing about strange maps since 2006, published a book on the subject in 2009 and joined Big Think in 2010. Readers send in new material daily, and he keeps bumping in to cartography that is delightfully obscure, amazingly beautiful, shockingly partisan, and more.
31 August, 2017
Often regarded as the father of Western philosophy, René Descartes (1596-1650) is mostly remembered by the pithy summary of his method: Cogito, ergo sum - 'I think, therefore I am'.  
---
Descartes shifted the philosophical debate from the question What is true, which implies a God as the ultimate guarantor of truth, to What is certain, requiring that human intellect alone sort the knowable from the unknowable.
But the cogitating Frenchman did even more than this. He also was a mathematician (developing analytic geometry) and a scientist (contributing to the field of optics), and had a thing or two to say about the cosmos as well.
This map of the universe was taken from his Principia philosophiae ('The Principles of Philosophy', 1644). The map illustrates Descartes' vortex theory of planetary motion, by which he attempts to explain the orbits of planets and comets and other celestial phenomena.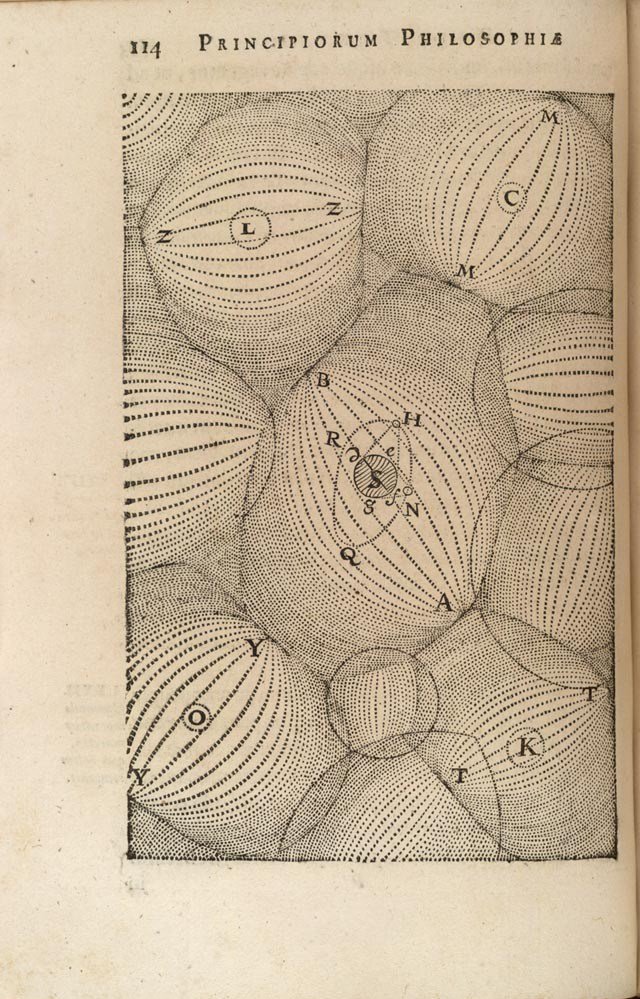 In cartesian cosmology, a vortex is a large circling band containing these planets or comets and other material particles. Our solar system and the entire universe consist of a network of interlocking vortices, which are subject to gravitational and centrifugal powers.  
All matter in the universe exists in one of three elements, and the universe itself operates, mechanically and circularly, as it did when it was created by God. By placing the earth at rest within a vortex band as it circled the sun, Descartes aimed to endorse a form of heliocentrism without confronting Church doctrine, which stated that the earth rests motionless within a celestial system that revolves around it. 
While this vortex theory originally was one of the most influential aspects of cartesian physics, that influence was on the wane by the mid-18th century. 
Map found here at Pinterest and here at Brain Pickings. More on the vortex theory here at the Stanford Encyclopedia of Philosophy.
Strange Maps #854
Got a strange map? Let me know at strangemaps@gmail.com.
Pixabay
Surprising Science
Boltzmann Brains are hypothetical disembodied entities with self-awareness.
It may be more likely for a Boltzmann Brain to come into existence than the whole Universe.
The idea highlights a paradox in thermodynamics.
What makes an excellent educator?
Mind & Brain
When it comes to educating, says Dr. Elizabeth Alexander, a brave failure is preferable to timid success.
Fostering an environment where one isn't afraid to fail is tantamount to learning.
Human beings are complicated and flawed. Working with those complications and flaws leads to true knowledge.

Drinking home alone in your underwear just might be what you need to be as relaxed as the Finnish.
Big Think art department / Finnish tourism department
Personal Growth
Päntsdrunk is the latest trend to come out of Northern Europe and it involves drinking alone at home.
Finnish writer Miska Rantanen outlines the philosophy in his newest book titled: Pantsdrunk: Kalsarikanni: The Finnish Path to Relaxation.
Kalsarikänni is a word in Finnish that literally means "drinking at home and alone in your underwear."
Big think's weekly newsletter.
Get smarter faster from the comfort of your inbox.
See our newsletter privacy policy
here
Most Popular
Most Recent
Big think's weekly newsletter.
Get smarter faster from the comfort of your inbox.
See our newsletter privacy policy
here
© Copyright 2007-2018 & BIG THINK, BIG THINK EDGE,
SMARTER FASTER trademarks owned by The Big Think, Inc. All rights reserved.