A Map of the Universe, According to René Descartes
Cartesian vortices are *so* 17-th century.
31 August, 2017
Often regarded as the father of Western philosophy, René Descartes (1596-1650) is mostly remembered by the pithy summary of his method: Cogito, ergo sum - 'I think, therefore I am'.  
---
Descartes shifted the philosophical debate from the question What is true, which implies a God as the ultimate guarantor of truth, to What is certain, requiring that human intellect alone sort the knowable from the unknowable.
But the cogitating Frenchman did even more than this. He also was a mathematician (developing analytic geometry) and a scientist (contributing to the field of optics), and had a thing or two to say about the cosmos as well.
This map of the universe was taken from his Principia philosophiae ('The Principles of Philosophy', 1644). The map illustrates Descartes' vortex theory of planetary motion, by which he attempts to explain the orbits of planets and comets and other celestial phenomena.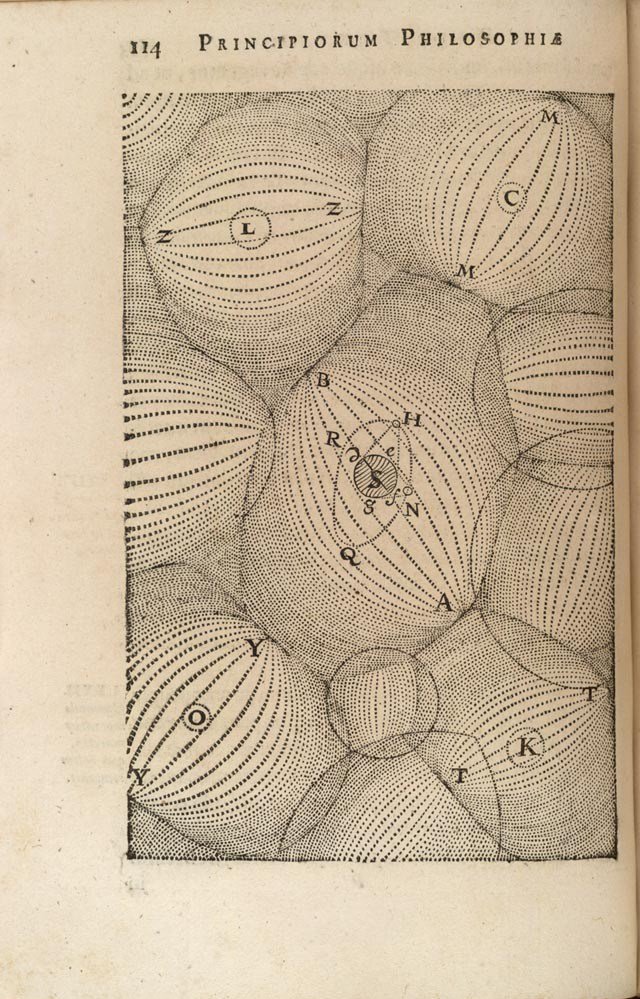 In cartesian cosmology, a vortex is a large circling band containing these planets or comets and other material particles. Our solar system and the entire universe consist of a network of interlocking vortices, which are subject to gravitational and centrifugal powers.  
All matter in the universe exists in one of three elements, and the universe itself operates, mechanically and circularly, as it did when it was created by God. By placing the earth at rest within a vortex band as it circled the sun, Descartes aimed to endorse a form of heliocentrism without confronting Church doctrine, which stated that the earth rests motionless within a celestial system that revolves around it. 
While this vortex theory originally was one of the most influential aspects of cartesian physics, that influence was on the wane by the mid-18th century. 
Map found here at Pinterest and here at Brain Pickings. More on the vortex theory here at the Stanford Encyclopedia of Philosophy.
Strange Maps #854
Got a strange map? Let me know at strangemaps@gmail.com.
The photos were taken the same day as Russian cosmonauts investigated a mysterious hole discovered in one of the craft.
Alexander Gerst
Surprising Science
The spacecraft belong to Russia and two private American aerospace companies.
Six astronauts are currently aboard the International Space Station to conduct a variety of experiments.
On Monday, Russian cosmonauts conducted a spacewalk to investigate the nature and cause of a mysterious 2-millimeter-wide hole in a Russian spacecraft.
On Friday, NASA's InSight Mars lander captured and transmitted historic audio from the red planet.
NASA
Surprising Science
The audio captured by the lander is of Martian winds blowing at an estimated 10 to 15 mph.
It was taken by the InSight Mars lander, which is designed to help scientists learn more about the formation of rocky planets, and possibly discover liquid water on Mars.
Microphones are essentially an "extra sense" that scientists can use during experiments on other planets.
"Didn't you see me Googling 'baby not moving?'" Gillian Brockell wrote a heartbreaking open letter to big tech companies imploring them to change the ways they target ads to users.
Gillian Brockell's letter posted on Twitter (Twitter)
Politics & Current Affairs
Advertisers are increasingly using hyper-specific information on users, collected by big tech companies, to sell products.
An open letter published Tuesday outlines how this kind of ad targeting can be not only creepy, but also inadvertently cruel and distressing.
Also on Tuesday, the House questioned Google's CEO, partly on issues related to data privacy.
Big think's weekly newsletter.
Get smarter faster from the comfort of your inbox.
See our newsletter privacy policy
here
Most Popular
Most Recent
Big think's weekly newsletter.
Get smarter faster from the comfort of your inbox.
See our newsletter privacy policy
here
© Copyright 2007-2018 & BIG THINK, BIG THINK EDGE,
SMARTER FASTER trademarks owned by The Big Think, Inc. All rights reserved.