Making Monaco Great Again
Even one of the world's most comically small countries can look back on centuries of territorial bigness.
23 July, 2010
---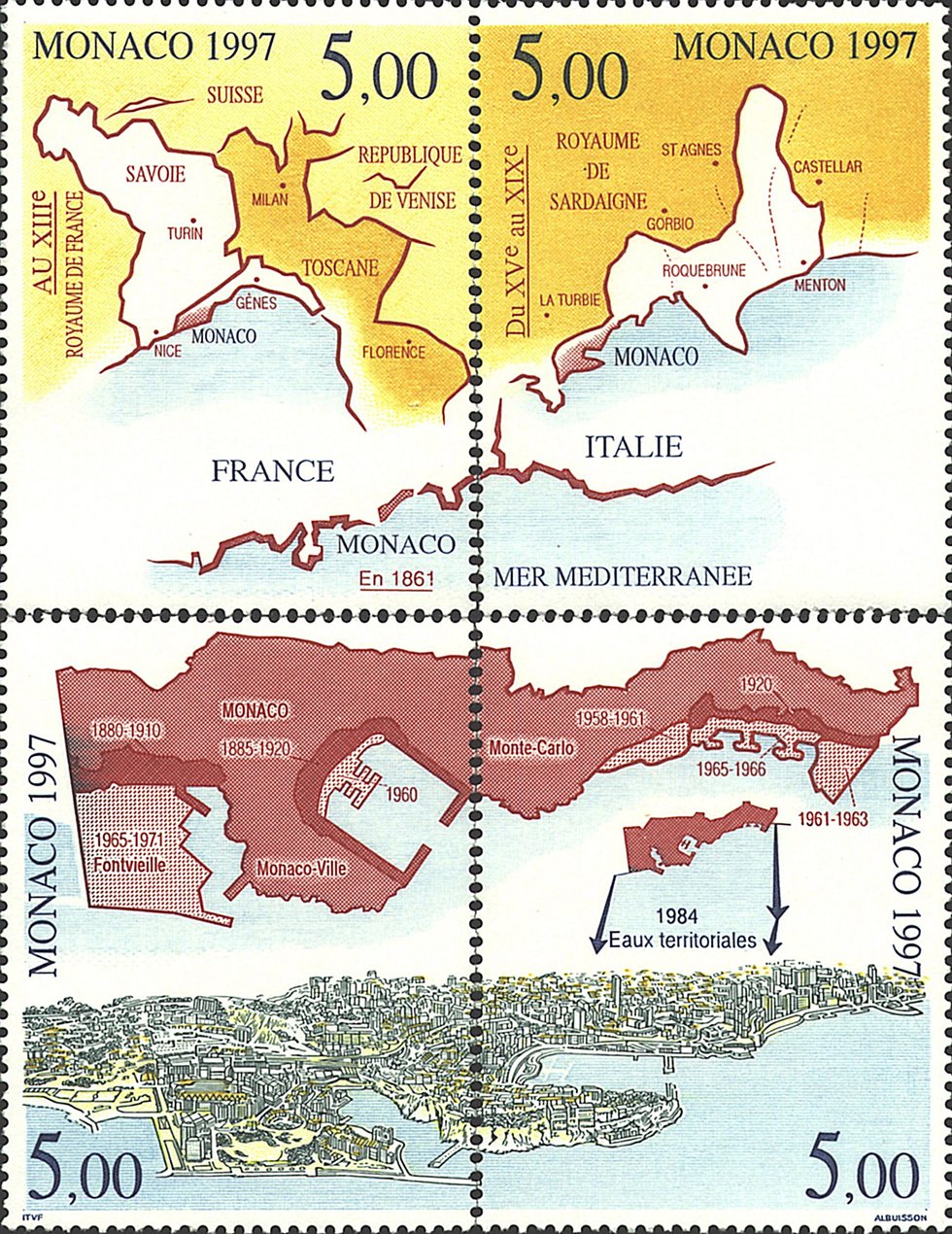 Measuring less than a square mile (2.02 km²), Monaco is the world's second-smallest state, after the Vatican (0.44 km², 0.17 sq mi). At 19,010 inhabitants/km² (49,236/sq mi), is also the world's most densely populated country. Thanks to its lax tax laws, it is a favourite residence and playground for the world's super-rich. 
It was not always thus. The principality wasn't always so wealthy – and it wasn't always this small. Before its dismemberment in the second half of the nineteenth century, Monaco covered around 30 km² (11.5 sq mi), which is about half the size of San Marino.
In 1997, when the Grimaldi dynasty celebrated its 700-year dominion over Monaco, these philatelic references to former 'greatness' were issued. The stamp in the upper left corner shows Monaco in the 13th century.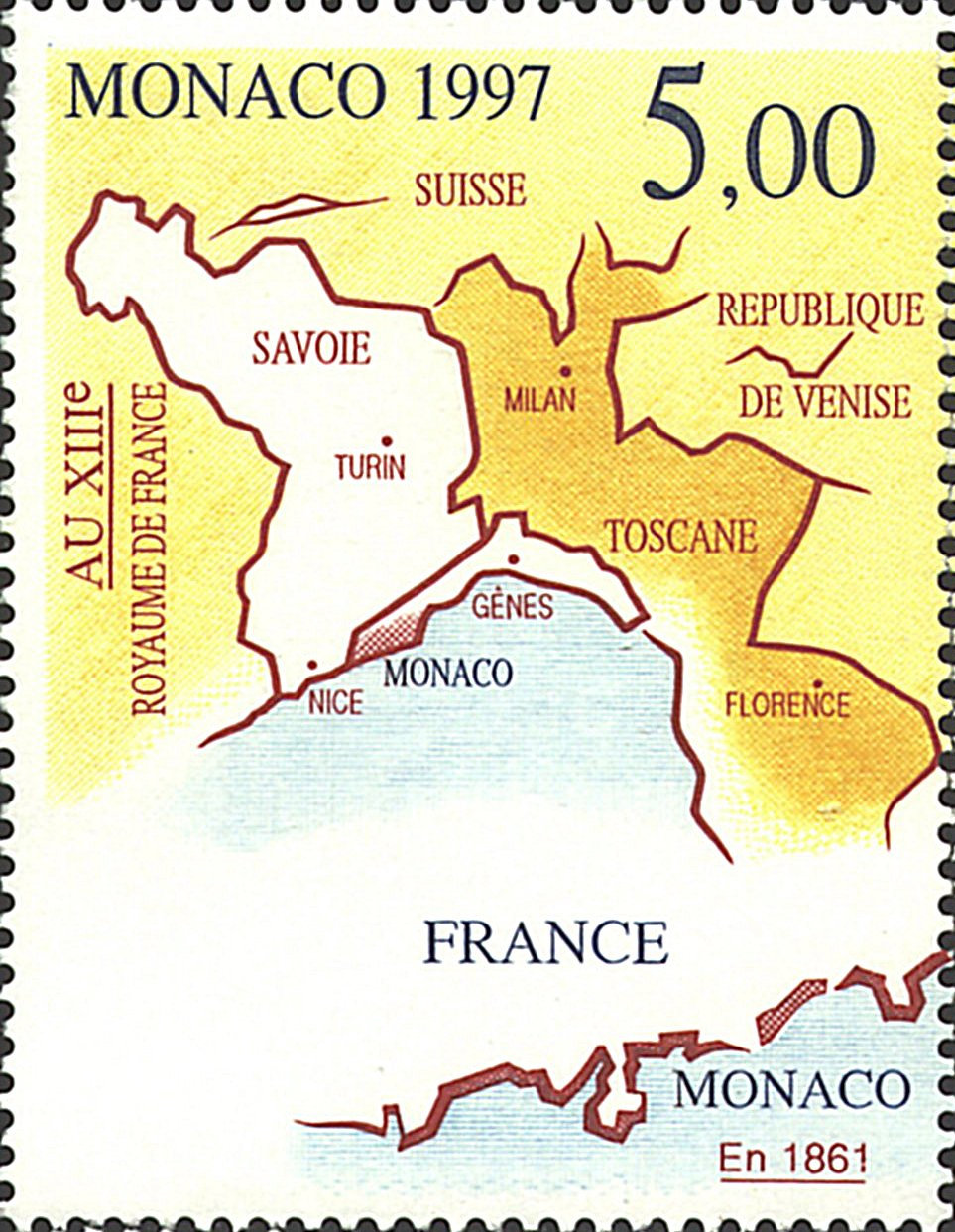 Monaco's origins lie in a land grant by Emperor Henry VI of the Holy Roman Empire in 1191, but it was re-founded early in the thirteenth century as the western outpost of Genoan control. On this map, Genoa's territory can be seen extending westward on the Côte d'Azur to include Monaco. In 1297, Francesco Grimaldi (Il Malizio – 'the malicious' or 'the cunning') and some fellow plotters captured the fortress on Monaco rock disguised as Franciscan monks – hence the monks with swords in Monaco's coat of arms.
There is some confusion whether Monaco was named after this incident (monaco is Italian for 'monk') or whether its name dates to the much earlier Greek period. The Greek colonist at Massilia – present-day Marseilles – called the local Ligurians monoikoi, possibly because of their habit of living individually (monoikos meaning 'single house'). Another possibiity is a reference to Hercules, who supposedly had lived by himself in the area. In Antiquity, Monaco did have a temple dedicated to Hercules and was in fact called Port Hercules or something to that effect.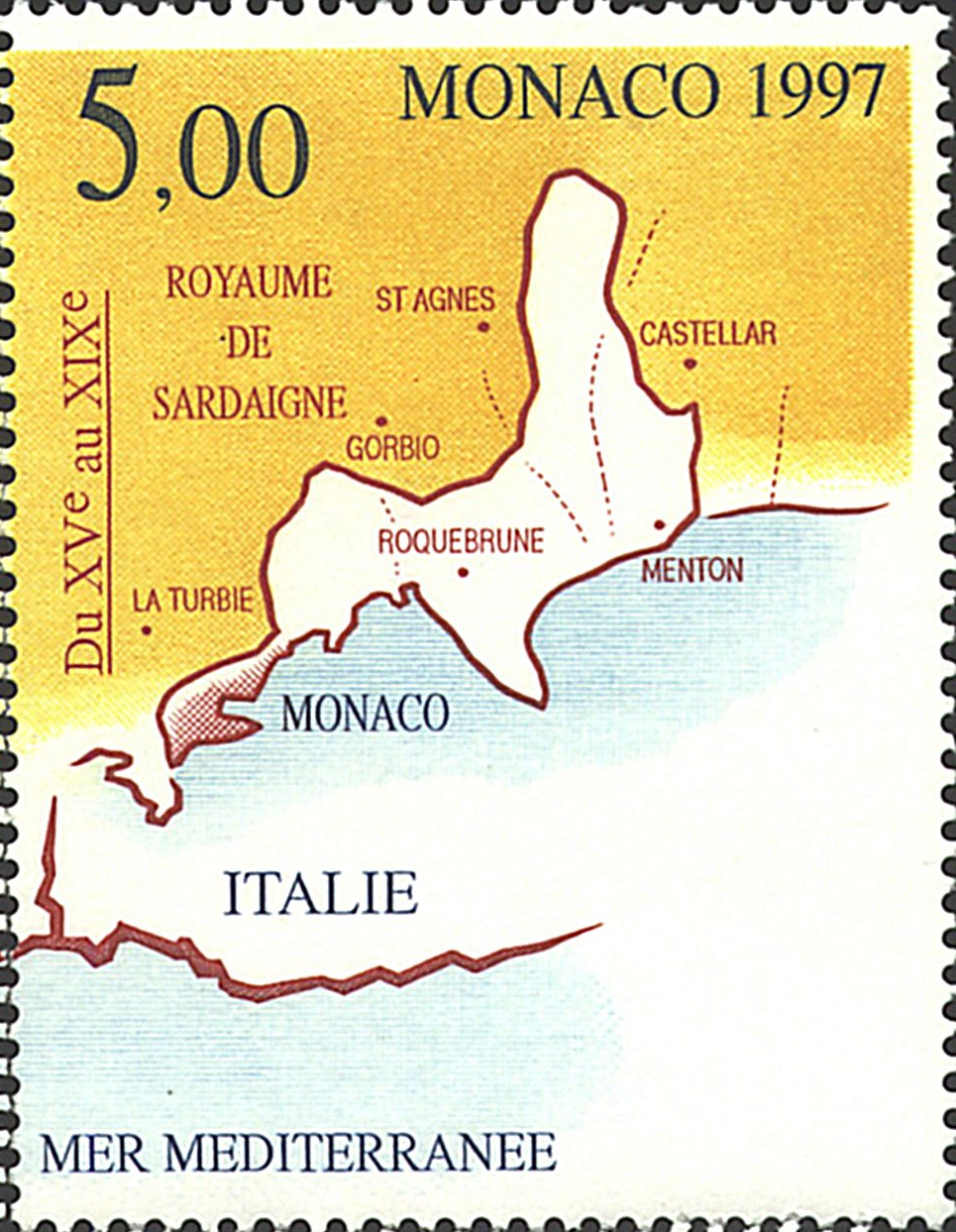 The map in the upper right corner shows the shrinkage which occurred in the nineteenth century. Monaco succeeded in tearing loose from Genoa and had its independent status confirmed by the King of France and the Duke of Savoy in 1489. But in the centuries that followed, the Grimaldis presided over a territory under increasing pressure from the consolidating nation-states surrounding it. From 1793 to 1814, Monaco was even occupied by revolutionary France.
The Congress of Vienna designated Monaco as a protectorate of the Kingdom of Sardinia from 1815 to 1860, whereafter the surrounding county of Nice (and the Duchy of Savoy) was ceded to France. During this time, the Grimaldi-ruled towns of Menton and Roquebrune (which had been acquired as early as 1341) declared independence, hoping for annexation by Sardinia. The unrest ended in 1861, when Monaco ceded both towns (95% of its territory) to France in exchange for 4 million francs.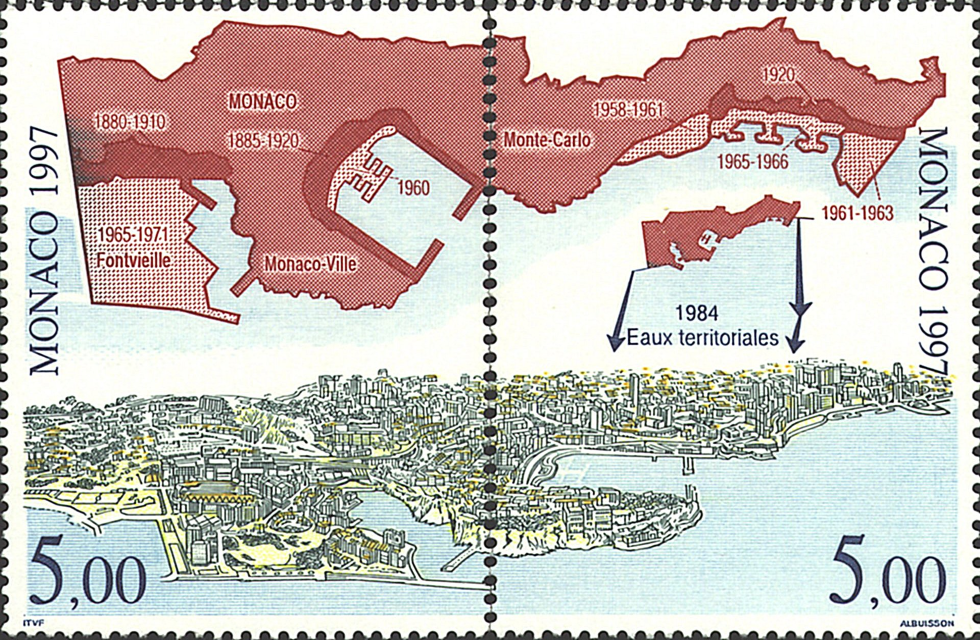 Having lost so much terrain on land, Monaco turned to the sea. The map on both lower stamps shows the amount of territory gained by landfill (plus dates of completion); as well as the extension of territorial waters to 12 nautical miles in 1984. The panoramic view at the very bottom is of the present-day western half of Monaco.
Image found at Dan's Topical Stamps.
Strange Maps #82
Got a strange map? Let me know at strangemaps@gmail.com.
International poker champion Liv Boeree teaches decision-making for Big Think Edge.
Big Think Edge
Learn to make decisions with the clarity of a World Series Poker Champion.

Liv Boeree teaches analytical thinking for Big Think Edge.

Subscribe to Big Think Edge before we launch on March 30 to get 20% off monthly and annual memberships.
These quick bursts of inspiration will brighten your day in 10 minutes or less.

Tracking project establishes northern Argentina is wintering ground of Swainson's hawks
popular
Watch these six dots move across the map and be moved yourself: this is a story about coming of age, discovery, hardship, death and survival.
Each dot is a tag attached to the talon of a Swainson's Hawk. We follow them on their very first migration, from northern California all the way down to Argentina.
After one year, only one is still alive.
How can we use the resources that are already on the Moon to make human exploration of the satellite as economical as possible?
The All-Terrain Hex-Limbed Extra-Terrestrial Explorer (ATHLETE), a prototype heavy-lift utility vehicle to support future human exploration of extraterrestrial surfaces, at right, is parked beside the Habitat Demonstration Unit - Pressurized Excursion Module (HDU-PEM), at left, a concept off-Earth living and work quarters for astronauts stationed on asteroids, the moon or Mars, 15 September 2010. Photo by: ROBYN BECK/AFP/Getty Images
Technology & Innovation
If you were transported to the Moon this very instant, you would surely and rapidly die. That's because there's no atmosphere, the surface temperature varies from a roasting 130 degrees Celsius (266 F) to a bone-chilling minus 170 C (minus 274 F). If the lack of air or horrific heat or cold don't kill you then micrometeorite bombardment or solar radiation will. By all accounts, the Moon is not a hospitable place to be.

Big think's weekly newsletter.
Get smarter faster from the comfort of your inbox.
See our newsletter privacy policy
here
Most Popular
Most Recent
Big think's weekly newsletter.
Get smarter faster from the comfort of your inbox.
See our newsletter privacy policy
here
© Copyright 2007-2018 & BIG THINK, BIG THINK EDGE,
SMARTER FASTER trademarks owned by The Big Think, Inc. All rights reserved.