A Tiny Island off Cuba May be the Last Surviving Bit of East Germany
Castro gifted the island to East Germany. They never gave it back. So whose is it now?
Frank Jacobs
From a young age, Frank was fascinated by maps and atlases, and the stories they contained. Finding his birthplace on the map in the endpapers of Tolkien's Lord of the Rings only increased his interest in the mystery and message of maps.
While pursuing a career in journalism, Frank started a blog called Strange Maps, as a repository for the weird and wonderful cartography he found hidden in books, posing as everyday objects and (of course) floating around the Internet.
"Each map tells a story, but the stories told by your standard atlas for school or reference are limited and literal: they show only the most practical side of the world, its geography and its political divisions. Strange Maps aims to collect and comment on maps that do everything but that - maps that show the world from a different angle".
A remit that wide allows for a steady, varied diet of maps: Frank has been writing about strange maps since 2006, published a book on the subject in 2009 and joined Big Think in 2010. Readers send in new material daily, and he keeps bumping in to cartography that is delightfully obscure, amazingly beautiful, shockingly partisan, and more.
23 July, 2010
Most people think East Germany ceased to exist in 1990, when the (East) German Democratic Republic was absorbed by the Federal Republic of (West) Germany. So did I. Turns out I was wrong: the GDR lives on, and in a very comfortable climate to boot: a small island off Cuba is the last official territory of the good old Deutsche Demokratische Republik.
---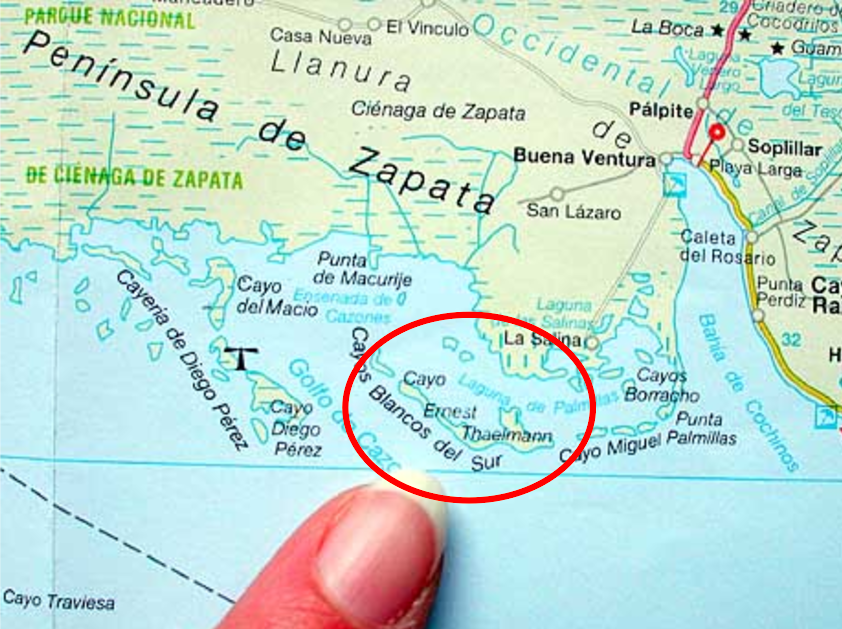 In a military exclusion zone in the Gulf of Cazones, not far to the south-west of the infamous Bay of Pigs, lies a small island formerly known as Cayo Blanco de Sur. The island is 15 km long, but never more than 500 metres wide (although another source claims it is 24 km long and 1 km wide). It is uninhabited but for the iguanas and birds that are indigenous there, and the occasional tourists stopping over. The area is very biodiverse, hosting several endangered species of fish and coral. The reefs make the island inaccessible to any but the smallest boats, and even then landing often involves wading ashore.
In June 1972, Fidel Castro while on a state visit to East Berlin gifted the island to East Germany. Cuba renamed it Cayo Ernesto Thaelmann, after the German communist politician. Ernst Thälmann (German spelling) was leader of the German Communist Party (KPD) during much of the Weimar era, unsuccessfully stood for the presidency against Hitler and was imprisoned without trial from 1933 until his execution in 1944.
The southern beach of the island was renamed Playa RDA ('GDR Beach'), and in August 1972, the East German ambassador to Cuba erected a bust of Ernst Thälmann on communist Germany's one and only foothold in the tropics.
In 1975, East German Schlager singer Frank Schöbel traveled to the island to record 'Insel im Golf von Cazones' on the spot – a musical effort which apparently has been lost to posterity. The island wasn't mentioned in the treaty unifying both Germanys, which makes it at least thinkable that at present it's the last remaining piece of East German territory. For the reunified (and capitalist) Germany post-1990 never made any formal claims on the island.
In 1998, the island was severely battered by hurricane 'Mitch' – the bust of Thälmann fell over and hasn't been replaced since. In 2001, the German online newspaper 'Thema 1' learned of the existence of Ernst Thälmann Insel and attempted to parcel it up for sale. The renewed interest by a re-united, 'capitalist' Germany embarrassed Cuba, which denied German journalists access to the island and declared that the 1972 transfer was 'symbolic' only…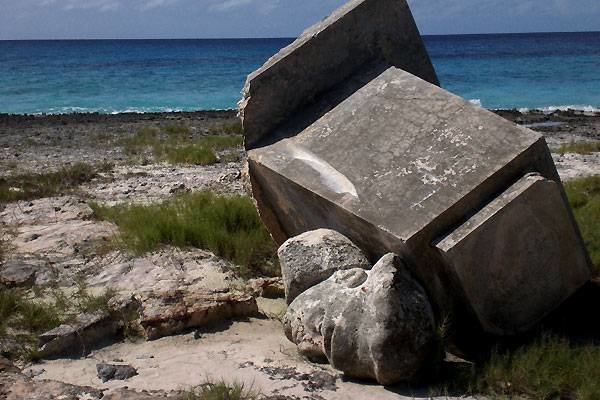 Map found here at Spiegel Online. Image of the toppled statue found here at Stern.
Strange Maps #79
Got a strange map? Let me know at strangemaps@gmail.com.
Journaling can help you materialize your ambitions.
Videos
Organizing your thoughts can help you plan and achieve goals that might otherwise seen unobtainable.
The Bullet Journal method, in particular, can reduce clutter in your life by helping you visualize your future.
One way to view your journal might be less of a narrative and more of a timeline of decisions.
Progressive America would be half as big, but twice as populated as its conservative twin.
Image: Dicken Schrader
Strange Maps
America's two political tribes have consolidated into 'red' and 'blue' nations, with seemingly irreconcilable differences.
Perhaps the best way to stop the infighting is to go for a divorce and give the two nations a country each
Based on the UN's partition plan for Israel/Palestine, this proposal provides territorial contiguity and sea access to both 'red' and 'blue' America
New research links urban planning and political polarization.
Pixabay
Politics & Current Affairs
Canadian researchers find that excessive reliance on cars changes political views.
Decades of car-centric urban planning normalized unsustainable lifestyles.
People who prefer personal comfort elect politicians who represent such views.
Big think's weekly newsletter.
Get smarter faster from the comfort of your inbox.
See our newsletter privacy policy
here
Most Popular
Most Recent
Big think's weekly newsletter.
Get smarter faster from the comfort of your inbox.
See our newsletter privacy policy
here
© Copyright 2007-2018 & BIG THINK, BIG THINK EDGE,
SMARTER FASTER trademarks owned by The Big Think, Inc. All rights reserved.