As Rectangular as Kansas: the Land of Oz
Is the Land of Oz located on a retrograde planet?
Frank Jacobs
From a young age, Frank was fascinated by maps and atlases, and the stories they contained. Finding his birthplace on the map in the endpapers of Tolkien's Lord of the Rings only increased his interest in the mystery and message of maps.
While pursuing a career in journalism, Frank started a blog called Strange Maps, as a repository for the weird and wonderful cartography he found hidden in books, posing as everyday objects and (of course) floating around the Internet.
"Each map tells a story, but the stories told by your standard atlas for school or reference are limited and literal: they show only the most practical side of the world, its geography and its political divisions. Strange Maps aims to collect and comment on maps that do everything but that - maps that show the world from a different angle".
A remit that wide allows for a steady, varied diet of maps: Frank has been writing about strange maps since 2006, published a book on the subject in 2009 and joined Big Think in 2010. Readers send in new material daily, and he keeps bumping in to cartography that is delightfully obscure, amazingly beautiful, shockingly partisan, and more.
23 July, 2010
Oz is an imaginary magical monarchy, first introduced in L. Frank Baum's book The Wonderful Wizard of Oz (1900). In all, Baum wrote 14 children's books about Oz, presenting himself as the 'Royal Historian' of Oz. After his death, Ruth Plumly Thompson continued the series. Using clues in the series, fans have drawn up maps of Oz.
---
The Land of Oz is rectangular in shape, divided along the diagonals into four counties:
Munchkin Country (east)
Winkie Country (west)
Gillikin Country (north)
Quadling Country (south)
In the centre is Emerald City, the capital and seat of Princess Ozma. Oz is completely surrounded by deserts, insulating the country from invasion and discovery. The isolation may be splendid, it is not total: children from our world got through, as well as the Wizard of Oz and the more sinister Nome King. To prevent further incursions, Glinda created a barrier of invisibility around Oz.
Peculiar on some maps is that west is right, while east is left (while north is still top and south bottom). Some say this is because Baum looked at the wrong side of a glass slide while copying the map. Others believe the reversed compass rose simply reflects the 'confusing' nature of Oz, possibly due to Glinda's spell. The reversal of east and west makes sense in that the Wicked Witch after enslaving the Winkies was called the 'Wicked Witch of the West' even though Winkie County is on the right hand side of the map. Robert A. Heinlein claims in his book The Number of the Beast that Oz is on a retrograde planet, spinning in the opposite direction of Earth.
Oz is the largest country on the continent of Nonestica, which also includes the countries of Ev, Ix and Mo (also known as Phunniland). Nonestica lies in the Nonestic Ocean – possibly a local name for the Pacific Ocean. In fact, some hints indicate that Oz is in the South Pacific: there are palm trees and horses are non-native. In Ozma of Oz, Dorothy is sailing to Australia when she is washed overboard and lands on the shores of Ev. Intriguingly, Oz is commonly used to refer to Australia, which borders the South Pacific Ocean.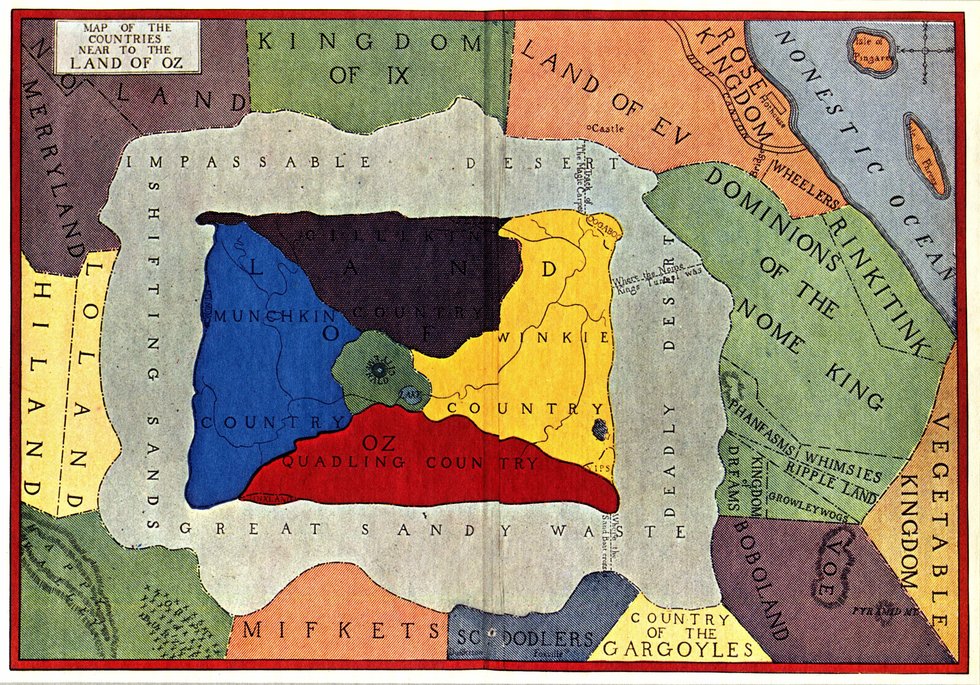 The origin of the word 'Oz', however, is uncertain. One story holds that L. Frank Baum took it off a filing cabinet, which was divided into two alphabetical drawers: A-N and O-Z. Another holds that it is a corruption of Uz, the biblical homeland of Job. It could also be a reference to ounce (abbr. oz.) – with the story of Oz being an allegory for the populist struggle against the gold standard (personified by the powerless, frightened wizard in the books).
Other theories state that 'Os' is and old English word for God, and in Wicked, a clever parody on the Oz material, it is proposed that Oz derives from 'oasis' or 'ooze', being a reference to the creation legend of a great flood.
This map taken from this page.
Strange Maps #69
Got a strange map? Let me know at strangemaps@gmail.com.
A guide to making difficult conversations possible—and peaceful—in an increasingly polarized nation.
Progressive America would be half as big, but twice as populated as its conservative twin.
Image: Dicken Schrader
Strange Maps
America's two political tribes have consolidated into 'red' and 'blue' nations, with seemingly irreconcilable differences.
Perhaps the best way to stop the infighting is to go for a divorce and give the two nations a country each
Based on the UN's partition plan for Israel/Palestine, this proposal provides territorial contiguity and sea access to both 'red' and 'blue' America
A federal judge ruled that the Trump administration likely violated the reporter's Fifth Amendment rights when it stripped his press credentials earlier this month.
WASHINGTON, DC - NOVEMBER 16: CNN chief White House correspondent Jim Acosta (R) returns to the White House with CNN Washington bureau chief Sam Feist after Federal judge Timothy J. Kelly ordered the White House to reinstate his press pass November 16, 2018 in Washington, DC. CNN has filed a lawsuit against the White House after Acosta's press pass was revoked after a dispute involving a news conference last week. (Photo by Alex Wong/Getty Images)
Politics & Current Affairs
Acosta will be allowed to return to the White House on Friday.
The judge described the ruling as narrow, and didn't rule one way or the other on violations of the First Amendment.
The case is still open, and the administration may choose to appeal the ruling.
Big think's weekly newsletter.
Get smarter faster from the comfort of your inbox.
See our newsletter privacy policy
here
Most Popular
Most Recent
Big think's weekly newsletter.
Get smarter faster from the comfort of your inbox.
See our newsletter privacy policy
here
© Copyright 2007-2018 & BIG THINK, BIG THINK EDGE,
SMARTER FASTER trademarks owned by The Big Think, Inc. All rights reserved.