As Rectangular as Kansas: the Land of Oz
Is the Land of Oz located on a retrograde planet?
23 July, 2010
Oz is an imaginary magical monarchy, first introduced in L. Frank Baum's book The Wonderful Wizard of Oz (1900). In all, Baum wrote 14 children's books about Oz, presenting himself as the 'Royal Historian' of Oz. After his death, Ruth Plumly Thompson continued the series. Using clues in the series, fans have drawn up maps of Oz.
---
The Land of Oz is rectangular in shape, divided along the diagonals into four counties:
Munchkin Country (east)
Winkie Country (west)
Gillikin Country (north)
Quadling Country (south)
In the centre is Emerald City, the capital and seat of Princess Ozma. Oz is completely surrounded by deserts, insulating the country from invasion and discovery. The isolation may be splendid, it is not total: children from our world got through, as well as the Wizard of Oz and the more sinister Nome King. To prevent further incursions, Glinda created a barrier of invisibility around Oz.
Peculiar on some maps is that west is right, while east is left (while north is still top and south bottom). Some say this is because Baum looked at the wrong side of a glass slide while copying the map. Others believe the reversed compass rose simply reflects the 'confusing' nature of Oz, possibly due to Glinda's spell. The reversal of east and west makes sense in that the Wicked Witch after enslaving the Winkies was called the 'Wicked Witch of the West' even though Winkie County is on the right hand side of the map. Robert A. Heinlein claims in his book The Number of the Beast that Oz is on a retrograde planet, spinning in the opposite direction of Earth.
Oz is the largest country on the continent of Nonestica, which also includes the countries of Ev, Ix and Mo (also known as Phunniland). Nonestica lies in the Nonestic Ocean – possibly a local name for the Pacific Ocean. In fact, some hints indicate that Oz is in the South Pacific: there are palm trees and horses are non-native. In Ozma of Oz, Dorothy is sailing to Australia when she is washed overboard and lands on the shores of Ev. Intriguingly, Oz is commonly used to refer to Australia, which borders the South Pacific Ocean.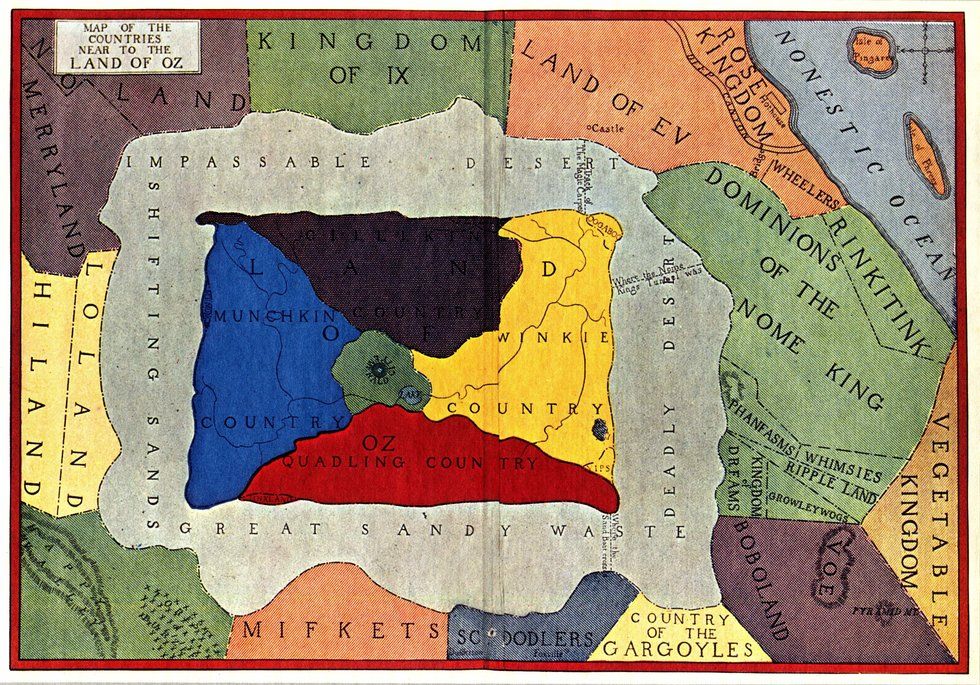 The origin of the word 'Oz', however, is uncertain. One story holds that L. Frank Baum took it off a filing cabinet, which was divided into two alphabetical drawers: A-N and O-Z. Another holds that it is a corruption of Uz, the biblical homeland of Job. It could also be a reference to ounce (abbr. oz.) – with the story of Oz being an allegory for the populist struggle against the gold standard (personified by the powerless, frightened wizard in the books).
Other theories state that 'Os' is and old English word for God, and in Wicked, a clever parody on the Oz material, it is proposed that Oz derives from 'oasis' or 'ooze', being a reference to the creation legend of a great flood.
This map taken from this page.
Strange Maps #69
Got a strange map? Let me know at strangemaps@gmail.com.
Big Think Edge
The meaning of the word 'confidence' seems obvious. But it's not the same as self-esteem.
Confidence isn't just a feeling on your inside. It comes from taking action in the world.
Join Big Think Edge today and learn how to achieve more confidence when and where it really matters.
Sponsored by the Institute for Humane Studies
There are 2 different approaches to governing free speech on college campuses.
One is a morality/order approach. The other is a bottom-up approach.
Emily Chamlee-Wright says there are many benefits to having no one central authority on what is appropriate speech.
Two new studies say yes. Unfortunately, each claims a different time.
Bronx, N.Y.: NYPD officer Julissa Camacho works out at the 44th precinct gym in the Bronx, New York on April 3, 2019. (Photo by Alejandra Villa Loarca/Newsday via Getty Images)
Surprising Science
Research at the Weizmann Institute of Sciences declares evening to be the best time for an exercise session.
Not so fast, says a new study at UC Irvine, which replies that late morning is the optimal workout time.
Both studies involved mice on treadmills and measured different markers to produce their results.
Big Think Edge
Economist Sylvia Ann Hewlett breaks down what qualities will inspire others to believe in you.
Here's how 300 leaders and 4,000 mid-level managers described someone with executive presence.
Get more deep insights like these to power your career forward. Join Big Think Edge.
Big think's weekly newsletter.
Get smarter faster from the comfort of your inbox.
See our newsletter privacy policy
here
Most Popular
Most Recent
Big think's weekly newsletter.
Get smarter faster from the comfort of your inbox.
See our newsletter privacy policy
here
© Copyright 2007-2019 & BIG THINK, BIG THINK EDGE,
SMARTER FASTER trademarks owned by The Big Think, Inc. All rights reserved.