Portolan Charts 'Too Accurate' to be Medieval
Who in history was clever enough to have made these maps?
10 March, 2014
Portolan charts, it was always assumed, were compiled by medieval European mapmakers from contemporary sources. A Dutch doctoral dissertation now disproves this: these nautical charts are impossibly accurate, not just for medieval Europe, also for other likely sources, the Byzantines and the Arabs. So who made them – and when?
---
Mystery has always shrouded the sudden emergence, seemingly ex nihilo, of portolan charts. The oldest known example emerged in Pisa around 1290, without any obvious antecedents. This Carta Pisana kick-started a tradition of amazingly accurate sea charts almost up to modern standards, although as with most other portolans, that accuracy was mainly limited to the Mediterranean and the Black Sea.
A typical portolan chart showed coastal contours and the location of harbours and ports, ignoring virtually all inland features. It would be criss-crossed by straight lines, connecting opposite shores by any of the 32 directions of the mariner's compass, thus facilitating navigation.
After popping up in Italy, portolans became coveted possessions in the seafaring nations of Spain and Portugal, where they ranked as state secrets.
Little or nothing is known of their origins and production, so the working hypothesis among cartographic historians was that portolans were somehow gathered together from the knowledge of medieval European sailors, possibly enhanced with older knowledge from Byzantine or Arab sources. 
That hypothesis has now been disproven by Roelof Nicolai, a Dutch geodetic scientist who on 3 March 2016 obtained his doctorate degree from Utrecht University for a dissertation titled A Critical Review of the Hypothesis of a Medieval Origin for Portolan Charts. 
In it, Nicolai puts forth the theory that portolan charts were made using techniques that were not at all available to medieval Europeans. So they must have copied them from unknown older sources – in all likelihood while failing to grasp how accurate those maps really were.
Nicolai demonstrates that portolans achieved their accuracy by using what seems like an early version of the Mercator Projection – almost three centuries early. Only in 1569 would the Flemish cartographer introduce his mathematical method of projecting spherical data onto a flat surface that would prove crucial to navigation (straight lines on the map equal straight lines at sea).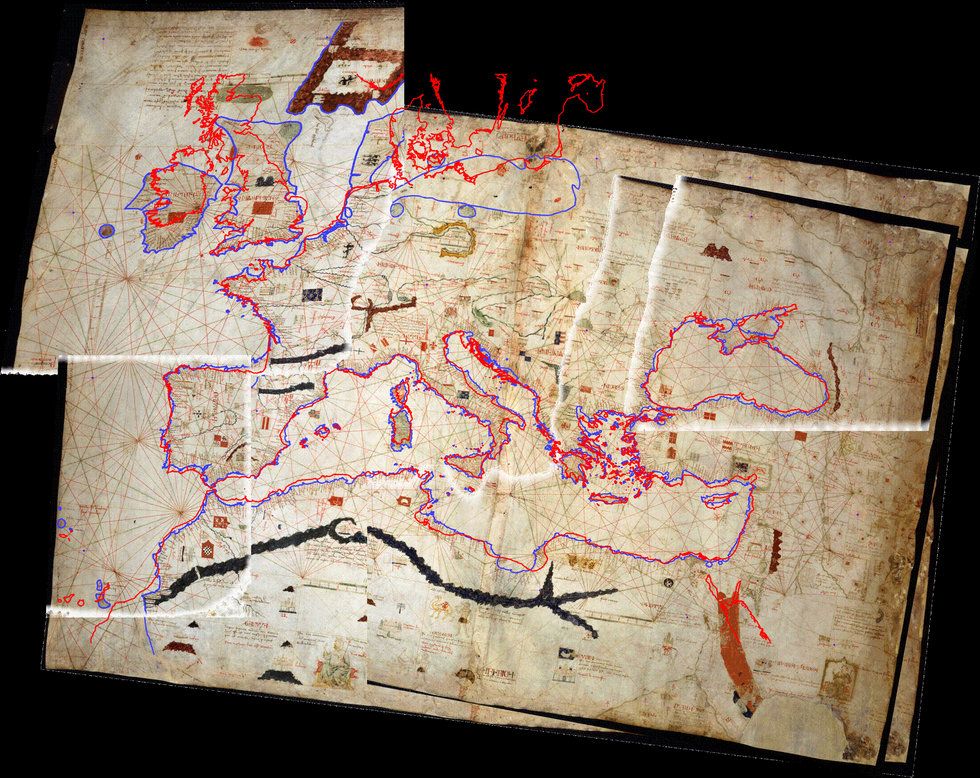 In blue: portolan shorelines; in red: actual shorelines. A close match in the Mediterranean and Black Seas, wildly off the mark in the British Isles and the Baltic.
"The portolan maps I've researched all seem to be made using the Mercator Projection", Nicolai says. "They've all clearly been produced on medieval parchment, but those mapmakers probably didn't realise the accuracy of the maps they were producing. We immediately recognise the shape of the Mediterranean, but even in the Late Middle Ages, that shape was far from established on maps. Nobody really knew how all of the Mediterranean's shorelines ran".
Nicolai also showed that the portolans weren't produced as single pieces, but in fact are a mosaic: "There are obvious differences of scale and orientation between different areas on portolan maps. Not only does that demonstrate clearly that they were collated from different maps, it also shows that those medieval cartographers were not familiar with the techniques used to produce those different sources".
The doctorandus also tried to replicate the presumed method by which portolan charts were produced, by averaging the data from numerous single sailing records detailing the location of harbours, the directions of sail, etc. The resulting accuracy was worse by a factor of 10 to that of the actual portolan charts – even while using methods of calculation averages that were developed only at the end of the 17th century. Only in the 19th century did cartographers manage to re-achieve the accuracy of the portolans. 
So who was the producer of this anachronistic accuracy? Nicolai only points to the likely source of the maps: Constantinople. "But it is highly unlikely that they were produced there as well. As far as we can tell, the Byzantines really didn't add much to the scientific knowledge inherited from the Classical Age. They only acted as a repository for ancient Greek and Arabic knowledge. And why would the Byzantines even try to chart English and French coastlines? Those were way beyond their sphere of interest".
Could portolans have an Arabic background? After all, the Arabs were keen astronomers and navigators, giving us the nautical rank of admiral (from 'Amir al Bahr', ruler of the sea). But Nicolai contends the accuracy of the portolans transcends the Arabs' navigational ability of the time. And what we know of Roman and Greek scientific knowledge, for that matter.
"Perhaps we should re-evaluate what we think was the state of science in Antiquity", says Nicolai. "As long as this doesn't generate any speculation on so-called lost civilisations. As far as these portolans are concerned, we'll just have to think our way back step by step".
All the way to the alien spaceship that left behind the first portolan maps, of course.
Many thanks to Robert Capiot, for sending in this review (in Dutch) of the dissertation in question. Short English description found here on Utrecht University's homepage.
Strange Maps #648
Got a strange map? Let me know at strangemaps@gmail.com
Big Think Edge
The meaning of the word 'confidence' seems obvious. But it's not the same as self-esteem.
Confidence isn't just a feeling on your inside. It comes from taking action in the world.
Join Big Think Edge today and learn how to achieve more confidence when and where it really matters.
Researchers hope the technology will further our understanding of the brain, but lawmakers may not be ready for the ethical challenges.
Still from John Stephenson's 1999 rendition of Animal Farm.
Surprising Science
Researchers at the Yale School of Medicine successfully restored some functions to pig brains that had been dead for hours.
They hope the technology will advance our understanding of the brain, potentially developing new treatments for debilitating diseases and disorders.
The research raises many ethical questions and puts to the test our current understanding of death.
The image of an undead brain coming back to live again is the stuff of science fiction. Not just any science fiction, specifically B-grade sci fi. What instantly springs to mind is the black-and-white horrors of films like Fiend Without a Face. Bad acting. Plastic monstrosities. Visible strings. And a spinal cord that, for some reason, is also a tentacle?
But like any good science fiction, it's only a matter of time before some manner of it seeps into our reality. This week's Nature published the findings of researchers who managed to restore function to pigs' brains that were clinically dead. At least, what we once thought of as dead.
What's dead may never die, it seems
The researchers did not hail from House Greyjoy — "What is dead may never die" — but came largely from the Yale School of Medicine. They connected 32 pig brains to a system called BrainEx. BrainEx is an artificial perfusion system — that is, a system that takes over the functions normally regulated by the organ. The pigs had been killed four hours earlier at a U.S. Department of Agriculture slaughterhouse; their brains completely removed from the skulls.
BrainEx pumped an experiment solution into the brain that essentially mimic blood flow. It brought oxygen and nutrients to the tissues, giving brain cells the resources to begin many normal functions. The cells began consuming and metabolizing sugars. The brains' immune systems kicked in. Neuron samples could carry an electrical signal. Some brain cells even responded to drugs.
The researchers have managed to keep some brains alive for up to 36 hours, and currently do not know if BrainEx can have sustained the brains longer. "It is conceivable we are just preventing the inevitable, and the brain won't be able to recover," said Nenad Sestan, Yale neuroscientist and the lead researcher.
As a control, other brains received either a fake solution or no solution at all. None revived brain activity and deteriorated as normal.
The researchers hope the technology can enhance our ability to study the brain and its cellular functions. One of the main avenues of such studies would be brain disorders and diseases. This could point the way to developing new of treatments for the likes of brain injuries, Alzheimer's, Huntington's, and neurodegenerative conditions.
"This is an extraordinary and very promising breakthrough for neuroscience. It immediately offers a much better model for studying the human brain, which is extraordinarily important, given the vast amount of human suffering from diseases of the mind [and] brain," Nita Farahany, the bioethicists at the Duke University School of Law who wrote the study's commentary, told National Geographic.
An ethical gray matter
Before anyone gets an Island of Dr. Moreau vibe, it's worth noting that the brains did not approach neural activity anywhere near consciousness.
The BrainEx solution contained chemicals that prevented neurons from firing. To be extra cautious, the researchers also monitored the brains for any such activity and were prepared to administer an anesthetic should they have seen signs of consciousness.
Even so, the research signals a massive debate to come regarding medical ethics and our definition of death.
Most countries define death, clinically speaking, as the irreversible loss of brain or circulatory function. This definition was already at odds with some folk- and value-centric understandings, but where do we go if it becomes possible to reverse clinical death with artificial perfusion?
"This is wild," Jonathan Moreno, a bioethicist at the University of Pennsylvania, told the New York Times. "If ever there was an issue that merited big public deliberation on the ethics of science and medicine, this is one."
One possible consequence involves organ donations. Some European countries require emergency responders to use a process that preserves organs when they cannot resuscitate a person. They continue to pump blood throughout the body, but use a "thoracic aortic occlusion balloon" to prevent that blood from reaching the brain.
The system is already controversial because it raises concerns about what caused the patient's death. But what happens when brain death becomes readily reversible? Stuart Younger, a bioethicist at Case Western Reserve University, told Nature that if BrainEx were to become widely available, it could shrink the pool of eligible donors.
"There's a potential conflict here between the interests of potential donors — who might not even be donors — and people who are waiting for organs," he said.
It will be a while before such experiments go anywhere near human subjects. A more immediate ethical question relates to how such experiments harm animal subjects.
Ethical review boards evaluate research protocols and can reject any that causes undue pain, suffering, or distress. Since dead animals feel no pain, suffer no trauma, they are typically approved as subjects. But how do such boards make a judgement regarding the suffering of a "cellularly active" brain? The distress of a partially alive brain?
The dilemma is unprecedented.
Setting new boundaries
Another science fiction story that comes to mind when discussing this story is, of course, Frankenstein. As Farahany told National Geographic: "It is definitely has [sic] a good science-fiction element to it, and it is restoring cellular function where we previously thought impossible. But to have Frankenstein, you need some degree of consciousness, some 'there' there. [The researchers] did not recover any form of consciousness in this study, and it is still unclear if we ever could. But we are one step closer to that possibility."
She's right. The researchers undertook their research for the betterment of humanity, and we may one day reap some unimaginable medical benefits from it. The ethical questions, however, remain as unsettling as the stories they remind us of.
The team caught a glimpse of a process that takes 18,000,000,000,000,000,000,000 years.
Image source: Pixabay
Surprising Science
In Italy, a team of scientists is using a highly sophisticated detector to hunt for dark matter.
The team observed an ultra-rare particle interaction that reveals the half-life of a xenon-124 atom to be 18 sextillion years.
The half-life of a process is how long it takes for half of the radioactive nuclei present in a sample to decay.
Big think's weekly newsletter.
Get smarter faster from the comfort of your inbox.
See our newsletter privacy policy
here
Most Popular
Most Recent
Big think's weekly newsletter.
Get smarter faster from the comfort of your inbox.
See our newsletter privacy policy
here
© Copyright 2007-2019 & BIG THINK, BIG THINK EDGE,
SMARTER FASTER trademarks owned by The Big Think, Inc. All rights reserved.