621 - The Fire Last Time: Mapping Blazes Past, Present - and Future
Frank Jacobs
From a young age, Frank was fascinated by maps and atlases, and the stories they contained. Finding his birthplace on the map in the endpapers of Tolkien's Lord of the Rings only increased his interest in the mystery and message of maps.
While pursuing a career in journalism, Frank started a blog called Strange Maps, as a repository for the weird and wonderful cartography he found hidden in books, posing as everyday objects and (of course) floating around the Internet.
"Each map tells a story, but the stories told by your standard atlas for school or reference are limited and literal: they show only the most practical side of the world, its geography and its political divisions. Strange Maps aims to collect and comment on maps that do everything but that - maps that show the world from a different angle".
A remit that wide allows for a steady, varied diet of maps: Frank has been writing about strange maps since 2006, published a book on the subject in 2009 and joined Big Think in 2010. Readers send in new material daily, and he keeps bumping in to cartography that is delightfully obscure, amazingly beautiful, shockingly partisan, and more.
27 August, 2013
Driving through Yosemite a few years ago, we came upon a blackened patch of the park still smelling burnt. By the look of this map, it must have been the one marked Early 2004, even though it must have been a few years later. Can a forest still smell crispy years after it's been levelled by wildfire? 
---
If so, a lot more of Yosemite is going to smell like that in the years to come. The so-called Rim Fire is currently consuming vast tracts of Yosemite and other parts of California's Sierra Nevada. Starting on August 17, the biggest wildfire in recent memory has already destroyed close to 250 sq. mi (650 km2).
The fire got its name from a lookout point called the Rim of the World in Stanislaus National Forest, close to where it started. From there, it spread north toward Tuolumne City and east toward Yosemite National Park.
The size of this wildfire - about 15% contained by August 27 - is causing problems on an unprecedented scale. Not only is access to several nearby forests restricted to firefighters, and several residential areas evacuated, but smoke is affecting air quality in places as far away as Reno, Nevada and fire is threatening power and water supplies to San Francisco and the Bay Area. 
While the Rim Fire is the largest wildfire currently raging in the American West, it is by no means the only one. The USDA Forest Service Active Fire Mapping Program is showing 38 current large incidents as of 26 August, 10 of which are in California, 9 in Idaho, 6 in Oregon, 3 each in Montana and Washington, 2 each Wyoming and Texas, and one each in Nevada, Utah and Alaska.
With wildfires a phenomenon of such scale, it is hardly surprising that each fire gets its own name, like hurricanes. The one currently raging in Alaska (and about 19% contained) is called, incongruously, the Mississippi Fire, while one just north of the Rim Fire was name-tagged American. A fire that has consumed about 1,000 acres by now in Idaho is called… Incendiary Creek Fire, hinting at the recurring nature of the wildfires in the American West.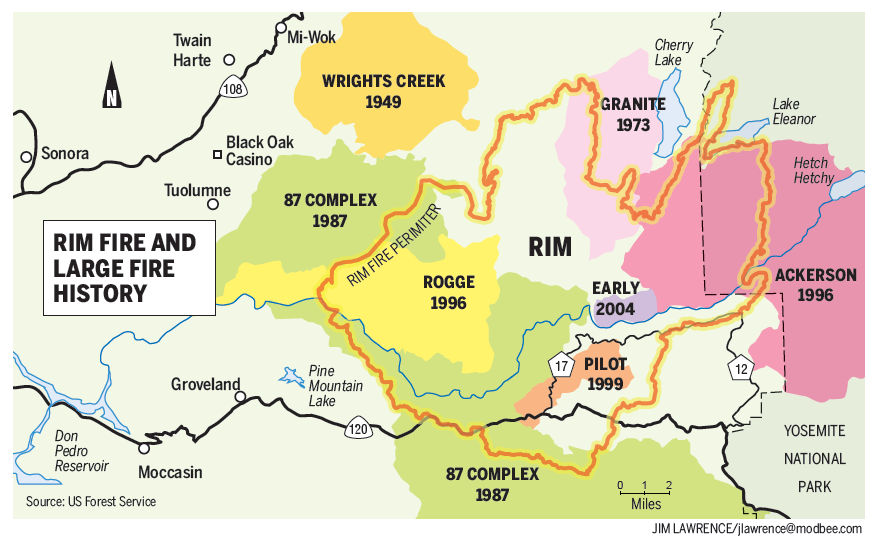 As does this map. It shows in a burning orange-and-yellow line, the current extent of the Rim Fire. It also shows, in coloured areas, the devastation wreaked by previous fires, many of them overlapping with the current fiery apocalypse.
"This points to the harsh reality of living, working and playing in the foothills and mountains: forests that burned before and are burning now someday will burn again", writes Jeff Jardine in his column for the Modesto Bee, which he illustrated with this map, produced by Jerry Snyder of the U.S. Forest Service in Sonora, showing where the Rim Fire touches areas burnt by previous major blazes.
To Jardine, many of those fires are like old (albeit rather nasty) acquaintances: "[T]he Granite fire area […] became a moonscape 40 years ago and still bears some remnants: charred stumps and an area brought back to life through reforestation efforts. […] The 146,000-acre Stanislaus Complex fire in 1987 […] ranks 11th among California's top 20 wildfires by acreage. The Rim fire has them all beat when it comes to devastation. By the time this fire-breathing dragon has been slain, it will have overlapped the perimeter of virtually every major fire in the region since [the 25,000-acre Wright's Creek Fire in] 1949".
Out west, seasonal forest fires are nothing new. As one of the commenters to Mr. Jardine's column reflects: "Family stories passed down from my great-grandmother [recall] the Digger Indians […] burn the underbrush of the forest as they retreated to Nevada. Fall rains would eventually put them out. Forest management by people [who] understood nature and never went to school!"
These days, forests are managed by the Department of Agriculture, and the object of constant arguments over how they should be managed - exploited for their resources, left alone to their own devices, or somewhere in between: benevolently monitored and tweaked by human oversight.
Says Jardine: "View the area via satellite mapping and you'll also see a checkerboard of areas that were clear-cut harvested bordered by areas of lush forest — at least until an updated satellite image reflects the ongoing destruction. Environmentalists claim logging operations are destructive. Some argue that until a couple of centuries ago, such fires eventually burned themselves out and were good for the environment. Fires? They don't concern themselves with political and philosophical differences. They just burn whatever gets in their way".
The area destroyed by the Granite Fire, Mr. Jardine mentions, has bounced back nicely from the wasteland it was in 1973. And so have other areas coloured in on this map. Until the Rim Fire, that is. But it's all part of the great, terrifying circle of life in this part of the world: "They'll become places of beauty and serenity again. They'll also become fuel for another colossal fire someday".
Many thanks to Justin Watt for sending in the map, which he shows here on his blog, Justinsomnia. It was prepared for the Modesto Bee by Jim Lawrence, based on US Forest Service data. Jeff Jardine's column on the Rim Fire can be read here in the Modesto Bee.
Big think's weekly newsletter.
Get smarter faster from the comfort of your inbox.
See our newsletter privacy policy
here