Is this Map a Million Years Old?
That would make it about ten times older than the oldest accepted examples of cartography
Frank Jacobs
From a young age, Frank was fascinated by maps and atlases, and the stories they contained. Finding his birthplace on the map in the endpapers of Tolkien's Lord of the Rings only increased his interest in the mystery and message of maps.
While pursuing a career in journalism, Frank started a blog called Strange Maps, as a repository for the weird and wonderful cartography he found hidden in books, posing as everyday objects and (of course) floating around the Internet.
"Each map tells a story, but the stories told by your standard atlas for school or reference are limited and literal: they show only the most practical side of the world, its geography and its political divisions. Strange Maps aims to collect and comment on maps that do everything but that - maps that show the world from a different angle".
A remit that wide allows for a steady, varied diet of maps: Frank has been writing about strange maps since 2006, published a book on the subject in 2009 and joined Big Think in 2010. Readers send in new material daily, and he keeps bumping in to cartography that is delightfully obscure, amazingly beautiful, shockingly partisan, and more.
23 August, 2013
Cartography is an ancient urge. Humans made maps long before they invented writing. 
---
But whereas the origin of the written word can be pinpointed with some certainty to the Middle East at the end of the fourth millennium BC [1], no such archaeological consensus exists over the age and location of the world's oldest map.
The problem, with each candidate piece of scratched or painted rock: Is it ritual abstraction, or realistic depiction? In other words, when does the shaman become a mapmaker? 
The answers to that question vary wildly. The oldest examples of mapmaking are also the most debatable, probably because cartographer and augurer are still joined in Siamese twinship.
Take the Çatalhöyük wall painting, dated to the late seventh millennium BC. Does it really represent a map of the neolithic settlement it its Anatolian surroundings? Or are those rooftops really just an abstract pattern, and that erupting volcano nothing more than a leopard skin? [2]? 
The oldest indisputable examples of cartography depict heavenly bodies, in large part because their position is still verifiable today. A drawing in France's Lascaux cave, dated to 18,500 years ago, clearly shows the Pleiades [3], as well as the so-called Summer Triangle [4]. 
Even though other ancient examples of maps could still be unearthed, the scientific consensus is that cartography has an outer age limit - roughly the same one for burial rites, cave paintings and other expressions of symbolic thinking. The emergence of this 'behavioural modernity', either as a sudden shift in human genetics or as a gradual accumulation of skills, is thought to have culminated about 50,000 years ago with the advent of language. 
Along comes an amateur archaeologist with a stunning find that could pulverise that age limit. What if the world's oldest map is at least ten times older than that putative onset of abstract thought. How about a map that is anywhere from half a million to one million years old?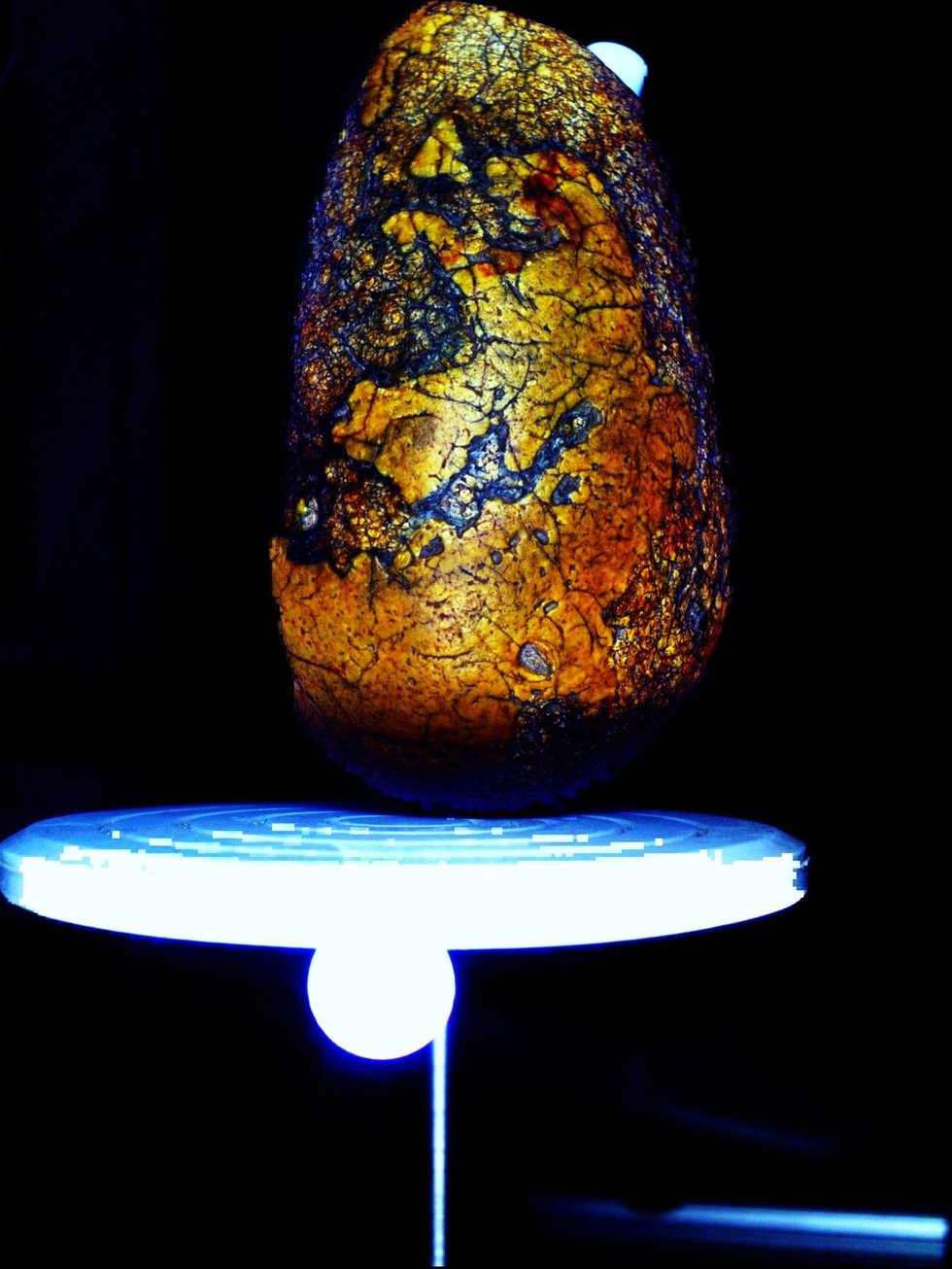 The amateur is David King, a passionate Yorkshireman who prefers to call himself an 'intuitive archaeologist': "[I don't] possess academic qualifications, but I have been collecting, analysing and researching one site at the head of the Colne Valley [5] in England". Over two decades, Mr. King has collected over 10,000 paleolithic artefacts in the area.  
The map in question seems to be engraved on a 4.5-inch tall pebble. It takes only a small leap of the imagination to recognise the coastlines of Europe in the shapes incised into the stone. But matching the mapwork with the object's supposed age - up to a million years, Mr. King contends - is several bridges too far for current science. And for most scientists.
Mr. King has had the map stone for over a decade, but in all those years was unable to have 'official' palaeontologists concede that it might be a man-made artefact. "They all say that it is a coincidence or a 'natural' occurrence, and that prehistoric man […] was incapable of such a feat […] The fact remains that it has been done […] Even a child with a limited grasp of geography can recognise the Western European coastline on this map".
In fact, Mr. King contends, the stone surface presents "an accurate,detailed and concise map of the coastlines,lakes and river systems from north Europe all the way down to South Africa."
If, as Mr. King's non-intuitive colleagues maintain, the shapes displayed on the pebble are mere coincidences, they are pretty big ones. He lists some of the correspondences: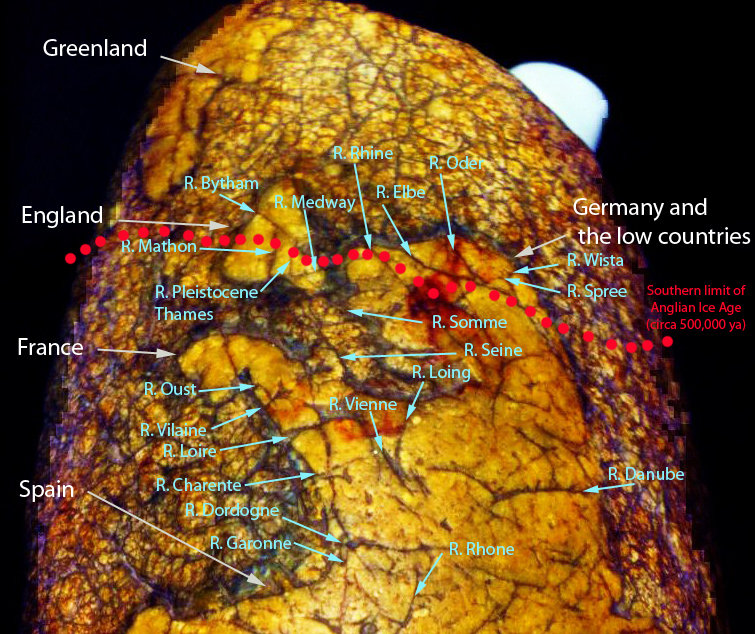 * "The mighty River Eridanos [6] flowed […] until about 700,000 years ago from the Baltic to the North Sea and marks the northernmost limit of the map, although Greenland could also be seen". 
* "In England, the Rivers Thames, Bytham [7] and Medway are shown, although Scotland is cut off and the Welsh coast is above water.The Bytham was known to have been obliterated by the Anglian Ice Age [8] as are several of the marked rivers in northern Germany,the Paris Basin appears to be flooded possibly between the Seine and the Somme".
* "In Germany, the Rivers Rhine, Ems and Meuse and the lost rivers are marked. [S]trangely, the red 'warrior figure' is original and possibly a painted image… It does not scrub off!"
* "The west coast of France is remarkably accurate, with the Rivers Loire,Garonne,Rhône among others marked and the area south of Marseilles in shown above water (there are cave drawing off the coast there now 120 feet under water)".
* "In Spain, the River Ebro is clearly marked, and [archaeological] finds there have been dated at before the geomagnetic field change 780,000 years ago [9].The Ebro appears to join up with the Rhône at a delta now under the sea".
* "In Portugal the Rivers Tagus, Guadiana and others are shown".
* "The Straits of Gibraltar are easily identifiable as is the north coast of Africa, although the Med looks rather different.Bearing in mind that this is a seismically active area and the African tectonic plates are sliding underneath the European plates,the changes over more than half a million years would have been considerable. It still looks recognisable today though".
* "Lake Victoria and the River Nile appear to be shown too and [the map] appears to mark a land path north from East Africa to Europe crossing land that is now sea to join the Rivers Rhone,Ebro and Garonne".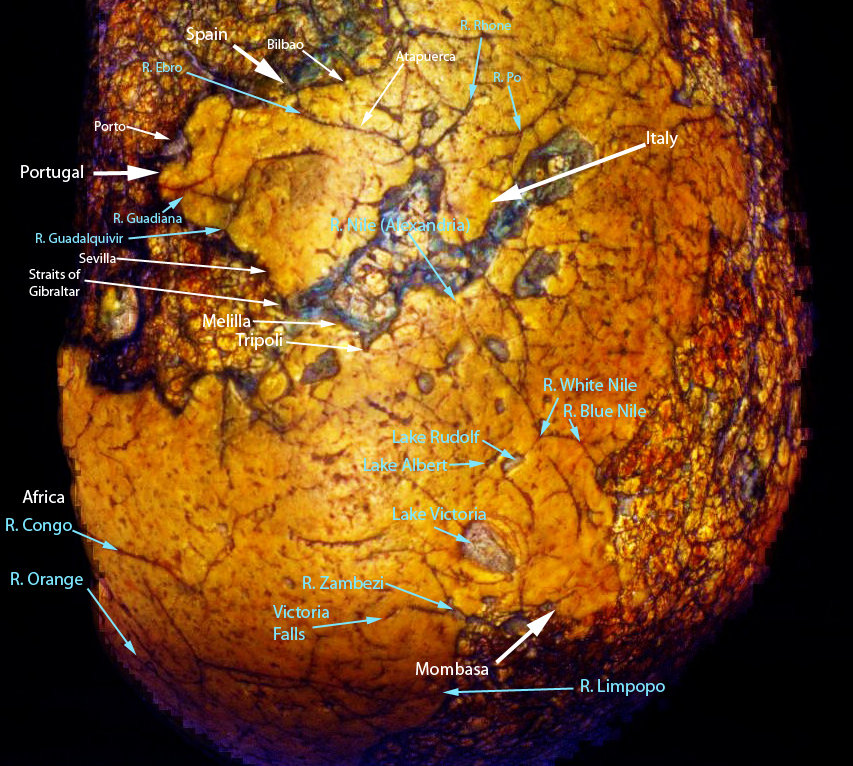 Mr. King speculates that the map stone is the receptacle of many generations' worth of navigational knowledge, acquired as man left drought-stricken Africa for the more promising shores of Europe: "It must have been by boat or raft, probably bamboo, as [this] grows abundantly around rivers and coastlines. […] I expect that they moved slowly around the coast and navigable rivers,using natural safe harbours, settling in suitable areas where adequate water [and] food could be found,while some moved on to the next safe harbour […] Intimate knowledge of the coastlines and rivers [was] generated into a mental 'map' that probably first manifested in 'written' form on easier to use materials like clay, wax, wood or leather, but of course they would not have survived the passage of such a long period of time and no trace of them would remain today. After many,many generations,the accumulated knowledge was able to be transcribed onto stone with incredible accuracy".
"[The artefact] must have been in much greater relief when made, the coastlines appear to have been incised and painted black  (probably manganese dioxide) with the landmasses left in relief…it could even have been used to print copies onto beeswax, resin or clay".
A fantastic story, but is it too good to be true? Mr King has a hard time convincing the scientific establishment of his theory that the earth-stone is an artefact, made by very, very, very early humans: "So far, not a single British archaeologist or anthropologist will even entertain the idea that it could have been made by Early Man, and [they] have never investigated further… [A]nd yet they freely admit they know so very little about pre-Neanderthal humans in Britain from 475,000 to 900,000 years [ago]!"
Perhaps because the oldest human artefact ever found, the so-called Venus of Hohle Fels [10], is between 35,000 and 40,000 years old, which is about the same age bracket for the world's oldest cave painting yet discovered [11]. 
"[A]lthough very little is known of pre-Neanderthal humans [in the UK], I believe I have evidence that the European subspecies of Homo erectus (whether Homo antecessor or Homo heidelbergensis) that  first came out of Africa around 1.2 million years ago was far more knowledgeable, intelligent, highly evolved and resourceful than is currently understood […] I doubt anyone today could make such an artefact as this by hand - but does this really mean it can't have been made by man in deep time?"
"I believe this map holds many secrets and begs so very many questions that I have probably only touched the tip of an iceberg. So please tell me if you find more, I must have missed so much!"
The reason Mr. King refuses to believe this paleo-map is a coincidence, are other examples of stone maps he found at the Colne Valley site. "One map not only shows the rivers, but also two springs, crossing points, three distinct doglegs and landmarks, [in all] 33 points of reference to the existing topography". He is working on a book to explain his findings in detail - even though established scientists will probably continue to ignore them: "I feel I have walked into an Aladdin's cave of treasures, discovered a lost world and been given a 'gift' from above… And yet so far, nobody seems that interested when I try to pass the knowledge on.The vanity of these people, they think they know everything and because they have a few letters after their names, they refuse to accept that experienced amateurs such as myself have any part to play in future discoveries… Hasn't science always been so!"
Many thanks to Mr. King for sending in these pictures of his find. More on them on his website, Colnianman Museum.
Strange Maps #620
Got a strange map? Let me know at strangemaps@gmail.com.
 _______
[1] The oldest extant examples of written language are over 5,000 years old, and from Mesopotamia (present-day Iraq). Writing then originated independently in China approximately 3,200 years ago, and in Central America around 2,600 years ago.
[2] Older examples of 'map-like' features carved in stone were found in the Czech Republic and Spain. Dated to 25,000 and 14,000 years ago respectively, the carvings could also represent a merely 'spiritual' landscape. 
[3] A.k.a. the Seven Sisters, this star cluster in the constellation Taurus (Latin for bull) is one of the most striking objects in the night sky in the northern hemisphere.
[4] A triangular star pattern visible in the northern hemisphere, connecting the three brightest stars in the constellations Aquila (Latin for eagle), Cygnus (Latin for Swan) and Lyra (Latin for lyre), i.e. Altair (from the Arabic for [flying] eagle), Deneb (from the Arabic for [hen's] tail) and Vega (from the Arabic for falling [eagle]), respectively.
[5] A valley in West Yorkshire, to the east of the main ridge of the Pennine Hills. The River Colne rises near Marsden, flowing east towards Huddersfield, where it is joined by the Holme, then towards Bradley, where the Colne itself joins the River Calder. The term 'Colne Valley' is mostly used to describe the area between Marsden and Huddersfield, but less frequently also includes the section towards Bradley.
[6] Named after a Greek mythical river flowing in distant Europe, Eridanos is also the name given an actual river, which flowed from 40 million years ago to the Middle Pleistocene.
[7] The Bytham was a Pleistocene-era river running from the Midlands east towards the North Sea. It may have provided Britain's first inhabitants with a convenient 'invasion route', some time between 500,000 and 700,000 years ago. The river's ancient course was identified only in the 1980s.
[8] The name used in Britain for a period of severe glaciation during the Pleistocene, lasting from 478,000 to 424,000 years ago. Its equivalent names are, among others, the Mindel Stage (in the Alps) and the Esterian Stage (in northern Europe). At the height of the Anglian Stage, glaciers reached all the way down to Hornchurch, in northeast London - further south than at any time during the Pleistocene.
[9] The Brunhes-Matuyama Reversal, about 780,000 years ago, is the latest of the geomagnetic field changes that frequently flip the polarity of Earth's magnetic north and south. Such reversals occur on average every 450,000 years, and the geological period between them is called a chron. The reversal process can take up to 10 millennia, and involves a lot of wandering by both poles. A recent study suggests that a 'mini-chron' occurred around 41,000 years ago, when polarity was reversed for no longer than 250 years.
[10] A full-figured Venus figurine carved from the tusk of a woolly mammoth, found in 2008 near Ulm in southern Germany. The same cave in the Swabian Alb also yielded a 35,000-year-old bone flute - the world's oldest instrument - indicating that figurative art and music were being practised as far back as 36 millennia ago.
[11] Artwork in the El Castillo cave in northern Spain, discovered in 1903, has recently been dated to 40,800 years ago.
Swiss researchers identify new dangers of modern cocaine.
Getty Images
Mind & Brain
Cocaine cut with anti-worming adulterant levamisole may cause brain damage.
Levamisole can thin out the prefrontal cortex and affect cognitive skills.
Government health programs should encourage testing of cocaine for purity.
Pfizer's partnerships strengthen their ability to deliver vaccines in developing countries.
Susan Silbermann, Global President of Pfizer Vaccines, looks on as a health care worker administers a vaccine in Rwanda. Photo: Courtesy of Pfizer.
Sponsored
Community healthcare workers face many challenges in their work, including often traveling far distances to see their clients
Pfizer is helping to drive the UN's sustainable development goals through partnerships.
Pfizer partnered with AMP and the World Health Organization to develop a training program for healthcare workers.
Politics & Current Affairs
Political division is nothing new. Throughout American history there have been numerous flare ups in which the political arena was more than just tense but incideniary. In a letter addressed to William Hamilton in 1800, Thomas Jefferson once lamented about how an emotional fervor had swept over the populace in regards to a certain political issue at the time. It disturbed him greatly to see how these political issues seemed to seep into every area of life and even affect people's interpersonal relationships. At one point in the letter he states:
"I never considered a difference of opinion in politics, in religion, in philosophy, as cause for withdrawing from a friend."
Today, we Americans find ourselves in a similar situation, with our political environment even more splintered due to a number of factors. The advent of mass digital media, siloed identity-driven political groups, and a societal lack of understanding of basic discursive fundamentals all contribute to the problem.
Civil discourse has fallen to an all time low.
The question that the American populace needs to ask itself now is: how do we fix it?

Discursive fundamentals need to be taught to preserve free expression
In a 2017 Free Speech and Tolerance Survey by Cato, it was found that 71% of Americans believe that political correctness had silenced important discussions necessary to our society. Many have pointed to draconian university policies regarding political correctness as a contributing factor to this phenomenon.

It's a great irony that, colleges, once true bastions of free-speech, counterculture and progressiveness, have now devolved into reactionary tribal politics.
Many years ago, one could count on the fact that universities would be the first places where you could espouse and debate any controversial idea without consequence. The decline of staple subjects that deal with the wisdom of the ancients, historical reference points, and civic discourse could be to blame for this exaggerated partisanship boiling on campuses.
Young people seeking an education are given a disservice when fed biased ideology, even if such ideology is presented with the best of intentions. Politics are but one small sliver for society and the human condition at large. Universities would do well to instead teach the principles of healthy discourse and engagement across the ideological spectrum.
The fundamentals of logic, debate and the rich artistic heritage of western civilization need to be the central focus of an education. They help to create a well-rounded citizen that can deal with controversial political issues.
It has been found that in the abstract, college students generally support and endorse the first amendment, but there's a catch when it comes to actually practicing it. This was explored in a Gallup survey titled: Free Expression on Campus: What college students think about First amendment issues.
In their findings the authors state:
"The vast majority say free speech is important to democracy and favor an open learning environment that promotes the airing of a wide variety of ideas. However, the actions of some students in recent years — from milder actions such as claiming to be threatened by messages written in chalk promoting Trump's candidacy to the most extreme acts of engaging in violence to stop attempted speeches — raise issues of just how committed college students are to
upholding First Amendment ideals.
Most college students do not condone more aggressive actions to squelch speech, like violence and shouting down speakers, although there are some who do. However, students do support many policies or actions that place limits on speech, including free speech zones, speech codes and campus prohibitions on hate speech, suggesting that their commitment to free speech has limits. As one example, barely a majority think handing out literature on controversial issues is "always acceptable."
With this in mind, the problems seen on college campuses are also being seen on a whole through other pockets of society and regular everyday civic discourse. Look no further than the dreaded and cliche prospect of political discussion at Thanksgiving dinner.
Talking politics at Thanksgiving dinner
As a result of this increased tribalization of views, it's becoming increasingly more difficult to engage in polite conversation with people possessing opposing viewpoints. The authors of a recent Hidden Tribes study broke down the political "tribes" in which many find themselves in:
Progressive Activists: younger, highly engaged, secular, cosmopolitan, angry.
Traditional Liberals: older, retired, open to compromise, rational, cautious.
Passive Liberals: unhappy, insecure, distrustful, disillusioned.
Politically Disengaged: young, low income, distrustful, detached, patriotic, conspiratorial
Moderates: engaged, civic-minded, middle-of-the-road, pessimistic, Protestant.
Traditional Conservatives: religious, middle class, patriotic, moralistic.
Devoted Conservatives: white, retired, highly engaged, uncompromising,
Patriotic.
Understanding these different viewpoints and the hidden tribes we may belong to will be essential in having conversations with those we disagree with. This might just come to a head when it's Thanksgiving and you have a mix of many different personalities, ages, and viewpoints.
It's interesting to note the authors found that:
"Tribe membership shows strong reliability in predicting views across different political topics."
You'll find that depending on what group you identify with, that nearly 100 percent of the time you'll believe in the same way the rest of your group constituents do.
Here are some statistics on differing viewpoints according to political party:
51% of staunch liberals say it's "morally acceptable" to punch Nazis.
53% of Republicans favor stripping U.S. citizenship from people who burn the American flag.
51% of Democrats support a law that requires Americans use transgender people's preferred gender pronouns.
65% of Republicans say NFL players should be fired if they refuse to stand for the anthem.
58% of Democrats say employers should punish employees for offensive Facebook posts.
47% of Republicans favor bans on building new mosques.
Understanding the fact that tribal membership indicates what you believe, can help you return to the fundamentals for proper political engagement
Here are some guidelines for civic discourse that might come in handy:
Avoid logical fallacies. Essentially at the core, a logical fallacy is anything that detracts from the debate and seeks to attack the person rather than the idea and stray from the topic at hand.
Practice inclusion and listen to who you're speaking to.
Have the idea that there is nothing out of bounds for inquiry or conversation once you get down to an even stronger or new perspective of whatever you were discussing.
Keep in mind the maxim of : Do not listen with the intent to reply. But with the intent to understand.
We're not trying to proselytize nor shout others down with our rhetoric, but come to understand one another again.
If we're tied too closely to some in-group we no longer become an individual but a clone of someone else's ideology.
Civic discourse in the divisive age
Debate and civic discourse is inherently messy. Add into the mix an ignorance of history, rabid politicization and debased political discourse, you can see that it will be very difficult in mending this discursive staple of a functional civilization.
There is still hope that this great divide can be mended, because it has to be. The Hidden Tribes authors at one point state:
"In the era of social media and partisan news outlets, America's differences have become
dangerously tribal, fueled by a culture of outrage and taking offense. For the combatants,
the other side can no longer be tolerated, and no price is too high to defeat them.
These tensions are poisoning personal relationships, consuming our politics and
putting our democracy in peril.

Once a country has become tribalized, debates about contested issues from
immigration and trade to economic management, climate change and national security,
become shaped by larger tribal identities. Policy debate gives way to tribal conflicts.
Polarization and tribalism are self-reinforcing and will likely continue to accelerate.
The work of rebuilding our fragmented society needs to start now. It extends from
re-connecting people across the lines of division in local communities all the way to
building a renewed sense of national identity: a bigger story of us."
We need to start teaching people how to approach subjects from less of an emotional or baseless educational bias or identity, especially in the event that the subject matter could be construed to be controversial or uncomfortable.
This will be the beginning of a new era of understanding, inclusion and the defeat of regressive philosophies that threaten the core of our nation and civilization.
Big think's weekly newsletter.
Get smarter faster from the comfort of your inbox.
See our newsletter privacy policy
here
Most Popular
Most Recent
Big think's weekly newsletter.
Get smarter faster from the comfort of your inbox.
See our newsletter privacy policy
here
© Copyright 2007-2018 & BIG THINK, BIG THINK EDGE,
SMARTER FASTER trademarks owned by The Big Think, Inc. All rights reserved.