Frisland, an Italian Fabrication in the North Atlantic
The Zeno Brothers invented a bunch of islands north of Scotland that turned out to have remarkable staying power on maps
Frank Jacobs
From a young age, Frank was fascinated by maps and atlases, and the stories they contained. Finding his birthplace on the map in the endpapers of Tolkien's Lord of the Rings only increased his interest in the mystery and message of maps.
While pursuing a career in journalism, Frank started a blog called Strange Maps, as a repository for the weird and wonderful cartography he found hidden in books, posing as everyday objects and (of course) floating around the Internet.
"Each map tells a story, but the stories told by your standard atlas for school or reference are limited and literal: they show only the most practical side of the world, its geography and its political divisions. Strange Maps aims to collect and comment on maps that do everything but that - maps that show the world from a different angle".
A remit that wide allows for a steady, varied diet of maps: Frank has been writing about strange maps since 2006, published a book on the subject in 2009 and joined Big Think in 2010. Readers send in new material daily, and he keeps bumping in to cartography that is delightfully obscure, amazingly beautiful, shockingly partisan, and more.
23 July, 2010
The discovery of America was an Italian enterprise, but not to the credit of a Genoan named Columbus. In the 14th century, Venetian brothers Nicolo and Antonio Zeno sailed west on the Northern Atlantic, discovering places they called Frisland and Icaria (two islands near Greenland), Estotiland (on the North American mainland) and Drogio (an island close to the mainland, possibly Nova Scotia).
---
  Or so it says in De I Commentarii del Viaggio, a 16th century account of their travels by Nicolo Zeno, one of their descendants. This latter-day Zeno claimed to have found a manuscript and a map, both made by his ancestors, in his proverbial attic. Nicolo the Younger had it published in 1558. At the time, it was generally believed to be a true account. A second version of the map was issued by fellow Venetian Giordano Ruscelli in 1561.
In 1569, Gerard Mercator copied the Zeno map into his influential World Map. Abraham Ortelius did the same for his renowned map of the Northern Atlantic in 1573. In 1595, Mercator included Frisland (not to be confused with Friesland, which does exist on the North Sea coast of the Netherlands and Germany) in a separate inset on his 1595 map of the North Pole. Thus Frisland, and the other fanciful lands fabricated by the 16th century Zeno (most likely), came to be known as 'fact', and were copied by other cartographers, often with variations on the name such as Fixland, Freezeland or Frischlant. Only much later did it become clear they were imaginary.
But not before causing some real-world confusion for discoverers such as Martin Frobisher, who in 1576 reported seeing a 'high and rugged land', which according to Mercator's map ought to be Frisland. Frobisher claimed Frisland for England, not realising he probably saw the coast of Greenland.  
 The confusion continued when he explored Baffin Island – which Frobisher thought was Greenland. Accordingly, Frobisher's Strait (which in fact is a bay) for many years was situated at the tip of Greenland instead of Baffin Island. Cartographers continued to include Frisland on maps of the North Atlantic as late as the 18th century. As imaginary places go, Frisland had quite some staying power – probably because it was confused with Greenland and/or the Faroer Islands.The question remains: who did the confusing? The older Zenos, their descendant, later cartographers and explorers? Or some of them? Or all of them?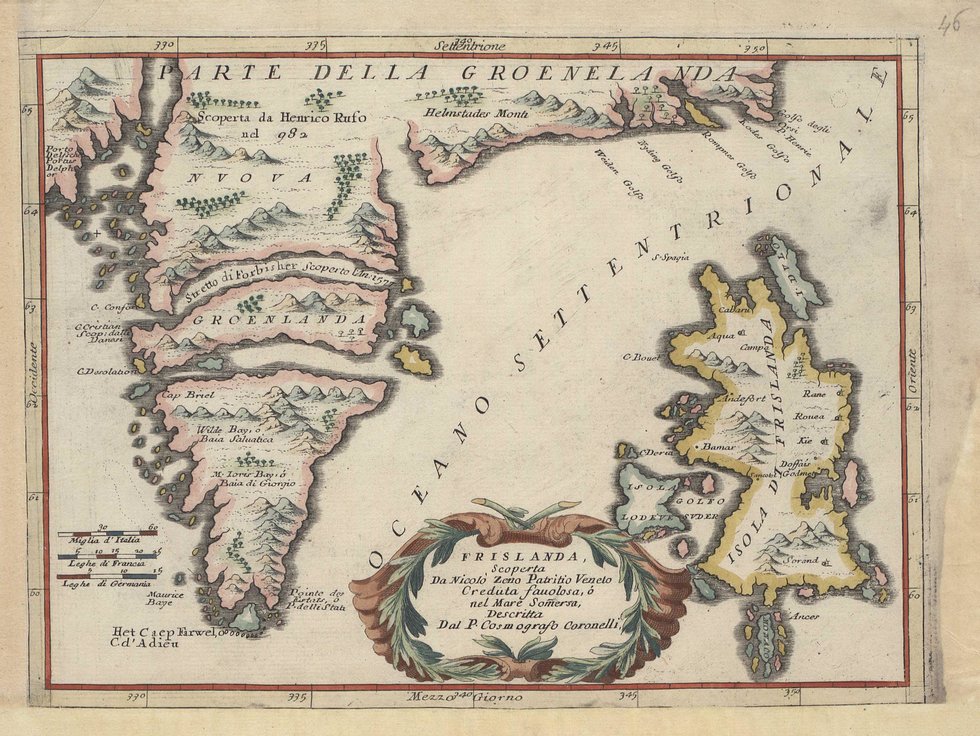 This map was made around 1693 by Vincenzo Maria Coronelli and situates Frisland to the east of Greenland.
Strange Maps #62
Got a strange map? Let me know at strangemaps@gmail.com.
The controversy around the Torah codes gets a new life.
Michael Drosnin
Surprising Science
Mathematicians claim to see a predictive pattern in the ancient Torah texts.
The code is revealed by a method found with special computer software.
Some events described by reading the code took place after the code was written.
Pfizer's partnerships strengthen their ability to deliver vaccines in developing countries.
Susan Silbermann, Global President of Pfizer Vaccines, looks on as a health care worker administers a vaccine in Rwanda. Photo: Courtesy of Pfizer.
Sponsored
Community healthcare workers face many challenges in their work, including often traveling far distances to see their clients
Pfizer is helping to drive the UN's sustainable development goals through partnerships.
Pfizer partnered with AMP and the World Health Organization to develop a training program for healthcare workers.
Orangutans join humans and bees in a very exclusive club
Surprising Science
Orangutan mothers wait to sound a danger alarm to avoid tipping off predators to their location
It took a couple of researchers crawling around the Sumatran jungle to discover the phenomenon
This ability may come from a common ancestor
Big think's weekly newsletter.
Get smarter faster from the comfort of your inbox.
See our newsletter privacy policy
here
Most Popular
Most Recent
Big think's weekly newsletter.
Get smarter faster from the comfort of your inbox.
See our newsletter privacy policy
here
© Copyright 2007-2018 & BIG THINK, BIG THINK EDGE,
SMARTER FASTER trademarks owned by The Big Think, Inc. All rights reserved.