59 - A Road Map for your Love Live - If you Read German
Past Affection Farm, take a left at the River of Tears
Frank Jacobs
From a young age, Frank was fascinated by maps and atlases, and the stories they contained. Finding his birthplace on the map in the endpapers of Tolkien's Lord of the Rings only increased his interest in the mystery and message of maps.
While pursuing a career in journalism, Frank started a blog called Strange Maps, as a repository for the weird and wonderful cartography he found hidden in books, posing as everyday objects and (of course) floating around the Internet.
"Each map tells a story, but the stories told by your standard atlas for school or reference are limited and literal: they show only the most practical side of the world, its geography and its political divisions. Strange Maps aims to collect and comment on maps that do everything but that - maps that show the world from a different angle".
A remit that wide allows for a steady, varied diet of maps: Frank has been writing about strange maps since 2006, published a book on the subject in 2009 and joined Big Think in 2010. Readers send in new material daily, and he keeps bumping in to cartography that is delightfully obscure, amazingly beautiful, shockingly partisan, and more.
23 July, 2010
In the 18th century, sentimental cartography was very much à la mode, with this map as one of the finer examples. 'Das Reich der Liebe' ('the Empire of Love') by Johann Gottlob Immanuel Breitkopf, was published in Leipzig in 1777. In a brief explanatory, it describes how pilgrims set out from the Land of Youth, where are located the sources of the rivers Joy and Wish and may end up in any of six other countries.
---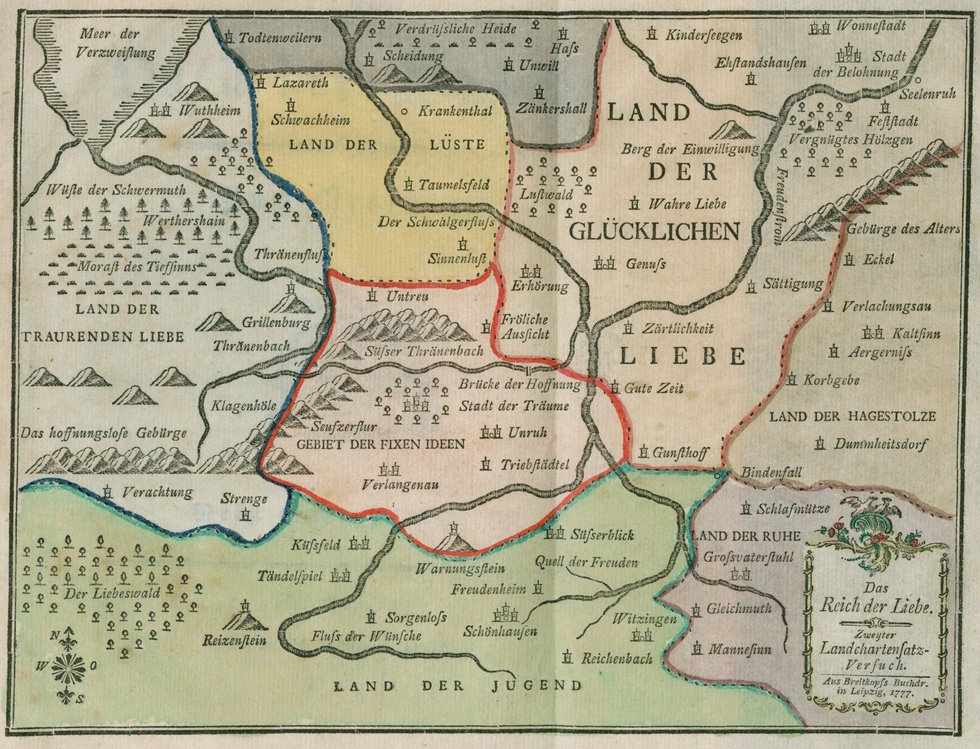 Below the map is a listing of the place-names in German and an attempt at English translation:   
 Das Reich der Liebe -The Empire of Love
Zweyter Landchartensatz-Versuch - Second Attempt at Map-making
LAND DER JUGEND: LAND OF YOUTH
Der Liebeswald

The Forest of Love
Küssfeld

Kiss Field
Tändelspiel

Flirting Game
Reizenstein
Charm Castle
Fluss der Wünsche

Stream of Wishes
Sorgenlos

Worry-Free
Freudenheim

Joy's Home
Schönhausen

Beautiful House
Quell der Freuden

Source of Joy
Süsserblick

Sweet Look
Witzingen

Wisecrack Place
Reichenbach
Rich River
Warnungsstein

Warning Castle
LAND DER RUHE: LAND OF REST
Schlafmütze

Nightcap
Grossvaterstadt
Grandfather City
Gleichmuth

Equanimity
Mannesinn

Manly Place
LAND DER TRAURENDEN LIEBE: LAND OF MOURNING LOVE
Wuthheim

Anger's Home
Thränenfluss

Flood of Tears
Grillenberg

Whim Mountain
Thränenbach
River of Tears
Klagenhöle

Complaint Place
Das hoffnungslose Gebürge

Hopeless Mountains
Verachtung

Loathing
Strenge

Strict Place
Morass des Tiefsinss

Swamp of Profundity
Werthershain

Werther's Grove
Wüste der Schwermuth

Desert of Melancholy
LAND DER LÜSTE: LAND OF LUST
Krankenthal

Illness Valley
Schwachheim

Weak Home
Taumelsfeld

Intoxication Field
Der Schwalgerfluss

Smoking River (?)
Sinnenlust

Lechery
Lazareth

Hospital
LAND DER GLÜCKLICHEN LIEBE: LAND OF HAPPY LOVE
Lustwald

Lust Wood
Erhörung

Answered Prayers
Fröhliche Aussicht

Pleasant Prospect
Genuss

Enjoyment
Zärtlichkeit

Tenderness
Gute Zeit

Good Times
Gunsthoff

Affection Farm
Sättigung

Satisfaction
Wahre Liebe

True Love
Berg der Einwilligung

Compliance Mountain
Freudensbronn

Fountain of Joy
Kinderseegen

Quiverful of Children
Ehstandshafen

Marriage Harbour
Stadt der Belohnung

Reward City
Wonnestadt

Bliss Town
Seelenruh

Peace of Mind
Feststadt

Party Town
Vergnügtes Hölzgen

Joyful Wood
LAND DER HAGESTOLZE: BACHELOR COUNTRY
Dummheidsdorf

Stupidity Town
Korbgebe

Rejection Place
Aergerniss

Irritation
Kaltsinn

Indifference
Verachtungsau

Place
of Contempt
Eckel

Reprehensibility
Gebürge des Alters

Old Age Mountains
Scheidung

Separation
Hass

Hate
Unwill

Obstinacy
Zänkershall

Wrangler Hall
Verdrüssliche Heide

Exasperation Heath
Todtenweilern

Hamlet of Death
Meer der Verzweiflung

Sea of Doubt
LAND DER FIXEN IDEEEN: LAND OF OBSESSIONS
Seufzerslur

Place
of Sighs
Verlangenau

Desire Town
Unruh

Unrest
Stadt der Träume

City of Dreams
Brücke der Hoffnung

Bridge of Hope
Untreu

Disloyalty
Süsser Thränenbach
Sweet River of Tears
Triebstädtel

Little Town of Instincts
Map found here at the Newberry Library.
Strange Maps #59
Got a strange map? Let me know at strangemaps@gmail.com.
The stories we tell define history. So who gets the mic in America?
Videos
History is written by lions. But it's also recorded by lambs.
In order to understand American history, we need to look at the events of the past as more prismatic than the narrative given to us in high school textbooks.
Including different voices can paint a more full and vibrant portrait of America. Which is why more walks of American life can and should be storytellers.

A glass of juice has as much sugar, ounce for ounce, as a full-calorie soda. And those vitamins do almost nothing.
popular
Quick: think back to childhood (if you've reached the scary clown you've gone too far). What did your parents or guardians give you to keep you quiet? If you're anything like most parents, it was juice. But here's the thing: juice is bad for you. 
The controversy around the Torah codes gets a new life.
Michael Drosnin
Surprising Science
Mathematicians claim to see a predictive pattern in the ancient Torah texts.
The code is revealed by a method found with special computer software.
Some events described by reading the code took place after the code was written.
Big think's weekly newsletter.
Get smarter faster from the comfort of your inbox.
See our newsletter privacy policy
here
Most Popular
Most Recent
Big think's weekly newsletter.
Get smarter faster from the comfort of your inbox.
See our newsletter privacy policy
here
© Copyright 2007-2018 & BIG THINK, BIG THINK EDGE,
SMARTER FASTER trademarks owned by The Big Think, Inc. All rights reserved.