A Literary Map of the United Kingdom
A map that highlights A to Z rather than A to B
Frank Jacobs
From a young age, Frank was fascinated by maps and atlases, and the stories they contained. Finding his birthplace on the map in the endpapers of Tolkien's Lord of the Rings only increased his interest in the mystery and message of maps.
While pursuing a career in journalism, Frank started a blog called Strange Maps, as a repository for the weird and wonderful cartography he found hidden in books, posing as everyday objects and (of course) floating around the Internet.
"Each map tells a story, but the stories told by your standard atlas for school or reference are limited and literal: they show only the most practical side of the world, its geography and its political divisions. Strange Maps aims to collect and comment on maps that do everything but that - maps that show the world from a different angle".
A remit that wide allows for a steady, varied diet of maps: Frank has been writing about strange maps since 2006, published a book on the subject in 2009 and joined Big Think in 2010. Readers send in new material daily, and he keeps bumping in to cartography that is delightfully obscure, amazingly beautiful, shockingly partisan, and more.
16 May, 2012
Maps usually display only one layer of information. In most cases, they're limited to the topography, place names and traffic infrastructure of a certain region. True, this is very useful, and in all fairness quite often it's all we ask for. But to reduce cartography to a schematic of accessibility is to exclude the poetry of place. 
---
Or in this case, the poetry and prose of place. This literary map of the United Kingdom is composed of the names of 181 British writers, each positioned in parts of the country with which they are associated. 
This is not the best navigational tool imaginable. If you want to go from William Wordsworth to Alfred Tennyson, you could pass through Coleridge and Thomas Wyatt, slice through the Brontë sisters, step over Andrew Marvell and finally traverse Philip Larkin. All of which sounds kind of messy.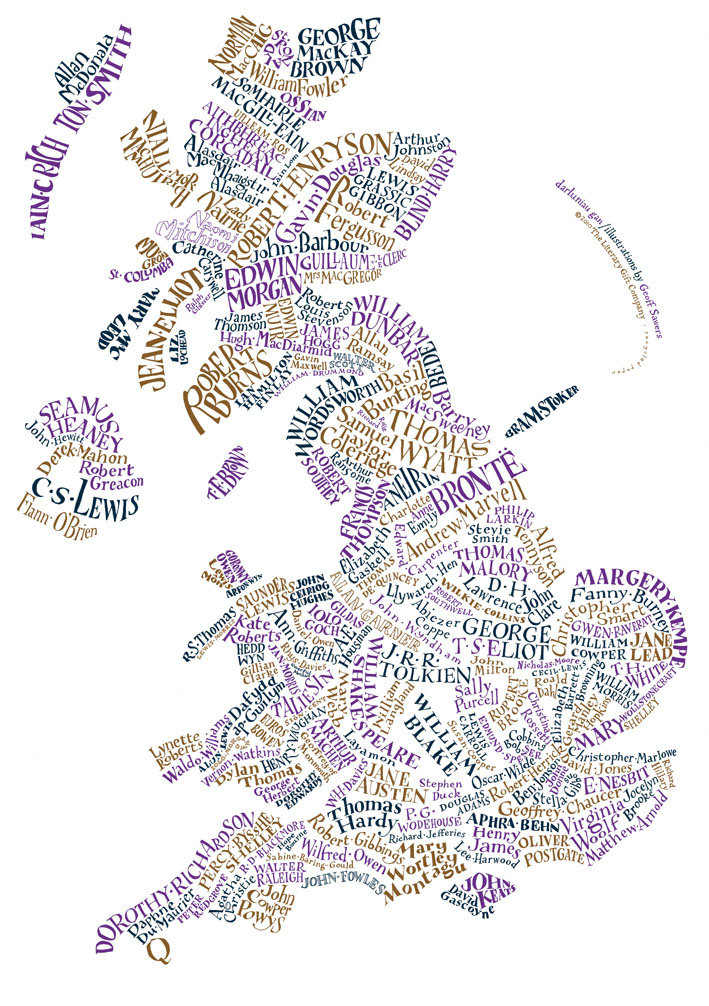 It's also rather limited. To reduce the whole literary history of Britain to nine score and one writers can only be done by the exclusion of many other, at least equally worthy contributors to the country's literary landscape. But completeness is not the point of this map: it is not an instrument for literary-historical navigation either. Its main purpose is sheer cartographic joy.  
An added bonus is that we're able to geo-locate some of English literature's best-known names. Seamus Heaney is about as Irish as a pint of Guinness for breakfast on March 17th, but it's a bit of a surprise to see C.S. Lewis placed in Northern Ireland as well. The writer of the Narnia saga is closely associated with Oxford, but was indeed born and raised in Belfast. 
Thomas Hardy's name fills out an area close to Wessex, the fictional west country where much of his stories are set. London is occupied by Ben Jonson and John Donne, among others. Hanging around the capital are Geoffrey Chaucer, who was born there, and Christopher Marlowe, a native of Canterbury. The Isle of Wight is formed by the names of David Gascoyne, the surrealist poet, and John Keats, the romantic poet. Neither was born on the island, but both spent some time there.
It's funny to see the Brontë sisters, wedged in a part of their Yorkshire, so far apart from Jane Austen, a Hampshire lass. These ladies are lumped together on many a reading list and in quite a few libraries. A unique place on the map is reserved for Bram Stoker: born in Dublin, he worked and died in London. He is depicted as approaching the English coast near Whitby - a reference to the ship the Demeter, which runs aground there in his best-known book, Dracula.
Many thanks to all who sent in this map, not in the least Geoff Sawers, who made it and admits to "shameless self-promotion" by sending it in. Which we are more than willing to overlook in the case of this beautiful work. Original context for the map here at the Literary Gift Company.
Strange Maps #565
Got a strange map? Let me know at strangemaps@gmail.com.
Giving our solar system a "slap in the face."
Surprising Science
A stream of galactic debris is hurtling at us, pulling dark matter along with it
It's traveling so quickly it's been described as a hurricane of dark matter
Scientists are excited to set their particle detectors at the onslffaught
Two massive clouds of dust in orbit around the Earth have been discussed for years and finally proven to exist.
J. Sliz-Balogh, A. Barta and G. Horvath
Surprising Science
Hungarian astronomers have proven the existence of two "pseudo-satellites" in orbit around the earth.
These dust clouds were first discovered in the sixties, but are so difficult to spot that scientists have debated their existence since then.
The findings may be used to decide where to put satellites in the future and will have to be considered when interplanetary space missions are undertaken.
Once again, our circadian rhythm points the way.
Photo: Victor Freitas / Unsplash
Surprising Science
Seven individuals were locked inside a windowless, internetless room for 37 days.
While at rest, they burned 130 more calories at 5 p.m. than at 5 a.m.
Morning time again shown not to be the best time to eat.
Big think's weekly newsletter.
Get smarter faster from the comfort of your inbox.
See our newsletter privacy policy
here
Most Popular
Most Recent
Big think's weekly newsletter.
Get smarter faster from the comfort of your inbox.
See our newsletter privacy policy
here
© Copyright 2007-2018 & BIG THINK, BIG THINK EDGE,
SMARTER FASTER trademarks owned by The Big Think, Inc. All rights reserved.