A Literary Map of the United Kingdom
A map that highlights A to Z rather than A to B
16 May, 2012
Maps usually display only one layer of information. In most cases, they're limited to the topography, place names and traffic infrastructure of a certain region. True, this is very useful, and in all fairness quite often it's all we ask for. But to reduce cartography to a schematic of accessibility is to exclude the poetry of place. 
---
Or in this case, the poetry and prose of place. This literary map of the United Kingdom is composed of the names of 181 British writers, each positioned in parts of the country with which they are associated. 
This is not the best navigational tool imaginable. If you want to go from William Wordsworth to Alfred Tennyson, you could pass through Coleridge and Thomas Wyatt, slice through the Brontë sisters, step over Andrew Marvell and finally traverse Philip Larkin. All of which sounds kind of messy.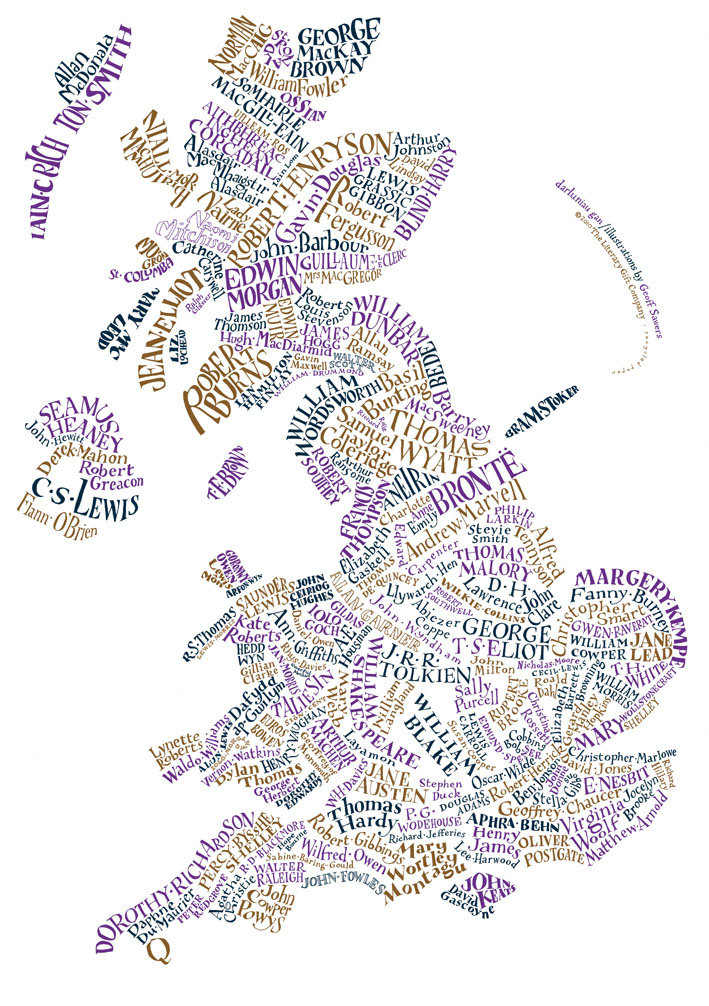 It's also rather limited. To reduce the whole literary history of Britain to nine score and one writers can only be done by the exclusion of many other, at least equally worthy contributors to the country's literary landscape. But completeness is not the point of this map: it is not an instrument for literary-historical navigation either. Its main purpose is sheer cartographic joy.  
An added bonus is that we're able to geo-locate some of English literature's best-known names. Seamus Heaney is about as Irish as a pint of Guinness for breakfast on March 17th, but it's a bit of a surprise to see C.S. Lewis placed in Northern Ireland as well. The writer of the Narnia saga is closely associated with Oxford, but was indeed born and raised in Belfast. 
Thomas Hardy's name fills out an area close to Wessex, the fictional west country where much of his stories are set. London is occupied by Ben Jonson and John Donne, among others. Hanging around the capital are Geoffrey Chaucer, who was born there, and Christopher Marlowe, a native of Canterbury. The Isle of Wight is formed by the names of David Gascoyne, the surrealist poet, and John Keats, the romantic poet. Neither was born on the island, but both spent some time there.
It's funny to see the Brontë sisters, wedged in a part of their Yorkshire, so far apart from Jane Austen, a Hampshire lass. These ladies are lumped together on many a reading list and in quite a few libraries. A unique place on the map is reserved for Bram Stoker: born in Dublin, he worked and died in London. He is depicted as approaching the English coast near Whitby - a reference to the ship the Demeter, which runs aground there in his best-known book, Dracula.
Many thanks to all who sent in this map, not in the least Geoff Sawers, who made it and admits to "shameless self-promotion" by sending it in. Which we are more than willing to overlook in the case of this beautiful work. Original context for the map here at the Literary Gift Company.
Strange Maps #565
Got a strange map? Let me know at strangemaps@gmail.com.
Lumina Foundation is partnering with Big Think to unearth the next large-scale, rapid innovation in post-high school education. Enter the competition here!
"I should be as happy as I'm ever going to be right now, but I'm not. Is this it?"
Personal Growth
The life choices that had led me to be sitting in a booth underneath a banner that read "Ask a Philosopher" – at the entrance to the New York City subway at 57th and 8th – were perhaps random but inevitable.

Researchers believe that the practice of sleeping through the whole night didn't really take hold until just a few hundred years ago.
The Bed by Henri de Toulouse-Lautrec.
Surprising Science
She was wide awake and it was nearly two in the morning. When asked if everything was alright, she said, "Yes." Asked why she couldn't get to sleep she said, "I don't know." Neuroscientist Russell Foster of Oxford might suggest she was exhibiting "a throwback to the bi-modal sleep pattern." Research suggests we used to sleep in two segments with a period of wakefulness in-between.
The assumption "that without memory, there can be no self" is wrong, say researchers.
Photo credit: Darren Hauck / Getty Images
Mind & Brain
In the past when scholars have reflected on the psychological impact of dementia they have frequently referred to the loss of the "self" in dramatic and devastating terms, using language such as the "unbecoming of the self" or the "disintegration" of the self. In a new review released as a preprint at PsyArXiv, an international team of psychologists led by Muireann Irish at the University of Sydney challenge this bleak picture which they attribute to the common, but mistaken, assumption "that without memory, there can be no self" (as encapsulated by the line from Hume: "Memory alone… 'tis to be considered… as the source of personal identity").
Big think's weekly newsletter.
Get smarter faster from the comfort of your inbox.
See our newsletter privacy policy
here
Most Popular
Most Recent
Big think's weekly newsletter.
Get smarter faster from the comfort of your inbox.
See our newsletter privacy policy
here
© Copyright 2007-2018 & BIG THINK, BIG THINK EDGE,
SMARTER FASTER trademarks owned by The Big Think, Inc. All rights reserved.