A Literary Map of the United Kingdom
A map that highlights A to Z rather than A to B
16 May, 2012
Maps usually display only one layer of information. In most cases, they're limited to the topography, place names and traffic infrastructure of a certain region. True, this is very useful, and in all fairness quite often it's all we ask for. But to reduce cartography to a schematic of accessibility is to exclude the poetry of place. 
---
Or in this case, the poetry and prose of place. This literary map of the United Kingdom is composed of the names of 181 British writers, each positioned in parts of the country with which they are associated. 
This is not the best navigational tool imaginable. If you want to go from William Wordsworth to Alfred Tennyson, you could pass through Coleridge and Thomas Wyatt, slice through the Brontë sisters, step over Andrew Marvell and finally traverse Philip Larkin. All of which sounds kind of messy.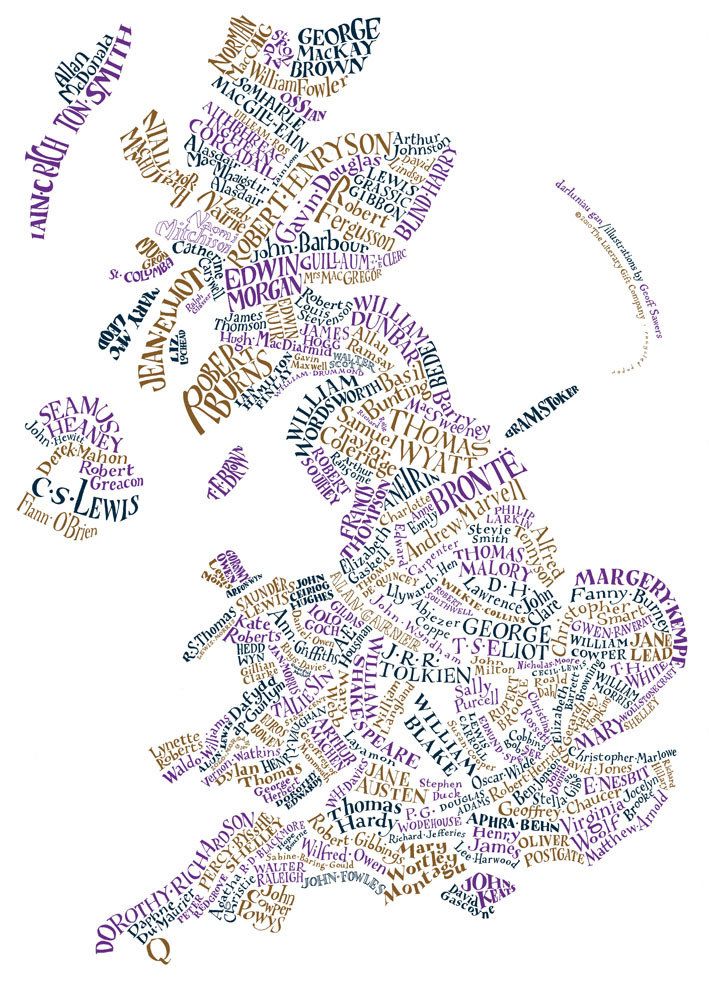 It's also rather limited. To reduce the whole literary history of Britain to nine score and one writers can only be done by the exclusion of many other, at least equally worthy contributors to the country's literary landscape. But completeness is not the point of this map: it is not an instrument for literary-historical navigation either. Its main purpose is sheer cartographic joy.  
An added bonus is that we're able to geo-locate some of English literature's best-known names. Seamus Heaney is about as Irish as a pint of Guinness for breakfast on March 17th, but it's a bit of a surprise to see C.S. Lewis placed in Northern Ireland as well. The writer of the Narnia saga is closely associated with Oxford, but was indeed born and raised in Belfast. 
Thomas Hardy's name fills out an area close to Wessex, the fictional west country where much of his stories are set. London is occupied by Ben Jonson and John Donne, among others. Hanging around the capital are Geoffrey Chaucer, who was born there, and Christopher Marlowe, a native of Canterbury. The Isle of Wight is formed by the names of David Gascoyne, the surrealist poet, and John Keats, the romantic poet. Neither was born on the island, but both spent some time there.
It's funny to see the Brontë sisters, wedged in a part of their Yorkshire, so far apart from Jane Austen, a Hampshire lass. These ladies are lumped together on many a reading list and in quite a few libraries. A unique place on the map is reserved for Bram Stoker: born in Dublin, he worked and died in London. He is depicted as approaching the English coast near Whitby - a reference to the ship the Demeter, which runs aground there in his best-known book, Dracula.
Many thanks to all who sent in this map, not in the least Geoff Sawers, who made it and admits to "shameless self-promotion" by sending it in. Which we are more than willing to overlook in the case of this beautiful work. Original context for the map here at the Literary Gift Company.
Strange Maps #565
Got a strange map? Let me know at strangemaps@gmail.com.
Former president of the ACLU Nadine Strossen discusses whether our society should always defend free speech rights, even for groups who would oppose such rights.
Sponsored by Charles Koch Foundation
Former ACLU president Nadine Strossen understands that protecting free speech rights isn't always a straightforward proposition.
In this video, Strossen describes the reasoning behind why the ACLU defended the free speech rights of neo-Nazis in Skokie, Illinois, 1977.
The opinions expressed in this video do not necessarily reflect the views of the Charles Koch Foundation, which encourages the expression of diverse viewpoints within a culture of civil discourse and mutual respect.
A new paradigm for machine vision has just been demonstrated.
Technology & Innovation
Scientists have invented a way for a sheet of glass to perform neural computing.
The glass uses light patterns to identify images without a computer or power.
It's image recognition at the speed of light.
A consortium of scientists and engineers have proposed that the U.S. and Mexico build a series of guarded solar, wind, natural gas and desalination facilities along the entirety of the border.
Credit: Purdue University photo/Jorge Castillo Quiñones
Politics & Current Affairs
The proposal was recently presented to several U.S. members of Congress.
The plan still calls for border security, considering all of the facilities along the border would be guarded and connected by physical barriers.
It's undoubtedly an expensive and complicated proposal, but the team argues that border regions are ideal spots for wind and solar energy, and that they could use the jobs and fresh water the energy park would create.
"A monkey has been able to control a computer with its brain," Musk said, referring to tests of the device.
Neuralink
Technology & Innovation
Neuralink seeks to build a brain-machine interface that would connect human brains with computers.
No tests have been performed in humans, but the company hopes to obtain FDA approval and begin human trials in 2020.
Musk said the technology essentially provides humans the option of "merging with AI."