The Rose of Bohemia, the Power Flower of Cartography
Not merely a nice flower, but also a political tool
23 July, 2010
With Justice and Piety, reads the Latin emblazoning this 17th-century illustration, a map that shows Bohemia as a stylised rose. If that region is in bloom, the map suggests, it is precisely by the application of those virtuous qualities.
---
They were not randomly chosen. Iustitia et Pietate was the personal motto of Leopold I (1640-1705), archduke of Austria, king of Bohemia (1), and prince, duke, lord and landgrave of much, much more.
Leopold was elected Holy Roman Emperor in 1658, a title that had been in his Habsburg family for centuries. However, realising the increasing weakness of this institution (2), Leopold instead shifted his political energy to the consolidation of his Austrian, Hungarian and Bohemian dynastic territories. Vienna was to become the focal point for this newer empire, which would eventually become the Austro-Hungary Double Monarchy.
This map illustrates that ambition to consolidate, showing Bohemia as a Habsburg power flower. It was first drawn up by the Silesian cartographer Christoph Vetter (b. 1575, d. 1650), copper-engraved by Wolfgang Kilian (in 1668), finally to be included in Bohuslav Balbin's Epitome historica rerum bohemicarum, a national history and geography of Bohemia from antiquity to the present day (i.e. 1677).
It shows, in the aforementioned botanical shape and form, the 18 administrative subdivisions of Bohemia, starting with the Districtus pragensis (i.e. Prague) at the centre. Leaves peeking out from the actual flower indicate neighbouring regions: Palatinatus bavariae pars (Bavarian palatinate), Austriae pars (Austria), Moraviae pars (Moravia) and Silesiae pars (Silesia) – the one on the top is illegible, as are other leaves nearer the root of the flower's stem.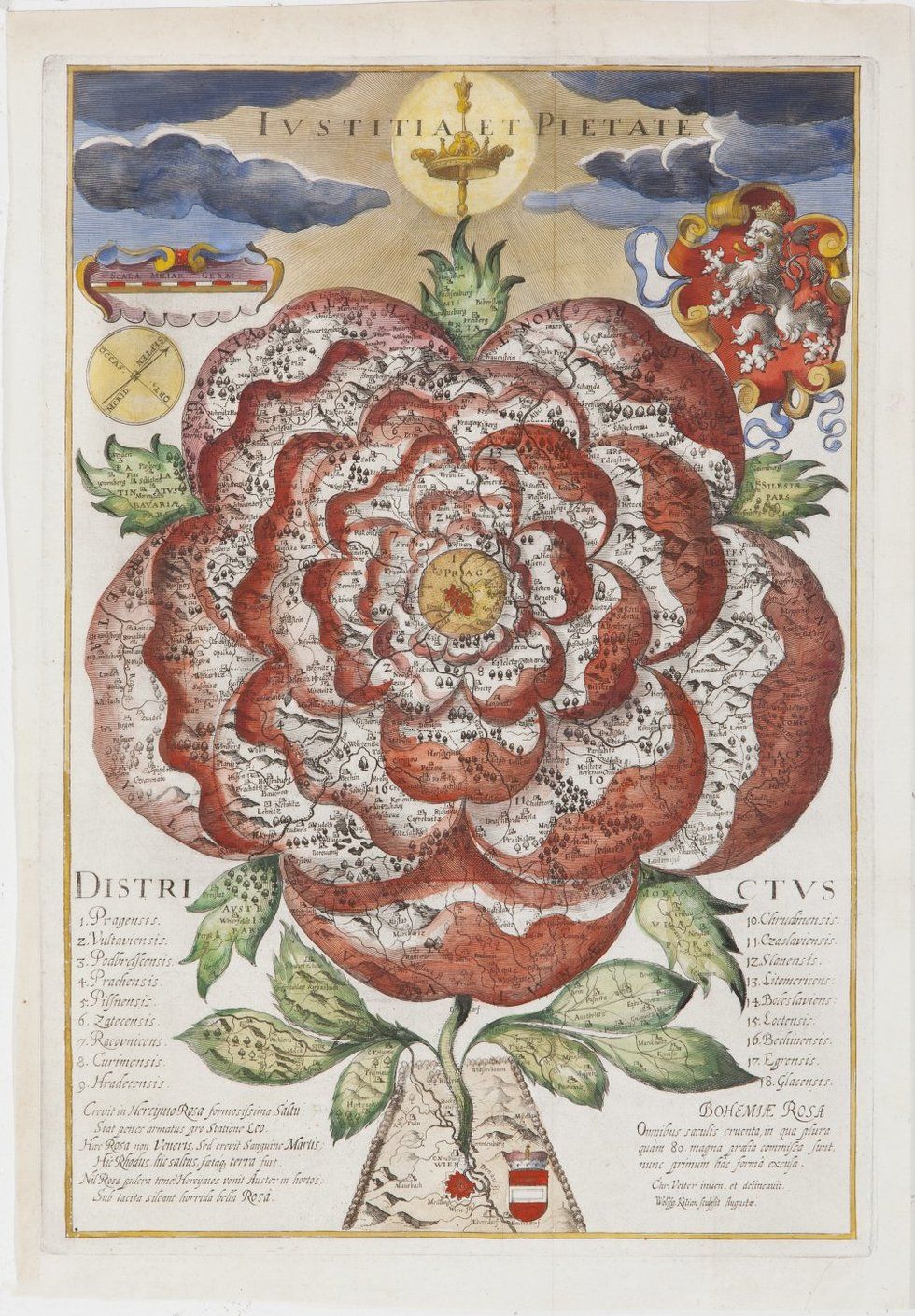 That stem firmly connects the flowering Bohemian rose to the fertile soil of Vienna, the Habsburg's political centre. For those still not clued in to this none too subtle form of cartographic propaganda, the Latin text at the bottom explains:
"There grew a graceful Rose in the Bohemian woods, and an armoured lion standing guard next to her. That Rose had grown out of the blood of Mars, not of Venus. [...] Do not fear, lovely Rose! There comes the Austrian. [...] The Rose of Bohemia, bloody for all the centuries, where more than 80 battles were waged. She has been now drawn in this form for the first time."
 It is rather common in curious cartography to anthropomorphise countries, as previously shown on this blog in entries #141 (Europe As A Queen), #171 (John Bull Bombarding France With Bum-Boats), and #278 (Ice Coffee Town), to name but a few. Morphing maps into allegories vegetal rather than animal is rarer, though not unheard of. The most famous example is the delightful map of The World as a Cloverleaf, discussed earlier in #87.
This map was sent in by Alissa Fowler.
Strange Maps #466
Got a strange map? Let me know at strangemaps@gmail.com.
(1) Bohemia together with Moravia constitutes the historical 'Czech lands'; both now form the Czech republic.
(2) Voltaire quipped that the Holy Roman Empire was neither holy, nor Roman, nor an empire. Its origins were in Charlemagne's imperial coronation on Christmas Day 800 AD, and it lasted until Napoleon abolished it in the early 1800s. Throughout that millennium, this 'first Reich' covered most of Germany and much of the neighbouring countries, but never constituted anything more than the fiction of unity.
What can 3D printing do for medicine? The "sky is the limit," says Northwell Health researcher Dr. Todd Goldstein.
Northwell Health
Sponsored by Northwell Health
Medical professionals are currently using 3D printers to create prosthetics and patient-specific organ models that doctors can use to prepare for surgery.
Eventually, scientists hope to print patient-specific organs that can be transplanted safely into the human body.
Northwell Health, New York State's largest health care provider, is pioneering 3D printing in medicine in three key ways.
The periodic table was a lot simpler at the beginning of the universe.
Great ideas in philosophy often come in dense packages. Then there is where the work of Marcus Aurelius.
(Getty Images)
Personal Growth
Meditations is a collection of the philosophical ideas of the Roman Emperor Marcus Aurelius.
Written as a series of notes to himself, the book is much more readable than the dry philosophy most people are used to.
The advice he gave to himself 2,000 years ago is increasingly applicable in our hectic, stressed-out lives.
Can dirt help us fight off stress? Groundbreaking new research shows how.
University of Colorado Boulder
Surprising Science
New research identifies a bacterium that helps block anxiety.
Scientists say this can lead to drugs for first responders and soldiers, preventing PTSD and other mental issues.
The finding builds on the hygiene hypothesis, first proposed in 1989.
Are modern societies trying too hard to be clean, at the detriment to public health? Scientists discovered that a microorganism living in dirt can actually be good for us, potentially helping the body to fight off stress. Harnessing its powers can lead to a "stress vaccine".
Researchers at the University of Colorado Boulder found that the fatty 10(Z)-hexadecenoic acid from the soil-residing bacterium Mycobacterium vaccae aids immune cells in blocking pathways that increase inflammation and the ability to combat stress.
The study's senior author and Integrative Physiology Professor Christopher Lowry described this fat as "one of the main ingredients" in the "special sauce" that causes the beneficial effects of the bacterium.
The finding goes hand in hand with the "hygiene hypothesis," initially proposed in 1989 by the British scientist David Strachan. He maintained that our generally sterile modern world prevents children from being exposed to certain microorganisms, resulting in compromised immune systems and greater incidences of asthma and allergies.
Contemporary research fine-tuned the hypothesis, finding that not interacting with so-called "old friends" or helpful microbes in the soil and the environment, rather than the ones that cause illnesses, is what's detrimental. In particular, our mental health could be at stake.
"The idea is that as humans have moved away from farms and an agricultural or hunter-gatherer existence into cities, we have lost contact with organisms that served to regulate our immune system and suppress inappropriate inflammation," explained Lowry. "That has put us at higher risk for inflammatory disease and stress-related psychiatric disorders."
University of Colorado Boulder
Christopher Lowry
This is not the first study on the subject from Lowry, who published previous work showing the connection between being exposed to healthy bacteria and mental health. He found that being raised with animals and dust in a rural environment helps children develop more stress-proof immune systems. Such kids were also likely to be less at risk for mental illnesses than people living in the city without pets.
Lowry's other work also pointed out that the soil-based bacterium Mycobacterium vaccae acts like an antidepressant when injected into rodents. It alters their behavior and has lasting anti-inflammatory effects on the brain, according to the press release from the University of Colorado Boulder. Prolonged inflammation can lead to such stress-related disorders as PTSD.
The new study from Lowry and his team identified why that worked by pinpointing the specific fatty acid responsible. They showed that when the 10(Z)-hexadecenoic acid gets into cells, it works like a lock, attaching itself to the peroxisome proliferator-activated receptor (PPAR). This allows it to block a number of key pathways responsible for inflammation. Pre-treating the cells with the acid (or lipid) made them withstand inflammation better.
Lowry thinks this understanding can lead to creating a "stress vaccine" that can be given to people in high-stress jobs, like first responders or soldiers. The vaccine can prevent the psychological effects of stress.
What's more, this friendly bacterium is not the only potentially helpful organism we can find in soil.
"This is just one strain of one species of one type of bacterium that is found in the soil but there are millions of other strains in soils," said Lowry. "We are just beginning to see the tip of the iceberg in terms of identifying the mechanisms through which they have evolved to keep us healthy. It should inspire awe in all of us."
Check out the study published in the journal Psychopharmacology.
Big think's weekly newsletter.
Get smarter faster from the comfort of your inbox.
See our newsletter privacy policy
here
Most Popular
Most Recent
Big think's weekly newsletter.
Get smarter faster from the comfort of your inbox.
See our newsletter privacy policy
here
© Copyright 2007-2019 & BIG THINK, BIG THINK EDGE,
SMARTER FASTER trademarks owned by The Big Think, Inc. All rights reserved.