The Rose of Bohemia, the Power Flower of Cartography
Not merely a nice flower, but also a political tool
23 July, 2010
With Justice and Piety, reads the Latin emblazoning this 17th-century illustration, a map that shows Bohemia as a stylised rose. If that region is in bloom, the map suggests, it is precisely by the application of those virtuous qualities.
---
They were not randomly chosen. Iustitia et Pietate was the personal motto of Leopold I (1640-1705), archduke of Austria, king of Bohemia (1), and prince, duke, lord and landgrave of much, much more.
Leopold was elected Holy Roman Emperor in 1658, a title that had been in his Habsburg family for centuries. However, realising the increasing weakness of this institution (2), Leopold instead shifted his political energy to the consolidation of his Austrian, Hungarian and Bohemian dynastic territories. Vienna was to become the focal point for this newer empire, which would eventually become the Austro-Hungary Double Monarchy.
This map illustrates that ambition to consolidate, showing Bohemia as a Habsburg power flower. It was first drawn up by the Silesian cartographer Christoph Vetter (b. 1575, d. 1650), copper-engraved by Wolfgang Kilian (in 1668), finally to be included in Bohuslav Balbin's Epitome historica rerum bohemicarum, a national history and geography of Bohemia from antiquity to the present day (i.e. 1677).
It shows, in the aforementioned botanical shape and form, the 18 administrative subdivisions of Bohemia, starting with the Districtus pragensis (i.e. Prague) at the centre. Leaves peeking out from the actual flower indicate neighbouring regions: Palatinatus bavariae pars (Bavarian palatinate), Austriae pars (Austria), Moraviae pars (Moravia) and Silesiae pars (Silesia) – the one on the top is illegible, as are other leaves nearer the root of the flower's stem.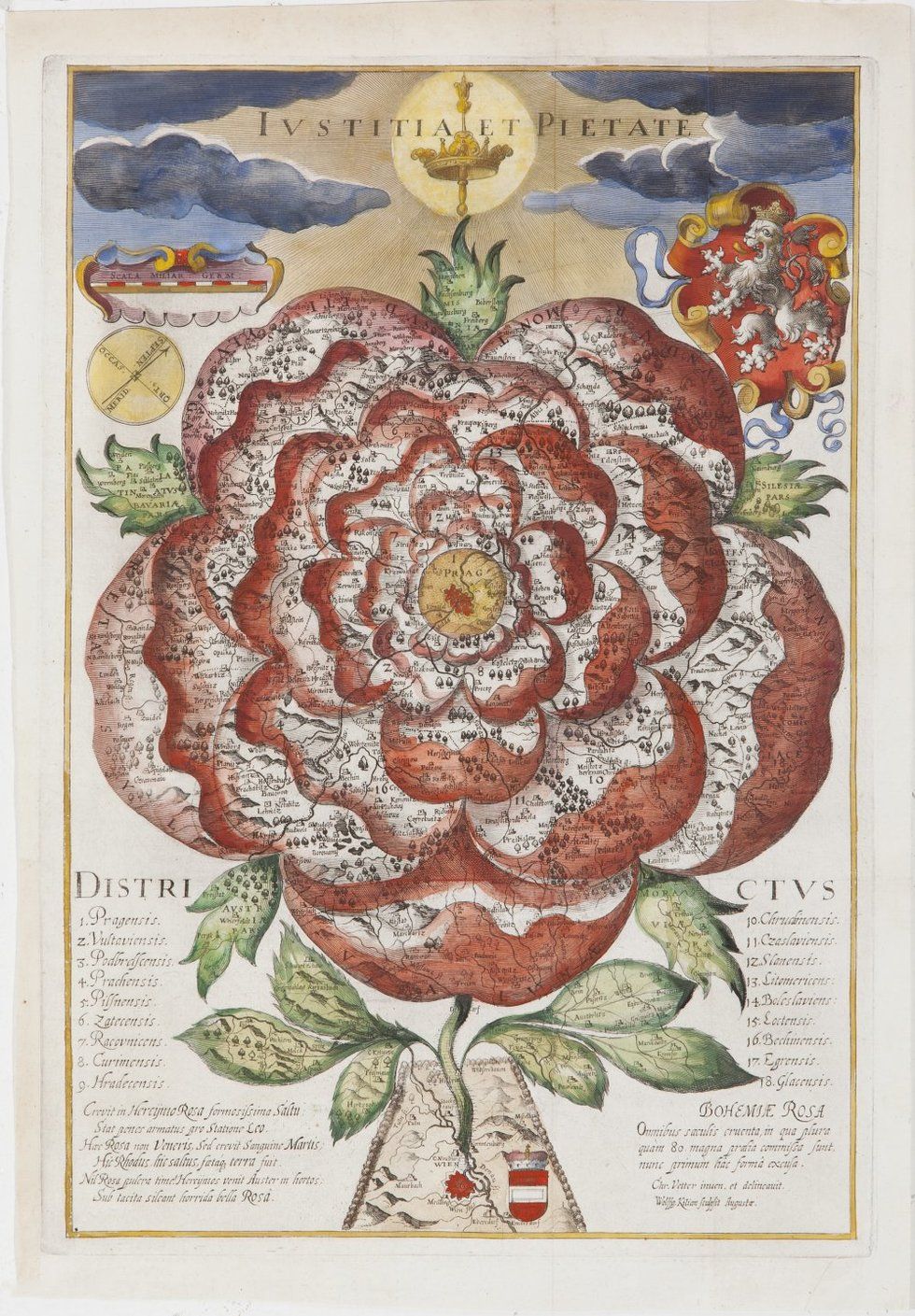 That stem firmly connects the flowering Bohemian rose to the fertile soil of Vienna, the Habsburg's political centre. For those still not clued in to this none too subtle form of cartographic propaganda, the Latin text at the bottom explains:
"There grew a graceful Rose in the Bohemian woods, and an armoured lion standing guard next to her. That Rose had grown out of the blood of Mars, not of Venus. [...] Do not fear, lovely Rose! There comes the Austrian. [...] The Rose of Bohemia, bloody for all the centuries, where more than 80 battles were waged. She has been now drawn in this form for the first time."
 It is rather common in curious cartography to anthropomorphise countries, as previously shown on this blog in entries #141 (Europe As A Queen), #171 (John Bull Bombarding France With Bum-Boats), and #278 (Ice Coffee Town), to name but a few. Morphing maps into allegories vegetal rather than animal is rarer, though not unheard of. The most famous example is the delightful map of The World as a Cloverleaf, discussed earlier in #87.
This map was sent in by Alissa Fowler.
Strange Maps #466
Got a strange map? Let me know at strangemaps@gmail.com.
(1) Bohemia together with Moravia constitutes the historical 'Czech lands'; both now form the Czech republic.
(2) Voltaire quipped that the Holy Roman Empire was neither holy, nor Roman, nor an empire. Its origins were in Charlemagne's imperial coronation on Christmas Day 800 AD, and it lasted until Napoleon abolished it in the early 1800s. Throughout that millennium, this 'first Reich' covered most of Germany and much of the neighbouring countries, but never constituted anything more than the fiction of unity.
Step inside the unlikely friendship of a former ACLU president and an ultra-conservative Supreme Court Justice.

Sponsored by Charles Koch Foundation
Former president of the ACLU Nadine Strossen and Supreme Court Justice Antonin Scalia were unlikely friends. They debated each other at events all over the world, and because of that developed a deep and rewarding friendship – despite their immense differences.
Scalia, a famous conservative, was invited to circles that were not his "home territory", such as the ACLU, to debate his views. Here, Strossen expresses her gratitude and respect for his commitment to the exchange of ideas.
"It's really sad that people seem to think that if you disagree with somebody on some issues you can't be mutually respectful, you can't enjoy each other's company, you can't learn from each other and grow in yourself," says Strossen.
The opinions expressed in this video do not necessarily reflect the views of the Charles Koch Foundation, which encourages the expression of diverse viewpoints within a culture of civil discourse and mutual respect.
Scientists make an important discovery for the future of computing.
Pixabay
Surprising Science
Researchers find a new state of matter called "topological superconductivity".
The state can lead to important advancements in quantum computing.
Utilizing special particles that emerge during this state can lead to error-free data storage and blazing calculation speed.
Erik Verlinde has been compared to Einstein for completely rethinking the nature of gravity.
Photo by Willeke Duijvekam
Surprising Science
The Dutch physicist Erik Verlinde's hypothesis describes gravity as an "emergent" force not fundamental.
The scientist thinks his ideas describe the universe better than existing models, without resorting to "dark matter".
While some question his previous papers, Verlinde is reworking his ideas as a full-fledged theory.
As tempting as it may be to run away from emotionally-difficult situations, it's important we confront them head-on.
Videos
Impossible-sounding things are possible in hospitals — however, there are times when we hit dead ends. In these moments, it's important to not run away, but to confront what's happening head-on.
For a lot of us, one of the ways to give meaning to terrible moments is to see what you can learn from them.
Sometimes certain information can "flood" us in ways that aren't helpful, and it's important to figure out what types of data you are able to take in — process — at certain times.