Secret Spaces of San Francisco
Sprinkled throughout the city - but often poorly indicated - are dozens of Privately Owned Public Open Spaces
23 July, 2010
Scattered across the centre of San Francisco are almost seventy semi-secret spaces, privately owned but open to the public. Subject to the fine print of a little-known pact between City and Commerce, these so-called POPOS (Privately Owned Public Open Spaces) allow alluring vistas of San Francisco and access to its intimate interiors. However, they are often poorly indicated – perhaps a deliberate tactic by the private companies who own the spaces to prevent the pesky public from using them. Accessing POPOS sometimes even requires walking past security guards, or through unmarked doors. No wonder many are underfrequented.
---
A concerted effort of concerned citizens – and this map produced by them – is aimed at raising awareness of the existence of these fascinating spaces, 68 in all, both north and south of Market Street, many in existence for decades. This map is part of a guide produced by SPUR (San Francisco Planning & Urban Research Association); the 45 round indicators are POPOS set up between 1959 and 1985, the squares mark the 23 inaugurated after the 1985 Downtown Plan, which stipulated the zoning regulations requiring commercial urban development to be counterbalanced by POPOS.
POPOS come in many guises. They can be either indoor or outdoor – and indeed even on rooftops. They might be the size of a small park, or merely a 'snippet'. There are single-area POPOS, and ones composed of several different spaces. Some are open at all times, others accessible only during office hours. Quite a few are graced with public works or art. POPOS operated under the Downtown Plan need to provide access to restrooms and other amenities.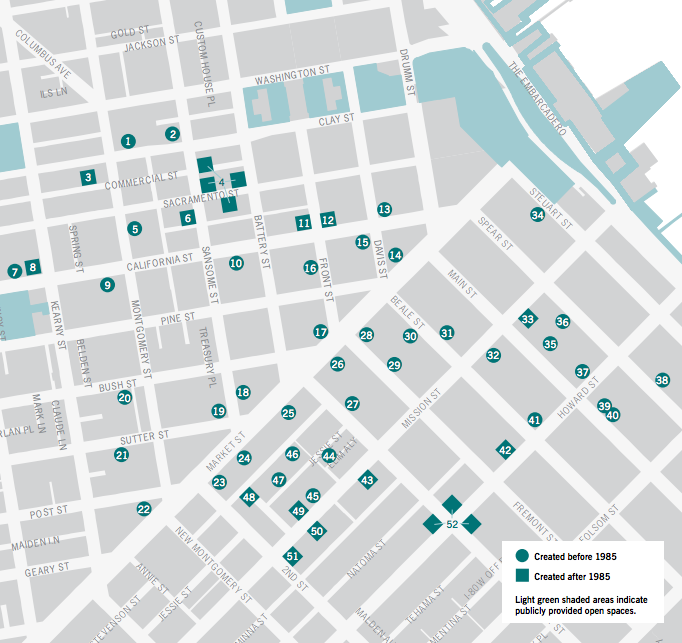 SPUR lists all 68 POPOS in downtown San Francisco and rates them from poor over good to fair and excellent. For a complete overview, download SPUR's guide (see below). Or take one of the architectural tours leading you through the network of POPOS in San Francisco's downtown. Below is a brief legend to the map above.
Redwood Park: An urban park at the foot of San Francisco's most striking skyscraper with redwoods, sculptures and a fountain.
505 Sansome Street: A greenhouse in the lobby of an office building, connecting to Redwood Park.
Empire Park: An urban garden on the site of a demolished building.
Embarcadero Center West: Three separate open spaces.
456 Montgomery Street: An urban garden cascading into the middle recess of a building.
343 Sansome Street: Two open spaces, one a sun terrace on the 15th floor (with an obelisk), the other a lunchtime mall.
650 California Street:Two "largely barren" plazas.
600 California Street: A 'snippet' without amenities or seating, but with lots of art pieces.
555 California Street: A "grand, almost forbidding" plaza, with a sculpture, a garden and teak benches.
345 California Street: A "shady snippet" with granite benches and some planters.
200 California Street: A public sitting area in a pedestrian walkway, featuring a bronze sculpture called The Hawaiian.
150 California Street: A sun terrace with tables, chairs, plants an public art – but you have to get past a security guard.
50 California Street: A snippet enlivened by a small café.
One California Street: Snippets around the building feature trees and benches, and is partly occupied by the indoor café's tables and chairs.
101 California: An urban garden within a large plaza, dominated by three stepped pyramids.
100 Pine Street: An urban garden squeezed in between a few skyscrapers, a "gem" but without direct sunlight.
444 Market Street: A plaza leading to the entrance of the Market Street building.
One Bush Street: A "beautifully designed and maintained" urban garden surrounding "the first postwar high-rise" in San Francisco.
Citygroup Center: A greenhouse in a former bank building.
Trinity Alley: A pedestrian walkway with a narrow plaza.
Crocker Galleria: Two rooftop sun terraces, one on an historic bank building, the other "accessed from an obscure staircase in the northwest corner of the Galleria".
One Post Street: Snippets with stand-up tables and square concrete blocks at sitting height next to food services.
595 Market Street: Two triangular entryway plazas. One "could become a pleasant public sitting area".
555/575 Market Street: A "beautifully landscaped" urban garden between two highrises.
525 Market Street: An urban garden with a double granite fountain.
425 Market Street: An urban garden surrounded by highrises that is "shady but nonetheless a jewel".
14 Fremont Street: A wide sitting area in a pedestrian walkway, furnished with tables and chairs.
333 Market Street: A small plaza with planters.
45 Fremont Street: A narrow plaza with a hedge of Japanese maples and a row of metal benches.
50 Beale Street: A "rather large" urban park full of trees and bushes, and including a railroad car housing a Bechtel Corp. museum.
77 Beale Street: An entry plaza featuring a water wall, granite planters, Gingko trees and sitting ledges.
201 Mission Street: An urban garden in the setbacks on Beale Street.
123 Mission Street: An urban garden in three successive parts, with plenty of vegetation.
One Market Street: A plaza oriented to the sunny side of the building.
135 Main Street: An enclosed front courtyard turned into an indoor park with a metal wall water feature.
160 Spear Street: An entrance walkway widening into an urban garden with water feature and aluminium sculpture.
180 Howard Street: A public sitting area in a walkway that is a continuation of (36).
201 Spear Street: A walkway widening into an urban garden, centered on the sculpture of a photographing man.
211 Main Street: A front entry plaza with sunny exposure and the potential to be a "very pleasant space".
221 Main Street: "Four benches in a sea of paving".
301 Howard Street: A small urban garden featuring a food truck in an Art Deco building, thus "destroy[ing] the charm of the little pavilion".
199 Fremont Street: An urban garden that is the result of the collaboration of a sculptor, a poet and an architect.
100 First Street: A popular sun terrace with water spouting from a black granite wall.
25 Jessie Street: A "small but lovely" urban garden with a water wall but without seating.
Golden Gate University: A bridge turned into a 'snippet'.
49 Stevenson Street: a pedestrian walkway, compensating for the fact that most of the area has been fenced off for outdoor table service.
71 Stevenson Street: granite pedestrian walkways underneath the building and connecting Stevenson and Jessie Streets. The open space under the building extends into an urban garden.
55 Second Street: an indoor park reached through the marble lobby of this historic building, containing tables and chairs on wood flooring, and big leather chairs near windows on carpeted areas.
560 Mission Street: urban garden accessible from Mission and Jessie Streets. Most unusual is a high bamboo grove obscuring the windowless façade of the building next door. 
555 Mission Street: a plaza extending between Mission and Minna Streets, and paved mostly with black granite. A large, playful sculpture dominates this area. On the south side it steps up to a sitting area with wooden benches, blooming ground cover and three large aluminum heads. 
101 Second Street: expansive five-story greenhouse with two glass fronts that open to Second and Mission Streets. 
Foundry Square: a large plaza bisected by Howard and First Streets. Each of the four plazas has tulip trees in large planters with seating, and a major piece of sculpture.
235 Second Street: a small plaza facing Mission Street containing abundant tables and chairs on stone pavement, and an art piece. Inside the building lobby is the indoor park, with an art piece, tables and chairs on stone floor, and sectional sofas on carpeted area.
Marriott Courtyard: a snippet consisting of a small sitting area outside a café, four feet below the sidewalk and extending along Folsom Street.
Marathon Plaza: a large, triangular urban park facing Second Street, framed by the building wings. A large water feature connects to a fountain inside the building recess. The park is lushly planted with flowers and trees. 
611 Folsom Street: a barren plaza at the outer edge of the office district. Two rows of plane trees along Folsom Street are the only greenery.
An exhaustive treatment of POPOS history and regulations here at SPUR, which also produced an 8-page guide to San Francisco's POPOS (including this map) called Secrets of San Francisco. The guide elaborates on the accessibility and overall quality of all POPOS (or rather it would, if it didn't stop abruptly at page 8, and #45). Even more information on POPOS here at sf.streetsblog.org.
Strange Maps #441
Got a strange map? Let me know at strangemaps@gmail.com.
Don't underestimate the power of play when it comes to problem-solving.
Videos
As we get older, the work we consistently do builds "rivers of thinking." These give us a rich knowledge of a certain kind of area.
The problem with this, however, is that as those patterns get deeper, we get locked into them. When this happens it becomes a challenge to think differently — to break from the past and generate new ideas.
How do we get out of this rut? One way is to bring play and game mechanics into workshops. When we approach problem-solving from a perspective of fun, we lose our fear of failure, allowing us to think boldly and overcome built patterns.
Controversial map names CEOs of 100 companies producing 71 percent of the world's greenhouse gas emissions.
Image: Jordan Engel, reused via Decolonial Media License 0.1
Strange Maps
Just 100 companies produce 71 percent of the world's greenhouse gases.
This map lists their names and locations, and their CEOs.
The climate crisis may be too complex for these 100 people to solve, but naming and shaming them is a good start.
The surprising results come from a new GLAAD survey.
Culture & Religion
The survey found that 18- to 34-year-old non-LGBTQ Americans reported feeling less comfortable around LGBTQ people in a variety of hypothetical situations.
The attitudes of older non-LGBTQ Americans have remained basically constant over the past few years.
Overall, about 80 percent of Americans support equal rights for LGBTQ people.
Big think's weekly newsletter.
Get smarter faster from the comfort of your inbox.
See our newsletter privacy policy
here
Most Popular
Most Recent
Big think's weekly newsletter.
Get smarter faster from the comfort of your inbox.
See our newsletter privacy policy
here
© Copyright 2007-2019 & BIG THINK, BIG THINK EDGE,
SMARTER FASTER trademarks owned by The Big Think, Inc. All rights reserved.