Map Proves that "Portugal is Not a Small Country"
Portugal's inferiority complex leads to a very curious comparison
23 July, 2010
Portugal, on the southwestern periphery of the European continent, is a medium-sized EU member state. Its population clocks in at 11th place out of 27 (10.6 million, in between Belgium's 11 million and the Czech Republic with 10.4 million). Size-wise, it's a bit further down the list: 13th (at 92,391 km2, between Hungary at 93,030 km2 and Austria at 83,871 km2).
---
Yet Portugal is loath to think of itself as a small country. Or at least it was, before its overseas empire collapsed. Built up over centuries of exploration, trade and colonisation, the Portuguese Empire once spanned four continents. The jewel in its crown was Brazil, but Portugal lost control over its South American colony in 1822.
By mid-20th century, Portugal still held on to Cape Verde, Guinea Bissau, Sao Tome & Principe, Angola, Mozambique, Macao, East Timor and its Indian possessions (Goa, Daman and Diu – three smallish footholds somewhat grandiosely labeled "Estado da India").
As the legend to this map indicates, all these territories together added up to an area larger than (Continental) Spain, France, the UK, Italy and Germany put together, explaining why, as the title claims, Portugal não é um país pequeno. If that sounds a bit defensive and self-justifying, that's no coincidence.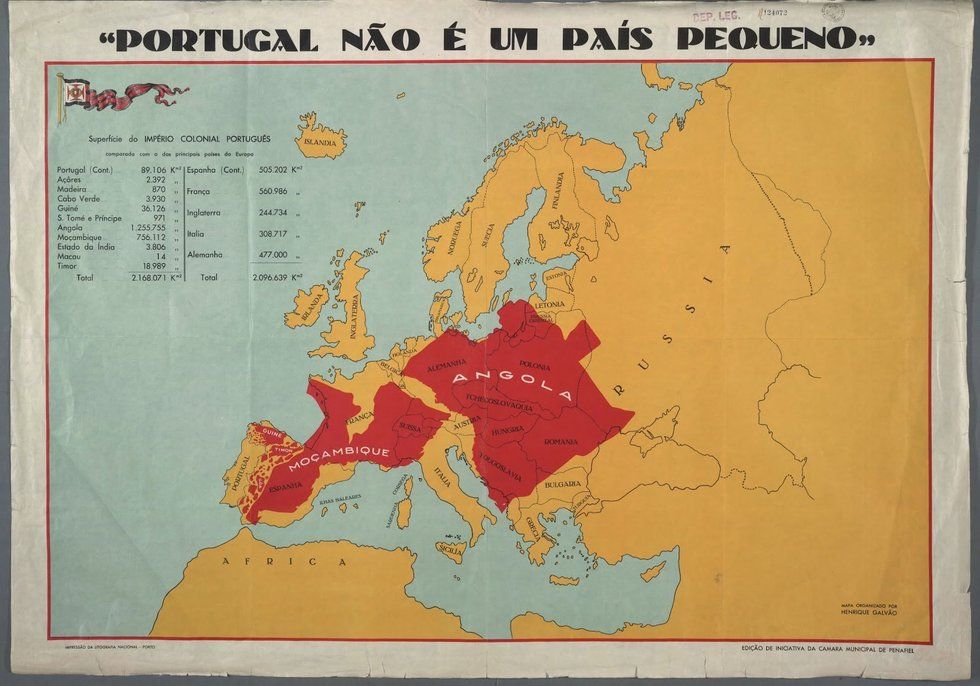 In the early 1970s, Portugal languished under a dictatorship determined to hold on to the vestiges of its former colonial glory. The increasingly costly and impopular wars against freedom fighters in Portuguese Africa eventually led to the overthrow of the regime, in a virtually bloodless military coup in April 1974, the so-called Revolução dos Cravos. This Carnation Revolution would lead to a swift liquidation of Portugal's overseas assets and ultimately to democracy within Portugal.
Portugal's African possessions were all granted independence. Indonesia took advantage of the turmoil "back home" to take over East Timor (India had forcibly annexed Goa etcetera in 1961). Only Macao remained in Portuguese hands, until 1999, when mirrorring Hong Kong's reversion in 1997, it was reintegrated into China. The Azores and Madeira, ethnically and geographically closest to the mother country, are still part of Portugal.
This map was sent in by Nuno D. Alves, who came across it in history class, when studying the pre-revolutionary dictatorship. "It is a propaganda map, suggesting that our country was important. Portugal's orientation towards its colonies, away from Europe, "was used to justify the isolationism of the regime, and its neutrality in World War II (…) [The map] shows the Portuguese colonies that remained by that time superimposed on a map of Europe, going on to compare surface size with the main European countries. All in all very silly."
Update 19 February 2019:
Different small country/large empire combo, same attempt to use cartography to defuse inferiority complex. This is a map of the Dutch East Indies, many times larger than the Netherlands, which was the country's colonial overlord until the country declared independence as Indonesia in 1945. Overlaid on the map of Europe, it stretches from far in the Atlantic to deep into Russia.
Original context of the Portuguese colonial map here, at the Portuguese National Library. Dutch colonial map found here at Reddit/MapPorn.
Strange Maps #390
Got a strange map? Let me know at strangemaps@gmail.com.
What can 3D printing do for medicine? The "sky is the limit," says Northwell Health researcher Dr. Todd Goldstein.
Northwell Health
Sponsored by Northwell Health
Medical professionals are currently using 3D printers to create prosthetics and patient-specific organ models that doctors can use to prepare for surgery.
Eventually, scientists hope to print patient-specific organs that can be transplanted safely into the human body.
Northwell Health, New York State's largest health care provider, is pioneering 3D printing in medicine in three key ways.
Big Think Edge
In some fundamental ways, humans haven't changed all that much since the days when we were sitting around communal fires, telling tales.
Although we don't always recognize them as such, stories, symbols, and rituals still have tremendous, primal power to move us and shape our lives.
This is no less true in the workplace than it is in our personal lives.
One of Stephen Hawking's predictions seems to have been borne out in a man-made "black hole".
Image source: NASA/JPL-Caltech
Surprising Science
Stephen Hawking predicted virtual particles splitting in two from the gravitational pull of black holes.
Black holes, he also said, would eventually evaporate due to the absorption of negatively charged virtual particles.
A scientist has built a black hole analogue based on sound instead of light.
Big Think Edge
The word "creative" is sometimes waved around like a badge of honor. We speak of creativity in hushed tones, as the special province of the "talented". In reality, the creative process is messy, open, and vulnerable.
For this reason, creativity is often at its best in a group setting like brainstorming. But in order to work, the group creative process needs to be led by someone who understands it.
This sense of deep trust—that no idea is too silly, that every creative impulse is worth voicing and considering—is essential to producing great work.
Big think's weekly newsletter.
Get smarter faster from the comfort of your inbox.
See our newsletter privacy policy
here
Most Popular
Most Recent
Big think's weekly newsletter.
Get smarter faster from the comfort of your inbox.
See our newsletter privacy policy
here
© Copyright 2007-2019 & BIG THINK, BIG THINK EDGE,
SMARTER FASTER trademarks owned by The Big Think, Inc. All rights reserved.