38 - The World According to Ronald Reagan
Frank Jacobs
From a young age, Frank was fascinated by maps and atlases, and the stories they contained. Finding his birthplace on the map in the endpapers of Tolkien's Lord of the Rings only increased his interest in the mystery and message of maps.
While pursuing a career in journalism, Frank started a blog called Strange Maps, as a repository for the weird and wonderful cartography he found hidden in books, posing as everyday objects and (of course) floating around the Internet.
"Each map tells a story, but the stories told by your standard atlas for school or reference are limited and literal: they show only the most practical side of the world, its geography and its political divisions. Strange Maps aims to collect and comment on maps that do everything but that - maps that show the world from a different angle".
A remit that wide allows for a steady, varied diet of maps: Frank has been writing about strange maps since 2006, published a book on the subject in 2009 and joined Big Think in 2010. Readers send in new material daily, and he keeps bumping in to cartography that is delightfully obscure, amazingly beautiful, shockingly partisan, and more.
23 July, 2010
This parody map shows the world as Ronald Reagan (US president 1980-1988) might have imagined it. Even as parody, it indicates an interesting duality: on the one hand, it presents a view of the world as it no longer is, the Cold War having ended; on the other hand, it illustrates a disparaging outlook on the rest of the world that some would argue persists in to this day in American culture and foreign policy.
---
The map shows an 'us' vs. 'them' bipolarity, with exaggerated sizes for (non-American) 'good guys' such as:
Thatcherland (the UK – "a subsidiary of Disneyland", in this map also including Ireland)
Acidrainia (a smallish rendering of Canada – "a wholly-owned US subsidiary")
Grenada (the Carribean island Reagan had invaded to overthrow a socialist regime – "our airport")
El Salvador (the Central American country heavily supported militarily against leftist rebels, adjacent to "our canal" which in actual fact is completely within Panamanian territory)
Falklands (the British archipelago off South America which the UK reconquered after an Argentinian invasion in 1983)
Our China (i.e. Taiwan, but oversized)
Japan Corporation (in the shape of an automobile, at a moment when the Japanese car industry was overtaking the homegrown manufacturers in importance)
Our Oil (Saudi Arabia and, one would suspect at that time also Saddam Hussein's Iraq)
Israel (made out to occupy a large area of the Middle East, including Beirut – which it did in the early Eighties) 
The 'bad guys' are:
USSR ("godless communists, liars and spies")
Poland occupies a separate place in the Soviet bloc, as its resistance against the communist system was a precursor to the wave of liberation that swept across Eastern Europe in 1989.
Their China (Communist China, by no means friendly with Soviet Russia – but equally 'evil and godless')
Soviet Colony (Cuba)
Muslim fanatics (i.e. Iran)
Socialists and pacifists (probably referring to the huge popular protests in Europe against the deployment of Pershing II cruise missiles by NATO)
Other areas are so insignificant (either in a 'good' or 'bad' way that they're portrayed as tiny:
Mariachiland (Mexico)
Bananaland (the rest of Latin America)
Egypt/Negroes (Africa)
Injuns (India, but spelled so as to refer to 'red Indians' – a reference to Reagan's career as a Hollywood actor, no doubt)
Kangaroos (Australia)
Palestinian Homeland (proposed) (located in a faraway placee)
Interestingly, the US itself is also divided into good and bad:
California (oversized, as it was Reagan's home state)
Republicans and other real Americans (running from Las Vegas to the White House)
Ecotopia (the northwest – "environmental freaks and quiche eaters")
Democrats and welfare bums (the northeast – including "Big Government")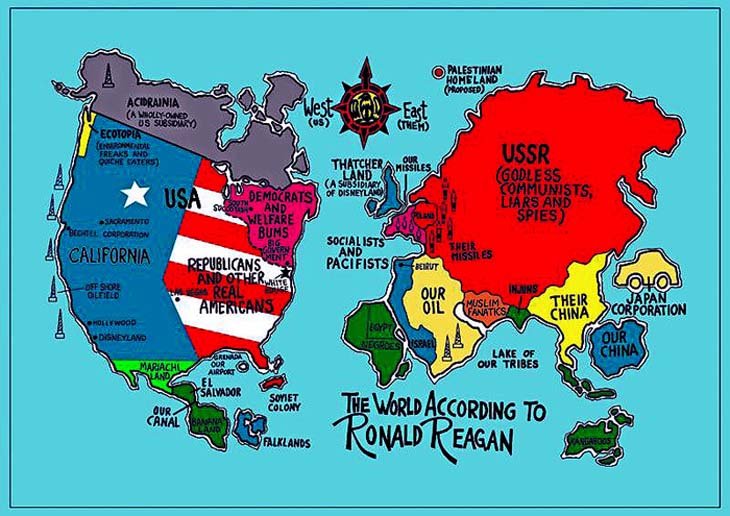 Image taken from this Wikipedia page. 
No, the Syrian civil war is not over. But it might be soon. Time for a recap
Strange Maps
The War in Syria has dropped off the radar, but it's not over (yet)
This 1-minute video shows how the fronts have moved – and stabilised – over the past 22 months
Watching this video may leave you both better informed, and slightly queasy: does war need a generic rock soundtrack?
Sarco assisted suicide pods come in three different styles, and allow you to die quickly and painlessly. They're even quite beautiful to look at.
The Sarco assisted suicide pod
Technology & Innovation
Death: it happens to everyone (except, apparently, Keanu Reeves). But while the impoverished and lower-class people of the world die in the same ol' ways—cancer, heart disease, and so forth—the upper classes can choose hip and cool new ways to die. Now, there's an assisted-suicide pod so chic and so stylin' that peeps (young people still say peeps, right?) are calling it the "Tesla" of death... it's called... the Sarco! 
Entrepreneur and author Andrew Horn shares his rules for becoming an assured conversationalist.
content.jwplatform.com
Videos
To avoid basing action on external validation, you need to find your "authentic voice" and use it.
Finding your voice requires asking the right questions of yourself.
There are 3-5 questions that you would generally want to ask people you are talking to.
Big think's weekly newsletter.
Get smarter faster from the comfort of your inbox.
See our newsletter privacy policy
here
Most Popular
Most Recent
Big think's weekly newsletter.
Get smarter faster from the comfort of your inbox.
See our newsletter privacy policy
here
© Copyright 2007-2018 & BIG THINK, BIG THINK EDGE,
SMARTER FASTER trademarks owned by The Big Think, Inc. All rights reserved.