Palestine, the Island Paradise
a stark illustration of the West Bank's ongoing fragmentation
23 July, 2010
The Bible contains at least two stories equating the aquatic with the amoral. As Red Sea pedestrians, Moses and the Israelites didn't even get their sandals moist, while the Lord did some expert smiting on the pursuing Egyptians, by way of the gurgling waters closing in on them. And a few thousand years earlier, Noah kept his binary boatload afloat while all the rest of humanity (and the now extinct species of the animal kingdom) met their watery grave.
---
Even though this map of L'archipel de Palestine orientale ('The Archipelago of Eastern Palestine') is set in the same area and uses a similar theme, the cartographer behind it refutes any allegation that it is meant to reflect the same Biblical dry = good, wet = bad analogy. "The map is not about 'drowning' or 'flooding' the Israeli population, nor dividing territories along ethnic lines, even less a suggestion of how to resolve the conflict," gasps Julien Bousac, the Frenchman who created this map.
A small excerpt of the map (focusing on the Greater Jerusalem area) was published a bit earlier on this blog, but the map in its entirety (sent in by Mr Bousac but also earlier by Baptiste Hautdidier) merits a separate entry, not only because "without a legend, it […] gives ground to various misinterpretations, due to the high sensitivity of the subject," as Mr Boussac relates – but also because it just looks so nice. And strange, of course.
"Maybe posting the full map would help to take it for what it is, i.e. an illustration of the West Bank's ongoing fragmentation based on the (originally temporary) A/B/C zoning which came out of the Oslo process, still valid until now. To make things clear, areas 'under water' strictly reflect C zones, plus the East Jerusalem area, i.e. areas that have officially remained under full Israeli control and occupation following the Agreements. These include all Israeli settlements and outposts as well as Palestinian populated areas."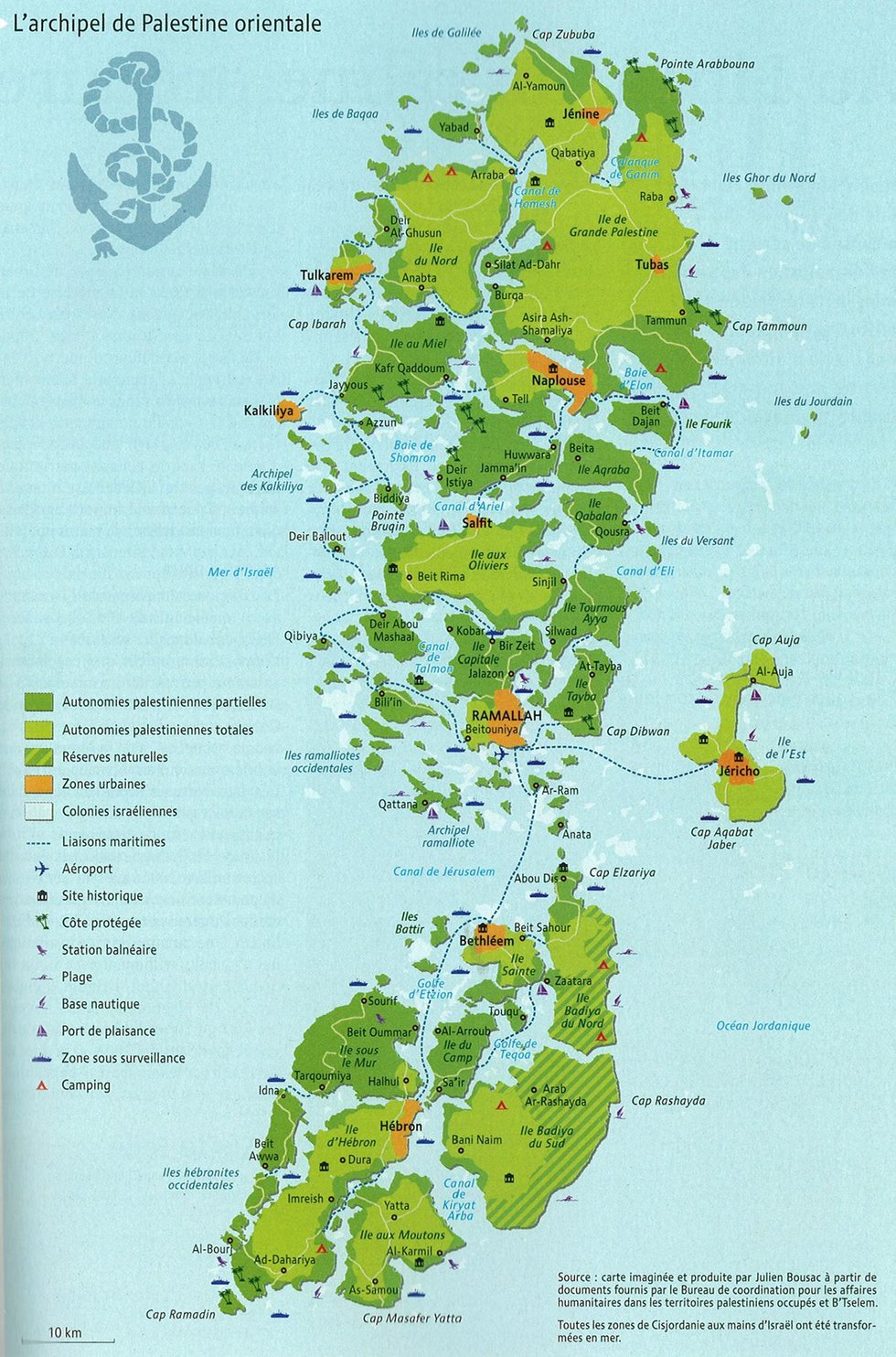 Mr Boussac took advantage of the resulting archipelago effect "to use typical tourist maps codes (mainly icons) to sharpen the contrast between the fantasies raised by seemingly paradise-like islands and the Palestinian Territories grim reality." The map does have a strong vacationy vibe to it – but whether that is because of the archipelago-shaped subject matter, or due to the cheerful colour scheme is a matter for debate.
Those colours, incidentally, denote urban areas (orange), nature reserves (shaded), zones of partial autonomy (dark green) and of total autonomy (light green). Totally fanciful are of course the dotted lines symbolising shipping links, the palm trees signifying protected beachland, and the purple symbols representing various aspects of seaside pleasure. The blue icon, labelled Zone sous surveillance ('Zone under surveillance') has some bearing on reality, as the locations of the warships match those of permanent Israeli checkpoints.
Some of the paradisiacally named islands include Ile au Miel (Honey Island), Ile aux Oliviers (Isle of the Olive Trees), Ile Sainte (Holy Island) and Ile aux Moutons (Sheep Island), although the naming of Ile sous le Mur (Island beneath the Wall) constitutes a relapse into the grimness of the area's reality.
Strange Maps #370
Got a strange map? Let me know at strangemaps@gmail.com.
Understanding thinking talents in yourself and others can build strong teams and help avoid burnout.
Big Think Edge
Learn to collaborate within a team and identify "thinking talent" surpluses – and shortages.

Angie McArthur teaches intelligent collaboration for Big Think Edge.

Subscribe to Big Think Edge before we launch on March 30 to get 20% off monthly and annual memberships.
Rediscovering the principles of self-actualisation might be just the tonic that the modern world is crying out for.
Personal Growth
Abraham Maslow was the 20th-century American psychologist best-known for explaining motivation through his hierarchy of needs, which he represented in a pyramid. At the base, our physiological needs include food, water, warmth and rest.
Using a new process, a mini-brain develops retinal cells.
Surprising Science
Mini-brains, or "neural organoids," are at the cutting edge of medical research.
This is the first one that's started developing eyes.
Stem cells are key to the growing of organoids of various body parts.
Does believing in true love make people act like jerks?
Thought Catalog via Unsplash
Sex & Relationships
Ghosting, or cutting off all contact suddenly with a romantic partner, is not nice.
Growth-oriented people (who think relationships are made, not born) do not appreciate it.
Destiny-oriented people (who believe in soulmates) are more likely to be okay with ghosting.
Big think's weekly newsletter.
Get smarter faster from the comfort of your inbox.
See our newsletter privacy policy
here
Most Popular
Most Recent
Big think's weekly newsletter.
Get smarter faster from the comfort of your inbox.
See our newsletter privacy policy
here
© Copyright 2007-2018 & BIG THINK, BIG THINK EDGE,
SMARTER FASTER trademarks owned by The Big Think, Inc. All rights reserved.