Winnemac, a Literary Fiction "More Typical Than Any Real State of the Union"
To spare the feelings of the good people of his hometown, Sinclair Lewis invented a fictional state as the setting for his novels
Frank Jacobs
From a young age, Frank was fascinated by maps and atlases, and the stories they contained. Finding his birthplace on the map in the endpapers of Tolkien's Lord of the Rings only increased his interest in the mystery and message of maps.
While pursuing a career in journalism, Frank started a blog called Strange Maps, as a repository for the weird and wonderful cartography he found hidden in books, posing as everyday objects and (of course) floating around the Internet.
"Each map tells a story, but the stories told by your standard atlas for school or reference are limited and literal: they show only the most practical side of the world, its geography and its political divisions. Strange Maps aims to collect and comment on maps that do everything but that - maps that show the world from a different angle".
A remit that wide allows for a steady, varied diet of maps: Frank has been writing about strange maps since 2006, published a book on the subject in 2009 and joined Big Think in 2010. Readers send in new material daily, and he keeps bumping in to cartography that is delightfully obscure, amazingly beautiful, shockingly partisan, and more.
23 July, 2010
Winnemac is a real-world North American name of a few persons and places, but also refers to a fictional US state, the brainchild of one of America's most successful writers of the 20th century, who drew up detailed sketches of the towns and cities of Winnemac — maps which are tantalisingly difficult to find online.
---
'Winnemac' means 'catfish' in the language of the Potawatomi Indians, who live in the upper reaches of the Mississippi. The name also refers to three of their chiefs, one of whom signed the Treaty of Greenville (1795) with general 'Mad' Anthony Wayne. Wayne defeated the Indians in the Battle of Fallen Timbers, which ended the Northwest Indian War and handed the Americans possession of large parts of Ohio and of the area later home to Chicago. The Windy City is home to a Winnemac Avenue and a Winnemac Park; there is also an Indiana town called Winamac and a school district in Minnesota spelled Win-E-Mac.
Sinclair Lewis (1885-1951) was the first American to win the Nobel prize for Literature, in 1930. His breakthrough novel Main Street, depicting the small-mindedness of small towns, was set in Gopher Prairie, a fictionalised version of his own hometown of Sauk Centre, Minnesota. The citizens of Sauk Centre were so appalled at their portrayal in the book that Lewis devised a wholly fictional US state in which to set his subsequent, interrelated novels. He describes the state in his novel Arrowsmith (1925):
"The state of Winnemac is bounded by Michigan, Ohio, Illinois, and Indiana, and like them it is half Eastern, half Midwestern. There is a feeling of New England in its brick and sycamore villages, its stable industries, and a tradition which goes back to the Revolutionary War. Zenith, the largest city in the state, was founded in 1792. But Winnemac is Midwestern in its fields of corn and wheat, its red barns and silos, and, despite the immense antiquity of Zenith, many counties were not settled till 1860."
"The University of Winnemac is at Mohalis, fifteen miles from Zenith. There are twelve thousand students; beside this prodigy Oxford is a tiny theological school and Harvard a select college for young gentlemen. The University has a baseball field under glass; its buildings are measured by the mile; it hires hundreds of young Doctors of Philosophy to give rapid instruction in Sanskrit, navigation, accountancy, spectacle-fitting, sanitary engineering, Provencal poetry, tariff schedules, rutabaga-growing, motor-car designing, the history of Voronezh, the style of Matthew Arnold, the diagnosis of myohypertrophia kymoparalytica, and department- store advertising. Its president is the best money-raiser and the best after-dinner speaker in the United States; and Winnemac was the first school in the world to conduct its extension courses by radio."
Other Sinclair Lewis novels set in Winnemac are Babbitt, Gideon Planish, Arrowsmith, Elmer Gantry and Dodsworth. The state has been described as "more typical than any real state in the Union"; it has also been suggested that the name Winnemac might be an amalgamation of Wisconsin, Minnesota and Michigan. References throughout Lewis' work seem to indicate that the state's capital is called Galop de Vache, the largest city is Zenith, and others are Monarch, Sparta, Pioneer, Catawba and Eureka.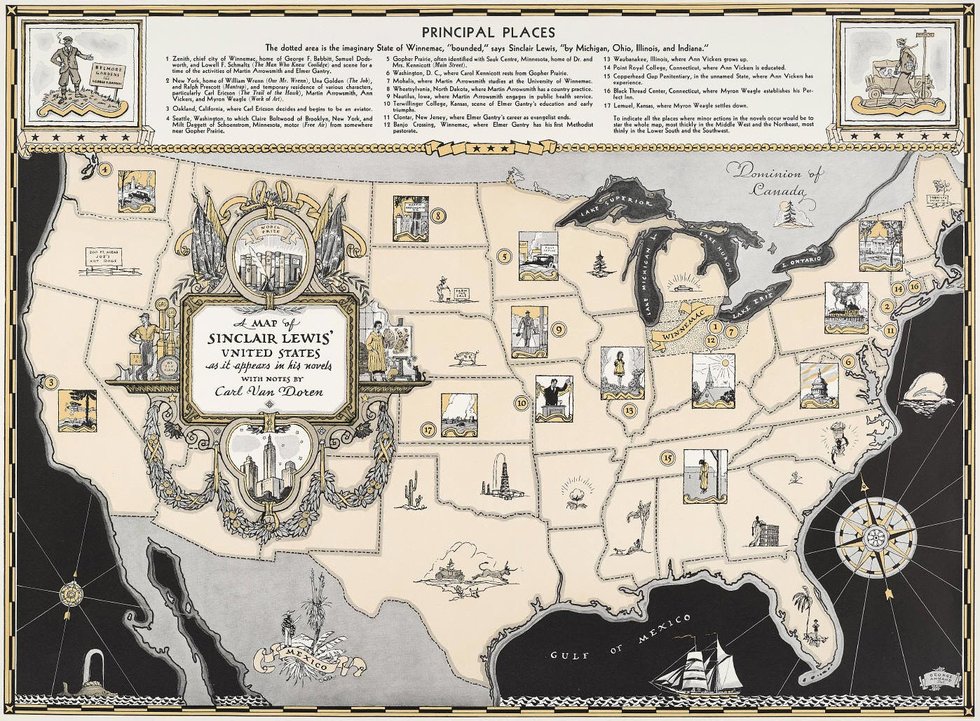 This "Map of Sinclair Lewis' United States" was sent in by Travis. It was compiled in 1934 from references in all of the Sinclair Lewis books published up until then, and shows Winnemac as covering the southern quarter of Michigan's Lower Peninsula, the northern half of Indiana and the northwestern quarter of Ohio. But, as Travis remarks, Lewis himself "personally made a ton of maps that detailed Winnemac down to the level of individual neighborhoods." As early as 1921, wrote Lewis's then wife in a letter to a friend, he had made "the most astonishingly complete set of maps of Zenith, so that the city, the suburbs, the state" were clear in his mind. Those maps remained unpublished during Lewis's lifetime — they would have made for fascinating endpaper illustrations of the relevant novels.
Some of Lewis's own maps of Winnemac were discovered in his Vermont studio in 1961, showing discrepancies with this 1934 map: Winnemac "is much further north than had previously been thought (…) New York City is decidedly southeast of Zenith (…) Lake Michigan is simply ignored by Lewis in creating the state." According to Wikipedia, "Lewis' map places Zenith due east of Chicago. Cities and towns on the map include Minnemegantic, Banjo Crossing, Roysburg, Tuttleville, Vulcan, Hamburg, New Paris, St. Ruan, Babylon, Chestnut Grove, Parkinton, Eureka, Aetna, Madrid, St. Agatha, and (of course), a Springfield."
Strange Maps #342
Got a strange map? Let me know at strangemaps@gmail.com.
Related Articles
Both schizophrenics and people with a common personality type share similar brain patterns.
(shutterstock)
Mind & Brain
A new study shows that people with a common personality type share brain activity with patients diagnosed with schizophrenia.
The study gives insight into how the brain activity associated with mental illnesses relates to brain activity in healthy individuals.
This finding not only improves our understanding of how the brain works but may one day be applied to treatments.
It's a development that could one day lead to much better treatments for osteoporosis, joint damage, and bone fractures.
Image: Nissim Benvenisty
Surprising Science
Scientists have isolated skeletal stem cells in adult and fetal bones for the first time.
These cells could one day help treat damaged bone and cartilage.
The team was able to grow skeletal stem cells from cells found within liposuctioned fat.
Gut bacteria play an important role in how you feel and think and how well your body fights off disease. New research shows that exercise can give your gut bacteria a boost.
National Institutes of Health
Surprising Science
Two studies from the University of Illinois show that gut bacteria can be changed by exercise alone.
Our understanding of how gut bacteria impacts our overall health is an emerging field, and this research sheds light on the many different ways exercise affects your body.
Exercising to improve your gut bacteria will prevent diseases and encourage brain health.
Big think's weekly newsletter.
Get smarter faster from the comfort of your inbox.
See our newsletter privacy policy
here
Most Popular
Most Recent
Big think's weekly newsletter.
Get smarter faster from the comfort of your inbox.
See our newsletter privacy policy
here
© Copyright 2007-2018 & BIG THINK, BIG THINK EDGE,
SMARTER FASTER trademarks owned by The Big Think, Inc. All rights reserved.