Big ideas.
Once a week.
Subscribe to our weekly newsletter.
A Map of Europe Without Germany
Europe's most powerful country is annexed out of existence by its neighbours
23 July, 2010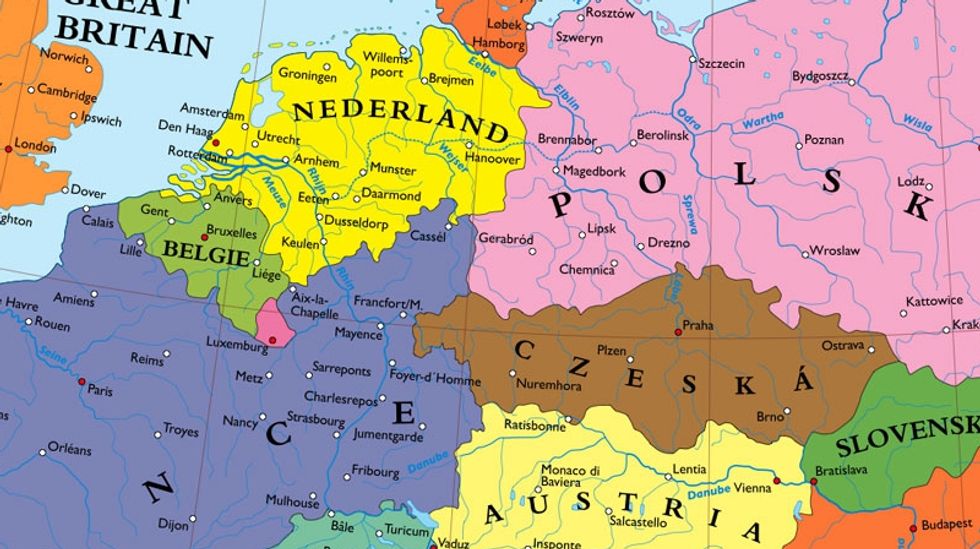 Imagine. Italian songs echoing off the Danube shores. The Netherlands big enough not to have to worry about the sea. A French-Polish border. Imagine Europe without Germany. This map does.
---
During most of the first half of the 20th century, Germany was seen by much of the rest of the world as a rogue state in the heart of Europe, its incorrigible belligerence a problem not only to be defeated but also to be eradicated – somehow. Inevitably, some on the lunatic fringe called for wiping Germany off the map — literally. One such plan was discussed earlier on this blog (#50).
Although that particular plan was real, and even though the Second World War was contested with more apocalyptic zeal than any other modern-era conflict, simply obliterating Germany was never seriously considered an option. The aforementioned Kaufmann scheme was the work of a lone pamphlettist, and profited Nazi propaganda more than the Allied cause.
Even the Morgenthau plan, used to similar effect by the German propaganda machine, never envisioned dissolving Germany — merely dismembering and dividing it, while neutralising its economic capacity to wage war. This is in effect what happened after the war, albeit that on top of this, the two halves of Germany ended up on opposing sides of the ideological fence now dissecting Europe.
This 'neutralised' Germany and relegated questions of its right to exist to the dustbin of history. Some of the old anxieties did resurface in 1989, when the Berlin Wall fell and the West Germans steamrollered German Reunification, much to the dismay of many others. "I like Germany so much that I prefer to have two of them", was the sarcastic sentiment of many European politicians (the quote is attributed to French writer François Mauriac).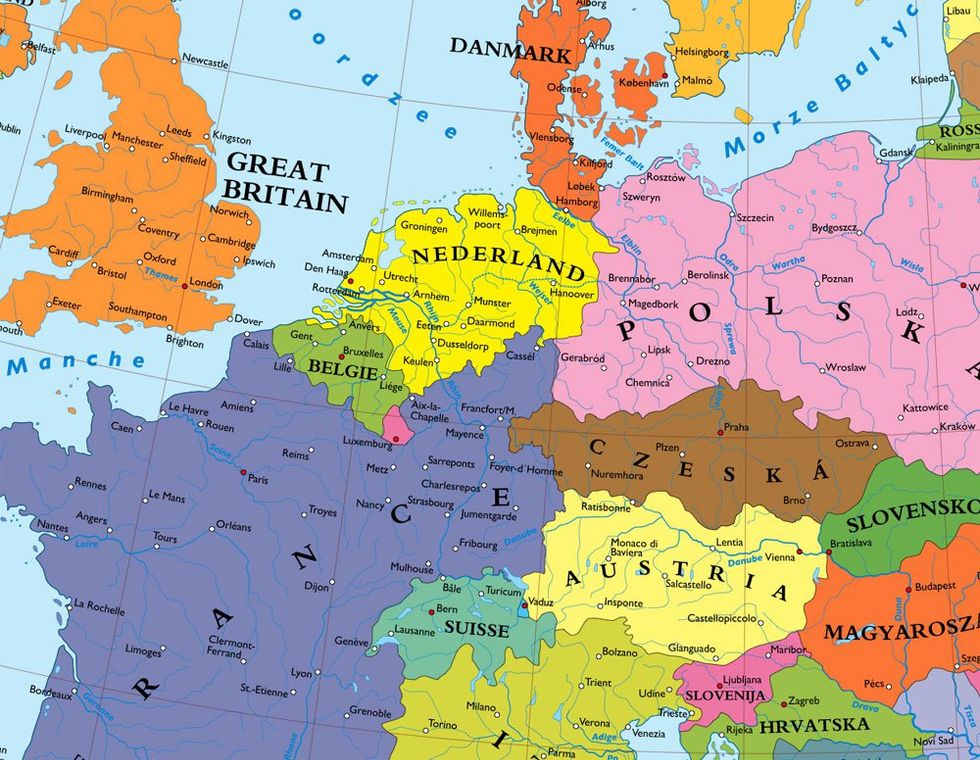 Is this what a Europe without Germany could have looked like? For starters, it doesn't resemble the Kaufmann map (cf. sup.) And it's unknown which basis in fact (or fiction) it might have. But the re-drawn borders don't look like an occupation so much as an absorption: German toponyms have been rendered in the idioms of each conquering country.
Denmark spills out of Jutland all the way down to Hamborg.
Poland's new western border corresponds exactly to the old DDR one, with East German cities renamed Drezno (Dresden), Lipsk (Leipzig) and Berolinsk (Berlin), among others.
The Czech Republic extends into northern Bavaria, including Nuremhora (Nuremberg).
Austria has gone completely Italian (Salzburg is now Salcastello) and has overrun southern Bavaria, including Monaco di Baviera (Munich).
France reaches across the Rhine all the way up to Cassel (Kassel), and has frenchified cities like Aix-la-Chapelle (Aachen), Mayence (Mainz) and Charlesrepos (Karlsruhe).
The Netherlands reach Hamburg and touch Poland, and include Keulen (Cologne), Dusseldorp (Dusseldorf) and Willemspoort (Wilhelmshaven).
Some of the toponyms used here are the accepted translations for German city names already in use in other languages, e.g. Keulen (Dutch), Hamborg (Danish) and Mayence (French). Others are overtranslated: e.g. Eeten for Essen, both of which mean 'to eat' in Dutch and German respectively, whereas the city derives its name from a term for the East of for ash trees.
This map found some time ago on the Kalimedia website, which also publishes The Atlas of True Names, discussed in #334. Many thanks to all those who sent in this map.
Strange Maps #337
Got a strange map? Let me know at strangemaps@gmail.com.
So much for rest in peace.
Credit: fergregory via Adobe Stock
Surprising Science
Australian scientists found that bodies kept moving for 17 months after being pronounced dead.
Researchers used photography capture technology in 30-minute intervals every day to capture the movement.
This study could help better identify time of death.
We're learning more new things about death everyday. Much has been said and theorized about the great divide between life and the Great Beyond. While everyone and every culture has their own philosophies and unique ideas on the subject, we're beginning to learn a lot of new scientific facts about the deceased corporeal form.
An Australian scientist has found that human bodies move for more than a year after being pronounced dead. These findings could have implications for fields as diverse as pathology to criminology.
Dead bodies keep moving
Credit: Flickr
Researcher Alyson Wilson studied and photographed the movements of corpses over a 17 month timeframe. She recently told Agence France Presse about the shocking details of her discovery.
Reportedly, she and her team focused a camera for 17 months at the Australian Facility for Taphonomic Experimental Research (AFTER), taking images of a corpse every 30 minutes during the day. For the entire 17 month duration, the corpse continually moved.
"What we found was that the arms were significantly moving, so that arms that started off down beside the body ended up out to the side of the body," Wilson said.
The researchers mostly expected some kind of movement during the very early stages of decomposition, but Wilson further explained that their continual movement completely surprised the team:
"We think the movements relate to the process of decomposition, as the body mummifies and the ligaments dry out."
During one of the studies, arms that had been next to the body eventually ended up akimbo on their side.
The team's subject was one of the bodies stored at the "body farm," which sits on the outskirts of Sydney. (Wilson took a flight every month to check in on the cadaver.)
Her findings were recently published in the journal,
Forensic Science International: Synergy.
Implications of the study
The researchers believe that understanding these after death movements and decomposition rate could help better estimate the time of death. Police for example could benefit from this as they'd be able to give a timeframe to missing persons and link that up with an unidentified corpse. According to the team:
"Understanding decomposition rates for a human donor in the Australian environment is important for police, forensic anthropologists, and pathologists for the estimation of PMI to assist with the identification of unknown victims, as well as the investigation of criminal activity."
While scientists haven't found any evidence of necromancy. . . the discovery remains a curious new understanding about what happens with the body after we die.
The Black Death wasn't the only plague in the 1300s.
Culture & Religion
In a unique study, researchers have determined how many people in medieval England had bunions
A fashion trend towards pointed toe shoes made the affliction common.
Even monks got in on the trend, much to their discomfort later in life.
Late Medieval England had its share of problems. The Wars of Roses raged, the Black Death killed off large parts of the population, and passing ruffians could say "Ni" at will to old ladies.
To make matters worse, a first of its kind study published in the International Journal of Paleopathology has demonstrated that much of the population suffered from another plague — a plague of bunions likely caused by a ridiculous medieval fashion trend.
If the shoe fits, it won't cause bunions
The outlines of a leather shoe from the King's Ditch, Cambridge. It is easy to see how these shoes might be constricting. Copyright Cambridge Archaeological Unit.
The bunion, known to medicine as "hallux valgus," is a deformity of the joint connecting the big toe to the rest of the foot. It is painful and can cause other issues including poor balance. The condition is associated with having worn constrictive shoes for a long period of time as well as genetic factors. Today, it is often caused by wearing high heeled shoes.
The medieval English didn't care for high heeled shoes as much as modern fashionistas, but there was a major fashion trend toward shoes with long, pointed toes called "poulaines" or "crakows" for their supposed place of origin, Krakow, Poland.
This trend, already silly-looking to a modern observer, got out of hand in a hurry. According to some records, the points on nobleman's shoes could be so long as to require tying them to the leg with string so the wearer could walk. At one point, King Edward IV had to ban commoners from wearing points longer than two inches. A couple years later, he saw fit to ban the shoes altogether.
But, just knowing that people back in the day made poor fashion choices doesn't prove they suffered for it. That is where digging up old skeletons to look at their feet comes in.
Beauty is pain: the price of high medieval fashion
To learn how bad the bunion epidemic was, the researchers looked to four burial sites in and around Cambridge. One was a rural cemetery where poor peasants were buried. Another was the All Saints by the Castle parish, which had a mixed collection of people that tended toward poverty. The Hospital of St. John's burial ground contained both the poor charges of a charity hospital and wealthy benefactors. Lastly, they considered the cemetery of a local Augustinian friary, home to monks and well-to-do philanthropists.
The team considered 177 adult skeletons that were at least a quarter complete and still had enough of their feet to make studying them possible. The remains were classified by age and sex by observation and DNA testing. Each was examined for evidence of bunions and signs of complications from the condition, such as falling.
Those buried in the monastery's graveyard were the most affected. Nearly half, 43 percent, of the remains found there had bunions. This includes five of the eleven members of the clergy they found. Twenty-three percent of those laid to rest at the Hospital of St. John had bunions, though only 10 percent of those at the All Saints by the Castle parish graveyard did.
The rural cemetery had a much lower rate of instances, only three percent, suggesting that these peasants were able to avoid at least one plague.
Overall, eighteen percent of the individuals examined had bunions, with men more likely to have them than women. Those at cemeteries known for exclusivity were more likely to have them as well, though it is clear that the condition also affected members of other classes. This makes sense, as it is known that these shoes had mass appeal.
The authors note that the rural cemetery having fewer cases is partly because that cemetery "went out of use prior to the wide adoption of pointed shoes, and it is likely that those residing in the parish predominately wore soft leather shoes, or possibly went barefoot."
Those skeletons with evidence of bunions were more likely to have fractures indicative of a fall. This was more common on those estimated or recorded as having lived past age 45.
In our much more enlightened times, 23 percent of the population currently endures having bunions, most of them women, and one of the leading culprits behind this is the high heeled shoe.
Some things never change.
Being mortal makes life so much sweeter.
Personal Growth
Since the beginning of time, humans have fantasized over and quested for "eternal life."
Lobsters and a kind of jellyfish offer us clues about what immortality might look like in the natural world.
Evolution does not lend itself easily to longevity, and philosophy might suggest that life is more precious without immortality.
One of the oldest pieces of epic literature we have is known as the Epic of Gilgamesh. It's easy to get lost in all the ancient mythology — talking animals and heroic battles — but at its heart lies one of the most fundamental and universal quests of all time: the search for immortality. It's all about Gilgamesh wanting to live forever.
From Mesopotamian poetry to Indiana Jones and the Last Crusade, from golden apples to the philosopher's stone, humans, everywhere, have wanted and sought after eternal life.
And yet, perhaps the secret to immortality is not as elusive as we might think. Rather than holy objects or science fiction, we need only look to the animal world to see how nature, that most magical of places, might be able to answer one of the oldest questions there is.
Eternal crustaceans
If you ever find yourself at Red Lobster or about to munch into a lobster roll, take a moment to consider that you might just be eating a clue to perpetual youth. To see why, we have to know a tiny bit about aging.
As you get older, it's impossible not to notice how everything creaks a little more, how easy jobs now require great effort, and how hangovers are no longer a laughing matter. Our bodies are designed to degrade and wear away. This deterioration, known as "senescence" in biology, occurs at the cellular level. It's when the cells in our body stop dividing, yet remain in our body, active and alive. We need our cells to divide so that we can grow and repair. For instance, when we cut ourselves or lift weights in the gym, it is cell division that replaces and rebuilds the damage done. But, over time, our cells just stop dividing. They stay around to do the best they can, but like the macroscopic humans they make up, cells get slower and more error-prone — and so, we age.
The Fountain of Youth (1546)Credit: Lucas Cranach the Elder via Wikipedia / Public domain
But not lobsters. In normal cases of cell division, the shields at the end of our chromosomes — called telomeres — are remade a bit smaller, and so a bit less effective after each subsequent cell division at protecting our DNA. When this reaches a certain point, the cell enters senescence and will stop dividing. It won't self-destruct but will just carry on and wallow as it is. Lobsters, though, have a special enzyme (unsurprisingly, called telomerase) which makes sure that their cells' telomeres remain as long and brilliant as they've always been. Their cells will never enter senescence, and so a lobster just won't age.

However, what evolution giveth with one hand, it taketh with another. As crustaceans, their skeleton is on the outside, and having a constantly growing body means they are always outgrowing their exoskeletal homes. They need to abandon their old shells and regrow a new one all the time. This, of course, requires huge reserves of energy, and as the lobster reaches a certain size, it simply cannot consume enough calories to build the shell equivalent of a mansion. Lobsters do not die from old age but exhaustion (as well as disease and New England fisherman).
The jellyfish that reverses its life cycle
Although lobsters might not have perfected immortality, perhaps there's something to learn.

But there's another animal that does even better than the lobster, and it's the only creature recognized to be properly immortal. That's the jellyfish known as Turritopsis dohrnii. These jellyfish are tiny — about the size of a fly at their biggest — but they've mastered one ridiculous trick: they can reverse their life cycle.
An embryonic jellyfish starts as a fertilized egg before hooking onto some kind of surface to then grow up. In this stage, they will stretch out to look like any other jellyfish. Eventually, they will break away from this surface to become a mature, fully developed jellyfish, which is in turn ready to reproduce. So far, so normal.
Yet Turritopsis dohrnii does something remarkable. When things get tough — like the environment becomes hostile or there's a conspicuous absence of food — they can change back to one of the earlier stages in their lifecycle. It's like a frog becoming a tadpole or a fly becoming a maggot. It's the human equivalent of a mature adult saying, "Right, I've had enough of this job, that mortgage, this stress, and that anxiety, so I'm going to turn back into a toddler.". Or, it's like an old man deciding to become a fetus again, for one more round.
Obviously, a fingernail sized jellyfish is not immortal as we'd probably want the word to mean. They're as squishable and digestible as any animal. But, their ability to change back to earlier forms of life, ones which are better adapted to certain environments or where there are fewer food sources, means that they could, in theory, go on forever.
Why do we want to live forever?
Although the quest for immortality is as old as humanity itself, it's surprisingly hard to find across the diverse natural world. Truth be told, evolution doesn't care about how long we live, so long as we live long enough to pass on our genes and to make sure our children are vaguely looked after. Anything more than that is redundant, and evolution doesn't have much time for needless longevity.
The more philosophical question, though, is why do we want to live forever? We're all prone to existential anguish, and we all, at least some of the time, fear death. We don't want to leave our loved ones behind, we want to finish our projects, and we much prefer the known life to an unknown afterlife. Yet, death serves a purpose. As the German philosopher Martin Heidegger argued, death is what gives meaning to life.
Having the end makes the journey worthwhile. It's fair to say that playing a game is only fun because it doesn't go on forever, a play will always need its curtain call, and a word only makes sense at its last letter. As philosophy and religion has repeated throughout the ages: memento mori, or "remember you'll die."
Being mortal in this world makes life so much sweeter, which is surely why lobsters and tiny jellyfish have such ennui.
Jonny Thomson teaches philosophy in Oxford. He runs a popular Instagram account called Mini Philosophy (@
philosophyminis
). His first book is
Mini Philosophy: A Small Book of Big Ideas
13-8
Quantum theory has weird implications. Trying to explain them just makes things weirder.
Scroll down to load more…