Pop, Soda or Coke?
What is your favourite name for a carbonated beverage?
23 July, 2010
---
When on a hot summer's day you buy a carbonated beverage to quench your thirst, how do you order it? Do you ask for a soda, a pop or something else? That question lay at the basis of an article in the Journal of English Linguistics (Soda or Pop?, #24, 1996) and of a map, showing the regional variation in American English of the names given to that type of drink.
The article was written by Luanne von Schneidemesser, PhD in German linguistics and philology from the University of Wisconsin-Madison and senior editor of the Dictionary of American Regional English.  And although there might be weightier issues in life (or even in linguistics) than the preferred terminology for a can of soft drink, there's nothing trivial about this part of the beverage industry.
"According to an article last year in the Isthmus, Madison's weekly newspaper, Americans drink so much of the carbonated beverages sold under such brand names as Coca-Cola, Pepsi, Sprite, Mountain Dew, and 7-Up that consumption averages 43 gallons per year for every man, woman, and child in the United States," Von Schneidemesser begins her article. "The Statistical Abstract of the United States (1994) confirms this: 44.1 gallons per person in 1992, compared to the next most consumed beverages: beer (32.7 gallons), coffee (27.8 gallons), and milk (25.3 gallons)."
It must be that ubiquity of soft drinks that has made this pop vs soda map the single-most submitted map to this blog, sent in by over 100 contributors. The map details the areas where certain usages predominate.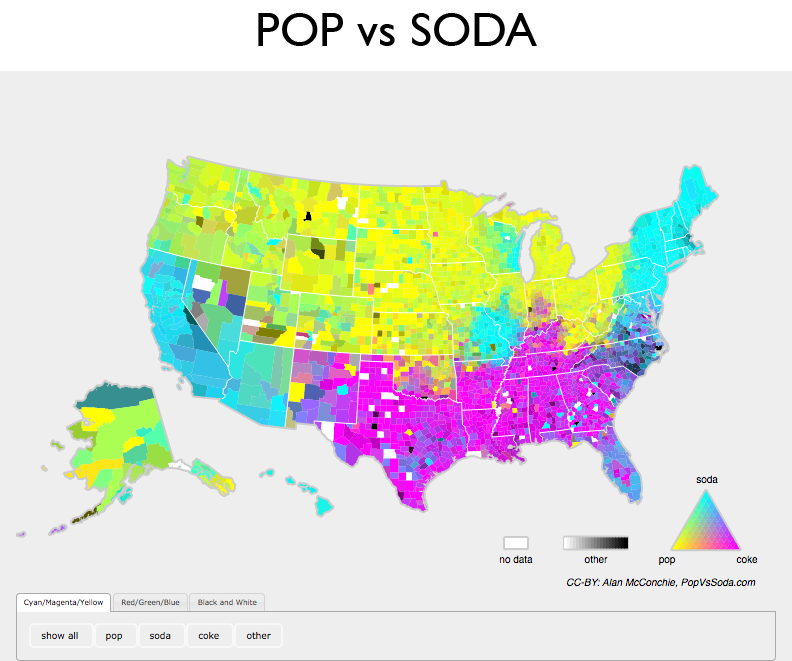 coke: this generic term for soft drinks predominates throughout the South, has a strong presence in New Mexico and some purchase in Indiana. It also dominates single counties throughout some of the western states, like Colorado and Nebraska. 'Coke' obviously derives from Coca-Cola, the brand-name of the soft drink originally manufactured in Atlanta (which probably explains its use as a generic term for all soft drinks in the South).
pop: dominates the Northwest, the Great Plains and the Midwest, all the way up to western upstate New York and West Virginia. The word 'pop' was introduced by Robert Southey, the British Poet Laureate (1774-1843), to whom we also owe the word 'autobiography', among others. In 1812, he wrote: A new manufactory of a nectar, between soda-water and ginger-beer, and called pop, because 'pop goes the cork' when it is drawn. Despite its poetic pedigree, some consider 'pop' somewhat unsophisticated, because it is onomatopaeic.soda: prevalent in the Northeast, greater Miami, the area in Missouri and Illinois surrounding St Louis and California, Nevada and Arizona - as well as Hawaii. 
Soda derives from 'soda-water' (also called club soda, carbonated or sparkling water or seltzer). It's produced by dissolving carbon dioxide gas in plain water, a procedure developed by Joseph Priestly in the latter half of the 18th century. The fizziness of soda-water caused the term 'soda' to be associated with later, similarly carbonated soft drinks.
Other, lesser-used terms include 'dope' in the Carolinas and 'tonic' in and around Boston, both fading in popularity. Other generic terms for soft drinks outside the US include 'pop' (Canada), 'mineral' (Ireland), 'soft drink' (New Zealand and Australia). The term 'soft drink', finally, arose to contrast said beverages with hard (i.e. alcoholic) drinks.
This map was found at the popvssoda website, dedicated to gathering info on the usage of pop, soda, coke and other variant terms throughout the US.
Strange Maps #308 
Got a strange map? Let me know at strangemaps@gmail.com.
Former president of the ACLU Nadine Strossen discusses whether our society should always defend free speech rights, even for groups who would oppose such rights.
Sponsored by Charles Koch Foundation
Former ACLU president Nadine Strossen understands that protecting free speech rights isn't always a straightforward proposition.
In this video, Strossen describes the reasoning behind why the ACLU defended the free speech rights of neo-Nazis in Skokie, Illinois, 1977.
The opinions expressed in this video do not necessarily reflect the views of the Charles Koch Foundation, which encourages the expression of diverse viewpoints within a culture of civil discourse and mutual respect.
Going back to the moon will give us fresh insights about the creation of our solar system.
Videos
July 2019 marks the 50th anniversary of the moon landing — Apollo 11.
Today, we have a strong scientific case for returning to the moon: the original rock samples that we took from the moon revolutionized our view of how Earth and the solar system formed. We could now glean even more insights with fresh, nonchemically-altered samples.
NASA plans to send humans to a crater in the South Pole of the moon because it's safer there, and would allow for better communications with people back on Earth.
Pugs and bulldogs are incredibly trendy, but experts have massive animal welfare concerns about these genetically manipulated breeds. 
Photo by terriermandotcom.blogspot.com
popular
Pugs, Frenchies, boxers, shih-tzus and other flat-faced dog breeds have been trending for at least the last decade.
Higher visibility (usually in a celebrity's handbag), an increase in city living (smaller dogs for smaller homes), and possibly even the fine acting of Frank the Pug in 1997's Men in Black may be the cause.
These small, specialty pure breeds are seen as the pinnacle of cuteness – they have friendly personalities, endearing odd looks, and are perfect for Stranger Things video montages.
Jokesters and serious Area 51 raiders would be met with military force.
Politics & Current Affairs
Facebook joke event to "raid Area 51" has already gained 1,000,000 "going" attendees.
The U.S. Air Force has issued an official warning to potential "raiders."
If anyone actually tries to storm an American military base, the use of deadly force is authorized.