Big ideas.
Once a week.
Subscribe to our weekly newsletter.
Just How Much Land Does the Federal Government Own — and Why?
The rough beauty of the American West seems as far as you can get from the polished corridors of power in Washington DC.
23 July, 2010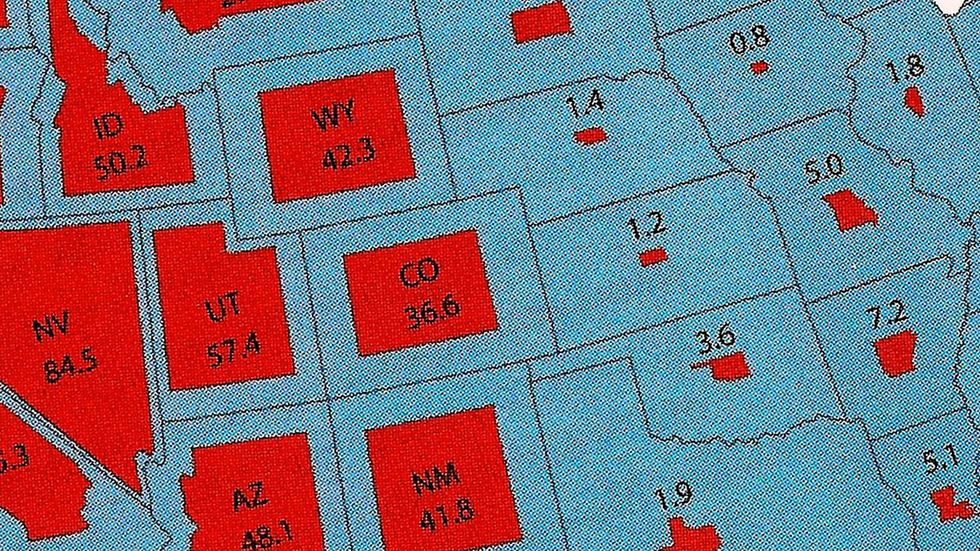 The rough beauty of the American West seems as far as you can get from the polished corridors of power in Washington DC. Until you look at the title to the land. The federal government owns large tracts of the western states: from a low of 29.9% in Montana, already more than the national average, up to a whopping 84.5% in Nevada.
---
This map, depicting the distribution and share of federal land per state, was first published on this blog way back in 2008. Nevertheless, it keeps accumulating comments and hits at a steady pace, and is still frequently shared around. Unlike hundreds of other random maps, this one has become a perennial. That raises an interesting question for map geeks like yours truly: Which nerve, exactly, does this map strike with the Great Online Public?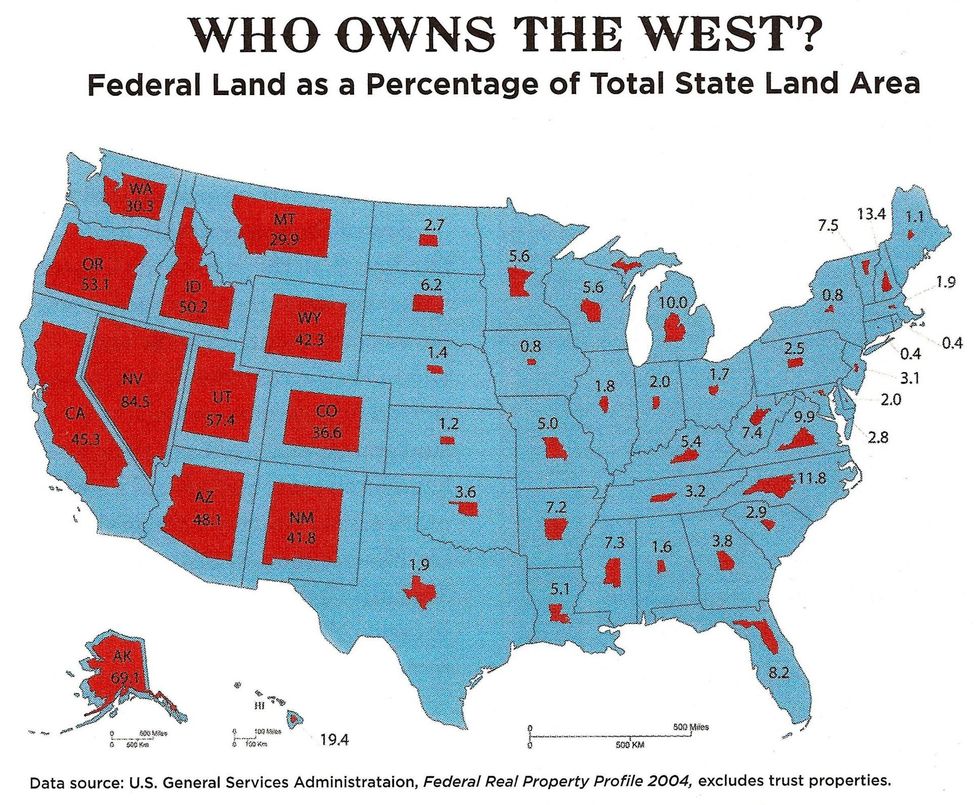 Let's start with the most obvious answer: the map is stunningly effective at bringing home its message. And that message is: Federal land ownership out west is huge.
Few minds will stir when they learn that the US federal government owns a grand total of 640 million acres of land: that figure is so vast that it becomes meaningless [1]. The sum of all that acreage adds up to about 28% of the nation's total surface, 2.27 billion acres. That sounds like a lot, but since it is an average, and because we have nothing to compare it to, that percentage is, to use one of my favorite quotes, "the kind of information they conceal in books" [2].
Both issues – the blandness of averages, the lack of comparison – are eliminated by the map, which presents an immediate, jaw-droppingly clear frame of reference. In the blink of an eye, the contrast between the west and the rest becomes clear.
The clever device delivering that instant insight: 50 icons, each shaped like the particular state they are centered on and sized to reflect the percentage of the federal lands in each particular state.
Back east, but even in the Midwest, those icons – colored red for better contrast – barely amount to a distant mirror of the state they're modelled on. In those parts, the federal share of state territory rarely runs into the double digits. It even stays below 2% for the Top 10 states with the lowest percentage of federally owned land: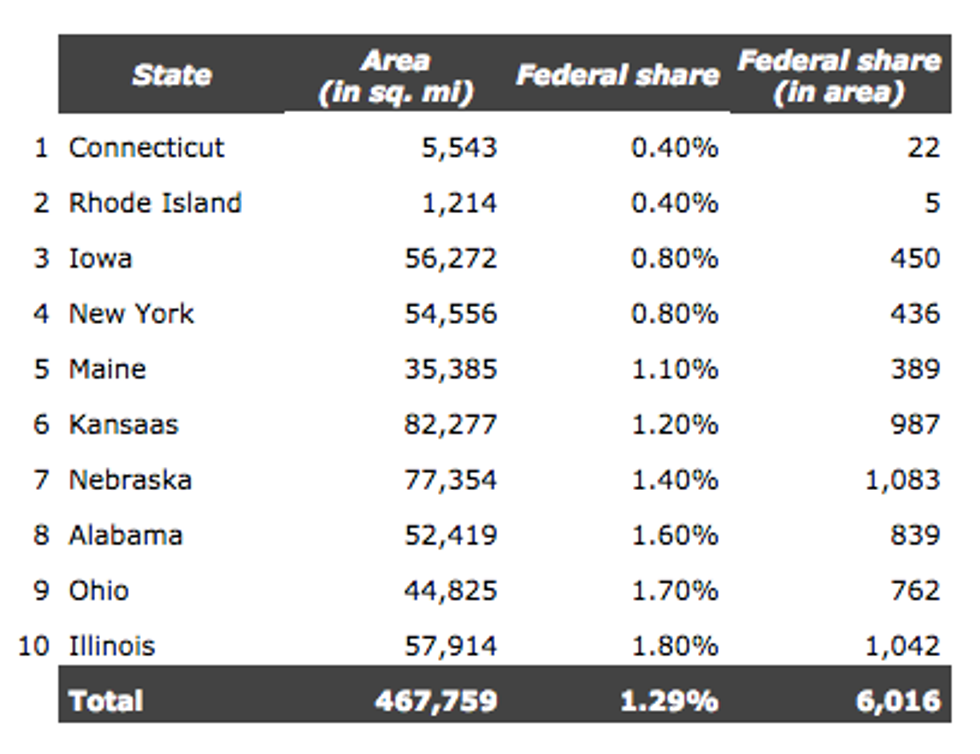 The largest splotches of red are all in the 11 westernmost states of the Lower 48. The federal government's enormous share of Alaska is only less obvious because as usual the largest state in the Union is shown in an inset map, at a much larger scale [3].
These red icons look like parasites, about to take over the body of the host. Take a look at poor Nevada, where non-public land is pushed out to a narrow band skirting the state's borders – marginalized, in the most literal sense of the word. Even in most other western states, that ledge is not much wider than a toehold.
The Top 10 list of states with the highest percentage of federally owned land on this map looks like this: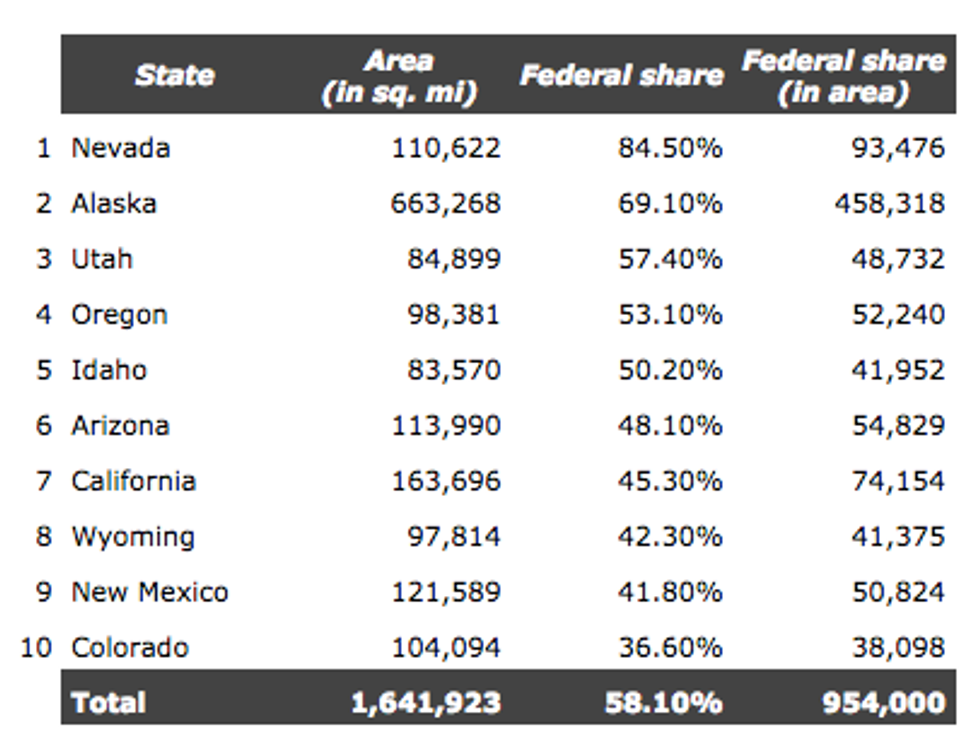 Both because of its enormous total size and its huge percentage of federal lands, Alaska alone represents almost half the government-owned area in the 10 most 'federalised' states combined. The only two western states falling out of the Top 10 are Montana (29.9%) and Washington state (30.3%).
What is all that federal land for? And exactly who is in charge? According to the Congressional Research Service [4], a total area of just under 610 million acres – more than twice the size of Namibia – is administered by no more than 4 federal government agencies:
* The United States Forest Service (USFS), which oversees timber harvesting, recreation, wildlife habitat protection and other sustainable uses on a total of 193 million acres – almost the size of Turkey – mainly designated as National Forests.
* The National Park Service (NPS) conserves lands and resources on 80 million acres – a Norway-sized area – in order to preserve them for the public. Any harvesting or resource removal is generally prohibited.
* the Bureau of Land Management (BLM), managing 248 million acres [5] – an area the size of Egypt – has a multiple-use, sustained-yield mandate, supporting energy development, recreation, grazing, conservation, and other uses.
* the Fish and Wildlife Service (FWS) manages 89 million acres – an area slightly bigger than Germany – to conserve and protect animal and plant species.
The first agency is part of the Department of Agriculture, the latter three of the Department of the Interior. The Department of Defense manages an additional 20 million acres – a bit larger than the Czech Republic – as military bases, testing and training grounds, etc.
Back to the map – apart from making its point in such an excellent manner, why is it so popular? The aforementioned Congressional Overview of Federal Land Ownership provides a broad outline of the answer:
"47% of the 11 coterminous western states [is federally owned]. By contrast, the federal government owns only 4% in the other states. This western concentration has contributed to a higher degree of controversy over land ownership and use in that part of the country".
"Throughout America's history, federal land laws have reflected two visions: keeping some lands in federal ownership while disposing of others. From the earliest days, there has been conflict between these two visions. During the 19th century, many laws encouraged settlement of the West through federal land disposal. Mostly in the 20th century, emphasis shifted to retention of federal lands."
That conflict came to a head very publicly last year with the case of Cliven Bundy, a Nevada rancher whose conflict with the Bureau of Land Management over grazing rights led to the federal government impounding his cattle [6].
But the federal government's extra-extra-large involvement in the management of western lands is far more than a conflict about grazing, water, mining, logging and other development. It pits the principle of good stewardship of the land, for the welfare of present and future generations, against one of America's foundational axioms: That government is best which governs least [7].
The former attitude requires a central government to assume authority, restrict access, punish rule-breakers – and increasingly so, since resource depletion is a growing threat.
The latter viewpoint holds government intervention to be the problem, not the solution, and the stated reasons for it – be it conservation or climate change – as convenient cover stories at best.
Two quotes from the story's comments section illustrate the gap between the two extremes:
"It's too late [to take back our country]. Jump ship and buy land in a poor undeveloped country, Start a farm and build a new community."
"Or we could stop wasting time with this nonsense and get back to the real issues." 
Ultimately, this map reverberates and keeps bouncing around the internet because it touches a divide in American politics and wider society that is about much more than land use. It pits libertarians versus federalists, with the gap between them increasing to such an extent that the former often seem to the latter to be no more than right-wing vigilantes, the latter to the former nothing less than world-government-promoting socialists. Until some middle ground emerges to bridge that divide, this map (and other incendiary devices) will continue to add fuel to the ideological fire.
Many thanks to Jonathan Leblang and Adam Hahn for signaling this map, which appeared as an illustration to 'Can the West Lead Us To A Better Place?', an article in Stanford Magazine, a periodical for and about alumni from that university. Update: the map can be found in higher resolution – and with a long, long comments section – here on Reddit.
Strange Maps #291
Got a strange map? Let me know at strangemaps@gmail.com.
[1] Remember the Joseph Stalin quote: "One death is a tragedy, one million is a statistic". Not that one acre is a tragedy. But you catch our meaning. 
[2] Oliver Platt as Hector Cyr in Lake Placid (1999).
[3] Contrary to intuition, map objects shrunk to fit in with others are shown at a larger, not a smaller scale. See the scales at the bottom: Alaska's 500-mile line is 4 times shorter than the Lower 48's. Meaning (a) that Alaska is shown 4 times smaller than the Lower 48; and (b) that if Alaska's scale would have been as long as the other, it would have measured 2,000 miles – i.e. would measure a larger distance.
[4] Federal Land Ownership: Overview and Data
[5] The BLM is also responsible for subsurface mineral resources in areas totaling 700 million acres.
[6] The sentiment is often attributed to Jefferson, but the quote as such is from the opening lines of Henry David Thoreau's Civil Disobedience. 
[7] Mr. Bundy refused to pay $1.2 million in grazing fees to the BLM, arguing that the land his cattle uses belongs not to the federal, but the state government. In the spring of last year, BLM officials agreed to leave his property and release his cattle after hundreds of armed supporters showed up at the Bundy ranch. As the Washington Post recently reported, the conflict remains unresolved.
Inventions with revolutionary potential made by a mysterious aerospace engineer for the U.S. Navy come to light.
Credit: Getty Images
Surprising Science
U.S. Navy holds patents for enigmatic inventions by aerospace engineer Dr. Salvatore Pais.
Pais came up with technology that can "engineer" reality, devising an ultrafast craft, a fusion reactor, and more.
While mostly theoretical at this point, the inventions could transform energy, space, and military sectors.
The U.S. Navy controls patents for some futuristic and outlandish technologies, some of which, dubbed "the UFO patents," came to life recently. Of particular note are inventions by the somewhat mysterious Dr. Salvatore Cezar Pais, whose tech claims to be able to "engineer reality." His slate of highly-ambitious, borderline sci-fi designs meant for use by the U.S. government range from gravitational wave generators and compact fusion reactors to next-gen hybrid aerospace-underwater crafts with revolutionary propulsion systems, and beyond.
Of course, the existence of patents does not mean these technologies have actually been created, but there is evidence that some demonstrations of operability have been successfully carried out. As investigated and reported by The War Zone, a possible reason why some of the patents may have been taken on by the Navy is that the Chinese military may also be developing similar advanced gadgets.
Among Dr. Pais's patents are designs, approved in 2018, for an aerospace-underwater craft of incredible speed and maneuverability. This cone-shaped vehicle can potentially fly just as well anywhere it may be, whether air, water or space, without leaving any heat signatures. It can achieve this by creating a quantum vacuum around itself with a very dense polarized energy field. This vacuum would allow it to repel any molecule the craft comes in contact with, no matter the medium. Manipulating "quantum field fluctuations in the local vacuum energy state," would help reduce the craft's inertia. The polarized vacuum would dramatically decrease any elemental resistance and lead to "extreme speeds," claims the paper.
Not only that, if the vacuum-creating technology can be engineered, we'd also be able to "engineer the fabric of our reality at the most fundamental level," states the patent. This would lead to major advancements in aerospace propulsion and generating power. Not to mention other reality-changing outcomes that come to mind.
Among Pais's other patents are inventions that stem from similar thinking, outlining pieces of technology necessary to make his creations come to fruition. His paper presented in 2019, titled "Room Temperature Superconducting System for Use on a Hybrid Aerospace Undersea Craft," proposes a system that can achieve superconductivity at room temperatures. This would become "a highly disruptive technology, capable of a total paradigm change in Science and Technology," conveys Pais.
High frequency gravitational wave generator.
Credit: Dr. Salvatore Pais
Another invention devised by Pais is an electromagnetic field generator that could generate "an impenetrable defensive shield to sea and land as well as space-based military and civilian assets." This shield could protect from threats like anti-ship ballistic missiles, cruise missiles that evade radar, coronal mass ejections, military satellites, and even asteroids.
Dr. Pais's ideas center around the phenomenon he dubbed "The Pais Effect". He referred to it in his writings as the "controlled motion of electrically charged matter (from solid to plasma) via accelerated spin and/or accelerated vibration under rapid (yet smooth) acceleration-deceleration-acceleration transients." In less jargon-heavy terms, Pais claims to have figured out how to spin electromagnetic fields in order to contain a fusion reaction – an accomplishment that would lead to a tremendous change in power consumption and an abundance of energy.
According to his bio in a recently published paper on a new Plasma Compression Fusion Device, which could transform energy production, Dr. Pais is a mechanical and aerospace engineer working at the Naval Air Warfare Center Aircraft Division (NAWCAD), which is headquartered in Patuxent River, Maryland. Holding a Ph.D. from Case Western Reserve University in Cleveland, Ohio, Pais was a NASA Research Fellow and worked with Northrop Grumman Aerospace Systems. His current Department of Defense work involves his "advanced knowledge of theory, analysis, and modern experimental and computational methods in aerodynamics, along with an understanding of air-vehicle and missile design, especially in the domain of hypersonic power plant and vehicle design." He also has expert knowledge of electrooptics, emerging quantum technologies (laser power generation in particular), high-energy electromagnetic field generation, and the "breakthrough field of room temperature superconductivity, as related to advanced field propulsion."
Suffice it to say, with such a list of research credentials that would make Nikola Tesla proud, Dr. Pais seems well-positioned to carry out groundbreaking work.
A craft using an inertial mass reduction device.
Credit: Salvatore Pais
The patents won't necessarily lead to these technologies ever seeing the light of day. The research has its share of detractors and nonbelievers among other scientists, who think the amount of energy required for the fields described by Pais and his ideas on electromagnetic propulsions are well beyond the scope of current tech and are nearly impossible. Yet investigators at The War Zone found comments from Navy officials that indicate the inventions are being looked at seriously enough, and some tests are taking place.
If you'd like to read through Pais's patents yourself, check them out here.
Laser Augmented Turbojet Propulsion System
Credit: Dr. Salvatore Pais
New data have set the particle physics community abuzz.
Credit: Stefano Garau / Adobe Stock and Trahko / Adobe Stock
13-8
The first question ever asked in Western philosophy, "What's the world made of?" continues to inspire high energy physicists.
New experimental results probing the magnetic properties of the muon, a heavier cousin of the electron, seem to indicate that new particles of nature may exist, potentially shedding light on the mystery of dark matter.
The results are a celebration of the human spirit and our insatiable curiosity to understand the world and our place in it.
If brute force doesn't work, then look into the peculiarities of nothingness. This may sound like a Zen koan, but it's actually the strategy that particle physicists are using to find physics beyond the Standard Model, the current registry of all known particles and their interactions. Instead of the usual colliding experiments that smash particles against one another, exciting new results indicate that new vistas into exotic kinds of matter may be glimpsed by carefully measuring the properties of the quantum vacuum. There's a lot to unpack here, so let's go piecemeal.
It is fitting that the first question asked in Western philosophy concerned the material composition of the world. Writing around 350 BCE, Aristotle credited Thales of Miletus (circa 600 BCE) with the honor of being the first Western philosopher when he asked the question, "What is the world made of?" What modern high energy physicists do, albeit with very different methodology and equipment, is to follow along the same philosophical tradition of trying to answer this question, assuming that there are indivisible bricks of matter called elementary particles.
Deficits in the Standard Model
Jumping thousands of years of spectacular discoveries, we now have a very neat understanding of the material composition of the world at the subatomic level: a total of 12 particles and the Higgs boson. The 12 particles of matter are divided into two groups, six leptons and six quarks. The six quarks comprise all particles that interact via the strong nuclear force, like protons and neutrons. The leptons include the familiar electron and its two heavier cousins, the muon and the tau. The muon is the star of the new experiments.
The Standard ModelCredit: Cush via Wikimedia Commons licensed under CC0 1.0
For all its glory, the Standard Model described above is incomplete. The goal of fundamental physics is to answer the most questions with the least number of assumptions. As it stands, the values of the masses of all particles are parameters that we measure in the laboratory, related to how strongly they interact with the Higgs. We don't know why some interact much stronger than others (and, as a consequence, have larger masses), why there is a prevalence of matter over antimatter, or why the universe seems to be dominated by dark matter — a kind of matter we know nothing about, apart from the fact that it's not part of the recipe included in the Standard Model. We know dark matter has mass since its gravitational effects are felt in familiar matter, the matter that makes up galaxies and stars. But we don't know what it is.
Whatever happens, new science will be learned.
Physicists had hoped that the powerful Large Hadron Collider in Switzerland would shed light on the nature of dark matter, but nothing has come up there or in many direct searches, where detectors were mounted to collect dark matter that presumably would rain down from the skies and hit particles of ordinary matter.
Could muons fill in the gaps?
Enter the muons. The hope that these particles can help solve the shortcomings of the Standard Model has two parts to it. The first is that every particle, like a muon, that has an electric charge can be pictured simplistically as a spinning sphere. Spinning spheres and disks of charge create a magnetic field perpendicular to the direction of the spin. Picture the muon as a tiny spinning top. If it's rotating counterclockwise, its magnetic field would point vertically up. (Grab a glass of water with your right hand and turn it counterclockwise. Your thumb will be pointing up, the direction of the magnetic field.) The spinning muons will be placed into a doughnut-shaped tunnel and forced to go around and around. The tunnel will have its own magnetic field that will interact with the tiny magnetic field of the muons. As the muons circle the doughnut, they will wobble about, just like spinning-tops wobble on the ground due to their interaction with Earth's gravity. The amount of wobbling depends on the magnetic properties of the muon which, in turn, depend on what's going on with the muon in space.
Credit: Fabrice Coffrini / Getty Images
This is where the second idea comes in, the quantum vacuum. In physics, there is no empty space. The so-called vacuum is actually a bubbling soup of particles that appear and disappear in fractions of a second. Everything fluctuates, as encapsulated in Heisenberg's Uncertainty Principle. Energy fluctuates too, what we call zero-point energy. Since energy and mass are interconvertible (E=mc2, remember?), these tiny fluctuations of energy can be momentarily converted into particles that pop out and back into the busy nothingness of the quantum vacuum. Every particle of matter is cloaked with these particles emerging from vacuum fluctuations. Thus, a muon is not only a muon, but a muon dressed with these extra fleeting bits of stuff. That being the case, these extra particles affect a muon's magnetic field, and thus, its wobbling properties.
About 20 years ago, physicists at the Brookhaven National Laboratory detected anomalies in the muon's magnetic properties, larger than what theory predicted. This would mean that the quantum vacuum produces particles not accounted for by the Standard Model: new physics! Fast forward to 2017, and the experiment, at four times higher sensitivity, was repeated at the Fermi National Laboratory, where yours truly was a postdoctoral fellow a while back. The first results of the Muon g-2 experiment were unveiled on 7-April-2021 and not only confirmed the existence of a magnetic moment anomaly but greatly amplified it.
To most people, the official results, published recently, don't seem so exciting: a "tension between theory and experiment of 4.2 standard deviations." The gold standard for a new discovery in particle physics is a 5-sigma variation, or one part in 3.5 million. (That is, running the experiment 3.5 million times and only observing the anomaly once.) However, that's enough for plenty of excitement in the particle physics community, given the remarkable precision of the experimental measurements.
A time for excitement?
Now, results must be reanalyzed very carefully to make sure that (1) there are no hidden experimental errors; and (2) the theoretical calculations are not off. There will be a frenzy of calculations and papers in the coming months, all trying to make sense of the results, both on the experimental and theoretical fronts. And this is exactly how it should be. Science is a community-based effort, and the work of many compete with and complete each other.
Whatever happens, new science will be learned, even if less exciting than new particles. Or maybe, new particles have been there all along, blipping in and out of existence from the quantum vacuum, waiting to be pulled out of this busy nothingness by our tenacious efforts to find out what the world is made of.
Credit
: William Thomas Cain via Getty Images
Personal Growth
Benjamin Franklin wrote essays on a whole range of subjects, but one of his finest was on how to be a nice, likable person.
Franklin lists a whole series of common errors people make while in the company of others, like over-talking or storytelling.
His simple recipe for being good company is to be genuinely interested in others and to accept them for who they are.
Think of the nicest person you know. The person who would fit into any group configuration, who no one can dislike, or who makes a room warmer and happier just by being there.
What makes them this way? Why are they so amiable, likeable, or good-natured? What is it, you think, that makes a person good company?
There are really only two things that make someone likable.
This is the kind of advice that comes from one of history's most famously good-natured thinkers: Benjamin Franklin. His essay "On Conversation" is full of practical, surprisingly modern tips about how to be a nice person.
Franklin begins by arguing that there are really only two things that make someone likable. First, they have to be genuinely interested in what others say. Second, they have to be willing "to overlook or excuse Foibles." In other words, being good company means listening to people and ignoring their faults. Being witty, well-read, intelligent, or incredibly handsome can all make a good impression, but they're nothing without these two simple rules.
The sort of person nobody likes
From here, Franklin goes on to give a list of the common errors people tend to make while in company. These are the things people do that makes us dislike them. We might even find, with a sinking feeling in our stomach, that we do some of these ourselves.
1) Talking too much and becoming a "chaos of noise and nonsense." These people invariably talk about themselves, but even if "they speak beautifully," it's still ultimately more a soliloquy than a real conversation. Franklin mentions how funny it can be to see these kinds of people come together. They "neither hear nor care what the other says; but both talk on at any rate, and never fail to part highly disgusted with each other."
2) Asking too many questions. Interrogators are those people who have an "impertinent Inquisitiveness… of ten thousand questions," and it can feel like you're caught between a psychoanalyst and a lawyer. In itself, this might not be a bad thing, but Franklin notes it's usually just from a sense of nosiness and gossip. The questions are only designed to "discover secrets…and expose the mistakes of others."
3) Storytelling. You know those people who always have a scripted story they tell at every single gathering? Utterly painful. They'll either be entirely oblivious to how little others care for their story, or they'll be aware and carry on regardless. Franklin notes, "Old Folks are most subject to this Error," which we might think is perhaps harsh, or comically honest, depending on our age.
4) Debating. Some people are always itching for a fight or debate. The "Wrangling and Disputing" types inevitably make everyone else feel like they need to watch what they say. If you give even the lightest or most modest opinion on something, "you throw them into Rage and Passion." For them, the conversation is a boxing fight, and words are punches to be thrown.
5) Misjudging. Ribbing or mocking someone should be a careful business. We must never mock "Misfortunes, Defects, or Deformities of any kind", and should always be 100% sure we won't upset anyone. If there's any doubt about how a "joke" will be taken, don't say it. Offense is easily taken and hard to forget.
Not following Benjamin Franklin's advice.Credit: Ronald Martinez via Getty Images
On practical philosophy
Franklin's essay is a trove of great advice, and this article only touches on the major themes. It really is worth your time to read it in its entirety. As you do, it's hard not to smile along or to think, "Yes! I've been in that situation." Though the world has changed dramatically in the 300 years since Franklin's essay, much is exactly the same. Basic etiquette doesn't change.
If there's only one thing to take away from Franklin's essay, it comes at the end, where he revises his simple recipe for being nice:
"Be ever ready to hear what others say… and do not censure others, nor expose their Failings, but kindly excuse or hide them"
So, all it takes to be good company is to listen and accept someone for who they are.
Philosophy doesn't always have to be about huge questions of truth, beauty, morality, art, or meaning. Sometimes it can teach us simply how to not be a jerk.
Jonny Thomson teaches philosophy in Oxford. He runs a popular Instagram account called Mini Philosophy (@philosophyminis). His first book is Mini Philosophy: A Small Book of Big Ideas.
Surprising Science
A recent study analyzed the skulls of early Homo species to learn more about the evolution of primate brains.
Scroll down to load more…