A Map of the Truelove River
Stuck in Despair Marsh, or marching up the Determination Hills?
23 July, 2010
This early 20th century postcard, Shewing the Course of the Truelove River, charts that stream from its two headlands in the (Angelina River) and at Indifference Hill (Edwin River). Those two flows unite at the Falls of Dislike, follow a united course as the Truelove River through the Valley of Disdain – between the Mountains of Melancholy and Determination Hills.
---
After the Evasion Rapids, a river branch dead-ends at Despair Marsh, while its main flow turns sharply south at Pity Bend, then avoiding Friendship Corner to reach Tenderness Crossing, Kissing Ford and eventually Trothplight.
Then Opposition Bend, Angrysire, Separation Deep and Misery Marsh complete the encirclement of Sentimental Meadow. When the river flows out of Misery Marsh via Correspondence Outlet, it manages to slide by Richrival Bend, Sickbed and Sinking.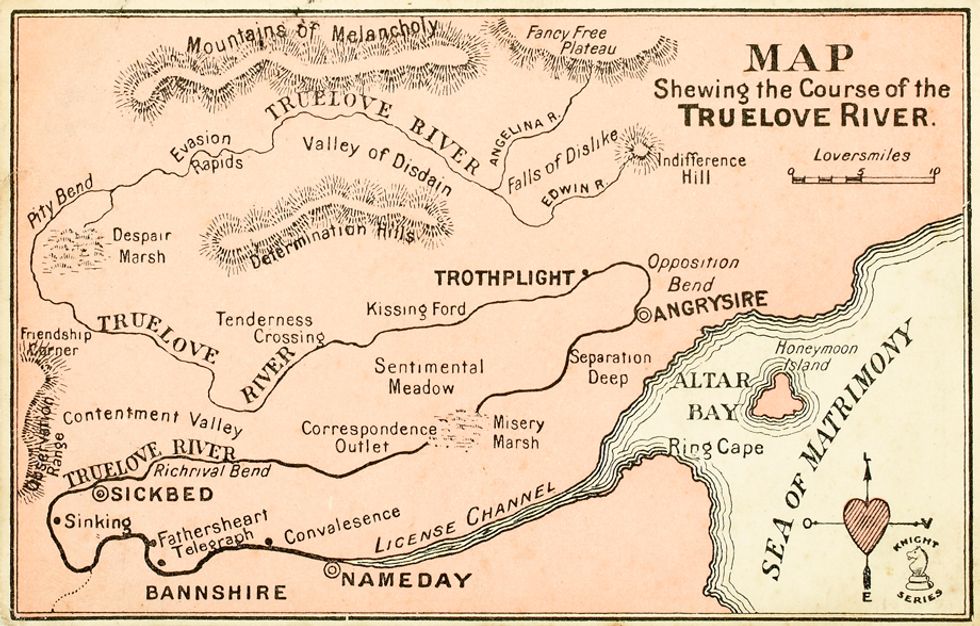 The localities of Fathersheart, Telegraph and Convalescence (all across the river from Bannshire), the Truelove River opens up into License Channel at Nameday. After Ring Cape, Altar Bay and Honeymoon Island, the Truelove River has morphed into the limitless Sea of Matrimony.
This map is reminiscent of other emotional cartography in a previous post, namely the A German Map of the Empire of Love (#59). However, whereas that map portrays love as any one of several different, static areas, the Truelove River presents love as a process in constant change, leading to a certain goal.
Found this map here at the excellent Radical Cartography.
Strange Maps #152
Got a strange map? Let me know at strangemaps@gmail.com.
Who is to blame for the U.S.'s dismal college graduation rate? "Radical" educator Dennis Littky has a hunch.
Sponsored by Charles Koch Foundation
COVID-19 has magnified the challenges that underserved communities face with regard to higher education, such as widening social inequality and sky-high tuition.
At College Unbound, where I am president, we get to know students individually to understand what motivates them, so they can build a curriculum based on goals they want to achieve.
My teaching mantra: Everything is permitted during COVID-19. Everything is permitted during COVID-19. Everything is permitted during COVID-19.
Meteorologists propose a stunning new explanation for the mysterious events in the Bermuda Triangle.
Surprising Science
One of life's great mysteries, the Bermuda Triangle might have finally found an explanation. This strange region, that lies in the North Atlantic Ocean between Bermuda, Miami and San Juan, Puerto Rico, has been the presumed cause of dozens and dozens of mind-boggling disappearances of ships and planes.
Did you know that shifting to a positive perspective on aging can add 7.5 years to your life? Or that there is a provable U-curve of happiness that shows people get happier after age 50?
Sweden tops the ranking for the third year in a row.
AXEL SCHMIDT/DDP/AFP via Getty Images
Technology & Innovation
What does COVID-19 mean for the energy transition? While lockdowns have caused a temporary fall in CO2 emissions, the pandemic risks derailing recent progress in addressing the world's energy challenges.
Culture & Religion
Neo's superhuman powers were only inside of The Matrix. The outside world offered a different reality.
Scroll down to load more…