Big ideas.
Once a week.
Subscribe to our weekly newsletter.
J.R.R. Tolkien's "Lord of the Rings": Real Places May Have Inspired Middle Earth
Tolkien himself wrote that "as for the shape of the world of the Third Age, I am afraid that was devised 'dramatically', rather than geologically, or paleontologically."
23 July, 2010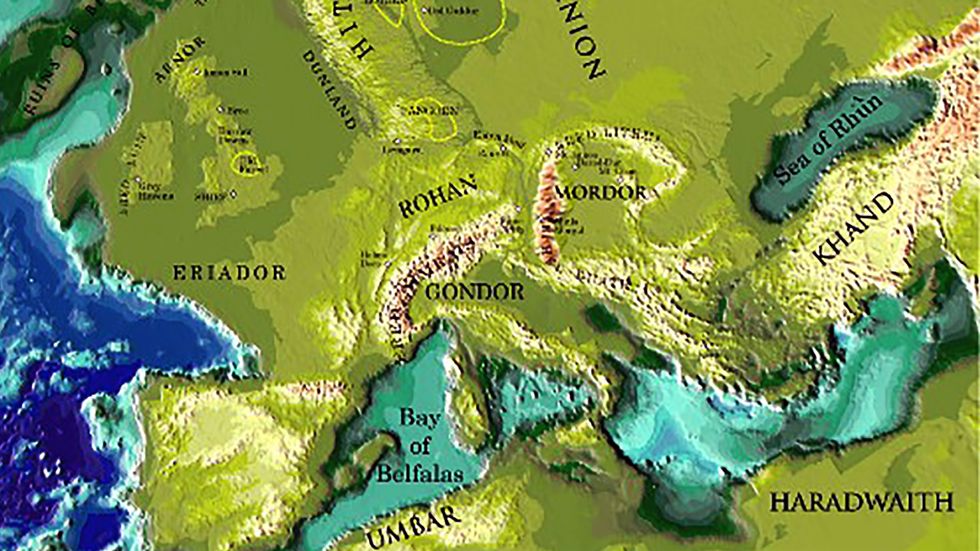 Middle-earth. J.R.R. Tolkien's invented mythology centered on an epic story of the struggle between Good and Evil, but it also included an elaborate backstory, a complex of languages, genealogies, cultures and peoples – and a map.
---
Created by Tolkien somewhere in the 1930s, the map shows the 'mortal lands' of Middle-earth, which according to Tolkien himself is part of our own Earth, but in a previous, mythical era. At the time of the events described in 'The Hobbit' and 'The Lord of the Rings', Middle-earth is moving towards the end of its Third Age, about 6.000 years ago.
Tolkien didn't create Middle-earth ex nihilo: ancient Germanic myths divide the Universe in nine worlds, inhabited by elves, dwarves, giants, etc. The world of men is the one in the middle, called Midgard, Middenheim or Middle-earth. That term doesn't thus describe the entirety of the world Tolkien thought up. The correct term for the total world is Arda – probably derived from German Erde ('Earth') and only first mentioned posthumously in the Silmarillion (1977); and Eä (for the whole Universe).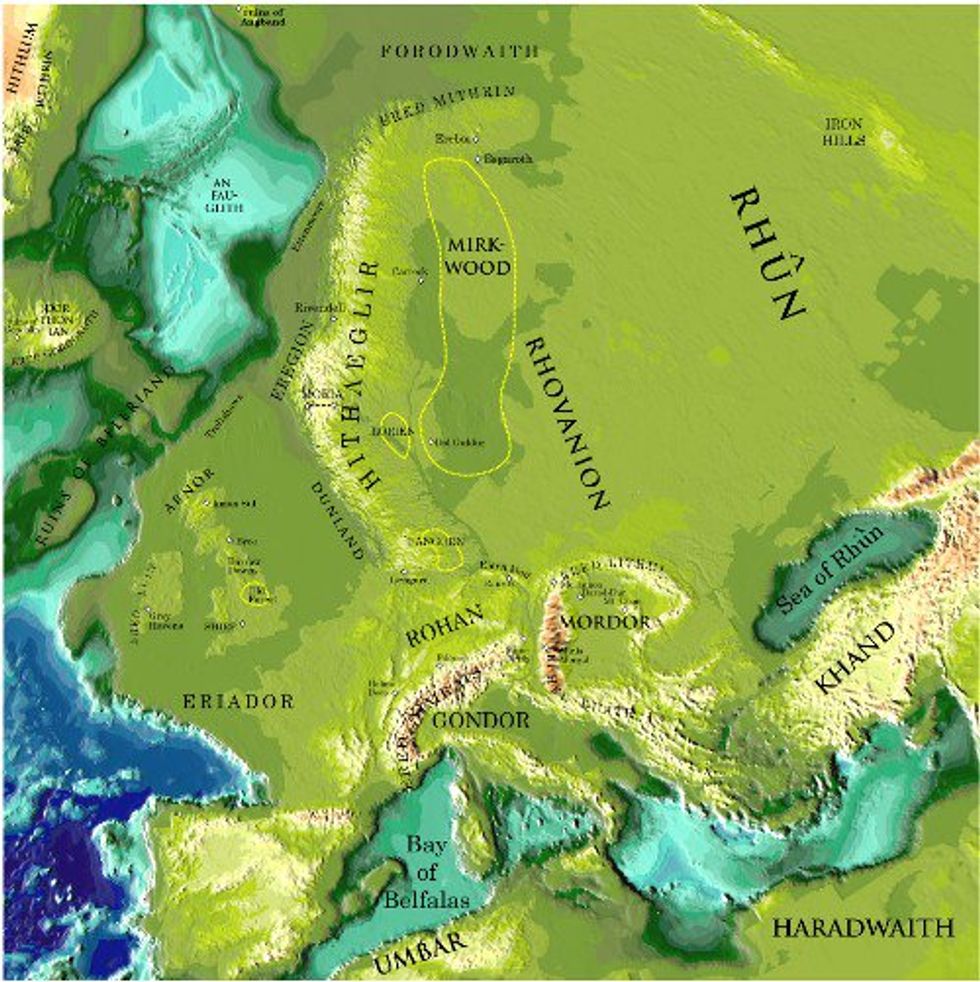 The Hobbits are described as inhabiting 'the North-West of the Old World, east of the Sea', and therefore it's tempting to associate their home with Tolkien's own, England. Yet, Tolkien himself wrote that 'as for the shape of the world of the Third Age, I am afraid that was devised 'dramatically', rather than geologically, or paleontologically." Elsewhere, Tolkien does admit "The 'Shire' is based on rural England, and not any other country in the world."
Tolkien at least compares his 'Old World' with Europe: "The action of the story takes place in the North-West of 'Middle-earth', equivalent in latitude to the coastlands of Europe and the north shores of the Mediterranean (…) If Hobbiton and Rivendell are taken (as intended) to be about the latitude of Oxford, then Minas Tirith, 600 miles south, is at about the latitude of Florence. The Mouths of Anduin and the ancient city of Pelargir are at about the latitude of ancient Troy."
But, as Tolkien states in the prologue to 'The Lord of the Rings', it would be fruitless to look for geographical correspondences, as "Those days, the Third Age of Middle-earth, are now long past, and the shape of all lands has been changed…" And yet, that's exactly what Peter Bird attempts with the map here shown. Bird, a professor of Geophysics and Geology at UCLA, has overlapped the map of Middle-earth with one of Europe, which leads to following locations:
• The Shire is in the South-West of England, which further north is also home to the Old Forest (Yorkshire?), the Barrow Downs (north of England), the city of Bree (at or near Newcastle-upon-Tyne) and Amon Sul (Scottish Highlands).
• The Grey Havens are situated in Ireland.
• Eriador corresponds with Brittany.
• Helm's Deep is near the Franco-German-Swiss border tripoint, close to the city of Basel.
• The mountain chain of Ered Nimrais is the Alps.
• Gondor corresponds with the northern Italian plains, extended towards the unsubmerged Adriatic Sea.
• Mordor is situated in Transylvania, with Mount Doom in Romania (probably), Minas Morgul in Hungary (approximately) and Minas Tirith in Austria (sort of).
• Rohan is in southern Germany, with Edoras at the foot of the Bavarian Alps. Also in Germany, but to the north, near present-day Hamburg, is Isengard. Close by is the forest of Fangorn.
• To the north is Mirkwood, further east are Rhovanion and the wastes of Rhûn, close to the Ural mountains.
• The Sea of Rhûn corresponds to the Black Sea.
• Khand is Turkey
• Haradwaith is the eastern part of North Africa, Umbar corresponds with the Maghreb, the western part of North Africa.
• The Bay of Belfalas is the western part of the Mediterranean.
This map taken here from professor Bird's page at UCLA.
Evolution proves to be just about as ingenious as Nikola Tesla
Surprising Science
For the first time, scientists developed 3D scans of shark intestines to learn how they digest what they eat.
The scans reveal an intestinal structure that looks awfully familiar — it looks like a Tesla valve.
The structure may allow sharks to better survive long breaks between feasts.
Considering how much sharks are feared by humans, it is a bit of a surprise that scientists don't know much about the predators. For example, until recently, sharks were thought to be solitary creatures searching the seas for food on their own. Now it appears that some sharks are quite social.
Another mystery is how these prehistoric swimming and eating machines digest food. Although scientists have made 2D sketches of captured sharks' digestive systems based on dissections, there is a limit to what can be learned in this way. Professor Adam Summers at University of Washington's Friday Harbor Labs says:
"Intestines are so complex, with so many overlapping layers, that dissection destroys the context and connectivity of the tissue. It would be like trying to understand what was reported in a newspaper by taking scissors to a rolled-up copy. The story just won't hang together."
Summers is co-author of a new study that has produced the first 3D scans of a shark's intestines, which turns out to have a strange, corkscrew structure. What's even more bizarre is that it resembles the amazing one-way valve designed by inventor Nikola Tesla in 1920. The research is published in the journal Proceedings of the Royal Society B.
What a 3D model reveals
Video: Pacific spiny dogfish intestine youtu.be
According to the study's lead author Samantha Leigh, "It's high time that some modern technology was used to look at these really amazing spiral intestines of sharks. We developed a new method to digitally scan these tissues and now can look at the soft tissues in such great detail without having to slice into them."

"CT scanning is one of the only ways to understand the shape of shark intestines in three dimensions," adds Summers. The researchers scanned the intestines of nearly three dozen different shark species.
It is believed that sharks go for extended periods — days or even weeks — between big meals. The scans reveal that food passes slowly through the intestine, affording sharks' digestive system the time to fully extract its nutrient value. The researchers hypothesize that such a slow digestive process may also require less energy.
It could be that this slow digestion is more susceptible to back flow given that the momentum of digested food through the tract must be minimal. Perhaps that is why sharks evolved something so similar to a Tesla valve.
What is Tesla's valve doing there?
Above, a Tesla valve. Below, a shark intestine.Credit: Samantha Leigh / California State University, Domi
Tesla's "valvular conduit," or what the world now calls a "Tesla valve," is a one-way valve with no moving parts. Its brilliance is based in fluid dynamics and only now coming to be fully appreciated. Essentially, a series of teardrop-shaped loops arranged along the length of the valve allow water to flow easily in one direction but not in the other. Modern tests reveal that at low flow rates, water can travel through the valve either way, but at high flow rates, the design kicks in. According to mathematician Leif Ristroph:

"Crucially, this turn-on comes with the generation of turbulent flows in the reverse direction, which 'plug' the pipe with vortices and disrupting currents. Moreover, the turbulence appears at far lower flow rates than have ever previously been observed for pipes of more standard shapes — up to 20 times lower speed than conventional turbulence in a cylindrical pipe or tube. This shows the power it has to control flows, which could be used in many applications."
A deeper dive
Summers suggests the scans are just the beginning. "The vast majority of shark species, and the majority of their physiology, are completely unknown," says Summers, adding that "every single natural history observation, internal visualization, and anatomical investigation shows us things we could not have guessed at."
To this end, the researchers plan to use 3D printing to produce models through which they can observe the behavior of different substances passing through them — after all, sharks typically eat fish, invertebrates, mammals, and seagrass. They also plan to explore with engineers ways in which the shark intestine design could be used industrially, perhaps for the treatment of wastewater or for filtering microplastics.
It could fairly be said, though, that Nikola Tesla was 100 years ahead of them.
Opponents of 19th-century American imperialism were not above body-shaming the personification of the U.S. government.
Credit
: Bill of Rights Institute / Public domain
Strange Maps
In the years before 1900, the United States was experiencing a spectacular spurt of growth.
Not everyone approved: many feared continued expansionism would lead to American imperialism.
To illustrate the threat, Uncle Sam was depicted as dangerously or comically fat.
Detail from "Charge of the 24th and 25th Colored Infantry, July 2nd 1898", depicting the Battle of San Juan Hill – a turning point in the Spanish-American War. Credit: Kurz and Allison / Public domain
The past is a different country. And not just in the poetic sense. In the early 19th century, the United States was much smaller than it is today. But by the end of that century, the U.S. had consolidated into an empire both in the continental sense as well as the colonial one: not only did it stretch across the entirety of North America, from sea to shining sea, it also had acquired significant amounts of territory and influence beyond those shores.

Decidedly non-progressive
America's imperial girth and radiance may seem like faits accomplis today, but they were vehemently contested by the domestic press of the time. At the very tail of the century, this opposition led to a curious cartographic phenomenon which, despite its anti-imperialist origins, we today recognize as a decidedly non-progressive practice: the fat-shaming of Uncle Sam.
Uncle Sam is the personification of the United States (the country and, often specifically, its government), with which he shares his initials. His exact origins are unknown, although an apocryphal reference is often made to Samuel Wilson, a meat packer from Troy, NY and supplier of American troops during the War of 1812. Authenticity concerns aside, ever since 1989, the U.S. has had an annual Uncle Sam Day on September 13th, Wilson's birthday.
However, Uncle Sam is also the continuation of Brother Jonathan, who personified the typical New England Yankee and has his origins in the 17th-century English Civil War (where the term was used by the Royalists to mock the Puritans). Sam certainly borrowed Jonathan's striped pants, stove-pipe hat, and lanky figure. The thinness and old-fashioned appearance of both Jonathan and Sam (who were interchangeable by the mid-19th century) were meant to symbolize a kind of restless thriftiness, a supposedly national trait of the Yankee — and by extension, the American nation.
A lightning rod for criticism
Around the time of the Civil War, Sam had largely supplanted Jonathan as a national figure. As a sort of shorthand of the U.S., Uncle Sam was a favorite of cartoonists in the 19th and 20th centuries. (He seems to have gone a bit out of fashion in the 21st.) Especially during the World Wars, he was used as a symbol of national resilience and an important ingredient of patriotic propaganda. Inversely, he was also easily adopted as a lightning rod for criticism of the U.S. and its international policies.
In various cartoons of the 19th century's last decade, Uncle Sam — recognizable by his goatee and tricolored clothes — is depicted as increasingly fat and mocked for it. His embonpoint is understood to be a symbol of geopolitical gluttony, making him — that is, the United States itself — appear both avaricious and ridiculous on the world stage. This was the build-up toward the Spanish-American war of 1898, from which the U.S. would emerge victorious and in possession of much of Spain's remaining overseas empire, consisting of the Philippines, Puerto Rico, Cuba, and other smaller island territories.
This can be seen as America's Julius Caesar moment — when it, like Rome before it, changed from a republic into an empire. It was certainly recognized (and feared) as such in those days.

Trying to swallow Cuba whole
A Victor Gillam cartoon for Judge, this front-page illustration clearly shows Uncle Sam's voracious ambition toward Cuba. Credit: Cornell University Library / Public domain
On August 10, 1895, the satirical magazine Judge published a cartoon by Victor Gillam on its front page that showed a modified map of North America, enlisting the continent's geography to make a shockingly visceral, anti-imperialist point.
Cuba is shown as a small fish, attempting to swim away from the maw of Uncle Sam, who coincides with North America itself. Mexico is his lower jaw, Central America his goatee, Florida his nose, Washington, DC his all-seeing eye, and Canada his hat.
The map is entitled The Trouble in Cuba. The trouble seems to be that Cuba refuses to be swallowed by Uncle Sam, who says, "I've had my eye on that morsel for a long time; guess I'll have to take it in!"

An expansionist menu
"You're too late", says Uncle Sam: "I've eaten."Credit: National Archives / Public domain
In this cartoon, Uncle Sam, identified with President McKinley, is presented as a glutton and his detractors as too slow to stop him. In 1898, the United States had won the Spanish-American War, laying claim to Puerto Rico and the Philippines among other spoils of the now defunct Spanish empire. In the same year, the U.S. had also acquired Hawaii as a territory.
Many in Congress worried that McKinley's policy of continued expansion would lead to imperialism. Bursting through the door to prevent Uncle Sam from gobbling up a load of overseas territories are Representative William Jennings Bryan and Senator George Frisbie Hoar. They are too late; the plates are empty. On the ground is an Expansion Menu, listing what just has been devoured: Hawaiian Soup, Portorican Rice (?), Philippine Pudding.

Cracks in the pond
Skating on thin ice? U.S. expansionism reimagined as a winter sport.Credit: Library of Congress / Public domain
This centerfold cartoon from the New York Herald of November 26, 1898 shows the comically rotund figures of Uncle Sam and President McKinley, skating across a wintery landscape on a body of water labelled Expansion Pond. A rather joyless figure in a deerstalker hat, perhaps newspaper magnate Joseph Pulitzer, known for his anti-expansionist stance, does not want to join in the fun. "I will not skate on your pond," he avers.

Big, bigger, best?
A cartoon from 1899, from the satirical magazine Judge, depicting the growth (and growth) of the United States.Credit: Bill of Rights Institute / Public domain
In 1899, Judge published another cartoon by Victor Gillam, entitled A Lesson for Anti-Expansionists. Showing the growth of Uncle Sam over the various stages of his life, that lesson is how the U.S. "has been an expansionist first, last, and all the time."
On the left, the U.S. starts out as an infant (1783, 13 states).
The second figure is a strapping young lad confidently leaning on a frontiersman's axe (1803, Louisiana Purchase).
The third figure is a stern-looking, musket-holding soldier (1819, Florida ceded by Spain).
The fourth figure is a supremely confident-looking gentleman, newly goateed and top-hatted (1861, having recently annexed Texas).
Fifth is an older gentleman, slightly roguish and rotund (1898, annexed Hawaii).
In just one year, Uncle Sam has gone from merely full-figured to morbidly obese but with a confident smirk on his face and a ship under his arm, as a symbol of the naval prowess that earned him various colonies (Cuba, Philippines, Porto Rico [sic] in 1899).
The final figure is pondering the many hands outstretched toward him, labelled as Russia, China, Germany, England, and other world powers. "And now all the nations are anxious to be on friendly terms with Uncle Sam," the caption reads. Unlike Gillam's earlier cartoon, this one can be construed as ambiguous: is this a critique of expansionism or an acknowledgement of the influence that expansion has brought with it?
Expand and explode

"1776 – 1803 – 1867 – 1898 - ?": Life magazine cartoon critical of America's expansionism.Credit: Life magazine, 26-January-1899, pp. 72-73. Via Hathi Trust Digital Library / Public domain
Gillam may have been inspired by a cartoon published earlier that year in Life magazine, which depicts a similarly inflating Uncle Sam, but with a more dramatic finale.
Uncle Sam starts out as his full-grown, slim-figured self in 1776.
The Louisiana Purchase of 1803 seems to subtract rather than to add to his joy.
The annexations of Alaska and Texas only add to his discomfort.
Discomfort turns to distemper in 1898, with the takeover of the defunct Spanish empire in the Pacific and Caribbean.
Growing ever bigger and more agitated over the course of these additions, can it be far off before Uncle Sam simply explodes?
Intervention at the tailor shop
Cartoon by John S. Pughe, published in Puck on September 5, 1900, titled "Declined with Thanks."Credit: Keppler & Swartzmann / Public domain
This cartoon from 1900 shows then-President William McKinley as a tailor, sizing up an enormous Uncle Sam. The striped pants list Sam's recent acquisitions, from Louisiana and California to Hawaii and Porto Rico.
McKinley is getting ready to cut Uncle Sam a new suit from cloth labelled "enlightened foreign policy - rational expansion." But three stern-looking gentlemen have entered McKinley's tailor shop and are keen for another course of action. They want to administer a medicine called "anti-expansionist policy."
The most prominent of the three would have been recognized by contemporaries as publishing magnate Joseph Pulitzer, campaigner against imperial expansion. He says, "Here, take a dose of this anti-fat and get thin again!" To which Uncle Sam replies, "No, Sonny! I never did take any of that stuff, and I'm too old to begin!"
And… thin again
John Bull and Uncle Sam in the year 1900, a study in contrasts. Credit: American Truth Society / Public domain
Uncle Sam and other national personifications have several advantages over real people — one of those is that they can change body type to fit the situation.

Despite years of cartoons showing Uncle Sam as getting too big for his britches, in this illustration from 1900 he reverts to type, becoming rail-thin again. The reason: to contrast with that other national archetype, John Bull, representing the British Empire, which was then at its height. How do you personify a globe-spanning empire? By fattening up the figure in question.
Without knowing anything about the content of The Fable of John Bull and Uncle Sam, it is safe to say, judging from the stance of both figures alone, that it will show the former as unworthy of his leading role in the world with the latter more capable and willing to assume that role.
Most maps were taken from this article on Carto-Caricatures, a fascinating blog about the intersection between cartography and caricature.
Strange Maps #1097
Got a strange map? Let me know at strangemaps@gmail.com.
Information may not seem like something physical, yet it has become a central concern for physicists. A wonderful new book explores the importance of the "dataome" for the physical, biological, and human worlds.
Credit: agsandrew via Adobe Stock
13-8
The most important current topic in physics relates to a subject that hardly seems physical at all — information, which is central to thermodynamics and perhaps the universe itself.
The "dataome" is the way human beings have been externalizing information about ourselves and the world since we first began making paintings on cave walls.
The dataome is vast and growing everyday, sucking up an ever increasing share of the energy humans produce.
Physics is a field that is supposed to study real stuff. By real, I mean things like matter and energy. Matter is, of course, the kind of stuff you can hold in your hand. Energy may seem a little more abstract, but its reality is pretty apparent, appearing in the form of motion or gravity or electromagnetic fields.
What has become apparent recently, however, is the importance to physics of something that seems somewhat less real: information. From black holes to quantum mechanics to understanding the physics of life, information has risen to become a principal concern of many physicists in many domains. This new centrality of information is why you really need to read astrophysicist Caleb Scharf's new book The Ascent of Information: Books, Bits, Machines, and Life's Unending Algorithms.
Scharf is currently the director of the Astrobiology Program at Columbia University. He is also the author of four other books as well as a regular contributor to Scientific American.
(Full disclosure: Scharf and I have been collaborators on a scientific project involving the Fermi Paradox, so I was a big fan before I read this new book. Of course, the reason why I collaborated with him is because I really like the way he thinks, and his creativity in tackling tough problems is on full display in The Ascent of Information.)
What is the dataome?
In his new book, Scharf is seeking a deeper understanding of what he calls the "dataome." This is the way human beings have been externalizing information about ourselves and the world since we first began making paintings on cave walls. The book opens with a compelling exploration of how Shakespeare's works, which began as scribbles on a page, have gone on to have lives of their own in the dataome. Through reprintings in different languages, recordings of performances, movie adaptations, comic books, and so on, Shakespeare's works are now a permanent part of the vast swirling ensemble of information that constitutes the human dataome.
I found gems in these parts of the book that forced me to put the volume down and stare into space for a time to deal with their impact.
But the dataome does not just live in our heads. Scharf takes us on a proper physicist's journey through the dataome, showing us how information can never be divorced from energy. Your brain needs the chemical energy from food you ate this morning to read, process, and interpret these words. One of the most engaging parts of the book is when Scharf details just how much energy and real physical space our data-hungry world consumes as it adds to the dataome. For example, the Hohhot Data Center in the Inner Mongolia Autonomous Region of China is made of vast "farms" of data processing servers covering 245 acres of real estate. A single application like Bitcoin, Scharf tells us, consumes 7.7 gigawatts per year, equivalent to the output of half a dozen nuclear reactors!
Information is everywhere
But the dataome is not just about energy. Entropy is central to the story as well. Scharf takes the reader through a beautifully crafted discussion of information and the science of thermodynamics. This is where the links between energy, entropy, the limits of useful work, and probability all become profoundly connected to the definition of information.
The second law of thermodynamics tells us that you cannot use all of a given amount of energy to do useful work. Some of that energy must be wasted by getting turned into heat. Entropy is the physicist's way of measuring that waste (which can also be thought of as disorder). Scharf takes the reader through the basic relations of thermodynamics and then shows how entropy became intimately linked with information. It was Claude Shannon's brilliant work in the 1940s that showed how information — bits — could be defined for communication and computation as an entropy associated with the redundancy of strings of symbols. That was the link tying the physical world of physics explicitly to the informational and computational world of the dataome.
The best parts of the book are where Scharf unpacks how information makes its appearance in biology. From the data storage and processing that occurs with every strand of DNA, to the tangled pathways that define evolutionary dynamics, Scharf demonstrates how life is what happens to physics and chemistry when information matters. I found gems in these parts of the book that forced me to put the volume down and stare into space for a time to deal with their impact.
The physics of information
There are a lot of popular physics books out there about black holes and exoplanets and other cool stuff. But right now, I feel like the most important topic in physics relates to a subject that hardly seems physical at all. Information is a relatively new addition to the physics bestiary, making it even more compelling. If you are looking for a good introduction to how that is so, The Ascent of Information is a good place to start.
Scroll down to load more…