113 - The Postcode Map of the United Kingdom
Frank Jacobs
From a young age, Frank was fascinated by maps and atlases, and the stories they contained. Finding his birthplace on the map in the endpapers of Tolkien's Lord of the Rings only increased his interest in the mystery and message of maps.
While pursuing a career in journalism, Frank started a blog called Strange Maps, as a repository for the weird and wonderful cartography he found hidden in books, posing as everyday objects and (of course) floating around the Internet.
"Each map tells a story, but the stories told by your standard atlas for school or reference are limited and literal: they show only the most practical side of the world, its geography and its political divisions. Strange Maps aims to collect and comment on maps that do everything but that - maps that show the world from a different angle".
A remit that wide allows for a steady, varied diet of maps: Frank has been writing about strange maps since 2006, published a book on the subject in 2009 and joined Big Think in 2010. Readers send in new material daily, and he keeps bumping in to cartography that is delightfully obscure, amazingly beautiful, shockingly partisan, and more.
23 July, 2010
You should take a look at a website called www.motorwaymap.co.uk for an elaborate diagram of Great Britain's motorways, along the lines of post #75 on this blog, showing a streamlined diagram of the Eisenhower Interstate System reminiscent of subway maps. The UK motorway map is a bit too big to show here in great detail, but an equally interesting map on that site represents a 'boxed' view of the UK, visually demonstrating the UK postal area codes. Many thanks to Gerald Higgins, the creator of the motorway map, the postal code map (and other interesting ones) for pointing them out to me.
---
Postal codes in the UK are called 'postcodes', and were introduced from 1959 to 1974. Most big cities already had postcodes – London was first divided into 10 postal districts in 1857-'58 and subdivisions were numbered in 1917 (e.g. W1, SE2, etc.) London still retains this system, while pre-existing city postal areas elsewhere were incorporated into the new system.
Outside the London Postal Area, UK postcodes have an identical format, generally consisting of two sets of characters separated by a space:
the out code, two to four characters long and always starting with one or two letters, the area part. This is followed by the district part: either one number, two numbers or a number and a letter. the in code, always three characters long, always one number, the sector part. This is followed by two letters, the unit part.
The out code is used to send the mail to the destination sorting office, where the in code is used to sort the mail into delivery rounds. This code is a hierarchical system, the first letter(s) denoting the largest area, the rest of the characters steadily defining the exact location of the address – be it a street, part of a street or even a single building. There are 124 postal areas, 3.064 postal districts, 11.598 postal sectors and 1.780.000 postal units in the UK. And some 27 million individual addresses.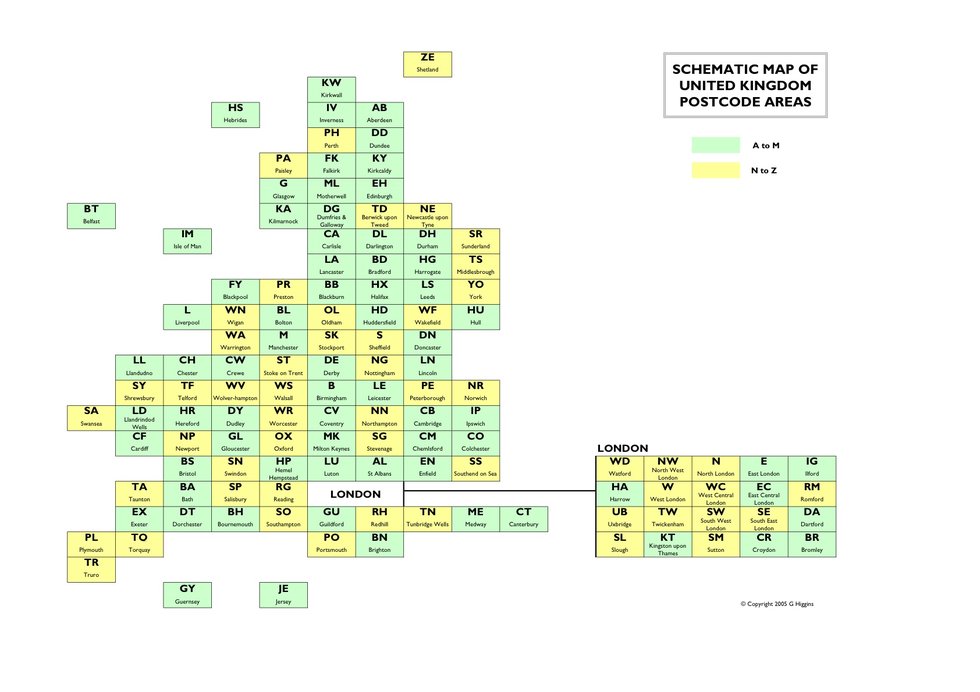 The letter(s) in the out code give some clue to the geographical location of the address, with one notable exception: SAN TA1 is the postcode for correctly addressed letters to Father Christmas. Some other interesting specific postcodes in London: SW1A 0AA (House of Commons), SW1A 1AA (Buckingham Palace), SW1A 2AA (10, Downing Street, Prime Minister's Office). The Channel Islands and the Isle of Man adopted postcodes only in the early 1990s, following the UK format: JE (Jersey), GY (Guernsey) and IM (Isle of Man). IM is sometimes replaced by EV (Ellan Vannin, the island's name in its native Manx language).
Other British overseas territories have separate postcodes, often to eliminate confusion. ASCN 1ZZ is used for Ascension Island, as previously mail for the island often ended up in Ascuncion, Paraguay. Similarly, STHL 1ZZ prevents mail for Saint Helena in the South Atlantic from going to St Helen's in Merseyside.
Giving our solar system a "slap in the face"
Surprising Science
A stream of galactic debris is hurtling at us, pulling dark matter along with it
It's traveling so quickly it's been described as a hurricane of dark matter
Scientists are excited to set their particle detectors at the onslffaught
We know the dangers of too little sleep. Now for the other side of the story.
Photo: Vladislav Muslakvo / Unsplash
Surprising Science
Western University researchers found that sleeping over eight hours per night results in cognitive decline.
Oversleepers suffer similar difficulties on certain cognitive tests as those who sleep under seven hours.
Not all the news is bad: One night of oversleeping results in a cognitive boost.
Firefighters in California are still struggling to contain several wildfires nearly one week after they broke out.
(Photo by Elijah Nouvelage/Getty Images)
Politics & Current Affairs
Hundreds of people are still missing after three wildfires spread across Northern and Southern California last week.
48 of the 50 deaths occurred after the Camp Fire blazed through the town of Paradise, north of Sacramento.
On Tuesday night, a fourth wildfire broke out, though it's mostly contained.
Big think's weekly newsletter.
Get smarter faster from the comfort of your inbox.
See our newsletter privacy policy
here
Most Popular
Most Recent
Big think's weekly newsletter.
Get smarter faster from the comfort of your inbox.
See our newsletter privacy policy
here
© Copyright 2007-2018 & BIG THINK, BIG THINK EDGE,
SMARTER FASTER trademarks owned by The Big Think, Inc. All rights reserved.