Digging a Tunnel Through the Earth? Get Ready to Get Wet
Your antipodes most likely have fins rather than feet
23 July, 2010
Imagine that you could drill a hole straight through the Earth. Suspend your disbelief for a moment, ignoring the molten core that would fry you. Where would you end up?
---
In geographical coordinates, the answer is quite simple(*): If the coordinates (longitude and latitude) of a point on the Earth's surface are (x, y), then the coordinates of the antipodal point can be written as (x ± 180°, −y). So the latitudes are numerically equal, but one is north and the other south. And the longitudes differ from each other by 180 degrees. Plus or minus: it doesn't really matter in which direction you count those 180 degrees, as either way will lead you to the same point (a circle having a circumference of 360 degrees).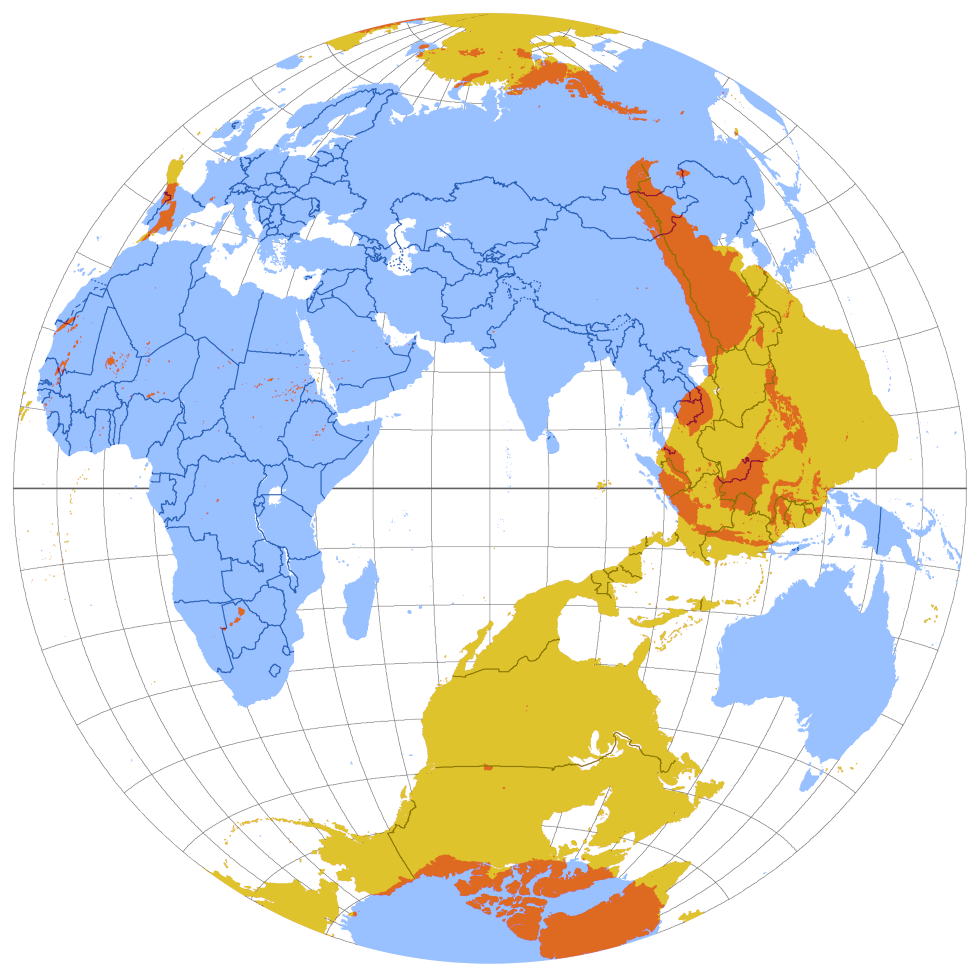 Antipodes map, eastern hemisphere perspective.
An example. If you start out at, say, 46,95 degrees longitude West and 39,00 degrees latitude North , after you've dug through the Earth's core you'll end up at longitude 133,05° East (133,05 being the result of 180,00 – 46,95) and latitude 39,00° South.
Only, for most people, the place where you'll end up won't be land, but water. The oceans cover about 70% of our planet's surface. Your antipodes (a Greek word translatable as: 'those whose feet are on the other side') mostly don't have feet, but fins. If you could 'sandwich' the Earth, as is done in this map made by Rebecca Catherine Brown (who got the idea from this site, but produced it herself and submitted it to strangemaps@gmail.com), the overlap of land would be surprisingly small.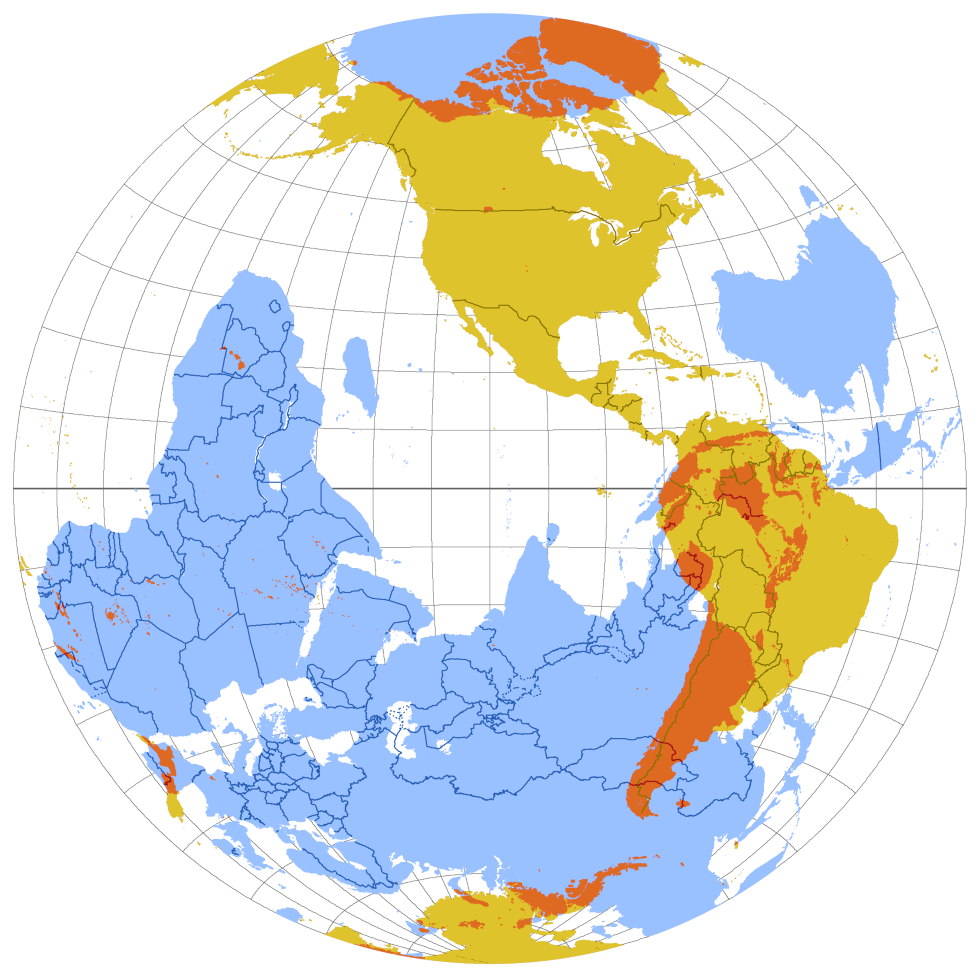 Antipodes map, western hemisphere perspective.
The title of the 1970s movie 'The China Syndrome' refers to the idea that if you dig a hole through the Earth starting in the US, you end up in China. This map shows it ain't so. In fact, only a little bit of China overlaps – and with the southern part of South America. Funnily enough, the good people of Argentina seem to have taken this into account when naming the city of Formosa, which is the antipode of Taiwan, the island off the Chinese coast formerly known as… Formosa. There's almost no overlap in North America, none in Africa and just a bit in Europe (the Iberian peninsula with New Zealand's North Island).
The website Antipodes Map allows for interactive searching for antipodeal locations. Which will probably end up in some ocean or other. Anybody know the Greek word for fin?
Strange Maps #104
Got a strange map? Let me know at strangemaps@gmail.com.
Sharon Salzberg, world-renowned mindfulness leader, teaches meditation at Big Think Edge.
Image: Big Think
Big Think Edge
Try meditation for the first time with this guided lesson or, if you already practice, enjoy being guided by a world-renowned meditation expert.
Sharon Salzberg teaches mindfulness meditation for Big Think Edge.

Subscribe to Big Think Edge before we launch on March 30 to get 20% off monthly and annual memberships.
A new computer model solves a pair of Jovian riddles.
(NASA/JPL-Caltech/SwRI/MSSS/Kevin M. Gill)
Surprising Science
Astronomers have wondered how a gas giant like Jupiter could sit in the middle of our solar system's planets.
Also unexplained has been the pair of asteroid clusters in front of and behind Jupiter in its orbit.
Putting the two questions together revealed the answer to both.
They didn't know it, but the rituals of Iron Age Scandinavians turned their iron into steel.
Shutterstock
Culture & Religion
Iron Age Scandinavians only had access to poor quality iron, which put them at a tactical disadvantage against their neighbors.
To strengthen their swords, smiths used the bones of their dead ancestors and animals, hoping to transfer the spirit into their blades.
They couldn't have known that in so doing, they actually were forging a rudimentary form of steel.
Artists and fans are the big losers as bot-powered scalpers make a killing.
Bruce Springsteen performs on stage at The New York Comedy Festival and The Bob Woodruff Foundation present the 12th Annual Stand Up For Heroes event at The Hulu Theater at Madison Square Garden on November 5, 2018 in New York City. (Photo by Brian Ach/Getty Images for Bob Woodruff Foundation)
Politics & Current Affairs
The secondary ticketing market is predicted to grow to $15.19 billion next year.
Artists, athletes, management, and venues see none of this revenue—it all goes to scalpers and ticketing agencies.
Some companies are likely in breach of anti-trust laws, but no one seems to be regulating the industry.
Big think's weekly newsletter.
Get smarter faster from the comfort of your inbox.
See our newsletter privacy policy
here
Most Popular
Most Recent
Big think's weekly newsletter.
Get smarter faster from the comfort of your inbox.
See our newsletter privacy policy
here
© Copyright 2007-2018 & BIG THINK, BIG THINK EDGE,
SMARTER FASTER trademarks owned by The Big Think, Inc. All rights reserved.