The Incredible Effect Black Teachers Have on Black Students
A growing body of research suggests that students of color perform better in school when they have at least one teacher of the same race.
28 November, 2017
---
Students of color perform better in school when they have at least one teacher of the same race, suggests a growing body of research. A recent study explored this phenomenon by analyzing the racial disparities among American schoolchildren and their teachers in various parts of the country, and sought to understand how young adults become teachers in the first place.
The researchers—Constance A. Lindsay, Erica Blom and Alexandra Tilsley of the Urban Institute—used data from the American Community Survey to illustrate the racial disparities among teachers and students.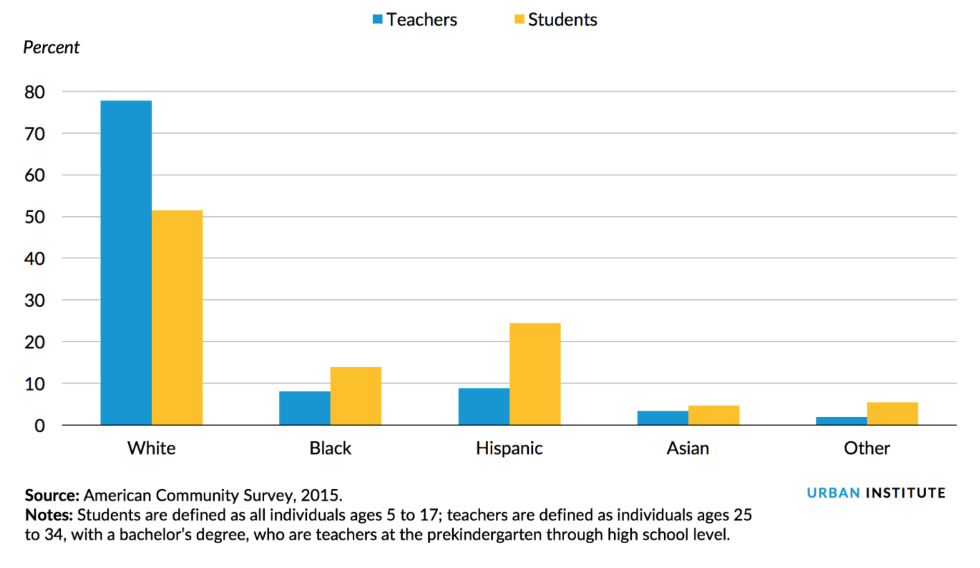 Why should we care about these disparities? The authors wrote that while the jury's still out on the exact causal mechanisms at play, a growing body of research suggests that same-race teachers can have positive effects on students of color by having higher expectations, serving as role models, and having a better cultural understanding of the students. These effects seem especially significant for economically disadvantaged black male students, as David Figlio writes in an article for the Brookings Institute:
For instance, they find that a disadvantaged black male's exposure to at least one black teacher in elementary school reduces his probability of dropping out of high school by nearly 40 percent. This estimated effect is not just statistically significant, but also highly educationally relevant.
Research also suggests that black students are less likely to be suspended and more likely to be admitted to gifted programs when they have black teachers. 
Given the impacts same-race teachers can have on students of color, the authors of the recent study sought to understand how young adults become teachers. The biggest prerequisite for becoming a teacher in the U.S. is obtaining a bachelor's degree. And here, too, lie significant racial disparities.
White and Asian young adults obtain high school and university degrees at significantly higher rates than their black and Hispanic counterparts, even though the portion of young adults who  earn bachelor's degrees and then become teachers is basically the same across all races. The researchers argue that increasing the amount of black and Hispanic young adults who earn bachelor's degrees would result in more equal representation in the classroom. 
By expanding the pool of college graduates, we expand the pool of potential teachers. The pipeline to a teaching career starts well before college graduation—it starts with getting more black and Hispanic young people through high school and college.
They propose that doing so would not only benefit students of color, but society at large:
In addition to the strong economic and social benefits accruing to the students themselves when they graduate from high school, Levin and Rouse argue that the net benefit to taxpayers associated with each new high school graduate is well over $100,000.
Antimicrobial resistance is growing worldwide, rendering many "work horse" medicines ineffective. Without intervention, drug-resistant pathogens could lead to millions of deaths by 2050. Thankfully, companies like Pfizer are taking action.
Image courtesy of Pfizer.
Antimicrobial-resistant pathogens are one of the largest threats to global health today.
As we get older, our immune systems age, increasing our risk of life threatening infections. Without reliable antibiotics, life expectancy could decline for the first time in modern history.
If antibiotics become ineffective, common infections could result in hospitalization or even death. Life-saving interventions like cancer treatments and organ transplantation would become more difficult, more often resulting in death. Routine procedures would become hard to perform.
Without intervention, resistant pathogens could result in 10 million annual deaths by 2050.
By taking a multi-faceted approach—inclusive of adherence to good stewardship, surveillance and responsible manufacturing practices, as well as an emphasis on prevention and treatment—companies like Pfizer are fighting to help curb the spread.
Sponsored
No, the Syrian civil war is not over. But it might be soon. Time for a recap
Strange Maps
The War in Syria has dropped off the radar, but it's not over (yet)
This 1-minute video shows how the fronts have moved – and stabilised – over the past 22 months
Watching this video may leave you both better informed, and slightly queasy: does war need a generic rock soundtrack?
Sarco assisted suicide pods come in three different styles, and allow you to die quickly and painlessly. They're even quite beautiful to look at.
The Sarco assisted suicide pod
Technology & Innovation
Death: it happens to everyone (except, apparently, Keanu Reeves). But while the impoverished and lower-class people of the world die in the same ol' ways—cancer, heart disease, and so forth—the upper classes can choose hip and cool new ways to die. Now, there's an assisted-suicide pod so chic and so stylin' that peeps (young people still say peeps, right?) are calling it the "Tesla" of death... it's called... the Sarco! 
Entrepreneur and author Andrew Horn shares his rules for becoming an assured conversationalist.
content.jwplatform.com
Videos
To avoid basing action on external validation, you need to find your "authentic voice" and use it.
Finding your voice requires asking the right questions of yourself.
There are 3-5 questions that you would generally want to ask people you are talking to.
Big think's weekly newsletter.
Get smarter faster from the comfort of your inbox.
See our newsletter privacy policy
here
Most Popular
Most Recent
Big think's weekly newsletter.
Get smarter faster from the comfort of your inbox.
See our newsletter privacy policy
here
© Copyright 2007-2018 & BIG THINK, BIG THINK EDGE,
SMARTER FASTER trademarks owned by The Big Think, Inc. All rights reserved.