NASA technology reveals hidden text on Dead Sea Scrolls
The Dead Sea Scrolls were first discovered in the West Bank in 1946, but now a specialized camera is helping researchers read bits of the manuscripts for the first time.
03 May, 2018
Tanya Treiger, a conservator at the Dead Sea scrolls laboratory in the conservation laboratory of the Israeli Antiquities Authorities in Jerusalem. (Photo: GALI TIBBON/AFP/Getty Images)
---
A specialized camera originally developed for NASA has helped researchers in Israel discover previously hidden text on the Dead Sea Scrolls.
An infrared analysis, which was made possible by a multispectral imaging camera, has revealed that dozens of seemingly blank scroll fragments actually contain traces of ink.
Researchers with the Israel Antiquities Authority, which is working with Google to digitize the scrolls for public access, presented the discoveries at a conference in Israel called "The Dead Sea Scrolls at Seventy: Clear a Path in the Wilderness."
"As part of the project each of the thousands of fragments of the Dead Sea Scrolls is imaged in order to monitor its physical condition and make the best possible images available to the public," the organization wrote in a statement.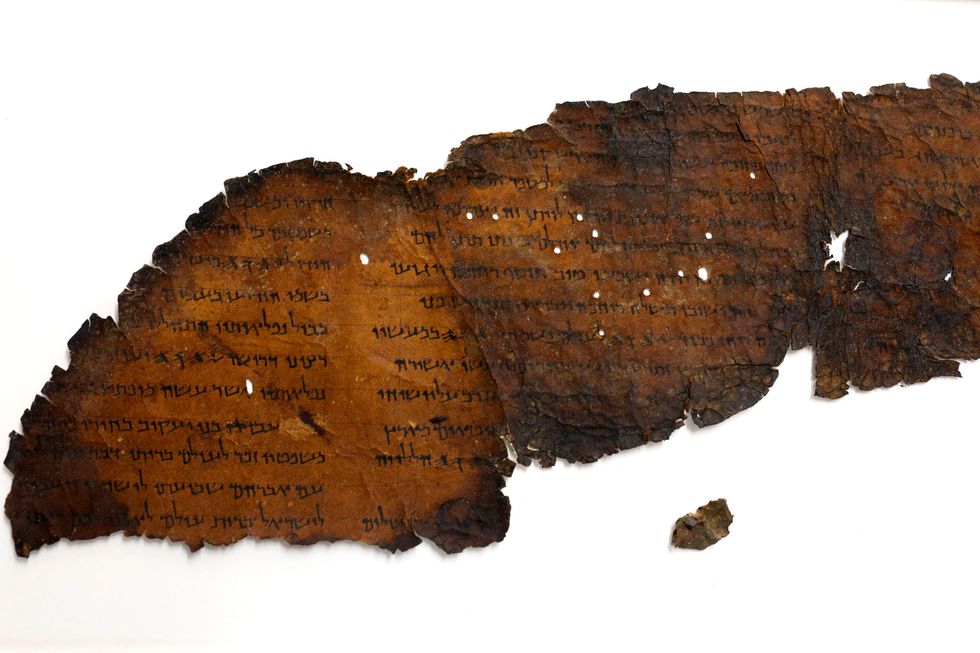 Fragment of a scroll found in 'Cave 11' (Photo: GALI TIBBON/AFP/Getty Images)
The newly discovered texts contain script from the books of Deuteronomy, Leviticus, Jubilees (also known as the Lesser Genesis), and The Temple Scroll, the longest of all the Dead Sea Scrolls.
What's written on the fragments includes directions for conducting temple services, a version of Psalm 147:1 that's shorter than the one found in most copies of the Old Testament, and paleo-Hebrew text, an ancient script, that couldn't be attributed to any known manuscript. The discoveries also confirmed the existence of three separate copies of the Temple Scroll, settling a longstanding debate among scholars.
The Dead Sea Scrolls were first discovered by shepherds near the Dead Sea in the West Bank in 1946. Since, archaeologists have uncovered more than 1,000 ancient manuscripts, written on papyrus and parchment (and one on copper) in either Hebrew or Aramaic, throughout a dozen caves in the area.
The scrolls were stored in jars in dry, dark caves for 2,000 years. Some manuscript fragments have endured the centuries, others have weathered and crumbled.
What's perhaps most significant about the recent discoveries is the possible existence of a manuscript archaeologists have yet to uncover, as Oren Ableman of the Israel Antiquities Authority and Hebrew University of Jerusalem told Haaretz:
"What was exciting about this particular fragment is that I could tell that the handwriting was not identical to other fragments of this type of script... That leads me to believe we are dealing with a manuscript that we didn't know about."
Surprising Science
Entomologist William Romoser of Ohio University says NASA images depict insect- and reptile-like creatures on Mars.
Scroll down to load more…