Big ideas.
Once a week.
Subscribe to our weekly newsletter.
Coleslaw: It's the Most Important Thing on Your Plate
Like a culinary canary in the coal mine, coleslaw can tell you everything you need to know about a restaurant.
22 August, 2016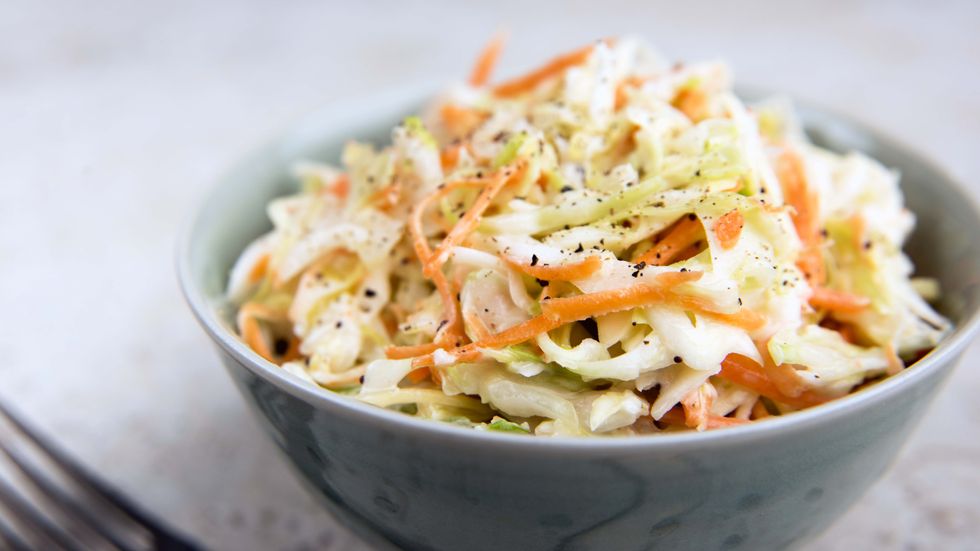 Freshly made coleslaw in a bowl.
I recently had an excellent cheeseburger in Toms River, NJ. The patty was cooked just as I like it, medium rare, with a warm pink center gushing with greasy goodness. It came out with thick bacon seasoned with oregano and pepper, and the extra sharp cheddar tenderly oozed into the cracks of the fragrant beef.
---
The bun was toasted perfectly, with grill lines marking its crunchy surface over a warm, soft inside. The produce was fresh, the pickles were crunchy. A small potato had been hand cut and seasoned with garlic and cumin, and the beer was ice-cold.
I was seated with close friends, the jukebox was on point all night, and our server couldn't have been sweeter.
On the plate next to that delicious hamburger and those tender fries was what I can only describe as the liquid from a can of corn mixed with what remained after a stray dog tore into an old head of cabbage. It had seemingly been shaken in a paint mixer — in an old paint can — and squirted into a ceramic dish, then been left to sit out in the sun for an afternoon before finally being dashed across my plate with a few shredded bits of carrot.
It was their coleslaw. I will never, ever go back.
A good sandwich, hamburger, pizza, or any other meal ready to eat with one's hands is about so much more than the food itself. A Coney Island hot dog is about the hot dog, but it's also about taking the first bite, feeling the juice explode in your mouth and mix with the lingering taste of salt water, and washing it down with a frosty light beer. A slice of pizza needs to be the right balance of cheesy and toasty, but eating it at 2AM on the Lower East Side with a sore throat after five hours of screaming around the diviest haunts south of Houston completes the experience.
And there is nothing that can ruin an excellent cheeseburger experience faster than a ramekin of goopy cabbage water.
Van Halen are infamous for their unusual backstage rider demands (a herring in sour cream, a room for martial arts, and a large bottle of lube among them), but they'll go down in history for one of their tamer requests: "large bowl of M&Ms (absolutely no brown ones)." While many assume band shenanigans or OCD is to blame for the candy demand, it's actually a far more sensible request. If the band noticed brown M&Ms upon arriving at a venue, they would know that the crew did not pay close enough attention to the detail of their demands and would insist that every single connection be double checked before they ever took the stage.
This gut check written into their rider was an easy way to know what kind of crew they were dealing with. Were they people who wanted to put on a good show, or simply look like they were putting on a good show?
There seems to be an assumption made by some restaurants that any hamburger or club sandwich must have coleslaw alongside it, regardless of quality, to be included as a visual garnish as opposed to an edible side dish. It's the only way I can make sense of the gallons of terrible coleslaw I've been served over my life. Who started this? What culinary nihilist is to blame for the acres of good cabbage wasted in the name of a pointless aesthetic day after day?
It's because of this that I've long held that I won't return to any restaurant that serves me bad coleslaw — if they value presentation over the quality of food, then we will never to see eye to eye on what makes a good meal. While I concede that there are certainly some restaurants that may genuinely attempt to make good coleslaw and fail at the task, I have found that those cases are usually obvious. There is a difference between poor coleslaw made in good faith and whitish-gray slop squeezed into plastic container at the beginning of the day and kept in the fridge until needed.
Some may ask why I'm not getting this worked up over bad french fries or other sides, and it's a fair point to raise; I've had countless orders of bad fries over the years. Droopy, saggy, overly-greasy or just plain cold fries are the scourge of plates nationwide. But even the most pitiful of potatoes still seem to be made in earnest — I've never had the tuberous equivalent of bad coleslaw.
Bad french fries are, at their worst, prepared with the intention of being eaten, and this is at the heart of the coleslaw debate. A subpar basket of french fries would lose my repeat business because I wouldn't want to waste my time with bad french fries again. A ramekin of soupy coleslaw would lose my repeat business because I wouldn't believe the people involved in bringing it into existence cared about the food they served their customers.
When coleslaw is served as an afterthought, a tossed-off garnish included solely to check off a box, it says that the server cares more about creating the appearance of a proper meal than they do about creating an actual meal — and it has seeped into more aspects of modern food culture than just coleslaw. How many 'New American' restaurants have served you the same thick-cut, applewood-smoked bacon? The same ceramic bowl of mac and cheese with panko bread crumbs? The same seasoned truffle fries you've eaten at dozens of ~foodie~ restaurants before?
What's more, if they threw together a visually passing coleslaw with the full expectation that no one would eat it, how am I to trust their meat? Their water? Their adherence to the health code?
Are they here to serve a good meal, or look like they're serving a good meal?
To say that restaurants occasionally take short cuts is to say that the sun rises in the east and sets in the west. I'm not here to shame the food and beverage industry for trying to squeeze 10 omelettes out of 9 omelettes' worth of eggs. What I am here to do, though, is to beg to the chefs, grill cooks, food truck operators, and restaurant owners of the world to please stop serving us coleslaw if it's not made with care and attention. We don't need it, and more importantly, your (mostly delicious) hamburgers simply do not need the extra visual accompaniment. If you're going to serve it, give a damn.
More importantly, I'm also here to beg the inverse — readers and eaters, for the love of God, support anywhere you eat that serves excellent coleslaw. If the next lunch you sit down to serves you good coleslaw, know you are eating somewhere run by people who give a damn. Reward them with repeat business and recommendations*, go back for brunch, bring work friends to their happy hour. Vote with your dollars and let them know you recognize their attempt to rise above the common, goopy masses.
Good coleslaw. It's the most important thing on the plate.
--
*The most recent places I've eaten with great coleslaw (and are thus run by people who give a damn): The Clam Bar on Montauk Highway in Amagansett, NY; Pair Wine & Cheese in Downtown Brooklyn; Buoy One in Riverhead, NY; Butcher Bar in Astoria, Queens
Inventions with revolutionary potential made by a mysterious aerospace engineer for the U.S. Navy come to light.
Credit: Getty Images
Surprising Science
U.S. Navy holds patents for enigmatic inventions by aerospace engineer Dr. Salvatore Pais.
Pais came up with technology that can "engineer" reality, devising an ultrafast craft, a fusion reactor, and more.
While mostly theoretical at this point, the inventions could transform energy, space, and military sectors.
The U.S. Navy controls patents for some futuristic and outlandish technologies, some of which, dubbed "the UFO patents," came to life recently. Of particular note are inventions by the somewhat mysterious Dr. Salvatore Cezar Pais, whose tech claims to be able to "engineer reality." His slate of highly-ambitious, borderline sci-fi designs meant for use by the U.S. government range from gravitational wave generators and compact fusion reactors to next-gen hybrid aerospace-underwater crafts with revolutionary propulsion systems, and beyond.
Of course, the existence of patents does not mean these technologies have actually been created, but there is evidence that some demonstrations of operability have been successfully carried out. As investigated and reported by The War Zone, a possible reason why some of the patents may have been taken on by the Navy is that the Chinese military may also be developing similar advanced gadgets.
Among Dr. Pais's patents are designs, approved in 2018, for an aerospace-underwater craft of incredible speed and maneuverability. This cone-shaped vehicle can potentially fly just as well anywhere it may be, whether air, water or space, without leaving any heat signatures. It can achieve this by creating a quantum vacuum around itself with a very dense polarized energy field. This vacuum would allow it to repel any molecule the craft comes in contact with, no matter the medium. Manipulating "quantum field fluctuations in the local vacuum energy state," would help reduce the craft's inertia. The polarized vacuum would dramatically decrease any elemental resistance and lead to "extreme speeds," claims the paper.
Not only that, if the vacuum-creating technology can be engineered, we'd also be able to "engineer the fabric of our reality at the most fundamental level," states the patent. This would lead to major advancements in aerospace propulsion and generating power. Not to mention other reality-changing outcomes that come to mind.
Among Pais's other patents are inventions that stem from similar thinking, outlining pieces of technology necessary to make his creations come to fruition. His paper presented in 2019, titled "Room Temperature Superconducting System for Use on a Hybrid Aerospace Undersea Craft," proposes a system that can achieve superconductivity at room temperatures. This would become "a highly disruptive technology, capable of a total paradigm change in Science and Technology," conveys Pais.
High frequency gravitational wave generator.
Credit: Dr. Salvatore Pais
Another invention devised by Pais is an electromagnetic field generator that could generate "an impenetrable defensive shield to sea and land as well as space-based military and civilian assets." This shield could protect from threats like anti-ship ballistic missiles, cruise missiles that evade radar, coronal mass ejections, military satellites, and even asteroids.
Dr. Pais's ideas center around the phenomenon he dubbed "The Pais Effect". He referred to it in his writings as the "controlled motion of electrically charged matter (from solid to plasma) via accelerated spin and/or accelerated vibration under rapid (yet smooth) acceleration-deceleration-acceleration transients." In less jargon-heavy terms, Pais claims to have figured out how to spin electromagnetic fields in order to contain a fusion reaction – an accomplishment that would lead to a tremendous change in power consumption and an abundance of energy.
According to his bio in a recently published paper on a new Plasma Compression Fusion Device, which could transform energy production, Dr. Pais is a mechanical and aerospace engineer working at the Naval Air Warfare Center Aircraft Division (NAWCAD), which is headquartered in Patuxent River, Maryland. Holding a Ph.D. from Case Western Reserve University in Cleveland, Ohio, Pais was a NASA Research Fellow and worked with Northrop Grumman Aerospace Systems. His current Department of Defense work involves his "advanced knowledge of theory, analysis, and modern experimental and computational methods in aerodynamics, along with an understanding of air-vehicle and missile design, especially in the domain of hypersonic power plant and vehicle design." He also has expert knowledge of electrooptics, emerging quantum technologies (laser power generation in particular), high-energy electromagnetic field generation, and the "breakthrough field of room temperature superconductivity, as related to advanced field propulsion."
Suffice it to say, with such a list of research credentials that would make Nikola Tesla proud, Dr. Pais seems well-positioned to carry out groundbreaking work.
A craft using an inertial mass reduction device.
Credit: Salvatore Pais
The patents won't necessarily lead to these technologies ever seeing the light of day. The research has its share of detractors and nonbelievers among other scientists, who think the amount of energy required for the fields described by Pais and his ideas on electromagnetic propulsions are well beyond the scope of current tech and are nearly impossible. Yet investigators at The War Zone found comments from Navy officials that indicate the inventions are being looked at seriously enough, and some tests are taking place.
If you'd like to read through Pais's patents yourself, check them out here.
Laser Augmented Turbojet Propulsion System
Credit: Dr. Salvatore Pais
Neither. We are entering an AI autumn.
Credit: Jesse Chan via Unsplash
13-8
The history of AI shows boom periods (AI summers) followed by busts (AI winters).
The cyclical nature of AI funding is due to hype and promises not fulfilling expectations.
This time, we might enter something resembling an AI autumn rather than an AI winter, but fundamental questions remain if true AI is even possible.
The dream of building a machine that can think like a human stretches back to the origins of electronic computers. But ever since research into artificial intelligence (AI) began in earnest after World War II, the field has gone through a series of boom and bust cycles called "AI summers" and "AI winters."
Each cycle begins with optimistic claims that a fully, generally intelligent machine is just a decade or so away. Funding pours in and progress seems swift. Then, a decade or so later, progress stalls and funding dries up. Over the last ten years, we've clearly been in an AI summer as vast improvements in computing power and new techniques like deep learning have led to remarkable advances. But now, as we enter the third decade of the 21st century, some who follow AI feel the cold winds at their back leading them to ask, "Is Winter Coming?" If so, what went wrong this time?
How to build an A.I. brain that can conceive of itself | Joscha Bach | Big Think www.youtube.com
A brief history of AI

To see if the winds of winter are really coming for AI, it is useful to look at the field's history. The first real summer can be pegged to 1956 and the famous Dartmouth University Workshop where one of the field's pioneers, John McCarthy, coined the term "artificial intelligence." The conference was attended by scientists like Marvin Minsky and H. A. Simon, whose names would go on to become synonymous with the field. For those researchers, the task ahead was clear: capture the processes of human reasoning through the manipulation of symbolic systems (i.e., computer programs).
Unless we are talking about very specific tasks, any 6-year-old is infinitely more flexible and general in his or her intelligence than the "smartest" Amazon robot.
Throughout the 1960s, progress seemed to come swiftly as researchers developed computer systems that could play chess, deduce mathematical theorems, and even engage in simple discussions with a person. Government funding flowed generously. Optimism was so high that, in 1970, Minsky famously proclaimed, "In three to eight years we will have a machine with the general intelligence of a human being."
By the mid 1970s, however, it was clear that Minsky's optimism was unwarranted. Progress stalled as many of the innovations of the previous decade proved too narrow in their applicability, seeming more like toys than steps toward a general version of artificial intelligence. Funding dried up so completely that researchers soon took pains not to refer to their work as AI, as the term carried a stink that killed proposals.
The cycle repeated itself in the 1980s with the rise of expert systems and the renewed interest in what we now call neural networks (i.e., programs based on connectivity architectures that mimic neurons in the brain). Once again, there was wild optimism and big increases in funding. What was novel in this cycle was the addition of significant private funding as more companies began to rely on computers as essential components of their business. But, once again, the big promises were never realized, and funding dried up again.
AI: Hype vs. reality
Credit: Alex Wong via Staff
The AI summer we're currently experiencing began sometime in the first decade of the new millennium. Vast increases in both computing speed and storage ushered in the era of deep learning and big data. Deep learning methods use stacked layers of neural networks that pass information to each other to solve complex problems like facial recognition. Big data provides these systems with vast oceans of examples (like images of faces) to train on. The applications of this progress are all around us: Google Maps give you near-perfect directions; you can talk with Siri anytime you want; IBM's Deep Think computer beat Jeopardy's greatest human champions.

In response, the hype rose again. True AI, we were told, must be just around the corner. In 2015, for example, The Guardian reported that self-driving cars, the killer app of modern AI, was close at hand. Readers were told, "By 2020 you will become a permanent backseat driver." And just two years ago, Elon Musk claimed that by 2020 "we'd have over a million cars with full self-driving software."
The general intelligence — i.e., the understanding — we humans exhibit may be inseparable from our experiencing. If that's true, then our physical embodiment, enmeshed in a context-rich world, may be difficult if not impossible to capture in symbolic processing systems.
By now, it's obvious that a world of fully self-driving cars is still years away. Likewise, in spite of the remarkable progress we've made in machine learning, we're still far from creating systems that possess general intelligence. The emphasis is on the term general because that's what AI really has been promising all these years: a machine that's flexible in dealing with any situation as it comes up. Instead, what researchers have found is that, despite all their remarkable progress, the systems they've built remain brittle, which is a technical term meaning "they do very wrong things when given unexpected inputs." Try asking Siri to find "restaurants that aren't McDonald's." You won't like the results.
Unless we are talking about very specific tasks, any 6-year-old is infinitely more flexible and general in his or her intelligence than the "smartest" Amazon robot.
Even more important is the sense that, as remarkable as they are, none of the systems we've built understand anything about what they are doing. As philosopher Alva Noe said of Deep Think's famous Jeopardy! victory, "Watson answered no questions. It participated in no competition. It didn't do anything. All the doing was on our side. We played Jeapordy! with Watson." Considering this fact, some researchers claim that the general intelligence — i.e., the understanding — we humans exhibit may be inseparable from our experiencing. If that's true, then our physical embodiment, enmeshed in a context-rich world, may be difficult if not impossible to capture in symbolic processing systems.
Not the (AI) winter of our discontent
Thus, talk a of a new AI winter is popping up again. Given the importance of deep learning and big data in technology, it's hard to imagine funding for these domains drying up any time soon. What we may be seeing, however, is a kind of AI autumn when researchers wisely recalibrate their expectations and perhaps rethink their perspectives.
A new study explores how investors' behavior is affected by participating in online communities, like Reddit's WallStreetBets.
Mind & Brain
The study found evidence that "hype" over assets is psychologically contagious among investors in online communities.
This hype is self-perpetuating: A small group of investors hypes an asset, bringing in new investors, until growth becomes unsteady and a price crash ensues.
The researchers suggested that these new kinds of self-organized, social media-driven investment behaviors are unlikely to disappear anytime soon.
Social media has reshaped human behavior in ways we're only starting to understand. The proliferation of online communities has helped spawn novel strategies for promoting political causes, conducting business, finding sex and love, and transforming culture.
Could online communities also transform behavior in the financial world?
That's one of the key questions explored in a new study published on the preprint server arXiv. Titled "Reddit's self-organised bull runs: Social contagion and asset prices," the study used discussion data from the subreddit WallStreetBets to analyze relationships between the price of stocks and "hype" among online retail investors.
Hype is nothing new in the investing world. But the researchers noted that there seems to be something novel about the short squeeze of GameStop's stock in January, when the price of the stock rose tenfold, thanks largely to self-organized retail investors from WallStreetBets.
"As academics and regulators alike grapple with the implications, many wonder whether large-scale coordination among retail investors is the new 'modus operandi,' or a one-off fluke," the researchers wrote. "We argue that this is a new manifestation of a well-established global phenomenon."
To better understand how online hype is associated with stock prices, the researchers focused on two social components of hype: contagion and consensus. Contagion refers to investors spreading interest in an asset among each other, while consensus refers to their ability to agree on whether to buy or sell an asset.
The analysis found empirical evidence that both contagion and consensus emerge in online communities like WallStreetBets. In other words, investors spread sentiments about future stock performance to other investors, and then they cohere around investment strategies.
Popularity over fundamentals
The findings suggest that an asset's popularity, not its fundamentals, is paramount to many investors.
"Our results consistently show that investors become interested in discussing an asset, not because of fundamentals, but because other users discuss it," the researchers wrote. "Subsequently, this paper tests whether an individual's sentiment about future asset performance [is] affected by those of others. We find that this is the case: people look to their peers to form an opinion about an asset's potential."
To find evidence for social contagion among online investors, the researchers compiled a large dataset of posts and comments submitted to WallStreetBets. The goal was to analyze whether investors' past comments or posts about a given stock, such as Tesla, had a predictable effect on future discussions of that asset within WallStreetBets.
After conducting a regression analysis, the results suggest that hype is socially contagious and cyclical. The cycle usually plays out like this: A small group of investors hypes an asset. This attracts a larger group of investors who join the discussions.
Semenova & Winkler
But eventually, too many investors have joined the discussion, and fewer new investors are buying into the hype. As investors lose interest, they spend less time discussing (or "spreading") the asset on the forum, and they turn to new opportunities. The process is similar to a virus: As enough people become infected, they reach herd immunity, and the virus (hype) dies out.

So, does this process affect the stock price, and if so, how? The researchers said it was difficult to establish causality between hype and actual market activity. After all, they didn't have access to the trading records of subscribers to WallStreetBets.
But their model did show that activity on WallStreetBets was able to explain "significant variance" in trading volumes for the most-discussed assets on the forum. This suggests that when social contagion is strong for a given asset, consensus is strong too.
On the stock chart, consensus may start off bullish (or positively): As hype spreads, there's a slow, steady run-up in price. But the growth eventually becomes unstable and is followed by a crash and a period of volatility.
"The price crash stems from panic selling, as investors turn nervous in the face of volatility," the researchers wrote.
Bad news spreads faster than good news
Interestingly, the analysis found that bearish (or negative) sentiments were significantly more contagious on WallStreetBets.
"The data demonstrates that authors who previously commented on a bearish post are 47.7% more likely to express bearish over neutral sentiments, and 18.1% less likely to express bullish sentiments over neutral sentiments. Similarly, but less markedly, authors who previously commented on at least one bullish submission are 9.4% more likely to write a bullish submission, yet 11.3% less likely to write a bearish one."
The researchers said that the changing investing climate and widely available online data offers "promising opportunities for future research."
"As social media galvanizes a larger pool of retail investors with the potential for exciting stock market gambles, it is crucial to understand how social dynamics can impact asset prices," the researchers wrote. "With the first publicly acclaimed victory of Main Street over Wall Street, in the form of the GameStop short squeeze, it is unlikely that socially-driven asset volatility will simply disappear."
Strange Maps
A 19th-century surveying mistake kept lumberjacks away from what is now Minnesota's largest patch of old-growth trees.
Scroll down to load more…