The meaning of life: Albert Camus on faith, suicide, and absurdity
Albert Camus was a Franco-Algerian philosopher with some great insights on the meaning of life, why you should look to this life and not the next, and why suicide is a poor choice.
01 March, 2018
Albert Camus was a Franco-Algerian writer who preferred not to be called a philosopher. He is often associated with the existentialist school of thought, though he preferred to be considered separately from it. His life and way of thinking are rather different from most philosophers and even the existentialists he is grouped in with.
---
His ideas on how to live our lives and deal with existence are bold and often less than comforting. Despite this, he can give us insights into how to cope with our existential dread and offers us some suggestions on how to live our meaningless lives.
On suicide
"There is only one really serious philosophical problem, and that is suicide," so claims Camus in his essay The Myth of Sisyphus. By starting with the question of whether life is worth living, Camus places the problem of how we are to live our lives squarely in the center of his thought.
For many people, a life without meaning is not a life worth living. Camus understands this and tackles the problem head-on. He concludes that suicide is of little use to us, as there can be no more meaning in death than in life, and turns to questions of what makes life worth living. When it comes to what meaning we might find, however, he is of little help. 
The meaning of life
Camus makes a rather bold claim on the meaning of life: there isn't one and we can't make one either. He argues that it is impossible for us to find a satisfying answer to the question of the meaning of life, and any attempt to impose a meaning on the universe will end in disaster, as whatever meaning we pick will be sent up later. He further denies that science, philosophy, society, or religion could ever create a meaning of life that would be immune to the problem of absurdity.
The absurd
Camus' entire philosophy is based on the idea of the absurd. Humans have a drive to find meaning in things and where it doesn't exist we usually try to create it. However, as the universe is cold and indifferent to this quest for meaning we will always be faced with absurd situations where our attempts to find meaning fail. Our lives are meaningless and will remain so.
However, Camus doesn't see this meaninglessness as bad. He explains that to understand that life is absurd is the first step to being fully alive. While the problem of living in a world devoid of meaning is a big one, it is one to be solved like any other.
What makes life worth living then?

Across his body of work, he praises sunshine, women, the beach, kissing, dancing, and good food. He loved sports and was a champion soccer player in his youth. He took great enjoyment in the little things and encourages us to do so as well. Just because life is meaningless doesn't mean it can't be enjoyable! Indeed, the meaninglessness is just a background fact, like gravity, that must be reckoned with.
The absurd hero
Camus has a critique of those who try to endure the meaninglessness of life by imposing meaning on it. While that can bring us comfort, those systems of meaning are, themselves, doomed to failure over the long run. The universe remains indifferent to us, random events happen, and we will again face meaninglessness.
He points out that Kierkegaard, for example, understood that life was absurd but fled towards God rather than embracing the fact. The French existentialists also did this in a secularized way which is why Camus didn't identify with them.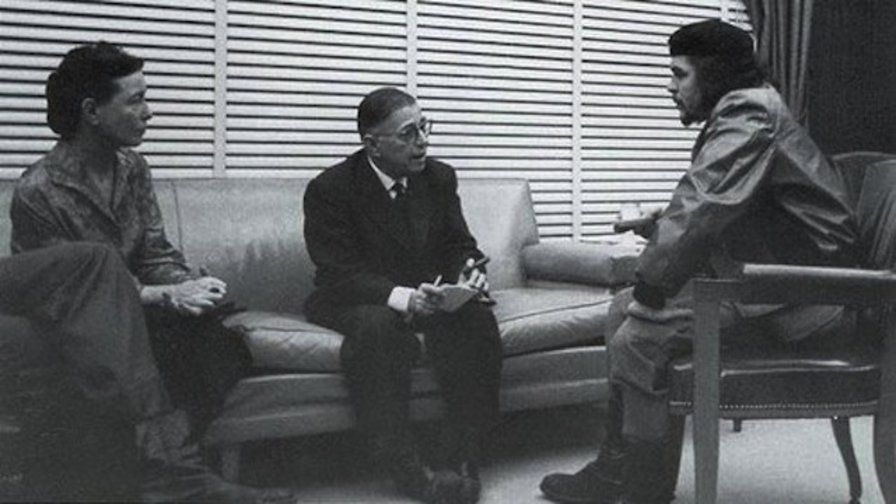 Sartre and Beauvoir sitting with Che Guevara after the Cuban revolution. Camus would later fall out with his former friends over their support of Soviet and later Chinese Communism. An event with ramifications that lasted the rest of their lives.
Camus tells us that the answer is to embrace the meaninglessness. The person who can truly know that life is absurd and get through it with a smile is an Absurd Hero. Camus was a real-life example and he sighted the literary examples of Don Juan and Sisyphus for us to look to. "We must imagine Sisyphus happy," he tells us, for the absurd hero is able to carry out a life as meaningless as eternally rolling a boulder up a hill and find enjoyment in it anyway.
He also encourages us to reject the idea of an afterlife because it is not only unlikely but also because an attempt to live in such a way as to assure you get into the next life detracts from this one. Trying to justify this life by pointing to the next one is just another way to deny the meaninglessness of life, no matter how you phrase it. 
So, what should I do today?
Camus recommends that you: get outside, enjoy the sunshine, go for a walk by the beach, play some football, have lunch at a café with a friend, refuse to give into despair, and embrace the meaninglessness of existence by choosing to carry on with what you enjoy doing despite the lack of meaning to your actions.
Can we find a meaning of life that can satisfy our need for one? Camus says no, but that this needn't be a problem. We are still living here and now and have every ability to enjoy ourselves. Life is worth living and should be embraced as it is. While it is difficult to face meaninglessness without retreating into the loving arms of religion, science, society, or even producing meaning ourselves, Camus encourages us to bravely face the absurd with a smile on our face.
As religious diversity increases in the United States, we must learn to channel religious identity into interfaith cooperation.
Sponsored by Charles Koch Foundation
Religious diversity is the norm in American life, and that diversity is only increasing, says Eboo Patel.
Using the most painful moment of his life as a lesson, Eboo Patel explains why it's crucial to be positive and proactive about engaging religious identity towards interfaith cooperation.
The opinions expressed in this video do not necessarily reflect the views of the Charles Koch Foundation, which encourages the expression of diverse viewpoints within a culture of civil discourse and mutual respect.
Pulitzer Prize-winner Jared Diamond explains why some nations make it through epic crises and why others fail.
Videos
"A country is not going to resolve a national crisis unless it acknowledges that it's in a crisis," says Jared Diamond. "If you don't, you're going to get nowhere. Many Americans still don't recognize today that the United States is descending into a crisis."
The U.S. tends to focus on "bad countries" like China, Canada and Mexico as the root of its problems, however Diamond points out the missing piece: Americans are generating their own problems.
The crisis the U.S. is experiencing is not cause for despair. The U.S. has survived many tragedies, such as the War of Independence and the Great Depression – history is proof that the U.S. can get through this current crisis too.
If you don't want to know anything about your death, consider this your spoiler warning.
Culture & Religion
For centuries cultures have personified death to give this terrifying mystery a familiar face.
Modern science has demystified death by divulging its biological processes, yet many questions remain.
Studying death is not meant to be a morbid reminder of a cruel fate, but a way to improve the lives of the living.
When it comes to sniffing out whether a source is credible or not, even journalists can sometimes take the wrong approach.
Sponsored by Charles Koch Foundation
We all think that we're competent consumers of news media, but the research shows that even journalists struggle with identifying fact from fiction.
When judging whether a piece of media is true or not, most of us focus too much on the source itself. Knowledge has a context, and it's important to look at that context when trying to validate a source.
The opinions expressed in this video do not necessarily reflect the views of the Charles Koch Foundation, which encourages the expression of diverse viewpoints within a culture of civil discourse and mutual respect.