MIT Freezes Water At Boiling Point
Forget everything you thought you knew about boiling and freezing, thanks to these MIT scientists.
05 December, 2016
---
Quick, what temperature does water boil or freeze at? You probably know this like the back of your hand, 100 and 0 degrees Celsius or 212 and 32 Fahrenheit. Well, now we can freeze water above the boiling point. If you feel like your head's about to explode with that image, don't worry. We'll explain.

It is known to anybody who is familiar with the laws of pressure, or who has tried to cook in the mountains, that the boiling and freezing points of water change when the water is exposed to differing pressures. Normally this effect is small, and only has causes differences of a few degrees. Researchers at MIT found that if water is placed inside a tiny enough space, a space only slightly larger than the water molecules themselves, then the freezing point can be raised to above its boiling point. This is done by means of carbon nanotubes, small straw-shaped structures that are the workhorse of nanotech.
The team of researchers published their findings in the journal Nature Nanotechnology, and include Michael Strano, Kumar Agrawal, Steven Shimizu, Lee Drahushuk, and Daniel Kilcoyne among other partners and assistants. Dr. Strano is especially excited by the results, and remarks on how unexpected they are:

"The effect is much greater than anyone had anticipated," he says. The effects were also in an unexpected direction; the researchers had anticipated that the freezing point would go down.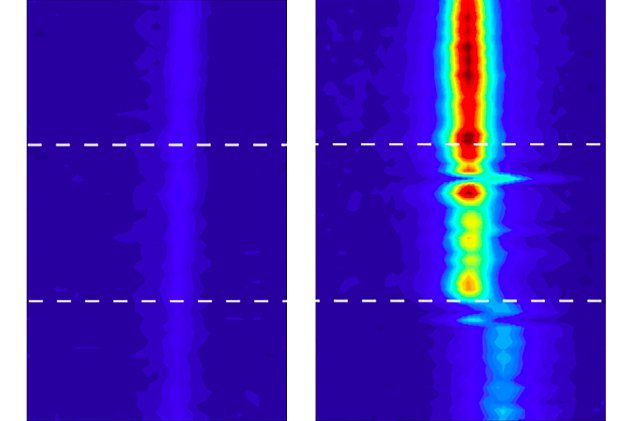 Image courtesy of MIT.
But, what use could this possibly have, other than just being a curiosity? More than you might suppose. Because of the high freezing point, the technology could be used to make ice wires, taking advantage of the extremely high conductivity of water and the stability of the ice at room temperature. Dr. Strano mentioned that application specifically, "This gives us very stable water wires, at room temperature."  Nanotechnology is a new field, with many possible applications, ranging from computers, to medicine of all kinds, and even to facial care.
There is still a great deal about this process that remains unknown. Chief among them is how the water even gets into the tubes; the researches set the water in place for this experiment, but carbon nanotubes are considered to be water repellent, and the entry of the water in the tubes is difficult to explain logistically. Dr. Strano also notes that the word "ice" is too precise to use to describe the water in the tubes. While it is solid, it may not have the crystalline structure of ice at the molecular level.
What brave new world do we live in, where water can freeze above 100 degrees? One where nanotech is king? Or is nanotech past its prime already? This discovery is new, and further research is needed, but what is certain is that exciting developments await.
Could this be the long-awaited solution to economic inequality?
Apple CEO Tim Cook looks on during an Apple special event at the Steve Jobs Theatre on the Apple Park campus on September 12, 2017 in Cupertino, California. (Photo by Justin Sullivan/Getty Images)
Politics & Current Affairs
Under capitalism, the argument goes, it's every man for himself. Through the relentless pursuit of self-interest, everyone benefits, as if an invisible hand were guiding each of us toward the common good. Everyone should accordingly try to get as much as they can, not only for their goods but also for their labour. Whatever the market price is is, in turn, what the buyer should pay. Just like the idea that there should be a minimum wage, the idea that there should be a maximum wage seems to undermine the very freedom that the free market is supposed to guarantee.
Humans evolved to live in the cold through a number of environmental and genetic factors.
Image source: Wikimedia Commons
Surprising Science
According to some relatively new research, many of our early human cousins preceded Homo sapien migrations north by hundreds of thousands or even millions of years.
Cross-breeding with other ancient hominids gave some subsets of human population the genes to contend and thrive in colder and harsher climates.
Behavioral and dietary changes also helped humans adapt to cold climates.
It's unlikely that there's anything on the planet that is worth the cost of shipping it back
popular
In the second season of National Geographic Channel's MARS (premiering tonight, 11/12/18,) privatized miners on the red planet clash with a colony of international scientists
Privatized mining on both Mars and the Moon is likely to occur in the next century
The cost of returning mined materials from Space to the Earth will probably be too high to create a self-sustaining industry, but the resources may have other uses at their origin points
Big think's weekly newsletter.
Get smarter faster from the comfort of your inbox.
See our newsletter privacy policy
here
Most Popular
Most Recent
Big think's weekly newsletter.
Get smarter faster from the comfort of your inbox.
See our newsletter privacy policy
here
© Copyright 2007-2018 & BIG THINK, BIG THINK EDGE,
SMARTER FASTER trademarks owned by The Big Think, Inc. All rights reserved.