The Sport for Smart People? Running.
A new study says running enhances connectivity in areas of the brain associated wth high-level thinking.
16 December, 2016
---
Running seems mindless enough: you lace up, stretch, warm up and go (or so I've heard, ahem). Some people look to it as a workout that gives you time to think, away from distractions. Others just love running. And, of course, many runners run with the intention of exercising their bodies. A new study, though, suggests that this seemingly simple activity may also exercise the brain in surprising ways. 
A just-published study by researchers at the University of Arizona in Frontiers in Human Neuroscience reveals that runners appear to have an exceptionally high amount of connectivity between areas of the brain associated with higher-level thinking, including those dealing with multitasking and concentration. They also showed less connectivity, or "anti-correlation" — in the brain's areas associated with daydreaming and unfocused thought.
The study is based on MRI brain scans of 22 college-aged men, half of whom were competitive runners, and half of whom reported that they hadn't exercised in the last year. (All of the subjects were male in order to avoid the difficulty of controlling for menstrual-cycle effects.) The subjects were scanned in an at-rest state, so the researchers didn't track brain activity during running, but rather the lasting effects of the exercise — you can't run in an MRI machine, of course.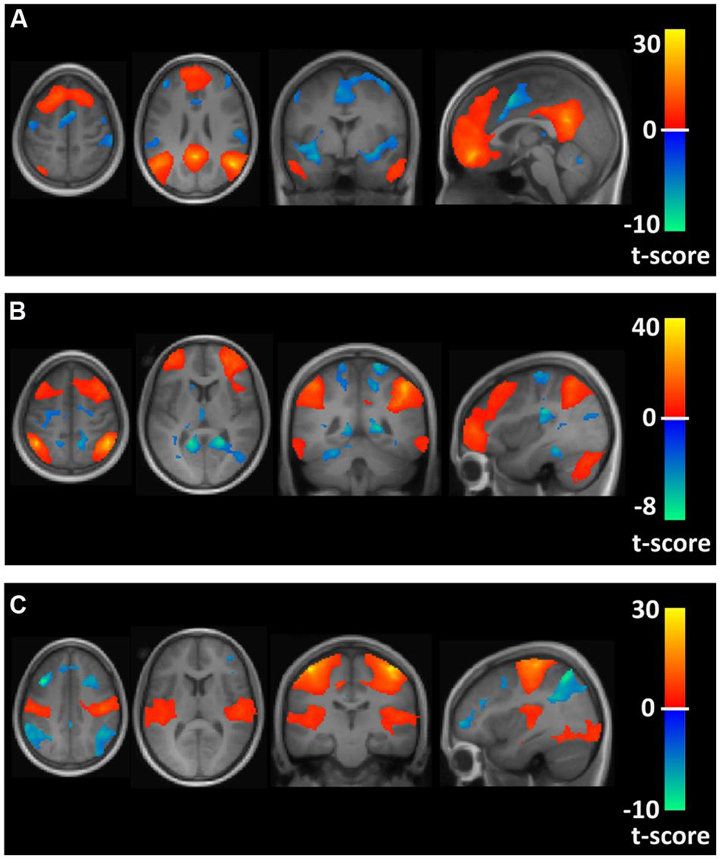 The study proposes the higher connectivity may have to do with the fact that "movement, especially at high speeds, taxes not only motor control, but can also engage executive functions, spatial navigation, and memory abilities."
Running in the real world is, after all, a never-ending three-dimensional puzzle of constantly moving parts: muscle and other body sensations, changes in the running surface and weather, unexpected obstacles and events, and so on. One of the study's authors, Gene E. Alexander, a professor of psychology, neurology and physical sciences, spoke about the array of mental skills running engages to the New York Times, "It requires complex navigational skills plus an ability to plan, monitor and respond to the environment, juggle memories of past runs and current conditions, and also continue with all of the sequential motor activities of running, which are, themselves, very complicated."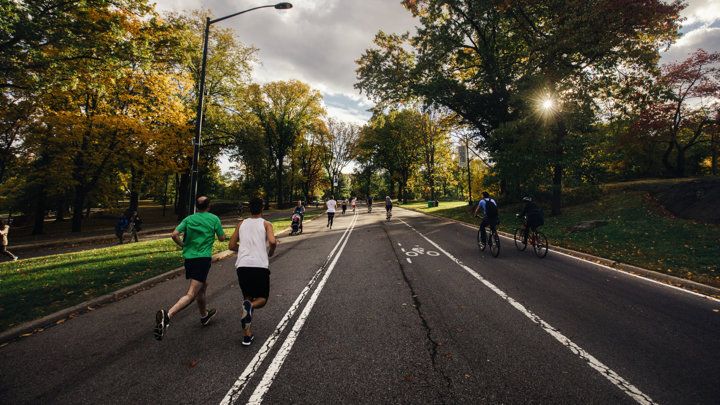 The researchers didn't draw any conclusions about whether running makes anyone smarter — the scope of their investigation was limited to brain-area connectivity. There's also some debate in the scientific community about the degree to which conclusions about brain activity can be drawn from at-rest scans. At the same time, the study notes that other recent research has shown that young-adult athletes do, actually, perform better on tests of executive function and processing speed tests.
The researchers' final conclusion is that the enhanced neuroplasticity they saw in younger athletes may have implications for older adults, and "should be investigated in relation to brain aging and the potential to reduce vulnerability to cognitive aging and the risk for neurodegenerative disease," especially since there's already evidence that supports the idea of exercise as a tool for supporting and prolonging mental acuity in the elderly.
While the brain-training effects of other endurance sports like swimming and cycling have yet to be studied — likewise the effect of running on older adults' brains — the possibilities are clearly intriguing. Want to improve your mind? Lace up, warm up, and go.
As religious diversity increases in the United States, we must learn to channel religious identity into interfaith cooperation.
Sponsored by Charles Koch Foundation
Religious diversity is the norm in American life, and that diversity is only increasing, says Eboo Patel.
Using the most painful moment of his life as a lesson, Eboo Patel explains why it's crucial to be positive and proactive about engaging religious identity towards interfaith cooperation.
The opinions expressed in this video do not necessarily reflect the views of the Charles Koch Foundation, which encourages the expression of diverse viewpoints within a culture of civil discourse and mutual respect.
Pulitzer Prize-winner Jared Diamond explains why some nations make it through epic crises and why others fail.
Videos
"A country is not going to resolve a national crisis unless it acknowledges that it's in a crisis," says Jared Diamond. "If you don't, you're going to get nowhere. Many Americans still don't recognize today that the United States is descending into a crisis."
The U.S. tends to focus on "bad countries" like China, Canada and Mexico as the root of its problems, however Diamond points out the missing piece: Americans are generating their own problems.
The crisis the U.S. is experiencing is not cause for despair. The U.S. has survived many tragedies, such as the War of Independence and the Great Depression – history is proof that the U.S. can get through this current crisis too.
If you don't want to know anything about your death, consider this your spoiler warning.
Culture & Religion
For centuries cultures have personified death to give this terrifying mystery a familiar face.
Modern science has demystified death by divulging its biological processes, yet many questions remain.
Studying death is not meant to be a morbid reminder of a cruel fate, but a way to improve the lives of the living.
When it comes to sniffing out whether a source is credible or not, even journalists can sometimes take the wrong approach.
Sponsored by Charles Koch Foundation
We all think that we're competent consumers of news media, but the research shows that even journalists struggle with identifying fact from fiction.
When judging whether a piece of media is true or not, most of us focus too much on the source itself. Knowledge has a context, and it's important to look at that context when trying to validate a source.
The opinions expressed in this video do not necessarily reflect the views of the Charles Koch Foundation, which encourages the expression of diverse viewpoints within a culture of civil discourse and mutual respect.