The First Successful Full-System Test of a Hyperloop Just Happened
Hyperloop One announces completion of first successful full-system hyperloop test.
20 July, 2017
---
Elon Musk came up with the idea for hyperloop pods that could whisk riders through sealed tubes at 700 mph as an ultra-fast, future-friendly form of travel. While not interested in building them himself, he issued a challenge for others to create a hyperloop that would, compared to current transit systems, be:
Safer 
Faster 
Lower cost 
More convenient 
Immune to weather 
Sustainably self-powering 
Resistant to Earthquakes 
Not disruptive to those along the route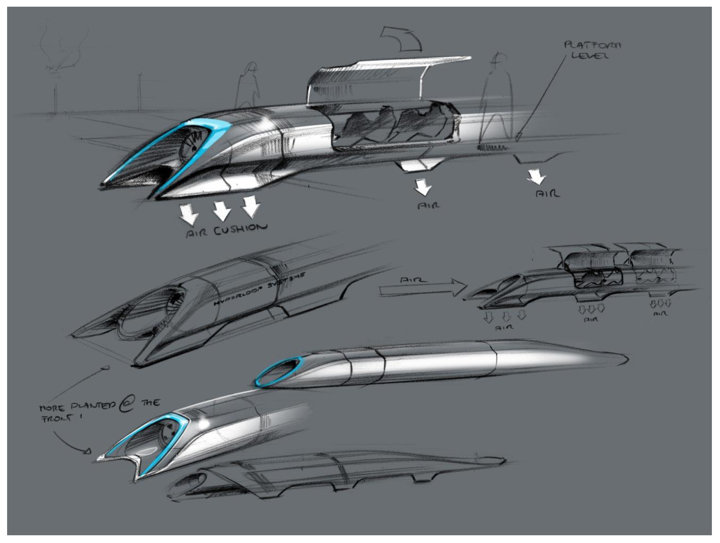 Illustration from Musk's original proposal (TESLA)
Musk's hyperloop is based on an even earlier 1972 proposal from R. M. Salter of the Rand Corporation that envisioned an Very High Speed Transit System (VHST) based on magnetically levitated pods moving inside a low-pressure vacuum tube. The tube would ease pod movement with about "1/6 that of the pressure of the atmosphere on Mars" — the low pressure being maintained by vacuum pumps. A "hard" vacuum, according to Musk's proposal is problematic: "All it takes is one leaky seal or a small crack somewhere in the hundreds of miles of tube and the whole system stops working."
Hyperloop One, a company working to make the hyper loop system a working reality, has just announced a major achievement: The first full test of their hyperloop system in a private test taking place May 12, 2017 at DevLoop, the hyperloop test track they've built in the desert of Nevada. In the apparently nerve-wracking test, their prototype pod:
coasted above the first portion of the track for 5.3 seconds using magnetic levitation. (HyperLoop One's system uses maglev instead of the air bearings Musk envisioned.)
reached nearly 2Gs of acceleration
achieved the Phase 1 target speed of 70mph. (Phase 2 will shoot for 250 mph.)
The team also tested all of the components throughout the system, including its motor, pod suspension, magnetic levitation, electromagnetic braking, and vacuum-pumping to ensure they function successfully as a single unit in a vacuum.
(HYPERLOOP ONE)
Obviously, there's a way to go before attaining the hoped-for 700 mph speed, and hyperloop tubes will have to be constructed — Musk's been promoting the digging of tunnels for various transit purposes, including hyperloop tubes — but it's an exciting moment nonetheless. Hyperloop One's Shervin Pishevar says in the company's press release, "Hyperloop One has accomplished what no one has done before by successfully testing the first full scale Hyperloop system. By achieving full vacuum, we essentially invented our own sky in a tube, as if you're flying at 200,000 feet in the air. For the first time in over 100 years, a new mode of transportation has been introduced. Hyperloop is real, and it's here now."
Alongside the announcement of the successful test, Hyperloop One also unveiled their new pod prototype, the XP-1, 28 feet long and made of structural aluminum. The company says the pod achieves autonomous high-speed propulsion in low pressure using a proprietary "linear electric" motor.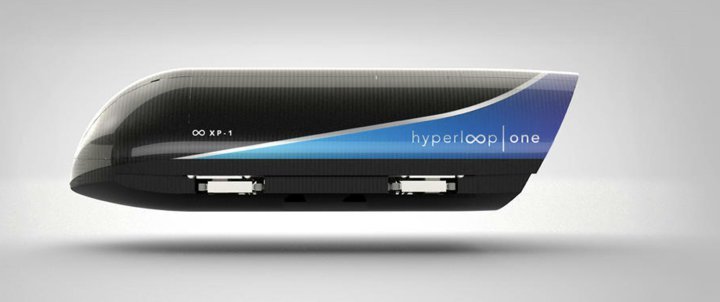 The XP-1 (HYPERLOOP ONE)
Here's the science of black holes, from supermassive monsters to ones the size of ping-pong balls.
Videos
There's more than one way to make a black hole, says NASA's Michelle Thaller. They're not always formed from dead stars. For example, there are teeny tiny black holes all around us, the result of high-energy cosmic rays slamming into our atmosphere with enough force to cram matter together so densely that no light can escape.
CERN is trying to create artificial black holes right now, but don't worry, it's not dangerous. Scientists there are attempting to smash two particles together with such intensity that it creates a black hole that would live for just a millionth of a second.
Thaller uses a brilliant analogy involving a rubber sheet, a marble, and an elephant to explain why different black holes have varying densities. Watch and learn!
Bonus fact: If the Earth became a black hole, it would be crushed to the size of a ping-pong ball.
Protected animals are feared to be headed for the black market.
(VL.ru)
Politics & Current Affairs
Russian news network discovers 101 black-market whales.
Orcas and belugas are seen crammed into tiny pens.
Marine parks continue to create a high-price demand for illegal captures.
In a breakthrough for nuclear fusion research, scientists at China's Experimental Advanced Superconducting Tokamak (EAST) reactor have produced temperatures necessary for nuclear fusion on Earth.
Credit: EAST Team
Surprising Science
The EAST reactor was able to heat hydrogen to temperatures exceeding 100 million degrees Celsius.
Nuclear fusion could someday provide the planet with a virtually limitless supply of clean energy.
Still, scientists have many other obstacles to pass before fusion technology becomes a viable energy source.
Big think's weekly newsletter.
Get smarter faster from the comfort of your inbox.
See our newsletter privacy policy
here
Most Popular
Most Recent
Big think's weekly newsletter.
Get smarter faster from the comfort of your inbox.
See our newsletter privacy policy
here
© Copyright 2007-2018 & BIG THINK, BIG THINK EDGE,
SMARTER FASTER trademarks owned by The Big Think, Inc. All rights reserved.