Radioactive swirls in the cosmos may rewrite the origin story of the universe
Respected Oxford mathematician Roger Penrose sees swirls of radioactivity in a sky map as evidence that the Big Bang isn't true. These "Hawking rings" suggest to him that the universe expands and collapses over and over.
20 August, 2018
The idea is called "conformal cyclic cosmology" (CCC), and what it asserts is that, rather than starting from a big bang, the universe continually expands and contracts, each time leaving behind tiny bits of electromagnetic radiation that remain as the process occurs over and over. The late Stephen Hawking predicted tiny dots of radiation, which others call 'Hawking points', left over from this cycle. Now, the scientists behind CCC theory say they can see possible examples of 'Hawking radiation' in a map created by a radio telescope at the South Pole. They've dubbed them 'Hawking holes'. "I think," says team leader, Oxford's Roger Penrose, "he would have been delighted to see the actual effect he predicted in an observation."
---
In 2014, the BICEP2 South Pole telescope captured images in which there were swirls of polarized light in the cosmic microwave background (CMB). The BICEP2 team interpreted these swirls as artifacts of gravitational waves from the expansion occurring after the Big Bang, and say that subsequent data from the Planck observatory suggests that these 'B-modes' are interstellar dust.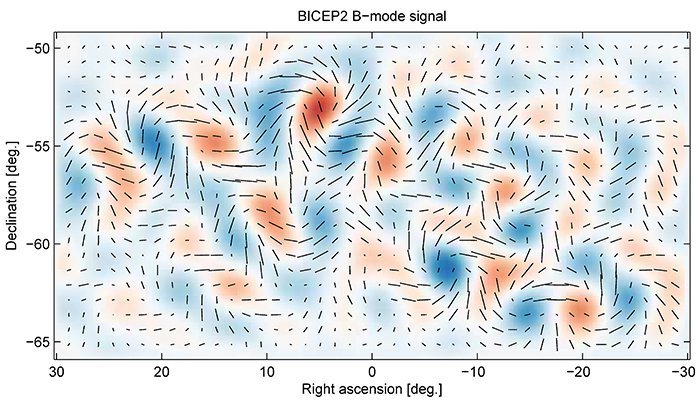 Penrose and his colleagues see something else. They see signs of the radioactive rings that CCC predicts would be left behind after a previous universe shrank back to a Hawking point, as verified by thousands of CCC computer models they've run. According to Penrose, our measurements of the CMB go back no further than 380,000 years, and so we can't see the tiny points themselves, but just the radioactive rings they've left behind.
In particular, they're intrigued by certain areas in the BICEP2 map that show rings of polarized light—this indicates to them a vast temperature differential between the ring's inner and outer boundaries.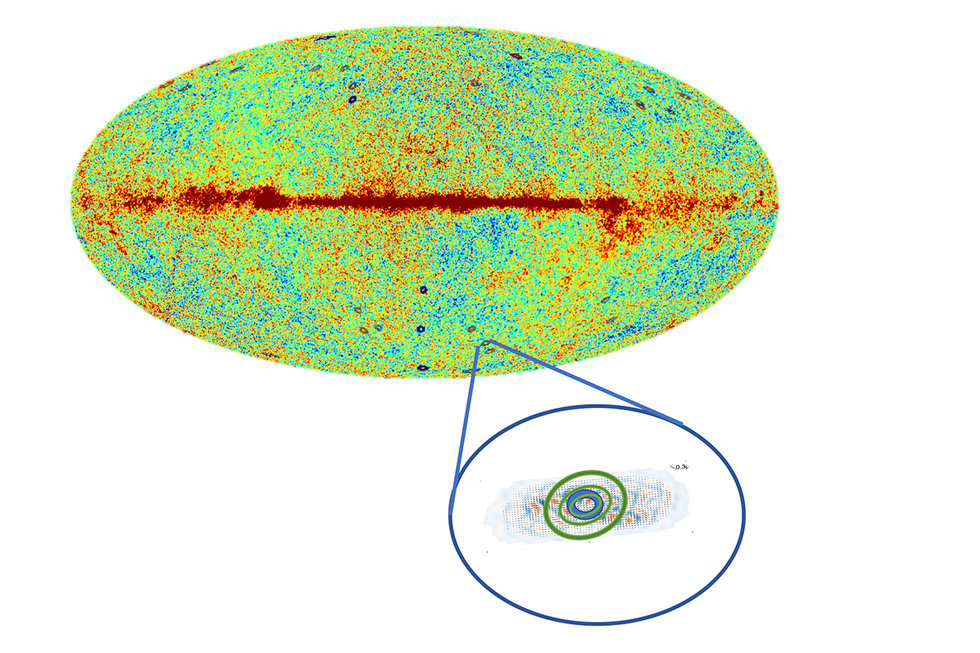 Some say the map on which Penrose is basing his conclusions isn't really accurate enough to take so seriously. The BICEP2 team hasn't yet released that data from which the map was generated, and there's a certain amount of rounding-off in the map Penrose is working from. Huge areas of space are represented by single pixels in the image, so there's insufficient detail present in any one pixel to make it that useful for serious analysis. The raw data, when released, will be more granular in the information it presents.
Even so, Penrose's faith in the image he has is based on his teams' models that predict what the map seems to show. His colleague Daniel An says, "That means they were probably caused not by chance, but by some physical phenomenon." The team's analysis of the corresponding Planck data verifies that the swirls aren't just visual artifacts, but that there is really at least something there. Something consistent with their 4,000 CCC simulations.
If conformal cyclic cosmology is correct, the Big Bang theory isn't. Of course, before such an extraordinary shift in perspective occurs, equally strong evidence for CCC will be necessary. Still, Penrose's idea—though preliminary, pending receipt of the BICEP2 data—is tantalizing. "What we claim we're seeing," he says, "is the final remnant after a black hole has evaporated away in the previous eon." Make that the previous universe.
Related Articles
While short-term results are positive, there is mounting evidence against staying in ketosis for too long.
Surprising Science
Recent studies showed volunteers lost equal or more weight on high-carb, calorie-restricted diets than low-carb, calorie restricted diets.
There might be positive benefits to short-term usage of a ketogenic diet.
One dietician warns that the ketogenic diet could put diabetics at risk for diabetic ketoacidosis.
Research shows that the way math is taught in schools and how its conceptualized as a subject is severely impairing American student's ability to learn and understand the material.
One derivative coming right up... (Photo: Getty Images)
Technology & Innovation
Americans continually score either in the mid- or bottom-tier when it comes to math and science compared to their international peers.
Students have a fundamental misunderstanding of what math is and what it can do. By viewing it as a language, students and teachers can begin to conceptualize it in easier and more practical ways.
A lot of mistakes come from worrying too much about rote memorization and speedy problem-solving and from students missing large gaps in a subject that is reliant on learning concepts sequentially.
The surprisingly simple treatment could prove promising for doctors and patients seeking to treat depression without medication.
Photo by Luis Marina/Flickr
Mind & Brain
A new report shows how cold-water swimming was an effective treatment for a 24-year-old mother.
The treatment is based on cross-adaptation, a phenomenon where individuals become less sensitive to a stimulus after being exposed to another.
Getting used to the shock of cold-water swimming could blunt your body's sensitivity to other stressors.
Big think's weekly newsletter.
Get smarter faster from the comfort of your inbox.
See our newsletter privacy policy
here
Most Popular
Most Recent
Big think's weekly newsletter.
Get smarter faster from the comfort of your inbox.
See our newsletter privacy policy
here
© Copyright 2007-2018 & BIG THINK, BIG THINK EDGE,
SMARTER FASTER trademarks owned by The Big Think, Inc. All rights reserved.