Murdered: Cecil the Lion, Blaze the Yellowstone Grizzly
The shooting of two charismatic animals stirred international outrage. But a more important event to the developing world concern with animal welfare was publication of Carl Safina's Beyond Words, What Animals Think and Feel.
23 August, 2015
It's been an interesting summer for animal-welfare issues. Cecil the lion's murder by an American hunter who paid local trackers to lure the popular animal out of the protection of a Zimbabwe national park so he could be killed and beheaded as a trophy fueled international outrage. So did the killing of Blaze the grizzly bear in Yellowstone Park after the mother and her cubs were surprised by an off-trail hiker, who Blaze instinctively attacked and then ate. (Actually, like a good mom, she buried part of the hiker's remains so her family would have food later.)   
---
Prompting far less attention, but way more important to the evolving issue of how humans should treat non-humans, was the publication of Beyond Words, What Animals Think and Feel, by Carl Safina, a thoughtful, moving, and important book about animal cognition and emotion. Safina writes with respect, affection, admiration, even awe about the remarkable cognitive abilities of many animals, and argues that we should treat non-human creatures with more respect. But he is a scientist, and he bases his case not on emotion alone, but on the firm and ever-mounting body of evidence that non-human beings, with whom we have far more in common biologically and behaviorally than what separates us, are significantly more sentient, intelligent, and rational than we give them credit for.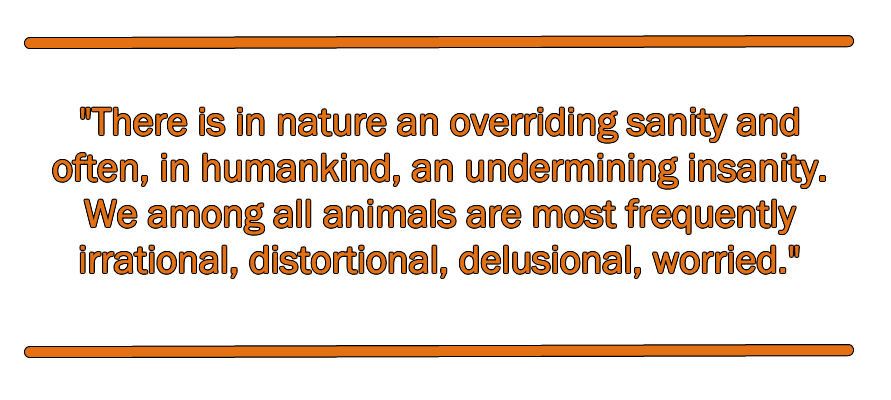 Safina focuses on elephants, wolves, dolphins, and killer whales, but his examples range from apes to fish to birds to insects. The stories Safina tells are remarkable. They provide powerful evidence of animal intelligence, learning, and self-awareness (defined not by whether the animal can recognize itself in a mirror — Safina ridicules this as too narrow a measure of self-awareness — but whether the animal is aware of itself as a unique being separate from others).
There is stunning and ample evidence — at least among the social animals — of what only can be described in human emotional terms; the family warmth and affection among elephants, the mourning of killer whales at the loss of a child (descriptions of the wailing and frenzy of parent killer whales when their juveniles are abducted for display in marine amusement parks are heartbreaking), or the excitement and happiness dolphins demonstrate when re-uniting with human researchers they see only occasionally.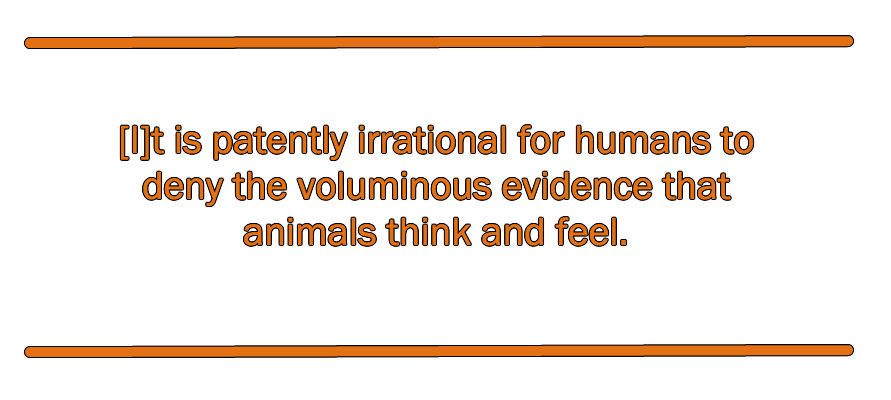 And there are numerous instances of animals displaying what, in human terms, we'd describe as personality; individual animals within each species that are more playful, aggressive, docile, or curious — or animals with better or worse skills as family leaders.
In case after case non-human animals consistently demonstrate the ability to intelligently figure things out, to make the right choices, to actively interpret all sorts of cues — sounds, smells, gestures — in order to find food, identify mates, ensure safety, and interact successfully with their environments.
All sorts of animals have social skills. Many demonstrate what can only be described as emotions. They think. They feel. Safina argues that we have to stop thinking about animals by asking, "What are you?" and start also considering, "Who are you?"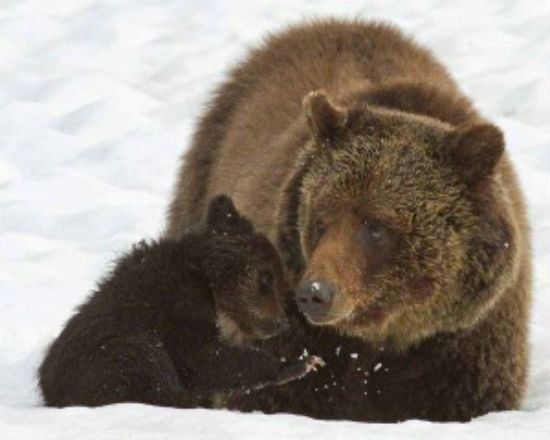 (Blaze and cub at Yellowstone Park, photo courtesy YellowstoneGate)
Buried inside Safina's moving and evidence-based argument that non-human animals are worthy of respect and moral treatment is an even more profound message. If rationality is defined as basing one's judgments and behaviors on an objective analysis of the evidence, our non-human partners on the Tree of Life have it all over us. Safina writes:
"There is in nature an overriding sanity and often, in humankind, an undermining insanity. We among all animals are most frequently irrational, distortional, delusional, worried.
It's not rationality that's uniquely human; it's irrationality."
We are the only species known to deny overwhelming evidence — about vaccines, about climate change, about the dangers of smoking — in ways that actually put us in greater danger. The emotional nature of human risk perception can sometimes produce a literally self-destructive irrationality. Non-human animals don't make such mistakes.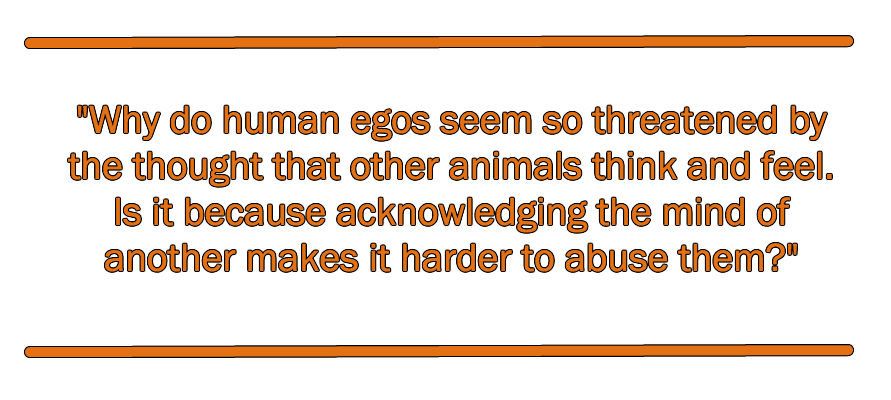 With our unique ability to foresee the future, we are the only species known to invent phantom beliefs, complete with detailed rules of behavior and morality, to give ourselves the illusion of control over our uncertain fates. Non-human animals don't have religions. They don't need them. As Safina observes:
"Other animals are great and consummate realists. Only humans cling unshakably to dogmas and ideologies that enjoy complete freedom from evidence, despite all the evidence to the contrary."
And as Safina notes, it is patently irrational for humans to deny the voluminous evidence that animals think and feel. Is that just anthropomorphic arrogance? Or is it necessary to absolve ourselves for the callousness (and outright cruelty) with which we treat non-humans? He asks:
"Why do human egos seem so threatened by the thought that other animals think and feel. Is it because acknowledging the mind of another makes it harder to abuse them?"
Or, as Safina quotes Charles Darwin:
"Animals, whom we have made our slaves, we do not like to consider our equal."
Beyond Words joins Virginia Morell's Animal Wise: The Thoughts and Emotions of Our Fellow Creatures and other writing on animal cognition as the equivalent for non-humans to Daniel Kahneman's Thinking, Fast and Slow and Daniel Ariely's Predictably Irrational and lots of other literature on human cognition; works that pull together remarkable recent discoveries about how living beings think. These popular works are bringing into focus, and wider awareness, what research has discovered in the past 30-40 years; that non-human animals are more sentient, intelligent, and rational than we have assumed, and that humans are far less rational than we have pretended.
Now if only we can use this knowledge, about human and non-human intelligence, more intelligently.
Image courtesy of Shutterstock
Upstreamism advocate Rishi Manchanda calls us to understand health not as a "personal responsibility" but a "common good."
Sponsored by Northwell Health
Upstreamism tasks health care professionals to combat unhealthy social and cultural influences that exist outside — or upstream — of medical facilities.
Patients from low-income neighborhoods are most at risk of negative health impacts.
Thankfully, health care professionals are not alone. Upstreamism is increasingly part of our cultural consciousness.
Some evidence attributes a certain neurological phenomenon to a near death experience.
Credit: Petr Kratochvil. PublicDomainPictures.net.
Surprising Science
Time of death is considered when a person has gone into cardiac arrest. This is the cessation of the electrical impulse that drive the heartbeat. As a result, the heart locks up. The moment the heart stops is considered time of death. But does death overtake our mind immediately afterward or does it slowly creep in?
Researchers hope the technology will further our understanding of the brain, but lawmakers may not be ready for the ethical challenges.
Still from John Stephenson's 1999 rendition of Animal Farm.
Surprising Science
Researchers at the Yale School of Medicine successfully restored some functions to pig brains that had been dead for hours.
They hope the technology will advance our understanding of the brain, potentially developing new treatments for debilitating diseases and disorders.
The research raises many ethical questions and puts to the test our current understanding of death.
The image of an undead brain coming back to live again is the stuff of science fiction. Not just any science fiction, specifically B-grade sci fi. What instantly springs to mind is the black-and-white horrors of films like Fiend Without a Face. Bad acting. Plastic monstrosities. Visible strings. And a spinal cord that, for some reason, is also a tentacle?
But like any good science fiction, it's only a matter of time before some manner of it seeps into our reality. This week's Nature published the findings of researchers who managed to restore function to pigs' brains that were clinically dead. At least, what we once thought of as dead.
What's dead may never die, it seems
The researchers did not hail from House Greyjoy — "What is dead may never die" — but came largely from the Yale School of Medicine. They connected 32 pig brains to a system called BrainEx. BrainEx is an artificial perfusion system — that is, a system that takes over the functions normally regulated by the organ. The pigs had been killed four hours earlier at a U.S. Department of Agriculture slaughterhouse; their brains completely removed from the skulls.
BrainEx pumped an experiment solution into the brain that essentially mimic blood flow. It brought oxygen and nutrients to the tissues, giving brain cells the resources to begin many normal functions. The cells began consuming and metabolizing sugars. The brains' immune systems kicked in. Neuron samples could carry an electrical signal. Some brain cells even responded to drugs.
The researchers have managed to keep some brains alive for up to 36 hours, and currently do not know if BrainEx can have sustained the brains longer. "It is conceivable we are just preventing the inevitable, and the brain won't be able to recover," said Nenad Sestan, Yale neuroscientist and the lead researcher.
As a control, other brains received either a fake solution or no solution at all. None revived brain activity and deteriorated as normal.
The researchers hope the technology can enhance our ability to study the brain and its cellular functions. One of the main avenues of such studies would be brain disorders and diseases. This could point the way to developing new of treatments for the likes of brain injuries, Alzheimer's, Huntington's, and neurodegenerative conditions.
"This is an extraordinary and very promising breakthrough for neuroscience. It immediately offers a much better model for studying the human brain, which is extraordinarily important, given the vast amount of human suffering from diseases of the mind [and] brain," Nita Farahany, the bioethicists at the Duke University School of Law who wrote the study's commentary, told National Geographic.
An ethical gray matter
Before anyone gets an Island of Dr. Moreau vibe, it's worth noting that the brains did not approach neural activity anywhere near consciousness.
The BrainEx solution contained chemicals that prevented neurons from firing. To be extra cautious, the researchers also monitored the brains for any such activity and were prepared to administer an anesthetic should they have seen signs of consciousness.
Even so, the research signals a massive debate to come regarding medical ethics and our definition of death.
Most countries define death, clinically speaking, as the irreversible loss of brain or circulatory function. This definition was already at odds with some folk- and value-centric understandings, but where do we go if it becomes possible to reverse clinical death with artificial perfusion?
"This is wild," Jonathan Moreno, a bioethicist at the University of Pennsylvania, told the New York Times. "If ever there was an issue that merited big public deliberation on the ethics of science and medicine, this is one."
One possible consequence involves organ donations. Some European countries require emergency responders to use a process that preserves organs when they cannot resuscitate a person. They continue to pump blood throughout the body, but use a "thoracic aortic occlusion balloon" to prevent that blood from reaching the brain.
The system is already controversial because it raises concerns about what caused the patient's death. But what happens when brain death becomes readily reversible? Stuart Younger, a bioethicist at Case Western Reserve University, told Nature that if BrainEx were to become widely available, it could shrink the pool of eligible donors.
"There's a potential conflict here between the interests of potential donors — who might not even be donors — and people who are waiting for organs," he said.
It will be a while before such experiments go anywhere near human subjects. A more immediate ethical question relates to how such experiments harm animal subjects.
Ethical review boards evaluate research protocols and can reject any that causes undue pain, suffering, or distress. Since dead animals feel no pain, suffer no trauma, they are typically approved as subjects. But how do such boards make a judgement regarding the suffering of a "cellularly active" brain? The distress of a partially alive brain?
The dilemma is unprecedented.
Setting new boundaries
Another science fiction story that comes to mind when discussing this story is, of course, Frankenstein. As Farahany told National Geographic: "It is definitely has [sic] a good science-fiction element to it, and it is restoring cellular function where we previously thought impossible. But to have Frankenstein, you need some degree of consciousness, some 'there' there. [The researchers] did not recover any form of consciousness in this study, and it is still unclear if we ever could. But we are one step closer to that possibility."
She's right. The researchers undertook their research for the betterment of humanity, and we may one day reap some unimaginable medical benefits from it. The ethical questions, however, remain as unsettling as the stories they remind us of.
Big think's weekly newsletter.
Get smarter faster from the comfort of your inbox.
See our newsletter privacy policy
here
Most Popular
Most Recent
Big think's weekly newsletter.
Get smarter faster from the comfort of your inbox.
See our newsletter privacy policy
here
© Copyright 2007-2019 & BIG THINK, BIG THINK EDGE,
SMARTER FASTER trademarks owned by The Big Think, Inc. All rights reserved.