Big ideas.
Once a week.
Subscribe to our weekly newsletter.
Every Breath You Take. The Hidden Danger of the Aeolian Plankton
28 May, 2013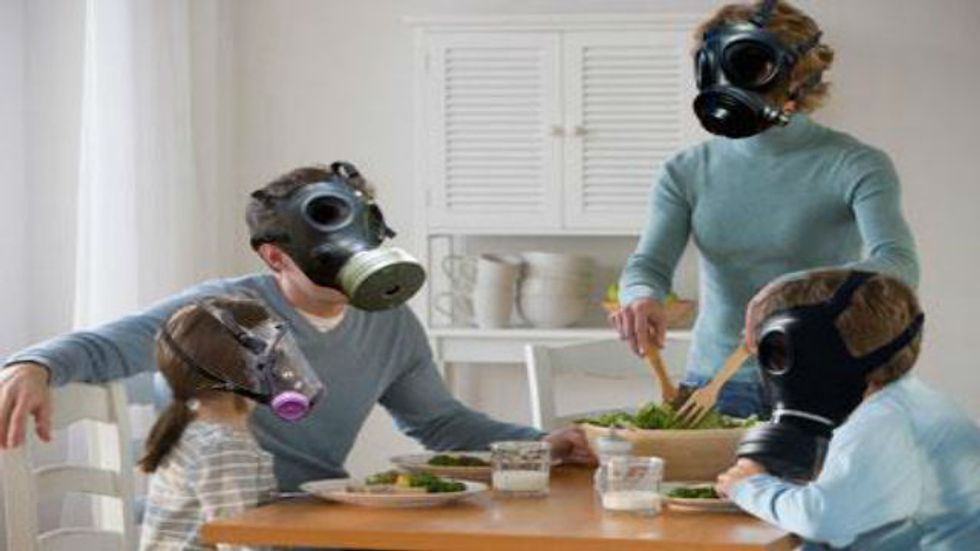 ---
            This blog often talks about risks that we fret over too much. Time to talk about one we worry about too little; the air we breath...indoors. For a number of reasons, indoor air pollution is probably a greater overall risk to our health than the outdoor kinds that get most of the attention.
            First of all, we're inside most of the time. Nine breaths out of every ten we take, we take inside our home, or work place, or in stores or educational or recreational or medical facilities, etc..
            Second, either to save energy or out of just plain laziness, we don't ventilate buildings very well. So the levels of potentially hazardous pollutants in the limited volume of air inside, build up. And poor ventilation means that humidity levels can be either abnormally high, or low, which can make the hazard worse.
            Third, consider the stew of what indoor air pollution includes. The air we breath is loaded with what Edward Wilson, in Diversity of Life, refers to as aeolian plankton, the mix of all sorts of stuff carried along by the current…in this case the air, not the water. Every breath you take inside contains LOW DOSES of some (many, actually) of the following;
  -  Biologicals. Bacteria, viruses, fungi, mites, molds, allergens, animal dander…all sorts of tiny wind-borne wildlife. (There is a fun science piece on this in the NYT, Mapping the Great Indoors)
  -  Industrial chemicals. Tiny doses from building materials and insulation and plastics and glues and carpets and furniture and paint and cleansers and soaps and cosmetics and insecticides and all sorts of consumer products.
  -  Environmental tobacco smoke (ETS, or second-hand smoke).
  -  Carbon monoxide and nitrogen dioxide from the inefficient burning of fossil fuel.
  -  Radon. This naturally occurring radioactive gas seeps into basements and foundations from the soil wherever the bedrock contains grains of the element uranium. (One area with a high concentration of uranium in the bedrock, and thus high radon levels in homes, is around the Three Mile Island nuclear plant in Pennsylvania. Radon levels in many buildings there are higher than anything that was released during the meltdown.)
  -  Asbestos
  -  Outdoor air pollution. If it's outside, some of it is inside. Particulates, smog, industrial chemicals known as 'air toxics'. 
     And that last category, outdoor air pollutants, raises a really interesting point. There are plenty of regulations controlling our exposure to these pollutants when we are outside. There are practically none, for the same stuff, as soon as we go inside. Schools are covered for some things (asbestos). Public buildings and work places are covered for some things (ETS). Homes are covered for a few things (radon). Hospitals are required to filter the air to control the spread of germs. But effectively, the regulation of indoor air pollution is minimal.
            Why? In part because a risk we take voluntarily worries us less than one that is imposed on us, and because a risk we are unaware of scares us less than one that's in the headlines or that advocates campaign about, and because a lot of what is in our indoor aeolian plankton is natural – even radon – and natural risks scare us less than human-made ones. (An easy way to become more aware of this risk is to go into a dark room with a flashlight, and watch the aeolian plankton that floats across the beam of light. You're inhaling that stuff all the time!)  With little public concern, there is less pressure on government to regulate this risk, or even to invest in the basic research to identify the specifics of the risk in the first place.
            Before you run out an buy a gas mask, remember that there are many elements that determine how risky something is. Just because you're exposed to something doesn't mean it's hazardous. And even if it is hazardous, the dose you're exposed to matters. And even if you're exposed to potentially dangerous levels, the level of danger varies widely too. So just how much danger is posed by indoor air pollution varies widely. It is rare that the levels of indoor air pollutants are high enough to pose an immediate threat (what scientists call an acute risk), like when a furnace fails and carbon monoxide levels build up to potentially fatal levels. Mostly, indoor air pollution is known as a chronic risk, a danger posed by repeated exposure to low doses over a long period of time. But there is a long list of potentially serious harm this sort of air pollution can do.
            Also remember that the risk of indoor air pollution is relatively easy to reduce. Open a window. Turn on a fan. Ventilate. A huge part of the risk of indoor air pollution comes from the failure to mix fresh air with the air that's been caught inside. (This is a big part of why schools have some of the worst levels of indoor pollution of any class of building. To control temperatures and save energy/money, windows are kept closed and fans aren't run. And in school systems with tight budgets, building maintenance is a low priority, so fan filters aren't cleaned, and leaky roofs allow dampness and mold to build up.)
            Other specifics about the risk of indoor air pollution, including more details on the harms it does and ways you can reduce the risk, are described in the chapter on this issue in RISK, A Practical Guide for Deciding What's Really Safe and What's Really Dangerous in the World Around You, which I co-authored with George Gray. That chapter offers more detail and is attached at the end of this piece.
            Happy breathing!
Indoor Air Pollution
            We spend 90 percent of our time indoors. Whether at home, at work, at school, in stores, medical facilities, recreational facilities, or in some sort of vehicle for transportation, we're inside most of the time. So the quality of the air we breathe indoors is in many ways more relevant to our health than the air we breathe outdoors. Our exposure to air pollution  - the concentration of pollutants per unit of air, multiplied by the time we're exposed to that air - may be 10 to 50 times higher indoors than outside. Many public health experts say indoor air pollution is one of the biggest environmental risks we face. Yet it is one of the least studied, most poorly regulated areas of public health.
The Hazard
            Indoor air pollution is not just a hazard because we're inside a lot. For a number of reasons, concentrations of pollutants can be higher indoors than out. Compared with the outdoor environment, the indoor environment has a limited volume of air, so low levels of pollutants can lead to a higher concentrations of pollution per breath we take. The indoor environment also has less air exchange than the air outdoors. In addition, the range of indoor environments and the wide variety of products we use indoors subject us to a much broader universe of pollutants. And finally, indoor environments often have elevated levels of humidity and dampness, conditions that exacerbate some pollutants, like biological organisms, which grow better in the presence of moisture.
Indoor air pollutants fall into several general classes: gasses (including environmental tobacco smoke), microbiologicals, pesticides, and particles.
Potentially harmful gasses
Environmental Tobacco Smoke (ETS). Also known as second-hand smoke, ETS includes smoke from cigarettes, cigars, pipes, and exhaled tobacco smoke. ETS contains dozens of compounds harmful to humans or animals.  Several are known or suspected carcinogens. ETS contributes to respiratory infections in infants and children, and exacerbates asthma. However, the exposure to the harmful components of tobacco smoke is 100 to 1,000 times less from ETS than from smoking directly.
Radon (See Chapter 42, Radon) is a naturally-occurring odorless, tasteless, invisible radioactive gas emitted from the earth that can seep into houses through foundations. Several epidemiological studies on uranium miners exposed to high levels of  radon (which is a radioactive decay byproduct of uranium)show that it causes lung cancer. Radon and tobacco smoke interact synergistically, causing more lung cancer than these hazards would if you just added one on top of the other.
Carbon monoxide (See Chapter 13, Carbon Monoxide) is a product of inefficient combustion of carbon-based fuels. Indoor sources include heating or cooking devices like gas stoves and ovens, water heaters, and fireplaces. Carbon monoxide is also generated when motor vehicles operate in garages, even when the doors are open. It interferes with the blood's ability to carry oxygen and at high levels, it is fatal.
Nitrogen dioxide. This gas is a lung and respiratory tract irritant produced by combustion from heating and cooking devices such as stoves, water heaters, and fireplaces
Organic gasses. Many household products emit vapors both when they're stored and when they're used. Paints, varnishes, cleaning solutions and disinfectants, cosmetics, and stored fuels emit vapors of chemicals that can irritate the eyes, respiratory tract and, at high levels, temporarily impair memory and balance. Some, like spray paints, paint removers, and stored fuels that contain benzene, a confirmed human carcinogen, may have effects with long-term exposure
Microbiologicals
       These include bacteria, mold, mildew, viruses, animal dander, dust mites, and pollen from plants. (And not just house plants. Outdoor flora can contribute to the air that gets into our homes and buildings too.) Moisture and humidity help many of these biological agents proliferate indoors. Biologicals can grow inside the components of central ventilating systems, in carpets, walls, upholstery, and any location damaged by water. Biologicals cause infections and disease, allergic reactions, exacerbate asthma, and irritate the eyes and respiratory tract.
Pesticides
            These include insecticides, herbicides, miticides (used for lice) and disinfectants approved for household and indoor use. As with all indoor air pollutants, the levels of these individual pollutants are usually far below anything that could be harmful. But in the indoor environment, they contribute one more source to the mix of compounds in the air we breath. One study estimates that 80 percent of our exposure to pesticides occurs indoors.
Particles
            There are three unique categories of indoor particle pollution of the most concern.
Asbestos (See Chapter 7, Asbestos). Asbestos is a family of mineral fibers that are strong, thin, resistant to heat or chemical breakdown, and don't conduct electricity very well. Asbestos is frequently found in insulation, soundproofing, fireproofing, and in floor and ceiling tiles and plastics used  as decoration. More common in schools, office buildings and other workplace settings than in homes, inhalation of asbestos causes lung damage that can lead to a dangerous form of lung cancer called mesothelioma or to asbestosis, a permanent scarring of the lungs.
Lead (See Chapter 28, Lead).  Lead was used in paint because it helped cover surfaces effectively and wore well. Though lead in paint was phased out as of 1978, any building built before then may well still contain lead paint. In the normal use of the building (opening windows or doors, bumping furniture against walls) or during building renovation, lead paint is turned to dust. These fine particles are inhalable and contribute to indoor air pollution. Lead impairs central nervous system function and even very low levels of lead in young children may interfere with normal cognitive development.
Respirable particles (Discussed in Chapter 3 – Outdoor Air Pollution). Recent scientific studies have identified a serious health risk from airborne particles, microscopic bits of solid or liquid matter 7 to 700 times smaller than the width of a human hair. Indoors, these particles are generated principally by combustion from stoves, water heaters, boilers or fireplaces, and from household activities like cleaning that stir up even the finest dust. Particles generated by motor vehicle exhaust and in the emissions of power plants can also enter indoor environments. Particles are associated with respiratory irritation, increased and more severe asthma attacks, and heart problems.
            For the most part, indoor air pollution comes from indoor sources. But pollutants in outdoor air  (See Chapter 3, Air Pollution) can get indoors through windows, doors, and ventilating systems, and add to the mix of contaminants in indoor air
The Range of Consequences
The consequences of exposure to indoor air pollution are complex because of the wide range of pollutants, the diversity of indoor environments, and the varying susceptibilities of specific groups of people. While many of these consequences have not been studied enough to quantify them, even the partial estimates we do have suggest that indoor air pollution is one of the most serious environmental risks to public health.
ETS, almost exclusively an indoor air quality risk, is estimated by some research to cause 3,000 lung cancer deaths per year, as well as 150,000 to 300,000 lower respiratory tract infections in children. (Some dispute these findings.) It aggravates asthma in 200,000 - 1 million children a year. The American Heart Association estimates that ETS causes 35,000 - 40,000 heart disease deaths a year. The National Cancer Institute estimates that post-natal ETS exposure has been implicated in 1,900 – 2,700 cases of Sudden Infant Death Syndrome.
Radon causes an estimated 3,000 - 32,000 lung cancer deaths a year, with the most likely range being 15,400 and 21,800. Nearly 9 in 10 of these estimated deaths are in smokers because of the synergy between radon and tobacco smoke.
Blood lead levels are decreasing in the United states, but the federal government estimated that in 1997, 900,000 U.S. children between the ages of 1 and 5 had blood lead levels above the level that policy guidelines say is safe
Carbon monoxide poisoning kills an estimated 700 to 1,000 Americans each year, and sends about 10,000 to 40,000 people to hospital emergency rooms.
Asthma affects early 15 million Americans, and 10.5 million of these people are under 45. The disease killed approximately 4,700 United States residents in 1999. 1.8 million Americans require emergency room treatment for severe asthma symptoms. Asthma is the leading cause of school absenteeism.  A majority of indoor air pollutants aggravate asthma, and repeated exposure to many of these pollutants is believed to cause not just asthma symptoms but the underlying disease itself.
The following chart describes common indoor air pollutants and their effects. Remember that the symptoms we describe below are often caused by a combination of pollutants rather than just one. Also remember that this area of public health is not well-understood. This is a general guide only. Finally, remember that individual sensitivities and widely varying pollution concentrations determine whether an individual suffers some, all, or none of these effects, and how severe the effects may be.
POLLUTANT
HEALTH EFFECTS
GASSES
Environmental "Secondhand" Tobacco Smoke
Immediate: Respiratory irritation, respiratory infection in children, decreased lung function, eye irritation.
Delayed: Lung cancer, heart disease, chronic respiratory problems
Radon
Immediate: None
Delayed: Lung Cancer (much higher rate in smokers)
Carbon Monoxide
Immediate: Low levels – nausea, fatigue, headache, chest pain in people with heart disease.
High levels – impaired vision, dizziness, confusion, seizures, brain damage, death.
Delayed: None
Nitrogen Dioxide
Immediate: Respiratory irritation, impaired lung function, increased respiratory infections in children.
Delayed: May contribute to onset of asthma
Organic Gasses
Immediate: Eye nose and respiratory irritation, headaches, nausea, Delayed: (at higher levels) damage to liver, kidneys, central nervous systems, possibly cancer.
MICROBIOLOGICALS
Bacteria, viruses
Immediate: Influenza and other airborne infectious diseases, infections, digestive problems.
Humidifier fever (described after the chart.)
Delayed: none
Molds, mildew, fungi
Immediate: Eye nose and respiratory irritation, skin rash, allergic reactions. Hypersensitivity pnuemonitis,
(described after the chart).
Delayed: none
Animal dander, dust mites, cockroach residue, pollen from indoor plants
Immediate: Allergic reactions
Delayed: might contribute to onset of asthma
PESTICIDES
Immediate: Eye nose and respiratory irritation.
Delayed: (at high levels) damage to central nervous system and kidneys, may increase risk of cancer.
PARTICLES
Asbestos
Immediate: none
Delayed: asbestosis, lung cancer
Particles
Immediate: Eye nose and respiratory irritation, increased respiratory infections, chest pain, heart arrythmias, heart attack.
Delayed: none
Lead
Immediate: none (except acute poisoning)
Delayed: Impaired mental functioning, especially in children, impaired hearing and motor control, decreased growth rate, behavior problems, impaired vitamin D metabolism, (higher levels) – kidney damage, anemia, severe brain damage, coma, death
In addition to these general health impacts, several specific diseases are linked to indoor air pollution. These include:
Legionnaires' Disease, so named because its first outbreak in 1976 killed 29 members of the American Legion meeting at a convention. Legionnaires' disease is a form of pneumonia caused by inhaling Legionella bacteria that can be present in contaminated water from building cooling systems, whirlpools and spas, humidifiers, food market vegetable misters and other indoor moisture sources. It is estimated that Legionnaires' Disease affects 10,000 – 15,000 U.S. residents per year, killing between 500 and 2,250, largely those who are middle-aged or older, those who smoke or drink heavily, and those with weakened immune systems.
Hypersensitivity pnuemonitis. A unique lung disease often confused with typical pneumonia. It has the same general symptoms as bacterial and viral pneumonia but has different indicators when doctors examine the lungs. Hypersensitivity pneumonitis is associated with bacteria and mold contamination in air conditioning and humidification systems.
Humidifier Fever. This has the same symptoms as hypersensitivity pnuemonitis – flu-like symptoms of fever, ache and fatigue which abate after a couple days. But humidifier fever affects more people and may be caused by toxic byproducts of bacteria.
In addition to these specific diseases,  two widely publicized health
syndromes are also associated with indoor air pollution; sick building syndrome, and multiple chemical sensitivity. These are known as syndromes rather than specific diseases because they exhibit a wide range of sometimes vague symptoms and are triggered by a wide range of causes which have not been clearly identified.
Sick Building Syndrome (SBS)
            Symptoms of sick building syndrome include fatigue, difficulty concentrating, nausea, headache, eye nose and throat irritation, dry or itchy skin, and sensitivity to odors. There is sometimes no single set of symptoms, and no single identifiable source for those symptoms. Though SBS sufferers experience symptoms in direct relation to time spent in the building, the syndrome often affects people who occupy one part of the building more than others. SBS is far more common in office buildings and schools than in homes or other indoor environments. Symptoms usually abate after the person is out of the building for several hours or more. Most SBS episodes are eventually explained by exposure to certain materials, ventilation conditions, or a combination.
            Multiple Chemical Sensitivity (MCS)
            This is a very controversial medical issue. Some people who suffer a wide range of illnesses affecting a number of bodily systems report that their illness is due to prolonged exposure to chemicals or other pollutants in indoor air. The syndrome is also sometimes called Environmental Illness, Chemical AIDS, and 20th Century Disease.
But established medical associations such as the American Academy of Allergy, Asthma and Immunology say this condition does not exist. No clinical proof of this syndrome has been established and no widely-accepted definition even exists. One which is often cited was written by the American Academy of Environmental Medicine, a group of health care providers known as clinical ecologists including allergists and physicians from other specialties, who treat people with this condition. They call MCS "An ecologic illness that is a poly-symptomatic, multi-system, chronic disorder characterized by adverse reactions to environmental excitants, as they are modified by individual susceptibility in terms of specific adaptations. The excitants are present in air, water, drugs, and our habitats…"
            Theories suggest that sufferers, who are far more commonly women than men, may be experiencing dysfunction of the immune system or neurological abnormalities brought on after either severe chemical exposure (like a chemical spill) or after chronic low-dose exposures, including indoor air pollution. MCS patients say their symptoms are triggered by exposure to low levels of everyday chemicals such as those found in cosmetics, soaps, and newspaper inks. They report a range of symptoms that commonly includes headaches, rashes, asthma, depression, muscle and joint aches, fatigue, memory loss, and confusion. But nearly all the research on this issue indicates that these symptoms are too broad and the exposures that apparently cause them far too vague to support calling this an actual medical condition.
The Range of Exposures
Indoors means more than being at home or work. We're also indoors when we shop, when we travel by car or bus or plane, when we go to the movies or the gym or the ice rink or the doctor or the hospital, and so on. Each of these types of indoor environment presents unique exposures. In some settings the issue is the sources of pollution – based on the materials used inside the building or vehicle, or the construction materials used to build it. Sometimes the most important determinant of exposure is the general nature of the building or vehicle–how it's used, where it's located, how it's ventilated, and how it's maintained. Many indoor environments have air quality exposure issues because of the susceptible populations that live in or visit those settings. We present this section in terms of the general types of indoor settings.
HOME
            Residential environments usually aren't ventilated as well as offices, factories, or public buildings, especially in colder weather when homes are sealed more tightly to avoid air leaks in order to save energy and maintain comfortable temperatures. Humidity and moisture are a particular concern in residential buildings, generated by sources like kitchens, laundry rooms, bathrooms, and household humidifiers. Houses with below-ground basements are a uniquely residential source of indoor air moisture. Leaky roofs, walls and windows also contribute to the presence of biologicals in residential indoor air.
            In terms of the sources of pollution, radon exposure is greater in homes than other types of buildings. With the growing number of restrictions on smoking in public or workplace settings, ETS exposure is also more common in both houses and apartments. Organic gasses are emitted by some products most heavily used at home, such as pesticides, deodorants, cosmetics, household furniture, draperies, and stored fuels. Organic gasses can also come from household use of cleaners and disinfectants, paints and varnishes, adhesives, and carpeting. An EPA study found levels of these gasses in some homes could be as much as 10 times higher than outdoor levels, even when those homes were near a significant  outdoor source of such gasses, like petrochemical plants.
             Carpeting on foundation floors, where moisture from the ground dampens both the foundation and thus the carpeting, is principally a residential problem. Pet dander is too. Cockroach allergens are generally highest in residential buildings. Lead is principally a residential indoor air pollutant, caused by when lead paint in buildings painted before 1978 is released by abrasion with painted surfaces. This can be something as simple as raising and lowering a window, rubbing against a wall, or household renovation work.
Other respirable particles are generated indoors by cooking and heating appliances in addition to smoking. Particle pollution from outdoor sources can also become a problem inside homes near busy streets or highways. So can pollutant gasses that come from motor vehicle combustion like sulfur dioxide, nitrogen oxide, and carbon monoxide. These outdoor sources are abated if the home is air conditioned.
SCHOOL
The General Accounting Office estimates that half the schools in America have some sort of indoor air problem. Many schools suffer from poor ventilation. This is often due to efforts to save energy by minimizing the influx of outdoor air. Individual ventilation units designed to serve just one classroom are often simply turned off. Inadequate cleaning of filters, maintenance of ventilation equipment, or repair of leaks in roofs, walls, and windows is also a common problem for schools.
The general usage patterns of schools also contribute to unique indoor air pollution patterns. Schools are crowded buildings, permitted to have higher rates of occupancy than almost any other class of building. Since the young populations in schools regularly introduce biological pollutants – bacteria, viruses, and pet dander – crowding makes exposure worse. Also, children breathe more air per unit of body weight than adults, and more readily absorb contaminants into their still-growing bodies.  While this doesn't make the air pollution in schools worse, it means that lower concentrations of contaminants may have more impact on children's health.
Schools have a unique range of potential pollutants which include: markers, paint, adhesives and other art materials, science lab materials, vocational area materials, industrial cleaners and disinfectants, floor wax, and emissions from copying and printing machines. Asbestos is still found in schools because it was used as a fire retardant on boilers, pipes, in wall and ceiling tiles during construction, and in floor tile. Asbestos in schools was so common that in the mid-1980's the federal government required that schools be tested for asbestos. Money was made available for abatement. These programs significantly reduced the problem nationwide. Radon can also be an air pollutant in schools which frequently have no basements, which means radon seeping into the building from underground immediately encounters occupied space.
WORK – OFFICE BUILDINGS
      The HVAC (heating, ventilation, and air conditioning) systems of many office buildings simply do not bring in enough fresh air. Sometimes this is the result of efforts to save energy and costs. Sometimes it's because of poor maintenance of the ventilation system. HVAC systems, with their extensive networks of ducts and pipes, are often not cleaned. This includes failure to disinfect water supplies for cooling. Inadequate maintenance also means that sources of moisture in HVAC systems which can breed biologicals are not identified and repaired. Office buildings are frequently situated in environments where HVAC intakes recruit outdoor air contaminated from nearby sources of pollution such as areas with heavy traffic or dumpsters. Poorly designed office building HVAC systems sometimes locate their intake ducts too close to outflow vents, circulating some contaminants back into the building.
Office buildings sometimes contain spaces dedicated to special uses, like underground garages, restaurants, cleaners or printing shops. Potentially harmful emissions from these sources sometimes are carried in the HVAC systems of the overall building. Office buildings, with higher permissible occupancy rates than homes, are often converted buildings originally built for some other purpose. Ventilation systems are sometimes not adequately adjusted for the new, higher occupancy. Furnishings in office buildings, like moveable partitions, often interfere with designed airflows, reducing ventilation. Air ducts are sometimes simply blocked by filing cabinets, partitions, or other equipment or furniture.
In terms of unique sources of pollutants, asbestos is sometimes found in office buildings because it was used as a fire-retardant on boilers, pipes, and structural components. Industrial carpeting used in offices emits organic gasses. These gasses also come from printing and copying operations, and industrial cleaners and floor waxes. Biologicals come from inadequately cleaned and maintained HVAC systems, pipe, roof, or window leaks, and from water damaged walls, ceilings, or carpets.
WORK - INDUSTRIAL
There are a wide variety of industrial settings indoors, from factories to smelters to warehouses, really too numerous and varied to talk about in any detail. In general, levels of air pollution in indoor industrial environments are regulated by the Occupation Safety and Health Administration (OSHA). OSHA standards are usually more permissive than other environments, because the most vulnerable populations to air pollution – the young, the elderly, or those with compromised immune systems – are usually not the kinds of people who spend significant amounts of time in workplace settings.
Common indoor air pollutants in industrial settings include emissions from loading and hauling equipment like forklifts or from power equipment like generators, chemical emissions from manufacturing processes or raw materials, or dust or textile fibers.
      HOSPITALS
      Hospitals have a number of unique challenges as Many people who spend time in hospitals are ill with infectious diseases. This means they are particularly susceptible to indoor air pollution, but it also means that the germs they carry are a source of that pollution too. In addition to the germs that people bring in, hospitals have unique sources of pollution compared with other buildings. Hospitals use much more chemically aggressive cleaners and detergents, and use them much more frequently, than in most other types of buildings. Disinfectants to clean and sterilize equipment include glutaraldehyde, formaldehyde, and volatile organics, which can be harmful at high levels. Topical antibiotics also contribute to indoor air quality issues in hospitals. The dust from latex gloves used by medical providers has been shown to cause allergies. Hospitals also use a large number of individually wrapped disposable items, and the cellulose fibers from these packages contributes to particle pollution in the air.
Hospitals also have unique challenges to ventilation systems, which have to be much more advanced than in most other buildings. Hospital ventilation systems have to segregate air flows from various parts of the building. They have to filter the air much more aggressively. And in many locations like operating rooms and intensive care units they have to maintain air pressure in such a way that the air flows into the room and up into the ventilation system, not out of the room and into the general building. This heavy reliance on aggressive mechanical ventilation systems means that any failure can have serious consequences for indoor air quality.
      TRANSPORTATION
      Millions of people spend several hours each week in their cars, vans, or trucks. They are indoors, but the air they're breathing contains many outdoor air pollutants brought in by the vehicle's circulation system. One study found that in Boston, levels of two outdoor air pollutants known or suspected to be carcinogens were higher for people in their cars driving to work than they were for people walking or riding their bikes. Any leaks in your vehicles exhaust system or problems with your emissions control equipment can expose you to elevated levels of carbon monoxide, nitrogen oxide, particles, and organic gasses that are supposed to be going out the tailpipe. Biologicals are emitted from vehicle cooling and heating systems. That "new car smell"  is actually organic gasses from plastic components inside the car. And don't forget that the volume of air inside a motor vehicle is pretty small, so concentrations of pollutants, including carbon dioxide, can build up quickly.
      Studies have found that levels of many typical urban air pollutants are lower in mass transit vehicles than they are in cars. This is possibly because of larger volumes of air, on these vehicles and because their doors are opening all the time, increasing ventilation.
      Have you ever gotten a cold or some other infectious illness after an airplane trip? The close proximity of airplane passengers for extended periods is just one unique form of indoor air quality issue on planes. Concentrations of some chemicals, and particles, can rise dramatically while the plane is on the ground. A mix of sources exists on planes, where tests have found chemicals associated with cleaners, cosmetics, air fresheners, dry cleaning fluid, and jet fuel.  Carbon dioxide levels on commercial planes can reach levels that indicate inadequate fresh air ventilation.
RECREATION 
      One type of recreational building has a particular indoor air problem; small local ice rinks.  The problem is caused when ice cleaning machinery, most commonly known by the trade name Zamboni, drives around hourly, as many as 14-15 times each day, emitting carbon monoxide and nitrogen dioxide, often at high levels if the ice cleaning machine isn't equipped with pollution control equipment. These gasses build up because many of these rinks do not ventilate, often because outside air is either too warm, requiring more cost to keep the ice surface refrigerated, or too cold, requiring rink managers to heat the seating and observation areas. Concentrations are greatest near the ice where skaters are exerting themselves and breathing heavily, since the cold tends to make the air in the rink sink and the boards around the rink contain the pollutants. Both conditions make it harder for ventilation systems to remove contaminants.
      "Hockey headache" and "skater's cough" are common complaints among skaters, describing the effects of carbon monoxide and nitrogen dioxide exposure. Many rinks are solving the problem by putting pollution control equipment on their ice cleaning machinery, by purchasing pollution-free electric-powered machinery, and by ventilating their rinks more often.
This problem does not affect large professional ice hockey arenas, because the volume of air inside is greater, because such arenas are ventilated, and because the ice cleaning machinery is properly equipped and only operates three or four times a day.
One other type of indoor recreational activity may not seem like it's indoors at all. But when you are camping and inside a tent, you are in an enclosed 'indoor' environment where pollutants can build up, especially if the tent is not vented. Propane heaters and stoves can quickly produce dangerous levels of carbon monoxide. These should not be used in a tent at all.
Reducing Your Risk
With all of the various sources of pollution, and all of the different kinds of indoor environments, an entire book could be devoted to detailing the specific steps you can take to reduce the risk from poor indoor air quality. But regardless of the specifics, some general steps are often helpful. (These are the same steps that you should request for indoor environments you don't control.)
First, eliminate the sources of contamination.
If you choose to smoke, don't do it indoors.
Make sure your gas heating and cooking appliances are running efficiently. (A yellow-tipped flame needs adjusting. A blue-tipped flame is optimal.)
Install a ventilation hood over your stove, if possible.
Follow the steps for radon remediation listed in Chapter 42, asbestos abatement in Chapter 7, and lead abatement in Chapter 28.
Clean and disinfect home humidifiers and central ventilation systems regularly. Repair leaks to central heating and cooling systems.
Repair and seal any leaks in your roof, foundation, walls or windows to control biologicals that thrive in the presence of moisture.
Remove carpeting on concrete or stone foundation floors, or any carpet that's gotten wet from flooding.
Empty drip pans under refrigerators
Ventilate your attic to prevent moisture build-up.
Vacuum carpets regularly.
If installing new carpeting, roll it out outdoors first and let it 'air out' for several hours to reduce the organic gasses it will emit once installed.
Keep food areas clean to avoid cockroaches and the allergens they spread.
Buy limited quantities of cleaners, disinfectants, and pesticides, and use them according to directions and under good ventilation conditions.  Properly dispose of unused portions you're unlikely to need.
Don't idle your vehicle inside the garage.
Second, ventilate. Even if the outdoor air is polluted, concentrations are probably not as high as they are inside. An EPA study found that concentrations of a dozen common organic gasses in homes were 2-5 times higher indoors than outdoors, whether the home was in the city, suburb, or country.
Open windows or doors, even just briefly if it's cold out.
Install attic fans.
Run air conditioners with the vent open to increase exchange with outdoor air.
Maximize ventilation when you're painting or doing something that generates pollutants, such as cooking, cleaning (stirring up dust), using pesticides, or renovating.
Vent clothes dryers to the outside.
Finally, air cleaners and filters are helpful, but without these other steps they won't solve the problem. Neither will house plants.
While legalization has benefits, a new study suggests it may have one big drawback.
BSIP/Universal Images Group via Getty Images
Politics & Current Affairs
A new study finds that rates of marijuana use and addiction have gone up in states that have recently legalized the drug.
The problem was most severe for those over age of 26, with cases of addiction rising by a third.
The findings complicate the debate around legalization.
In a complicating bit of news for proponents of legalization, a new study shows that the rates of Cannabis use disorder have gone up dramatically in states that have legalized weed. The spike was found to be particularly high for people over the age of 26 and under the age of 17.
Cannabis Use Disorder, is that when you get so high you can't figure out how to smoke anymore?
Cannabis use disorder, also known as CUD or cannabis/marijuana addiction, is a psychological disorder described in DSM 5 as "the continued use of cannabis despite clinically significant impairment." This includes people being unable to cut down on their usage despite wanting to, those who often use it despite finding it severely impairs their ability to function, or those who are putting themselves in danger to secure access to the drug.
While an understanding that marijuana can be addictive has existed for some time, and the image of the pothead who smokes so much they can hardly function is prevalent in our society, the effects of legalization on addiction rates have somehow gone understudied until now. Importantly, previous studies had failed to consider usage rates amongst populations over the age of 25.
In the new study, published in JAMA Psychiatry, focused on self-reported data on monthly drug use in four states where marijuana is now legal, Colorado, Washington, Alaska, and Oregon, from both before and after the drug was legalized in each state and compared it to others which have not yet legalized.
The data gave insights into the drug use habits of the respondents and specifically gave information about if they had smoked at all in the last month, the frequency of their drug use, and if they had ever had issues with how much they were using drugs.The researchers ultimately considered the responses of 505,796 individuals.
The increase in cannabis usage they found was considerable. The number of respondents over the age of 26 who claimed to have used the drug in the last month went up by 23% compared with their counterparts in states that have yet to legalize. Abuse of the drug by this group rose by 37%.
Teen usage rose by 25%, and addiction rates rose as well. This increase was small, though, and the authors have suggested it may be due to an unknown factor. The rate of usage or abuse for respondents between the ages of 18 and 25 did not increase at all.
After breaking the results down by demographics, the primary finding held; adults over the age of 26 are using marijuana more often when it is legalized, and they are starting to use it too much.
The grain of salt
As in any study where findings are self-reported, the exact numbers you see here should be taken with a grain of salt. They could be slightly higher or lower. As this study relies on people self-reporting their usage of a drug that is still illegal in many places, it is very possible that the apparent spike in addiction rates is caused by more accurate reporting, as people who live in an area where pot is still illegal may be less likely to report smoking it every day.
And it should be repeated a thousand times over that correlation and causation are not the same thing. There could be some unknown factor causing these increases in each case.
Despite these qualifications, the study is still useful in giving us a general sense of what may happen in states that have yet to legalize.
What does this mean for society and drug users?
While claims of "reefer madness" are greatly exaggerated, marijuana has several well established and thoroughly studied side effects. While occasional use isn't terribly harmful, addiction can be. Lead author Magdalena Cerdá of New York University explains in the study that heavy marijuana use is associated with "psychological and physical health concerns, lower educational attainment, decline in social class, unemployment, and motor vehicle crashes."
A substantial increase in the number of people who are addicted to the stuff will incur costs to society down the line.
Of course, a 37% increase in problematic usage means that the percentage of adults smoking too much went from .9% to 1.23% of the population responding to the survey. This makes it far less prevalent than issues with alcohol, which affected around 6% of all Americans in 2018.
Recently, Big Think's Philip Perry wrote a piece about how legalization could improve the health of millions by allowing the government to regulate the purity of commercially sold marijuana. This remains true. However, it must be weighed against the findings of this study, which suggests that at least some of these health gains will be wiped out by increased addiction rates.
What does this mean for legalization efforts?
The legalization steamroller will undoubtedly keep rolling along. While health concerns are one factor in the debate over marijuana, it is only one of many. In Illinois, where I live, weed will become legal on January 1st of 2020. The legalization campaign and legislation were more concerned with issues of social justice, the failures of prohibition, and finding a new source of tax revenue (since we're half broke) than with matters of potential addiction.
As Vox reports, the authors of the study aren't suggesting that legalization shouldn't take place; that is another, broader debate. They merely wish to present the fact that legalization has a particular side effect that we should be aware of.
While this study is unlikely to change anybody's stance on if weed should be legalized or not, it does show us a critical element to be considered when discussing drug policy. No drug is perfectly safe, and we have reason to believe that legalizing marijuana will mean that more people will have a hard time with it. Let's hope that legalization proponents keep that in mind as they rack up their victories.
For some reason, the bodies of deceased monks stay "fresh" for a long time.
Surprising Science
The bodies of some Tibetan monks remain "fresh" after what appears to be their death.
Their fellow monks say they're not dead yet but in a deep, final meditative state called "thukdam."
Science has not found any evidence of lingering EEG activity after death in thukdam monks.
It's definitely happening, and it's definitely weird. After the apparent death of some monks, their bodies remain in a meditating position without decaying for an extraordinary length of time, often as long as two or three weeks.
Tibetan Buddhists, who view death as a process rather than an event, might assert that the spirit has not yet finished with the physical body. For them, thukdam begins with a "clear light" meditation that allows the mind to gradually unspool, eventually dissipating into a state of universal consciousness no longer attached to the body. Only at that time is the body free to die.
Whether you believe this or not, it is a fascinating phenomenon: the fact remains that their bodies don't decompose like other bodies. (There have been a handful of other unexplained instances of delayed decomposition elsewhere in the world.)
The scientific inquiry into just what is going on with thukdam has attracted the attention and support of the Dalai Lama, the highest monk in Tibetan Buddhism. He has reportedly been looking for scientists to solve the riddle for about 20 years. He is a supporter of science, writing, "Buddhism and science are not conflicting perspectives on the world, but rather differing approaches to the same end: seeking the truth."
The most serious study of the phenomenon so far is being undertaken by The Thukdam Project of the University of Wisconsin-Madison's Center for Healthy Minds. Neuroscientist Richard Davidson is one of the founders of the center and has published hundreds of articles about mindfulness.
Davidson first encountered thukdam after his Tibetan monk friend Geshe Lhundub Sopa died, officially on August 28, 2014. Davidson last saw him five days later: "There was absolutely no change. It was really quite remarkable."
The science so far
Credit: GrafiStart / Adobe Stock
The Thukdam Project published its first annual report this winter. It discussed a recent study in which electroencephalograms failed to detect any brain activity in 13 monks who had practiced thukdam and had been dead for at least 26 hours. Davidson was senior author of the study.

While some might be inclined to say, well, that's that, Davidson sees the research as just a first step on a longer road. Philosopher Evan Thompson, who is not involved in The Thukdam Project, tells Tricycle, "If the thinking was that thukdam is something we can measure in the brain, this study suggests that's not the right place to look."
In any event, the question remains: why are these apparently deceased monks so slow to begin decomposition? While environmental factors can slow or speed up the process a bit, usually decomposition begins about four minutes after death and becomes quite obvious over the course of the next day or so.
As the Dalai Lama said:
"What science finds to be nonexistent we should all accept as nonexistent, but what science merely does not find is a completely different matter. An example is consciousness itself. Although sentient beings, including humans, have experienced consciousness for centuries, we still do not know what consciousness actually is: its complete nature and how it functions."
Consciousness
As thukdam researchers continue to seek a signal of post-mortem consciousness of some sort, it's fair to ask what — and where — consciousness is in the first place. It is a question with which Big Think readers are familiar. We write about new theories all the time: consciousness happens on a quantum level; consciousness is everywhere.
So far, though, says Tibetan medical doctor Tawni Tidwell, also a Thukdam Project member, searches beyond the brain for signs of consciousness have gone nowhere. She is encouraged, however, that a number of Tibetan monks have come to the U.S. for medical knowledge that they can take home. When they arrive back in Tibet, she says, "It's not the Westerners who are doing the measuring and poking and prodding. It's the monastics who trained at Emory."
When Olympic athletes perform dazzling feats of athletic prowess, they are using the same principles of physics that gave birth to stars and planets.
Credit: sportpoint via Adobe Stock
13-8
Much of the beauty of gymnastics comes from the physics principle called the conservation of angular momentum.
Conservation of angular momentum tells us that when a spinning object changes how its matter is distributed, it changes its rate of spin.
Conservation of angular momentum links the formation of planets in star-forming clouds to the beauty of a gymnast's spinning dismount from the uneven bars.
It is that time again when we watch in awe as Olympic athletes perform dazzling feats of athletic prowess. But as we stare in rapt attention at the speed, grace, and strength they exhibit, it is also a good time to pay attention to how they embody, literally, fundamental principles that shape the entire universe. Yes, I'm talking about physics. On our screens, these athletes are giving us lessons in the principles that giants like Isaac Newton struggled mightily to articulate.
Naturally, there are many Olympic events from which we could learn some basic principles of physics. Swimming shows us hydrodynamic drag. Boxing teaches us about force and impulse. (Ouch!) But today, we will focus on gymnastics and the cosmic importance of the conservation of angular momentum.
The conservation of angular momentum
Much of the beauty of gymnastics comes from the spins and flips athletes perform as they launch themselves into the air from the vault or uneven bars. These are all examples of rotations — and so much of the structure and history of the universe, from planets to galaxies, comes down to the physics of rotating objects. And so much of the physics of rotating objects comes down to the conservation of angular momentum.
Let's start with the conservation of regular or "linear" momentum. Momentum is the product of mass and velocity. Way back in the age of Galileo and Newton, physicists came to understand that in the interactions between bodies, the sum of their momentums had to be conserved (which really means "does not change"). This is a familiar idea to anyone who has played billiards: when a moving pool ball strikes a stationary one, the first ball stops while the second scoots away. The total momentum of the system (the mass times velocity of both balls taken together) is conserved, leaving the originally moving ball unmoving and the originally stationary ball carrying all the system's momentum.
Credit: Sergey Nivens and Victoria VIAR PRO via Adobe Stock
Rotating objects also obey a conservation law, but now it is not just the mass of an object that matters. The distribution of mass — that is, where the mass is located relative to the center of the rotation — is also a factor. Conservation of angular momentum tells us that if a spinning object is not subject to any forces, then any changes in how its matter is distributed must lead to a change in its rate of spin. Comparing the conservation of angular momentum to the conservation of linear momentum, the "distribution of mass" is analogous to mass, and the "rate of spin" is analogous to velocity.

There are many places in cosmic physics where this conservation of angular momentum is key. My favorite example is the formation of stars. Every star begins its life as a giant cloud of slowly spinning interstellar gas. The clouds are usually supported against their own gravitational weight by gas pressure, but sometimes a small nudge from, say, a passing supernova blast wave will force the cloud to begin gravitational collapse. As the cloud begins to shrink, the conservation of angular momentum forces the spin rate of material in the cloud to speed up. As material is falling inward, it also rotates around the cloud's center at ever higher rates. Eventually, some of that gas is going so fast that a balance between the gravity of the newly forming star and what is called centrifugal force is achieved. That stuff then stops moving inward and goes into orbit around the young star, forming a disk, some material of which eventually becomes planets. So, the conservation of angular momentum is, literally, why we have planets in the universe!
Gymnastics, a cosmic sport
How does this appear in gymnastics? When athletes hurl themselves into the air to perform a flip, the only force acting on them is gravity. But since gravity only affects their "center of mass," it cannot apply forces in a way that changes the athlete's spin. But the gymnasts can do that for themselves by using the conservation of angular momentum.
By changing how their mass is arranged, gymnasts can change how fast they spin. You can see this in the dismount phase of the uneven bar competitions. When a gymnast comes off the bars and performs a flip by tucking their legs inward, they can quickly increase their rotation rate in midair. The sudden dramatic increase in the speed of their flip is what makes us gasp in astonishment. It is both scary and a beautiful testament to the athletes' ability to intuitively control the physics of their bodies. And it is also the exact same physics that controls the birth of planets.
"As above so below," goes the old saying. You should keep that in mind as you watch the glory that is the Olympics. That is because it is not just athletes that have this intuitive understanding of physics. We all have it, and we use it every day, from walking down the stairs to swinging a hammer. So, it is no exaggeration to claim that the first place we came to understand the deepest principles of physics was not in contemplating the heavens but moving through the world in our own earthbound flesh.
Culture & Religion
How the British obsession with tea triggered wars, led to bizarre espionage, and changed the world — many times.
Scroll down to load more…